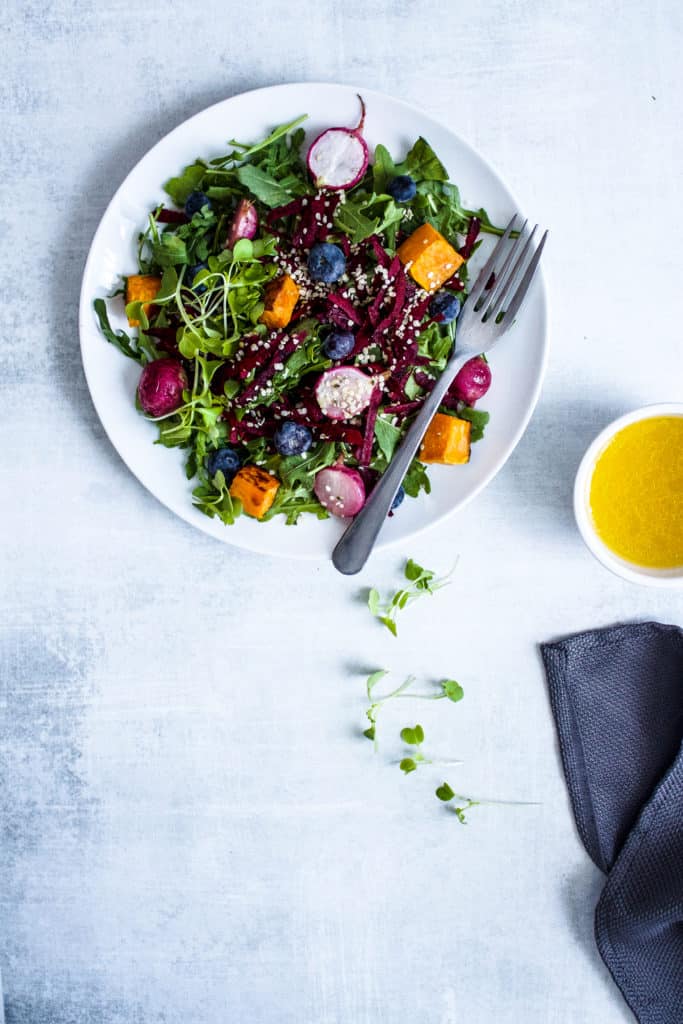 It's officially April.
Can I just say, this year is flying by. I mean we're basically done with winter. Good bye, winter! Adios! You will not be missed! I mean it: I am way too excited for Spring. And there's oh so many reasons.
For starters, Allie and I have finally booked our trip to Barcelona. This is my first intercontinental trip ever. How crazy is that?! And while technically our trip isn't until the summer, I get to spend the spring planning out all the details and day dreaming about it. All the day dreaming. If you have any tips for traveling, or places I need to check out in Barcelona, please let me know!
I'm also ready for warmer weather, for long walks with my dog. For rainy days. For light-filled skies at night. Now when I leave my pole fit workouts, it's still light out, which makes me feel like I have so much more time in my schedule. Which isn't true, but it's nice to pretend.
Pole fit is another reason I'm ready for Spring. It's been my obsession lately–part of my New Year's resolution to find more movement, flow and flexibility in my body. I absolutely love the way I've been feeling since taking it back up. In a few more weeks I'll be ready (hopefully) to move up into more advanced classes, and (maybe) even practice on a spin pole! So that's pretty exciting stuff. I know pole fitness has a pretty big stigma attached to it, but let me just say that there's no one way to do pole. Yes, there's the pole dancing we associate with strippers (which is pretty bad ass), but there's also athletic pole, and lyrical pole. It's dancing, it's strength, and to me, it's beautiful. It taps into something both very sensual, and also strong. I'm still learning–and I have a long way to go–but I already feel more capable, more confident, more sure of myself and my body. There's something incredibly powerful about that. When I first started going, I hated the end of the class where they put on music and you'd dance. I'd feel clumsy, and awkward. Now, I relish it. I can't wait. It's become a form of self-expression.
Spring also just has me feeling so in love. There's something about the fresh air, the promise of life, of growth, that feels incredibly romantic to me. It's also when Allie and I started dating, and last week marked 5 years together. If you know me at all, you know I love to round up (by a lot), so don't be surprised to start hearing me talk about life six years into it together–cause that'll happen.
Finally, I'm ready for Spring produce. Like radishes. I have to be honest: I don't like the peppery spice of raw radishes. It's not pour moi. But roasted? That's a whole other story. They become watery, popping in your mouth, very neutral in flavour. This salad is a nice bridge between the coolness of winter, and the freshness of spring. A balance of the in-between season that we're currently in. Roasted sweet potatoes and radishes are paired with raw grated beets, blueberries, arugula and microgreens. The dressing is simple: lemon juice and olive oil, with a pinch of salt. It takes minutes to come together, and is both light and satisfying. You can add a protein, like fish, tempeh, or quinoa.

How I meal Prep
While I love the idea of planning out a full menu, complete with breakfast, lunch and dinner, in practice I never stick with it. It doesn't matter if I create the meal plan, or use one that someone else has made. The rigidity of it makes it seem quite…well, boring.
Also, my schedule tends to be a little all over the place. I often workout after work, or work late, or meet friends, or go out with Allie. That means the food I've worked so hard to prep on Sunday just sits in my fridge, neglected. But definitely not forgotten. Oh no, with it comes the guilt of knowing it's just sitting there, waiting. And you know what? It makes me resentful. That turkey chilli is no longer proof of my adulting, it's a reminder of entrapment, my confinement to the world of meal prep.
SO. To counteract that, and to prevent me from yelling "You don't know my life!" angrily, into my fridge, I've come up with the Meal Prep-ish strategy. The kind-of-meal-prep. Meal Prep Lite, if you will.
Cook Staples
Basically, instead of orchestrating a huge menu with lots of shopping, planning and cooking, I cook off staple ingredients. This week that looks like roasted radishes, and sweet potatoes. Last week it included quinoa and beets. This way I can simply throw things in bowl, along with fresh ingredients–like arugula, avocado, peppers and go.
Or Cook A One-Pot Dish
Another thing I do is I'll cook a one-pot dish, like soup, chilli, curry, etc, in a big batch. I'll eat that throughout the week, and add things to it, like a salad or protein, to switch it up every day. I find doing this gives me about 3 nights worth of meals, which is perfect for the nights I don't eat dinner because of my schedule. If I do this, then I don't cook off staples. So in the winter, I'll cook more one-pot dishes, and in the summer, I'll cook off stand alone staples.
Cook Protein Day Of
I don't like to cook chicken that will last for 5 days straight. It feels monotonous, and by day 5 it doesn't taste very great. So when it comes to things like chicken, beef, seafood or even tempeh, I'll cook it that night. So even if I have this Spring Radish, Beet + Blueberry Salad every day this week, the protein switches up. If there's any leftover, I'll add to my salad for lunch. Otherwise I'll just put some feta, lentils or chickpeas on my salad.
Make Breakfast The Night Before
I love to make things like chia pudding, paleo muffins or overnight oats the night before, in large enough batches to last 3 or 4 mornings. Otherwise, breakfast is a smoothie or a quick bowl of oatmeal.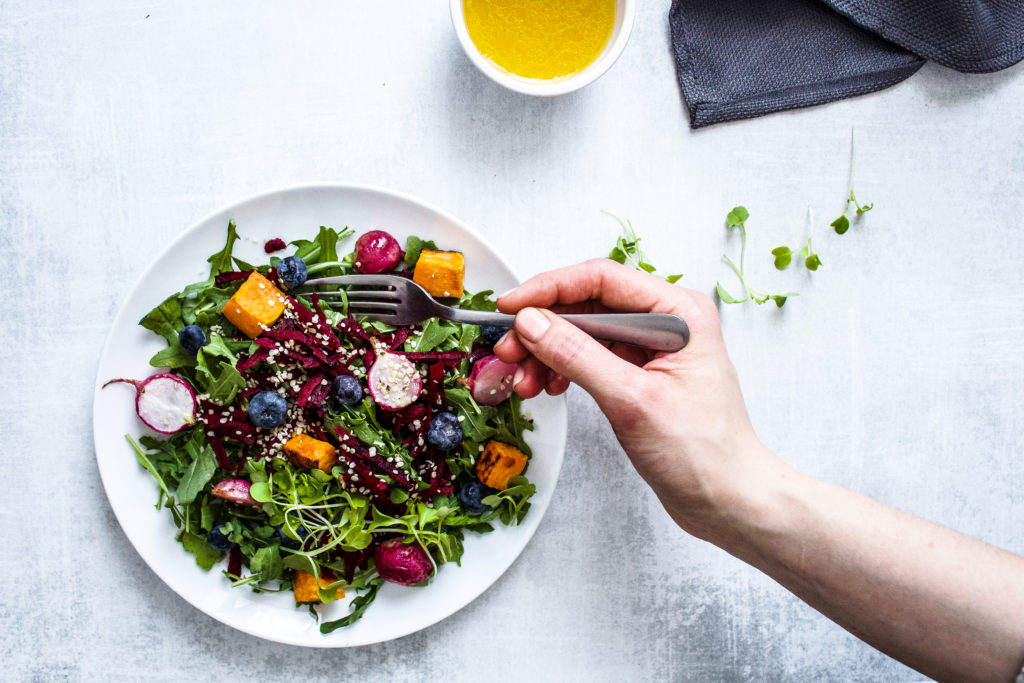 I hope these tips help!
Happy April!

Spring Radish, Beet + Blueberry Salad
Ingredients
For the roasted vegetables
2

sweet potatoes

peeled and cubed

1

bag

about 2 cups radishes, quartered

2

tbsp

olive oil

salt

to taste
Lemon Oil Dressing
Juice of 1 lemon

1/4

cup

olive oil

Pinch

of salt
For the salad
1

beet

peeled and grated

2

cups

arugula

1/4

cup

micro greens

¼

cup

blueberries

¼

cup

hemp seeds
Instructions
Preheat oven to 400F. Line two baking sheets with parchment paper. Evenly distribute radishes on one pan, and sweet potato on another. Drizzle both olive oil and season with salt. Bake until tender, about 30 minutes for the radishes and 40 minutes for the sweet potatoes.

Meanwhile, make the dressing by combining all the ingredients. Set aside.

To assemble the salad, toss all of the roasted vegetables, the salad ingredients and the dressing together. Serve immediately. Alternatively, if using for meal prep, keep ingredients separate, and build salad bowls day of!