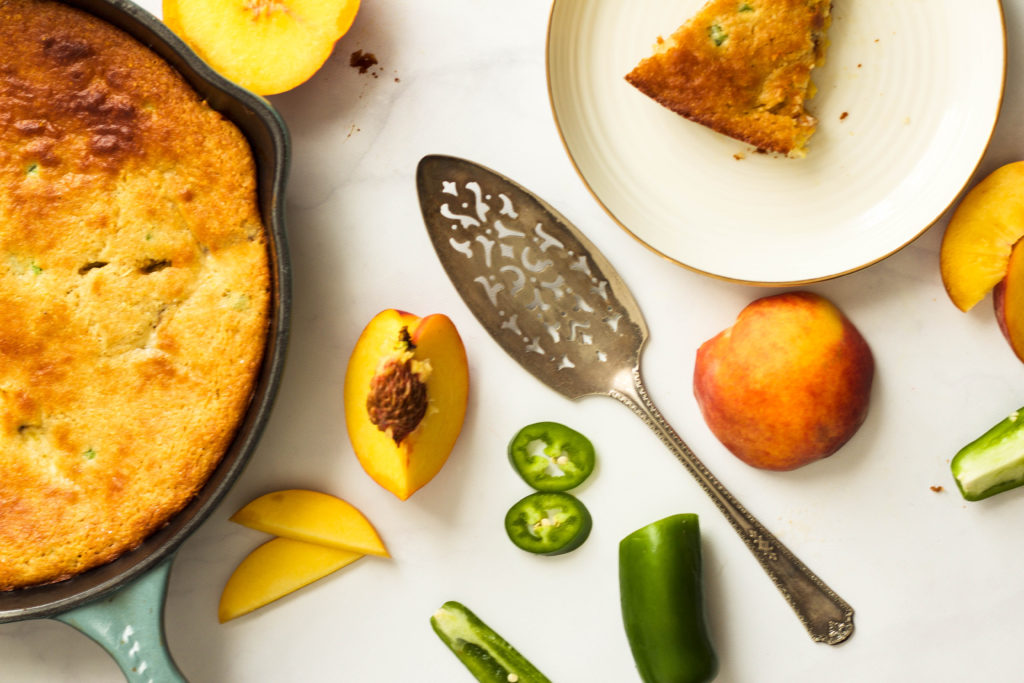 What?! Two recipes in one weekend?!
I wasn't planning on it, but then yesterday Allie said she had a craving for cornbread, so I ended up making this Peach Jalapeno Cornbread. I like to plan my blog recipes in advance, so that way I'm not panicked week to week with what I'm posting. But I was afraid that by the time I got to posting this, peach season would be over. So here we are: two recipes in one weekend!
This Peach Jalapeno Cornbread has a twist–it's made almost entirely with almond flour. It does include some corn meal, because it wouldn't be cornbread without it, but this healthy alternative provides a lower carb, higher fibre alternative. Nut flours I find to also be more satiating, so, even though it's very light and fluffy, you can feel more feel with less.
The best part? You can't tell the difference! The corn meal provides the classic gritty texture and flavour, so lovers of cornbread (like my girlfriend) will happily eat away, unaware of the healthy swap.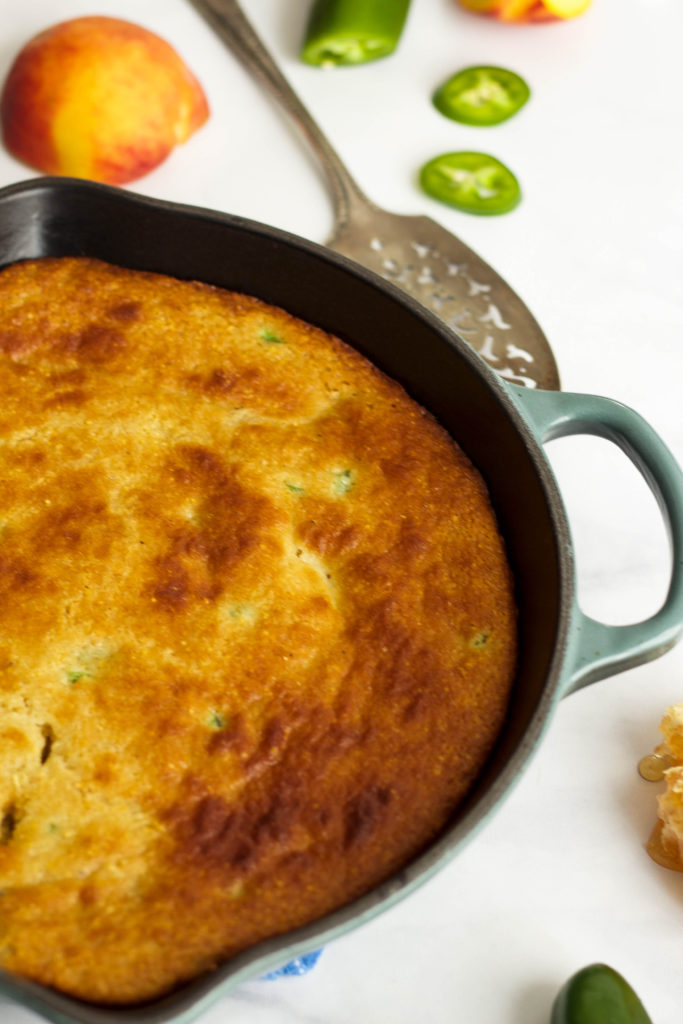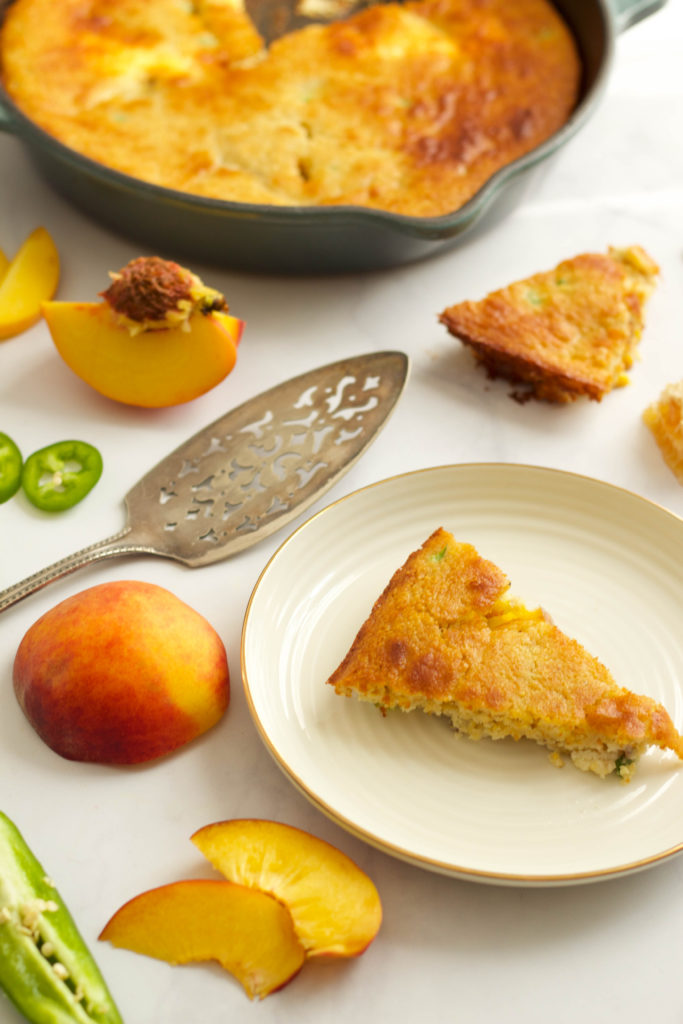 Unrelated, but I've been on a bit of an Outlanders binge. Has anyone seen it? What are your thoughts? It's intriguing, and I can't look away, but uh, why does someone (namely Claire) get sexually assaulted in every single episode? That's why I got so turned off of Game of Thrones: don't women have more to offer than their bodies? And even if the mentality of the time period (fictional time period in GoT) says no, women do not, shouldn't we be more aware of the message it sends to women (and men) now in the present? But Claire is a strong female character who prevails in the end. So there's that.
Let me know your thoughts if you've seen it!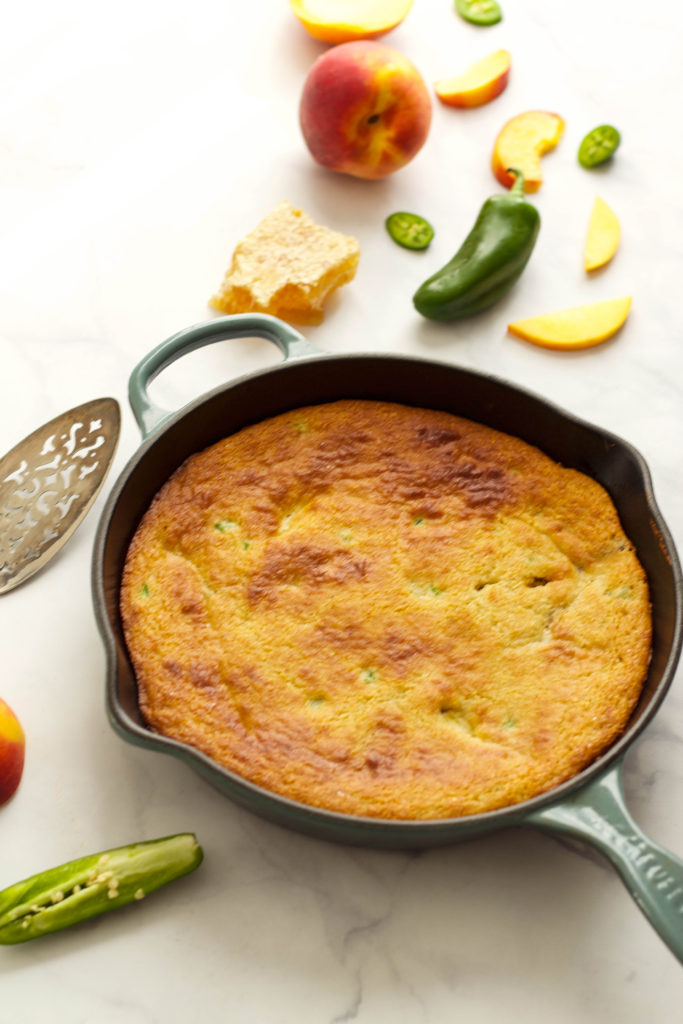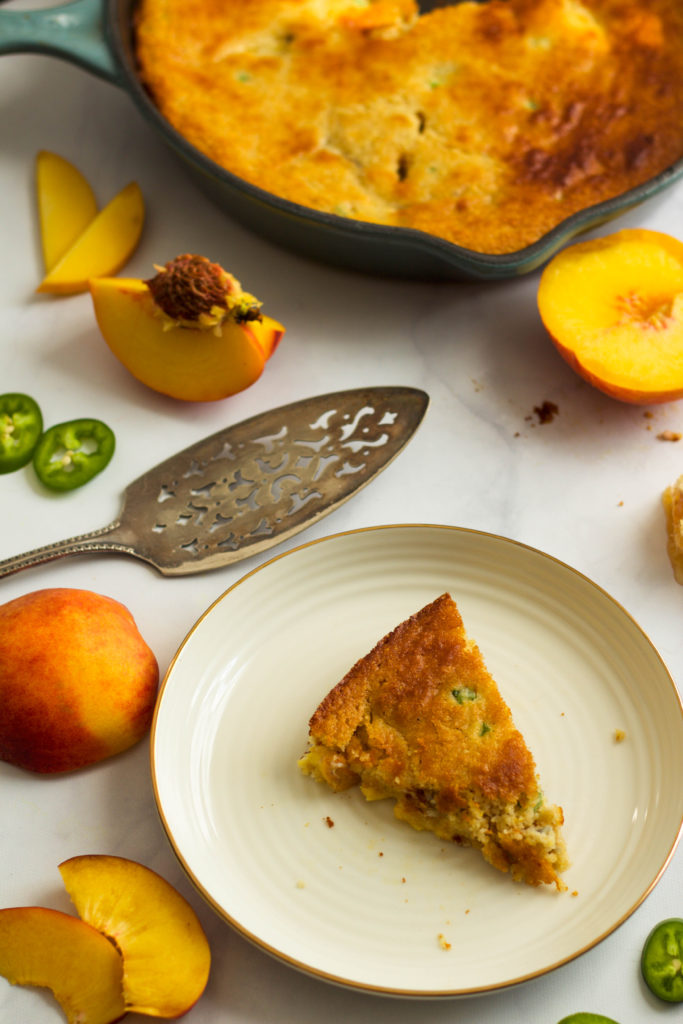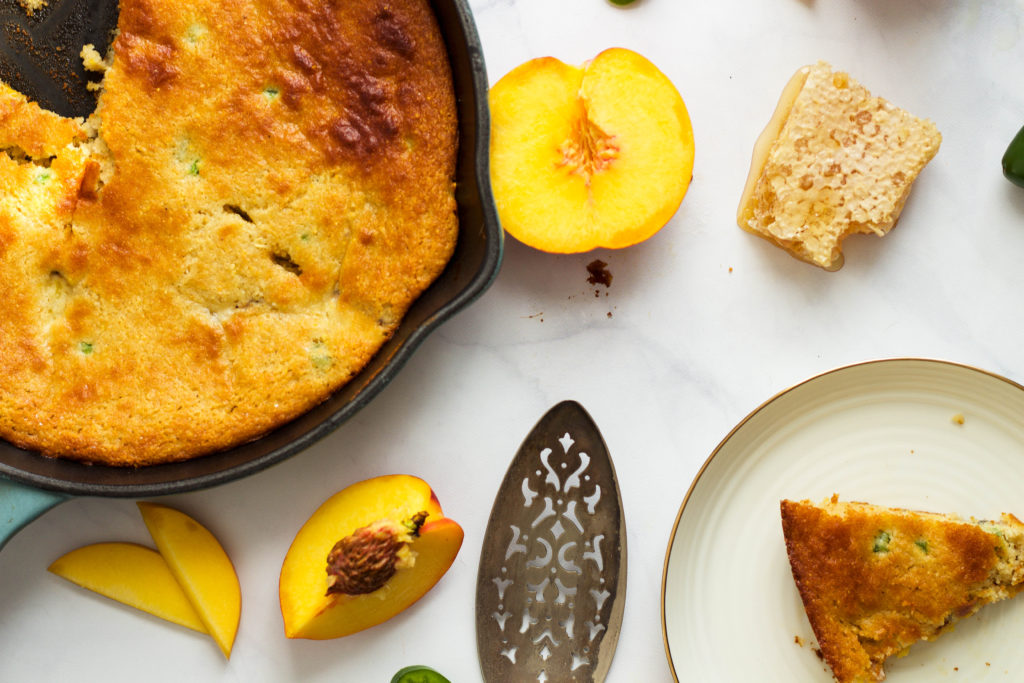 So yes, this is delicious. Great for breakfast, or for a snack, and definitely a different way to use up whatever peaches you have kicking around. If you're looking for more peachy goodness, check out these recipes:
Blueberry, Blackberry + Peach Skillet
Cheers!

Peach Jalapeno Cornbread
2017-09-04 14:29:28
Serves 8
Ingredients
2 cups almond meal
1/4 cup fine corn meal
2 tsp baking powder
1 tsp baking soda
1/2 tsp salt
1 egg, whisked
4 tbsp butter, melted
1 cup greek yogurt
4 tbsp honey
1 peach, thinly sliced
1/2 jalapeno pepper, chopped
Instructions
Preheat oven to 400F. Grease cast iron skillet.
In a large bowl whisk together almond meal, corn meal, baking powder, baking soda, and salt.
In a medium bowl, combine egg, butter, yogurt and honey.
Pour wet mixture into dry and mix to combine. Stir in peach slices and chopped jalapeno.
Pour entire mix into prepared skillet and spread evenly. Bake at 400F for 20 minutes or until golden.
The Nourished Mind http://thenourishedmind.ca/