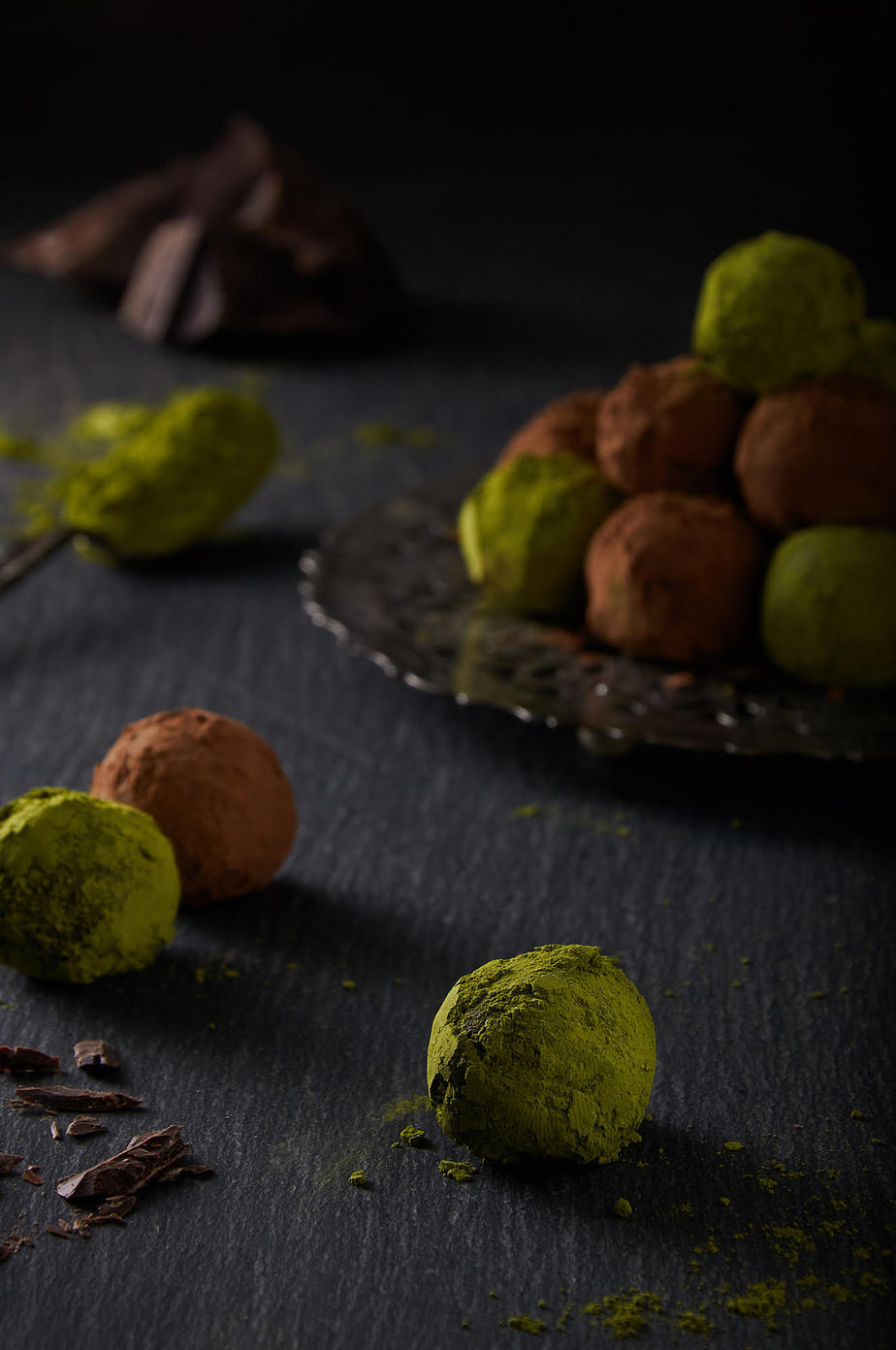 Ah! How great does this picture look?! I am so excited to share these Matcha Cacao Truffles with you. But first, I'm finished my externship! WHAAAAT?! 7 weeks already?!
Interning with a food stylist: my thoughts
For those of you that have been keeping up with me (through Facebook + Instagram) you'll know that I've been interning with a food stylist for the last seven weeks. And it's been freakin' awesome. Also, it's had me totally out of my element: it's unlike anything I've ever done, and so for the last seven weeks I have just been absorbing. In fact, Chantal, the expert food stylist with whom I had the luxury of working with, told me that I'm quiet–which everyone from work/school/home/life/grocery store checkouts will surely disagree with. But to be fair, I totally was.
Food styling really is a different world, and it's been so much fun to be immersed in it. This picture above was one that I was able to create–yes, I styled this!–as a final interning project, alongside Andre, the Food Group's photographer, and with Chantal's feedback.
Okay, enough gushing–onto the truffles!
Matcha Health Benefits
A few weeks ago, I was lucky enough to receive some cold-brew matcha from Matcha Ninja, and I have been dying to make a recipe for the blog with it. Matcha is quite the superfood!
It's rich in antioxidants, particularly catechins. Antioxidants fight free radical damage in the body, which can protect the body against cancer and aging. One study found that matcha contains 137 times more of the polyphenol EGCG than China Green Tips green tea, 3x more than the most concentrated values of other researched green teas, and EGCG makes ups more than 60% of the catechins in matcha.
It can aid in weight loss. EGCG can help the body burn fat and boost the metabolism, in part due to its thermogenic properties.
Improve brain health. Matcha contains L-Theanine, which produces dopamine and serotonin–both of which lead to better mood, better concentration and improved memory.
It can boost energy. Another benefit to L-Theanine, is that it boosts energy while also creating calmness due to the production of alpha waves in the brain. The result is a boost of energy, without the jittery shakes and crash of caffeine!
The cool thing about Matcha Ninja is that it dissolves instantly in water, so you don't have to whisk it in warm water first.
Matcha Cacao Truffles
But for this recipe, there is no water! Just a heavy dusting of matcha (with a little thrown into the truffle mixture for good measure). If you're new to the world of matcha, this recipe might be a little intense. I recommend just tasting a bit of the matcha (with your finger) so you can get a sense of how much is right for you. If the flavour is too strong, just roll the truffles in cacao powder, and with a sieve/sifter, gingerly tap the matcha overtop of the truffles to give it a light matcha flavour.
If you love matcha–like me–then go to town and just roll your truffles right in it!
This recipe is adapted from Lexi's Clean Kitchen, and it's just as decadent as you would hope truffles to be. Instead of heavy cream, it uses coconut milk, which gives it the same rich texture, while still keeping the truffles light and dairy free.
Prep Time: 10 minutes Chill time: 1 hour
Yields: 25 truffles
INGREDIENTS
12 oz dark chocolate, chopped
1 can full fat coconut milk (pour entire can into a bowl, whisk until combined and then measure out cup)
1 tbsp maple syrup
1/2 tsp matcha
1/4 cup matcha for rolling
1/4 cup cacao for rolling
INSTRUCTIONS
In a bain marie (a bowl placed over a pot of hot water–the water should not touch the bowl!) melt together chocolate and coconut milk.
Turn off heat and with a spatula, add in maple syrup and matcha.
Wrap bowl and place in freezer to chill for 1 hour. Mixture should be firm to the touch.
Remove mixture and let thaw at room temperature for 5 minutes.
With a scoop or spoon, measure out 1 inch balls. If the mixture gets too sticky, simply place the balls back in the freezer for 5 minutes to firm up.
Roll half the balls in the matcha powder, and half in the cacao powder.
Serve immediately or keep in fridge until ready to eat!
Let me know what your favourite way to consume matcha is in the comments below!