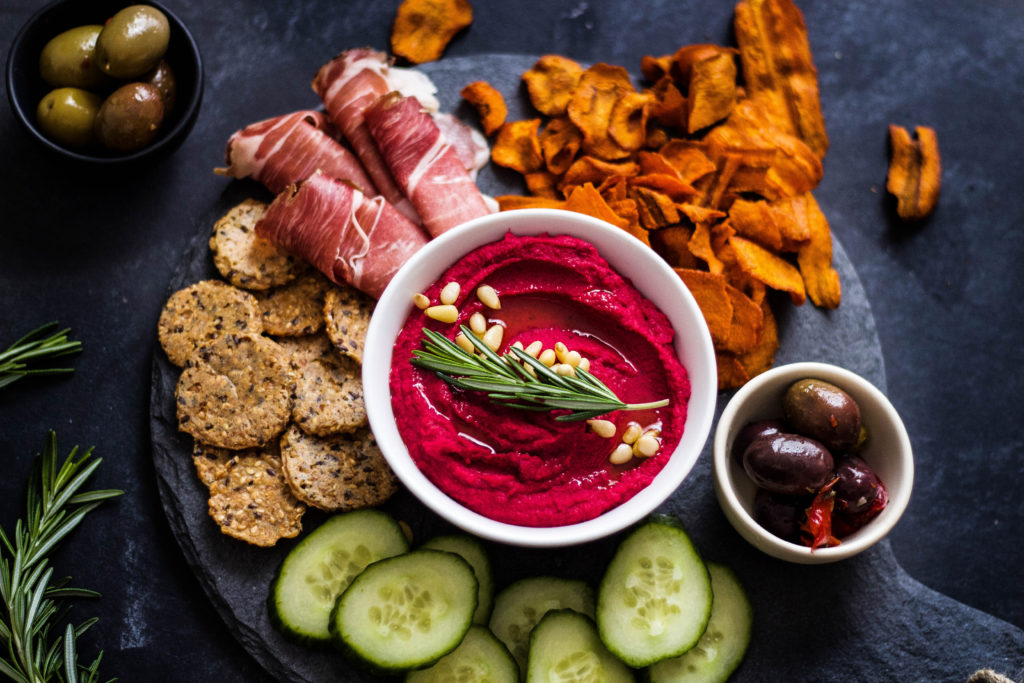 This post is not sponsored–it's just me being super excited to share things with you.
The holidays are getting close. And so far, I'm poorly prepared. No Christmas decorations up, no holidays movies watched, no shopping done. Holiday spirit, where ya at?
Thankfully, I have already started to think about holiday foods. Mostly because I'm always thinking about food. There is so much baking I want to do, so many wintery vegetables I'm excited to work with. Beets, for example.
I freaking love beets. I could probably eat them every day, if not for the hassle of actually cooking them, you know? It's the peeling of them–the red fingers, the stains on my clothes–that dissuade me. But the flavour? Yes, I'm all about that.
Thankfully this recipe is super easy to prepare: you simply wrap the beets and garlic in aluminum foil and roast them until they're tender. Then, you combine it with all the other ingredients in the food processor and voila! A vibrant, wintery hummus!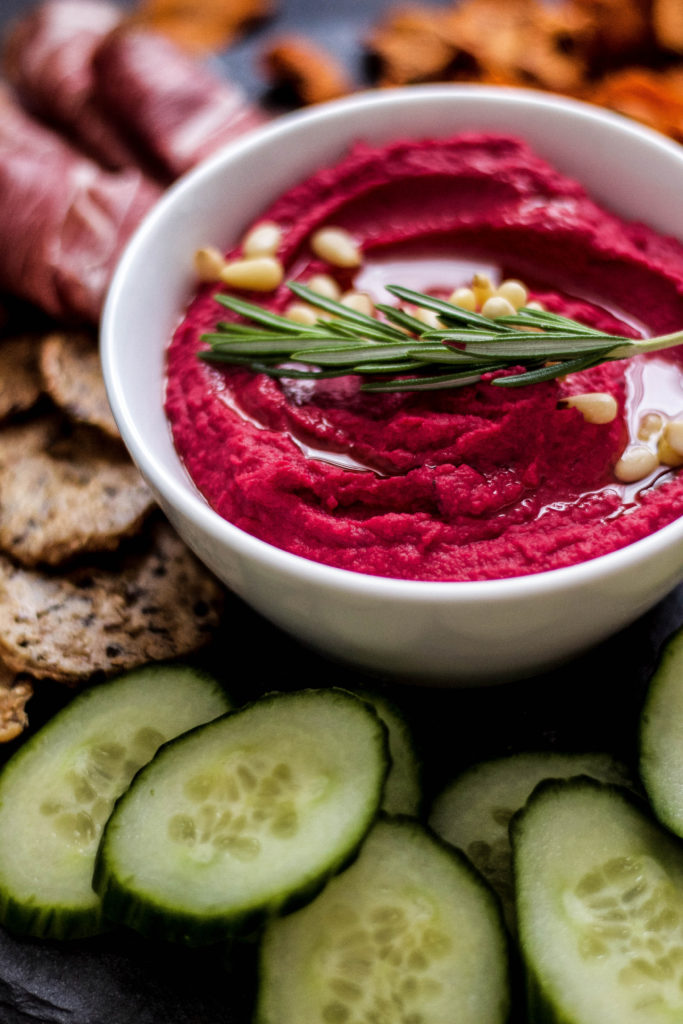 If you're starting to think about what fun things you'll be bringing to your work holiday party, or your Friendsgiving dinner, you should definitely make this Holiday Rosemary Beet Hummus! It's savoury with it's hint of rosemary, and there's a bit of sweet earthiness from the beets. Also (mainly), the colour is beautiful. Beets are just always gorgeous. The beets in this recipe aren't too overpowering, so if beets aren't your favourite root veggie, you'll still find yourself wanting to double dip into this beauty.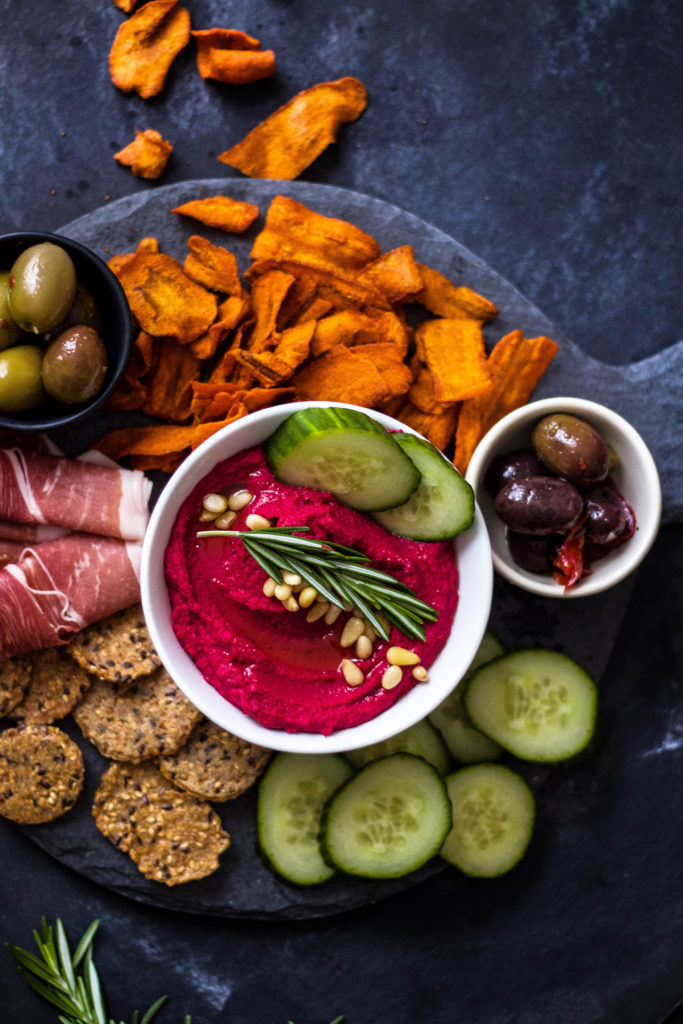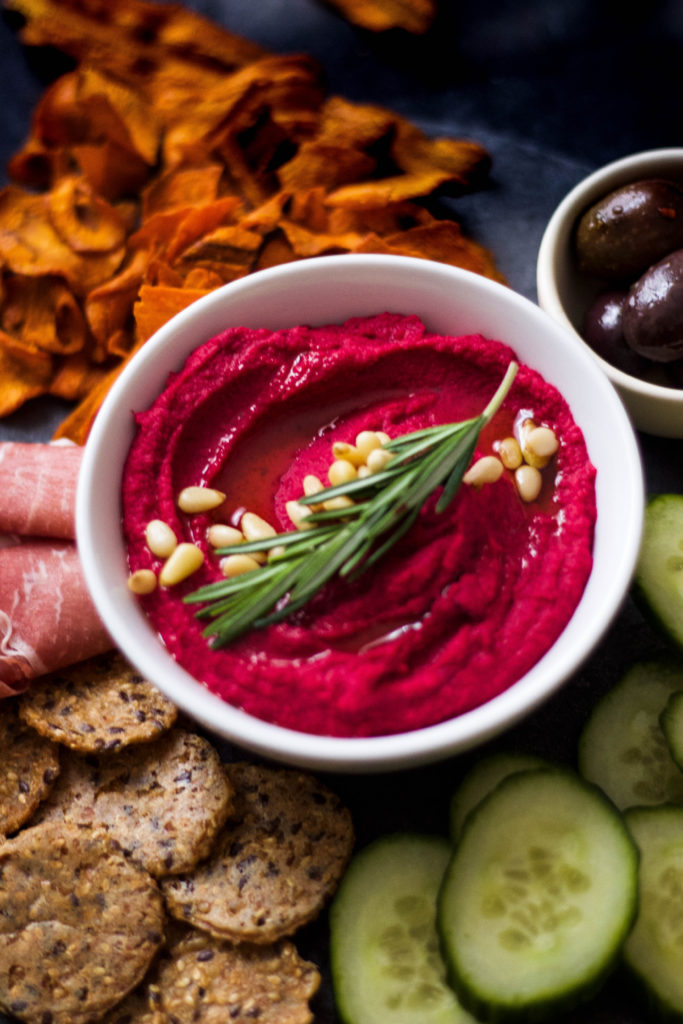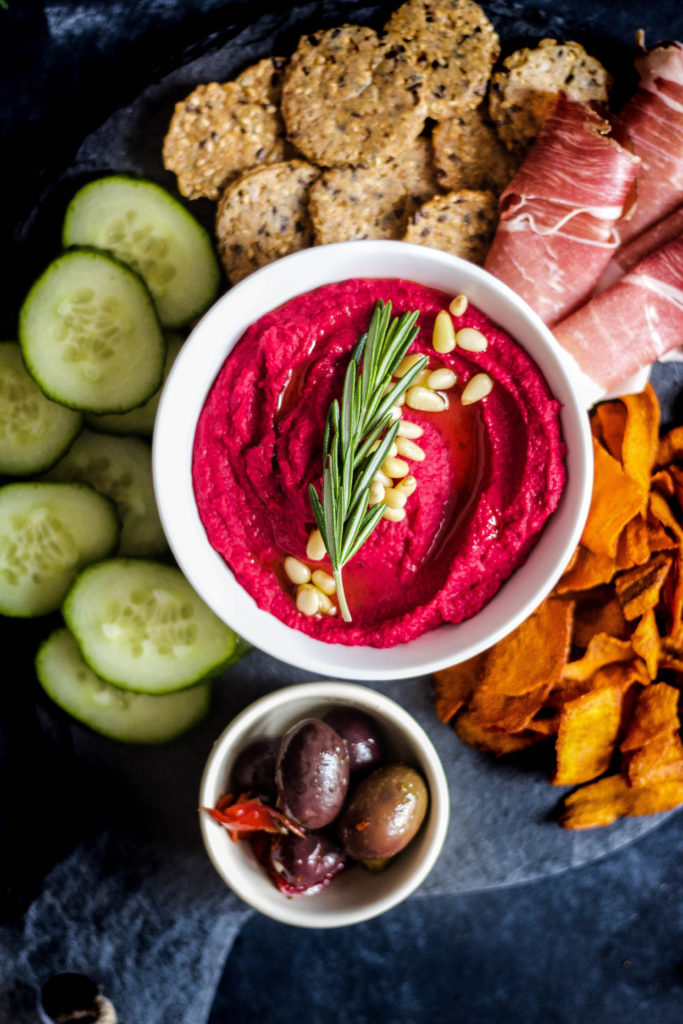 And speaking of dipping, I just recently discovered these awesome carrot chips from Hardbite. That's right, these are carrot chips, not sweet potato chips. And they are delicious. I'm always on the hunt for gluten-free, and usually grain-free crackers, so these bad boys really hit the mark. Plus, they're lower in carbs, which I like, especially when I'm pairing it with higher carb dip, like hummus.They pair so nicely with the beet hummus, and are thick enough that they don't break when you try to pile it on–which, of course, I always do. Hardbite also carries sweet potato chips, parsnip chips, beet chips and potato chips! So if you're looking for a healthy chip or cracker option, I highly recommend them!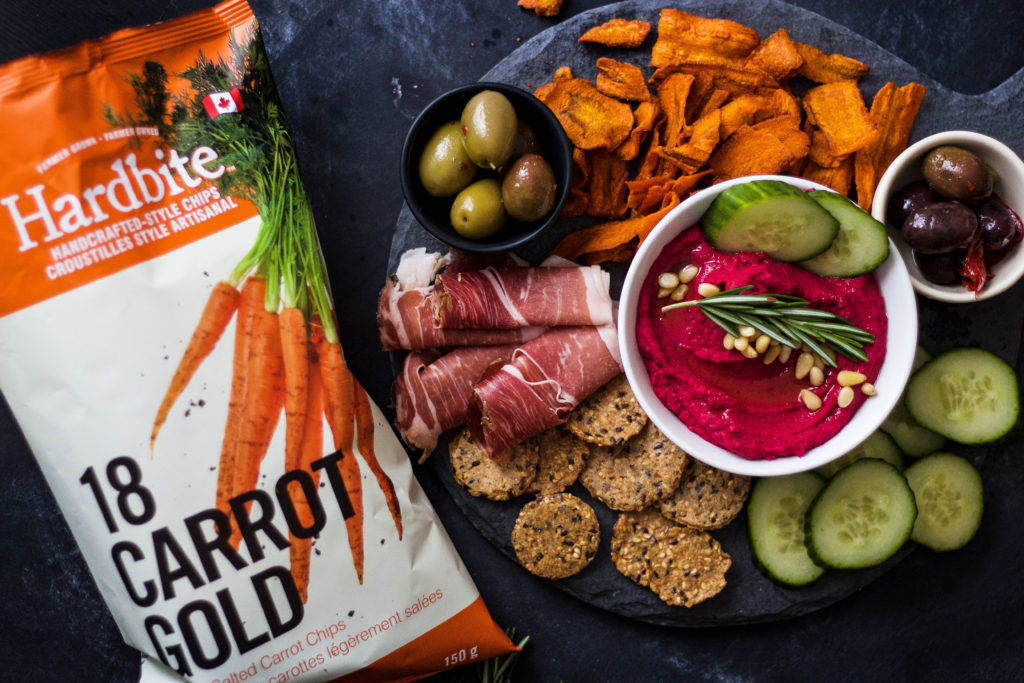 What foods are you excited about this holiday season? Let me know in the comments below, and if you haven't yet, make sure to subscribe to the blog!
Have a wonderful week all + happy cooking!

Rosemary Beet Hummus
2017-11-19 12:55:11
Serves 6
A roasted beet and rosemary hummus makes for a perfect holiday spread!
Ingredients
2 medium beets
4 cloves of garlic
2 tsp olive oil
1 28oz can chickpeas, drained
juice of 1 lemon
3 tbsp olive oil
1-2 tbsp water
1 tsp rosemary
salt + pepper to taste
Instructions
Preheat oven to 400F. Place beets and garlic on a medium piece of aluminum foil; drizzle with olive oil and wrap the foil around the beets and garlic. Roast for 1 hour, or until the beets are fork tender. Allow to cool and peel off the skin.
Place beets, garlic and all remaining ingredients in a food processor and blend until smooth. Pour hummus into a bowl and garnish with a drizzle of olive oil, pine nuts and a sprig of rosemary.
The Nourished Mind http://thenourishedmind.ca/