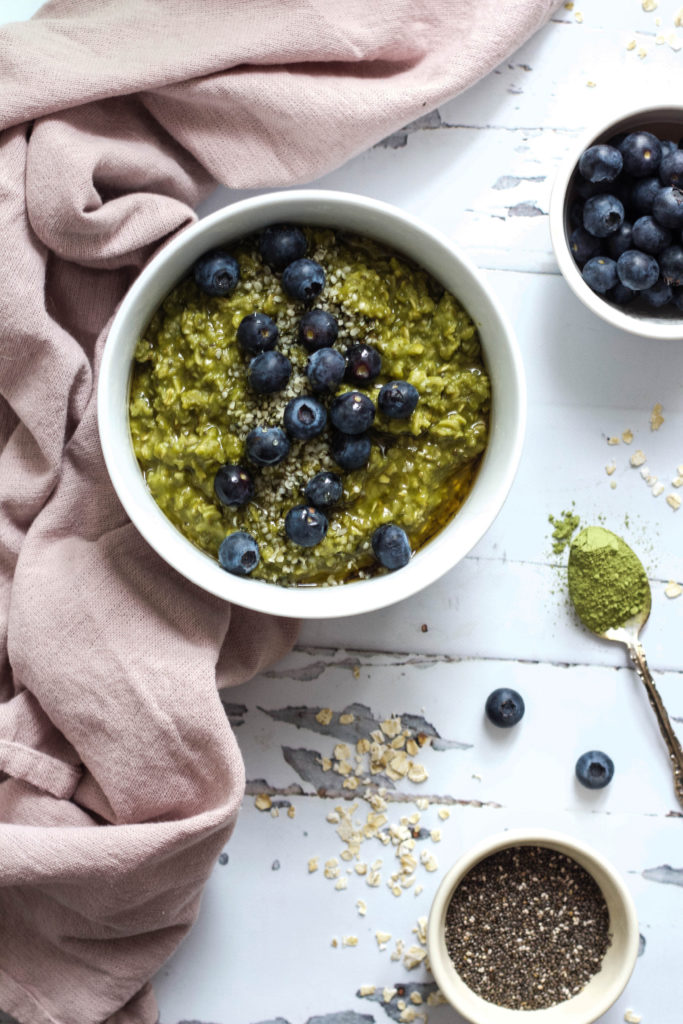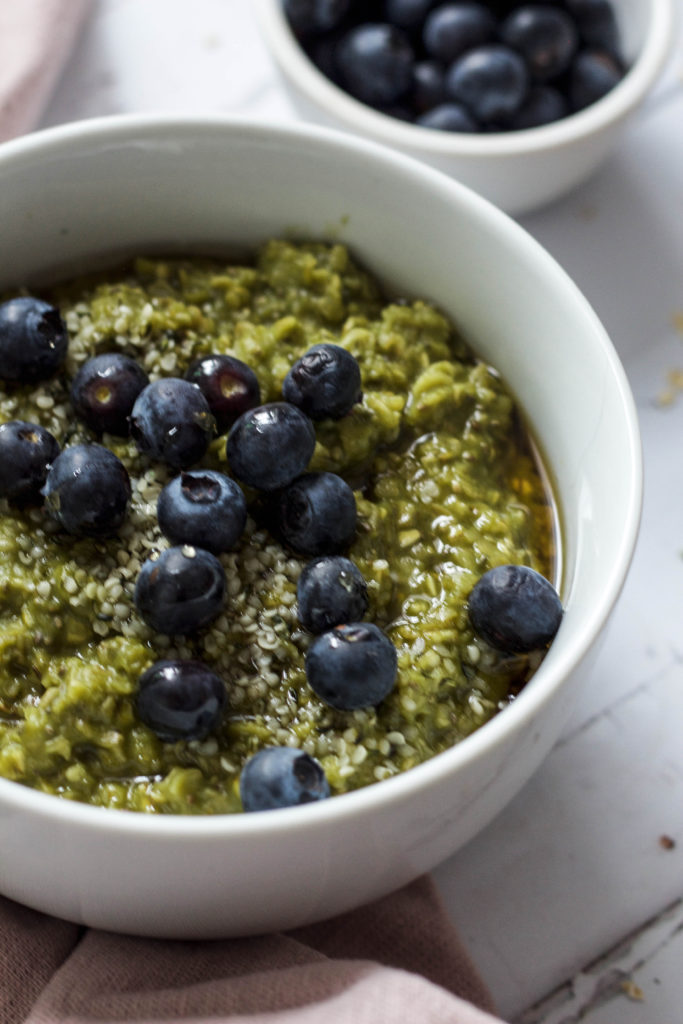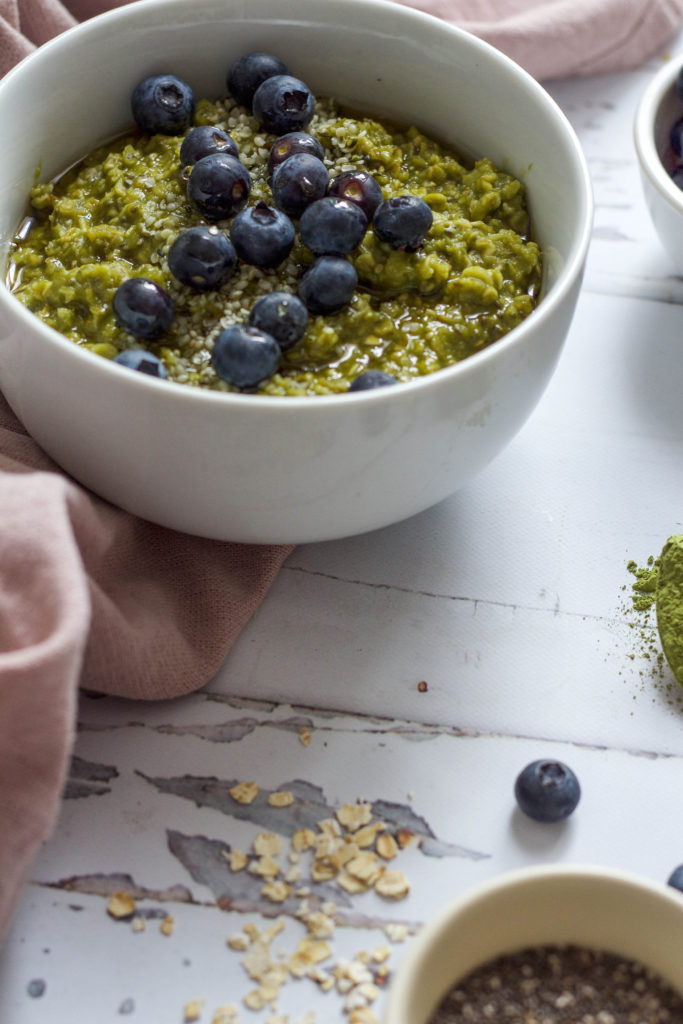 This week has been So. Freaking. Cold.
Like brrrrr. Weather warnings have urged that we stay inside all weekend, so today I'm doing just that. Today is all about self-care: I'm talking about wearing sweats, working out, putting on a face mask and eating all things nourishing and delicious.
Like this High Protein Matcha + Blueberry Oatmeal! I am such a lover of matcha. I love its bitter-sweet flavour, the bright colour it offers to any dish. It's also incredibly high in antioxidants, can boost cognitive function, provides the energy boost of caffeine without the crash, increases metabolism and can help increases feelings of calm and relaxation. Not bad, right?
On top of the matcha, this oatmeal also has some other magical ingredients sneakily thrown in there. For one, I added in a scoop of collagen peptides (I used Vital Proteins) to bump up the protein content of this breakfast. Collagen is also great for joint health, skin and hair health, and better digestion (namely healing leaky gut).
The second secret ingredient I added is chia seeds. Chia seeds are high in fibre, protein and omega-3 fatty acids! Adding chia seeds helps to make this oatmeal even more satiating to keep you fuller, longer.
Finally, it's topped with blueberries and hemp seeds. This is basically Superfood Overload, you know?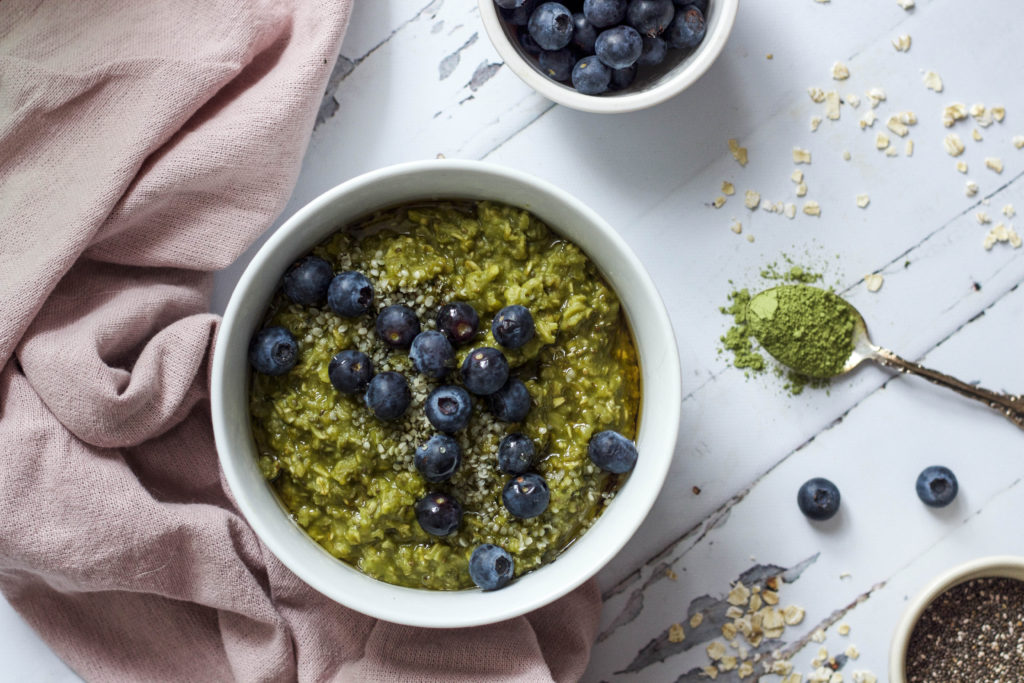 If you're new to matcha, I recommend treading lightly. Start with 1 tsp and taste–otherwise it can be a little overpowering. You could also make this as overnight oats recipe by combing all the ingredients and putting into two jars overnight. I just wanted something warm and cozy to eat while I catch up my Gilmore Girls reruns. Yes, it's that kind of day.
I hope all of you wonderful humans are loving the first week of 2018. I am really excited for this year–I can tell it's going to a year of big time growth and learning. Also, if you haven't read my post on why you should see a therapist in your 20s, you definitely should: it has been such a game changer for me. It's made me so much more self-aware, bringing my attention to the bad habits that I keep or the limited thoughts I was having. Highly recommend, my healthy homies.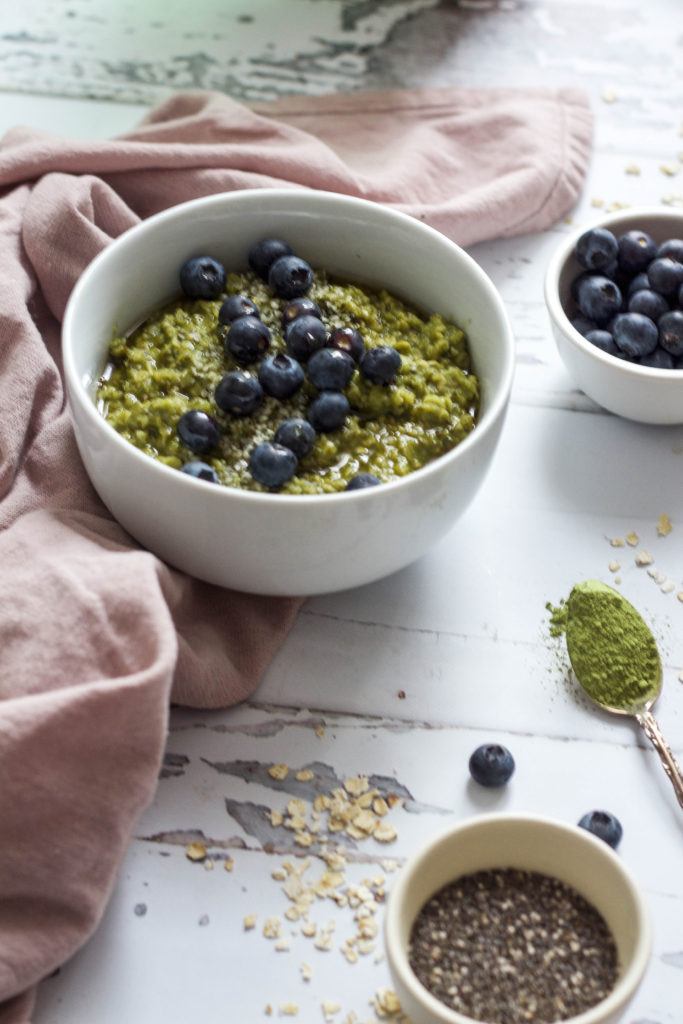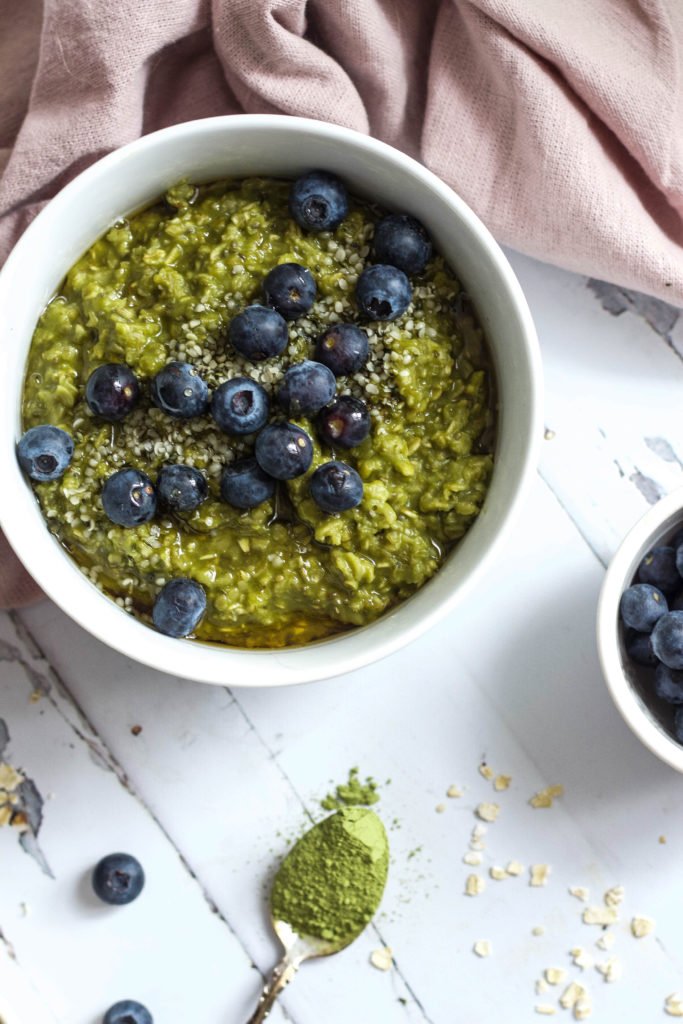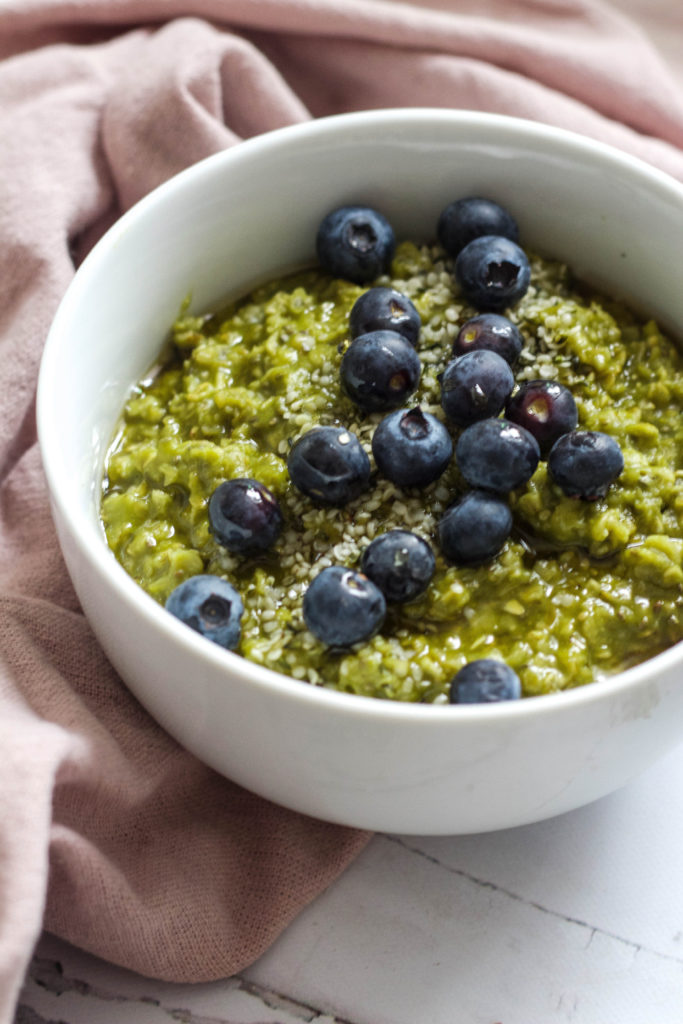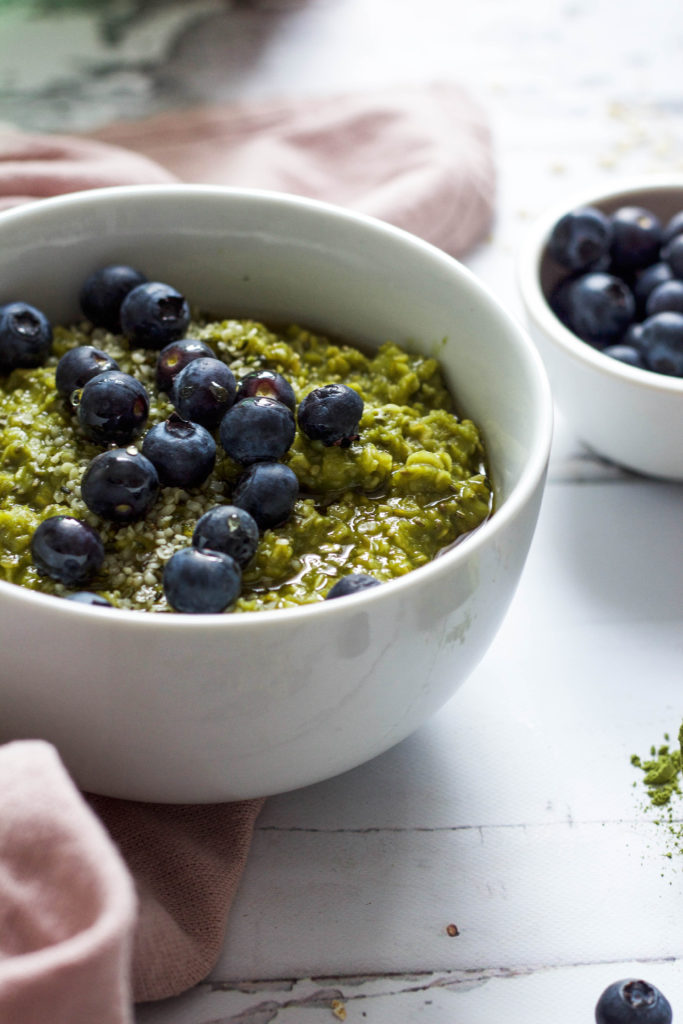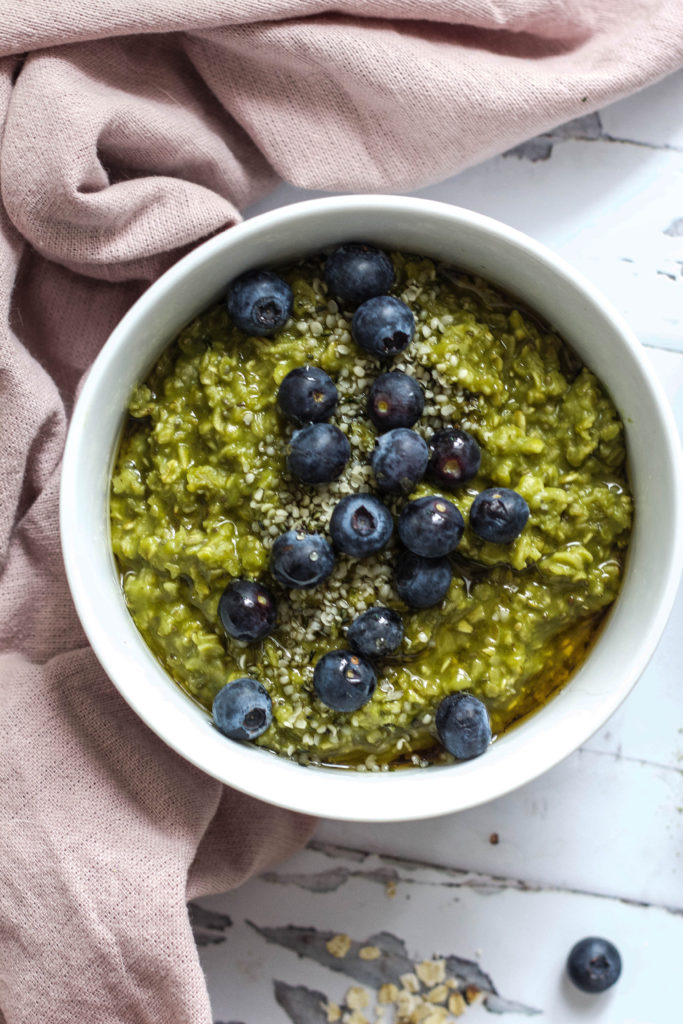 Enjoy the rest of your weekend + make sure to make time for yourself today!


High Protein Matcha + Blueberry Oatmeal
2018-01-07 11:18:57
Serves 2
Ingredients
1 1/2 cup almond milk
1 cup rolled oats
1 scoop Collagen Peptides
2 tbsp maple syrup
1 tbsp chia seeds
1-2 tsp matcha (I used 2)
1 tsp vanilla
Toppings
1/2 cup blueberries
2 tbsp hemp seeds
Instructions
In a medium saucepan combine almond milk, maple syrup, and vanilla, and bring to a boil.
Stir in rolled oats, collagen, matcha and chia seeds.
Simmer for 3-5 minutes until the milk is absorbed.
Divide into two bowls and top with blueberries, hemp seeds and a drizzle of maple syrup.
The Nourished Mind http://thenourishedmind.ca/