How pretty is this Beet, Fennel + Apple Soup?
It's so freakin' vibrant. I just love beets. I know people can be on the fence about them ("they taste like dirt", "they're too sweet"), but I could eat beets every single day for the rest of my life. I mean think about it: they can be savoury, they can be sweet, they can be pickled. I'm not sure why beet pie isn't a thing, but it definitely should be.
I also love this Beet, Fennel + Apple soup, because I just love pureed soup. See here and here for proof. Don't ask me why, I just do.
But the main reason I love this soup is because it is so packed with nutrition.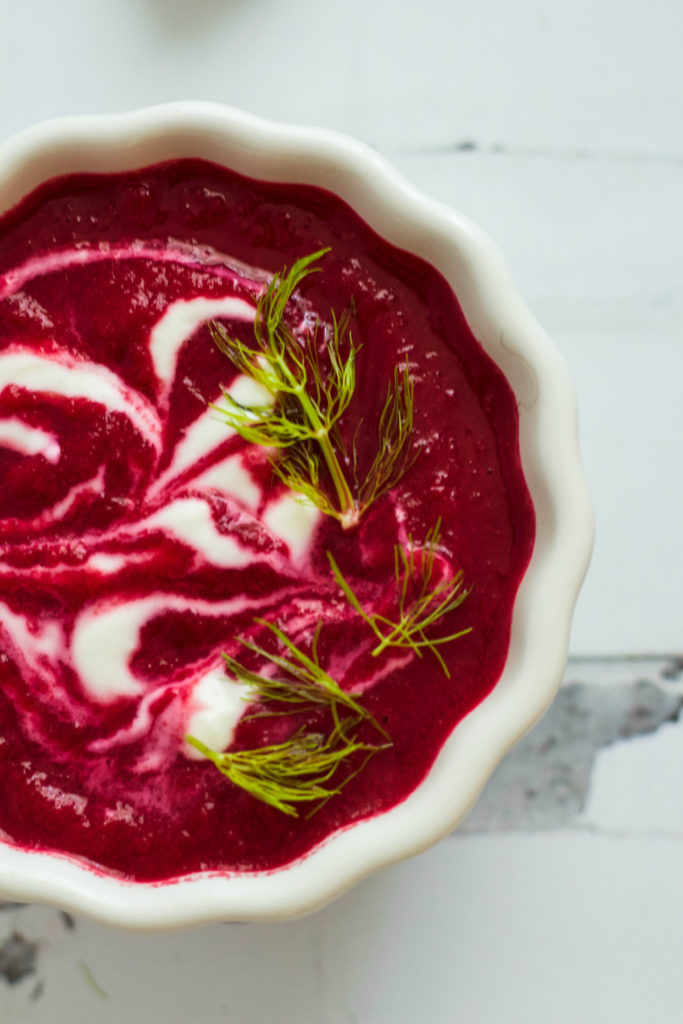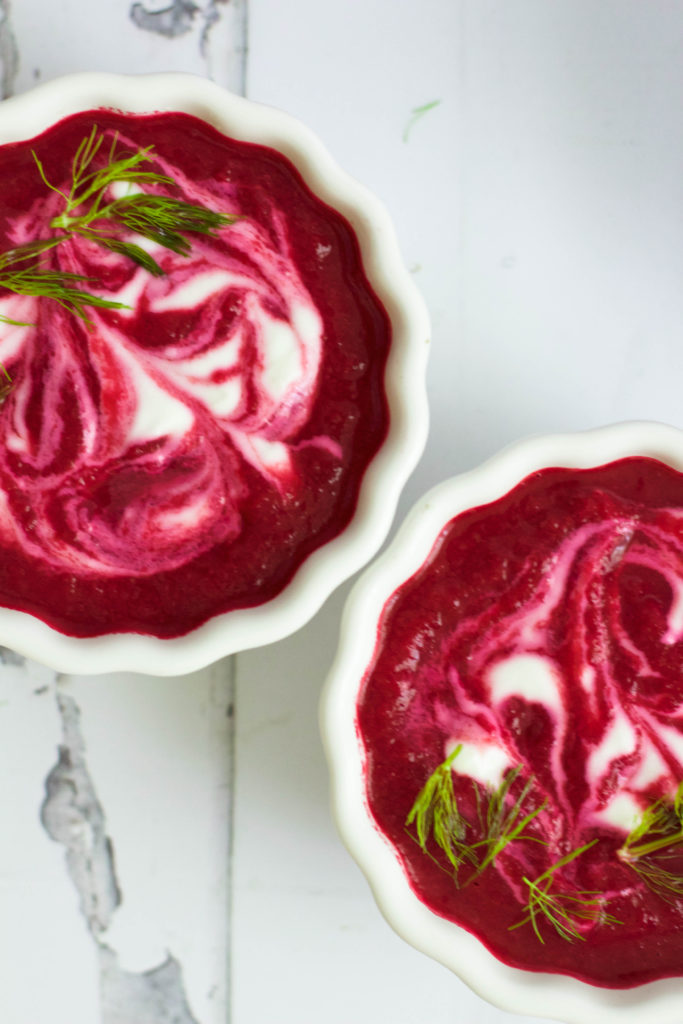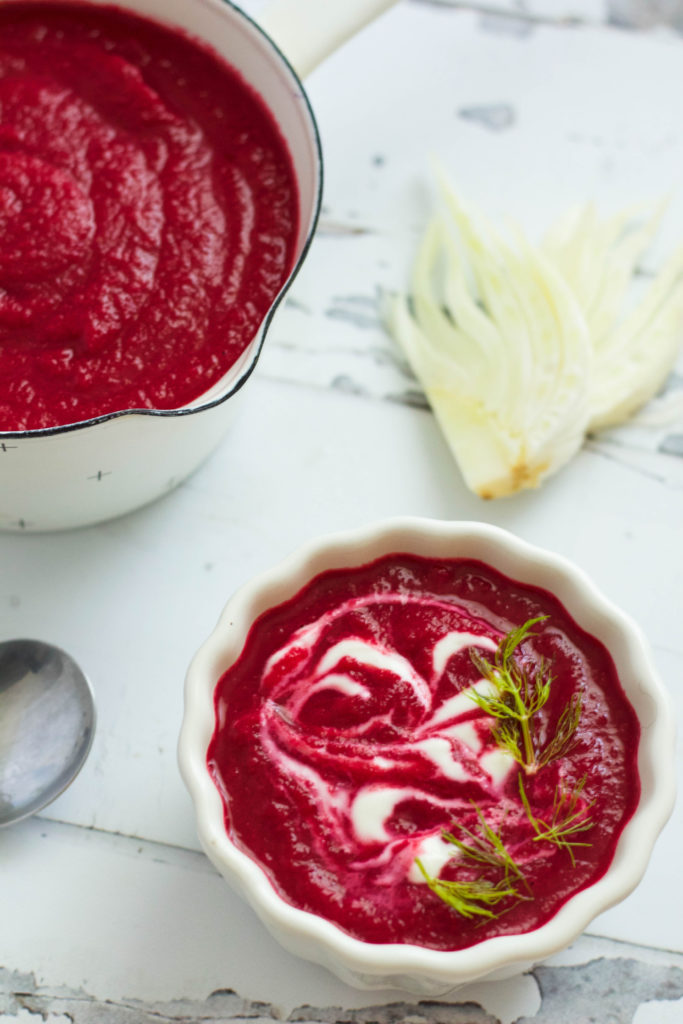 Nutritional Highlights
Beets: These bright red beauties contain B-vitamins, iron, magnesium and potassium. Beets are also high in nitrates, which have been shown to boost athletic performance. With beets, it's all about blood flow: eating beets has been found to lower blood pressure, and increase blood flow to the brain–specifically to the frontal lobe, the part of our brain that deals with focusing, memory and problem solving.
Beets are also high in betaine, an amino acid that protects the body from environmental stress. Betaine has also been found to prevent fat accumulation around the liver, which is especially important with the epidemic of non-alcoholic fatty liver disease (primarily caused by eating a diet high in fructose) on the rise today.
Beets are high in fibre, which helps to keep you regular and relieve symptoms of IBS and constipation. High fibre has also been shown to be protective against colon cancer, and type 2 diabetes. Their high fibre and low calorie content also makes them a good food for weight loss, because they keep you full and reduce appetite.
Fennel: fennel is another food high in nitrates, so it boasts a lot of those same benefits as beets in regards to blood flow. Fennel also contains fibre, iron, calcium, magnesium and zinc. More unique to fennel is its selenium content, a mineral that has been shown to increase liver enzyme function and help the body detoxify cancer-causing compounds from the body.
Fennel contains choline, which is needed to make the neurotransmitter acetylcholine, which neurons need to communicate with one another, and it's required for proper muscle function. Fennel is also an excellent source of vitamin C, which is an antioxidant that is also required for the uptake and synthesis of collagen, a protein that's needed for skin health, healthy joints, good digestion and brain function.

Also in case you haven't heard, this is one of 13 recipes featured in my FREE e-book Autumn Detox. You can get your copy by subscribing to the box below:
The e-book features all gluten-free recipes, with lots of paleo and vegan options! I wanted to create a seasonal roundup of recipes that are nutritious and hella delicious, because eating healthy does not have to be stressful, and it does not have to suck. Oh, and it does not have to be expensive. The only superfoods in this ebook are the simple root veggies that can be found in abundance this time of year. Because real food is good food, you know?
Alright lovely humans, enjoy your weekend! Make something delicious for me xx

Beet, Fennel + Apple Soup
Ingredients
2

tbsp

olive oil

1

onion

diced

2

cloves

garlic

minced

1

inch

ginger

minced

3

beets

peeled and chopped

1/2

fennel bulb

sliced

1

apple

peeled and chopped

4

cups

vegetable broth

1/4

cup

coconut milk

Salt + pepper

to taste

Garnish

optional: yogurt, and fennel
Instructions
In a large saucepan, heat olive oil. Add onion and cook until translucent, about 3-5 minutes.

Stir in garlic and ginger, and cook until fragrant.

Add to pot the remaining vegetables and broth. Simmer for 20-30 minutes, until beets are tender.

Stir in coconut milk and heat until warmed through.

Serve immediately, and top with yogurt and fennel fronds.