Today is going to be a short post, but we got our CSA share yesterday, and in it, we got tomatillos! I have never in my life eaten a tomatillo, so my first thought was, "what the Poe do I do with this?" (Yes, in our household, our cat's name, Poe, is a very bad word–cause she's a very bad cat.)
And then I had an idea: gazpacho! I had been wanting to make one all summer, but in Canada, you have to wait until it's almost fall again before it gets hot enough to eat cold soup. SO, in case you happened to find tomatillos in your CSA share (or perhaps you just want to give them a try), here's an easy tomatillo gazpacho recipe that Allie (a tomatillo lover) has approved!
TOMATILLO GAZPACHO
1 3/4 cup of organic chicken broth
6-8 medium tomatillos husked, rinsed, and cut into medium dice
1 medium clove garlic, minced
2 tbsp. olive oil
2 medium avocados, cut into small dice
1/2  cucumber, cut into small dice
1/2 large green pepper, cut into small dice
1/4 small onion, finely diced
juice of 1/2 lemon
sea salt and freshly ground black pepper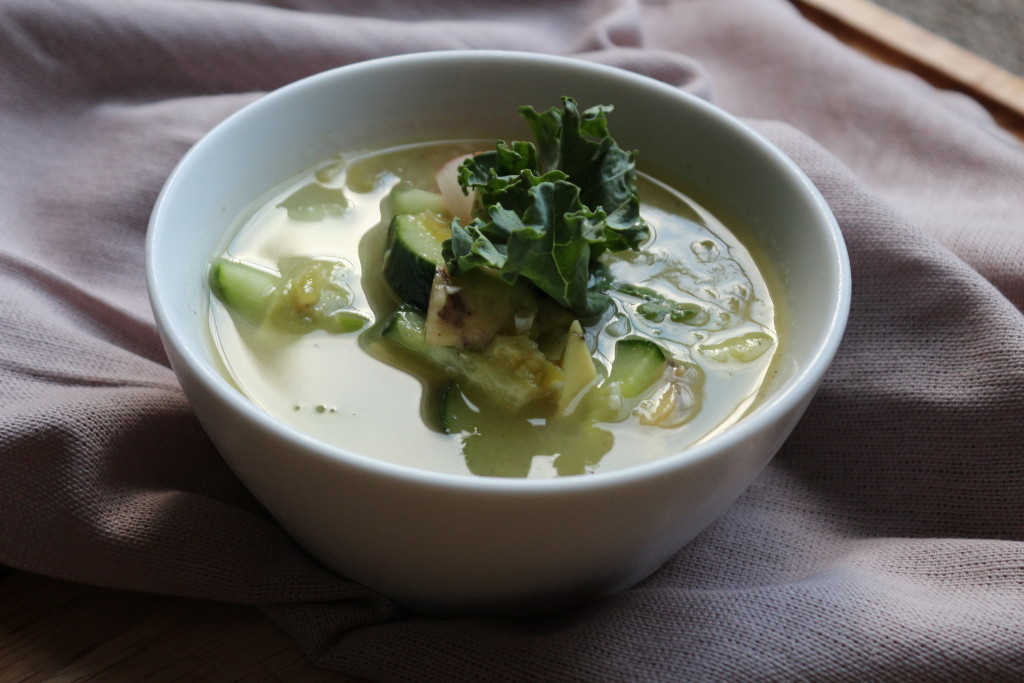 1. Heat the broth and bring to a boil. Add in garlic and tomatillos and bring back to a boil. Let simmer for another minute so the tomatillos are cooked but still in shape.
2. Take off stove top and let cool for 5 or so minutes. Pour mixture in food processor, add the olive oil and blend. (Note: wrap a tea towel around the lid of the food processor so when the mixture spins, it doesn't shoot out from the cracks and drench you. If you don't know what I mean, blend for a second, and you'll find out).
3. Pour mixture in heat proof bowl and set in the fridge to cool. Take this time to watch an episode or two of Chopped and feel validated.
4. Add in all the other sliced veggies (avocado, pepper, cucumber, onion) into bowl and gently fold in just to get everything coated in the tomatillo broth. Add salt, pepper and lemon juice and return to the fridge for 1-4 hours. The longer you let this sit, the better it will taste!
5. Before serving, taste and add a little extra salt, pepper or lemon, as needed. Enjoy 🙂
Have a wonderful day, and let me know how you use up your CSA veggies in the comments!
-Tisha