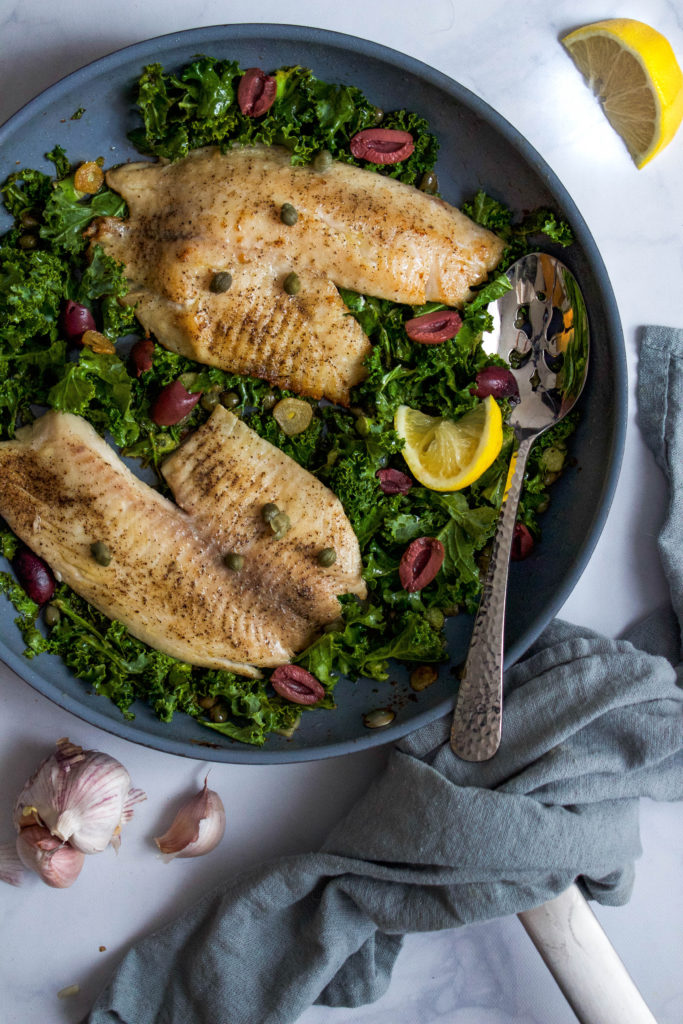 This has been such a wonderful weekend.
It started Thursday night with belated birthday drinks with some friends. And then a movie night with the girls on Friday involving sappy movies, wine, and all the snack food. Yesterday I met with a friend for coffee (and a matcha latte for myself, as I'm still trying to cut back on the caffeine, ugh.), followed by a movie night with Allie at the Revue Cinema–Toronto's only not-for-profit movie theatre. It's hella cute: they still have a box office to order tickets, and there's only one theatre, so they only play one movie at a time. We've gone in the past for trivia nights, but this was my first time going to see a movie (we saw Lady Bird, and I definitely recommend it!) and it was so charming and nostalgic.
And then today, I managed to take the dog on a nice long walk, squeeze in a workout (where I squeezed my glutes), paint my nails, smudge my nails by not waiting for them to dry, and then spend the day taking photos and using my new tripod, a birthday gift from Allie.
Yeah, it's been a lovely weekend. I'm sad to see it go. Ah well, bring on Monday!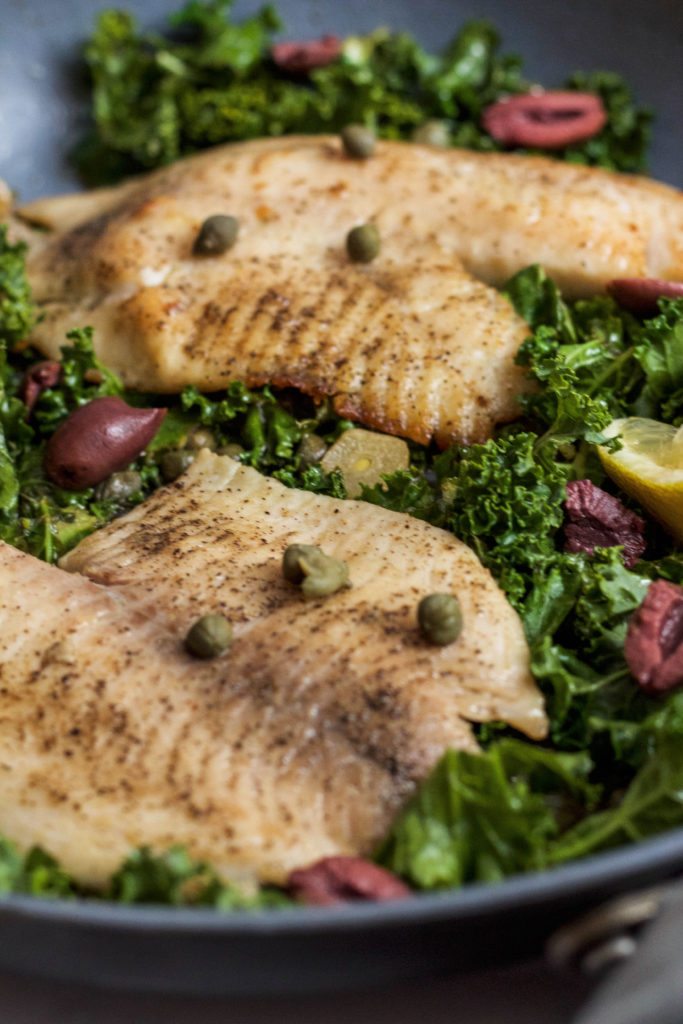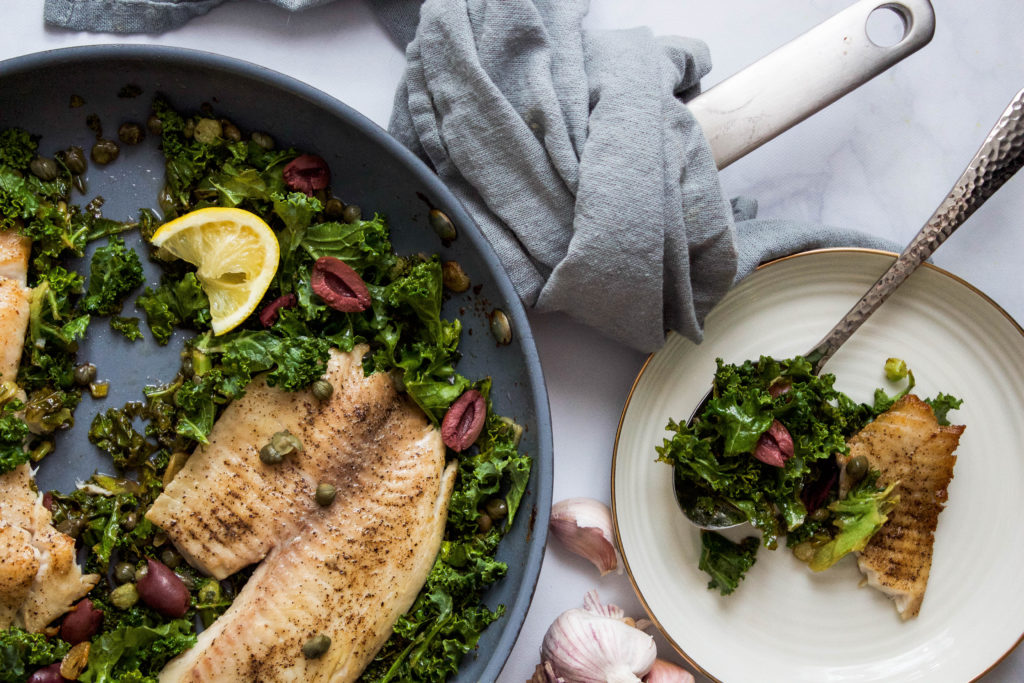 Okay, so this Tilapia + Kale Piccata.
It is so freakin' delicious. I'm trying to up my fish servings (aiming for 3 servings of fish per week), so this week has seen lot of salmon, trout and tilapia. I love tilapia. It's such a mild fish. If you're someone who is not so much on the fishy-fish bandwagon, I'd definitely try this. It's seasoned with lots of salt and pepper, and then pan-fried.
The piccata sauce is made up of melted butter, sliced garlic, lemon juice, white wine, capers and kalamata olives. I added kale in at the end to bump up the nutrition, get a serving of greens and make this a light and balanced meal. You could totally add in a starch to this–maybe some sweet potatoes, a celeriac puree, some quinoa.
The best part is this whole thing takes about 15 minutes to come together. How easy is that? Perfect for those late work nights where you really don't want to eat, but the UberEats charges on your credit card are getting a little too cringe-worthy.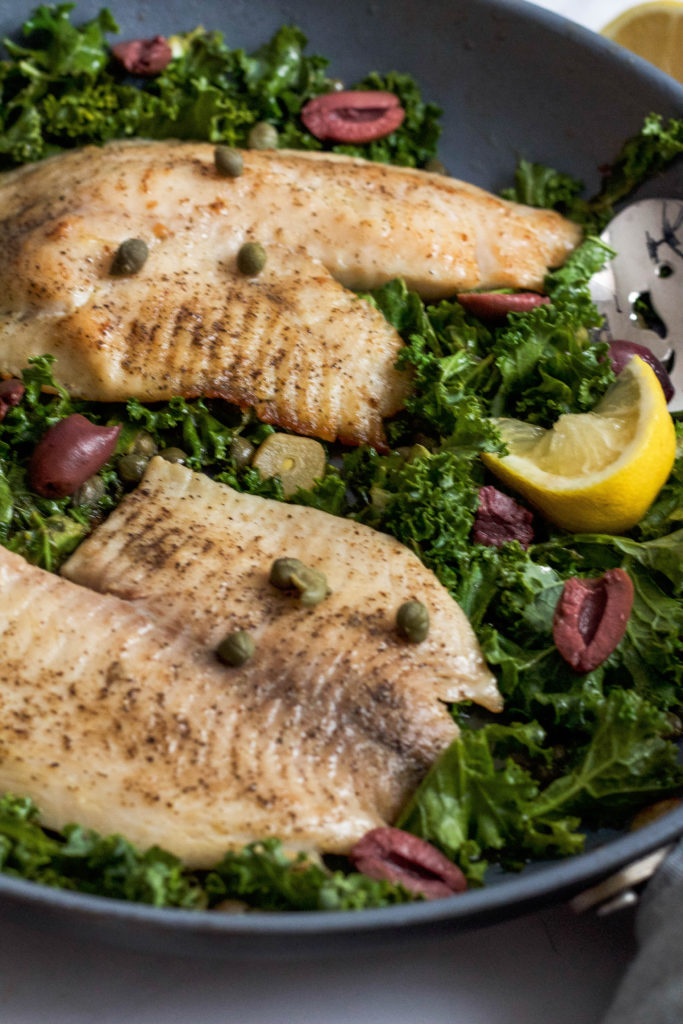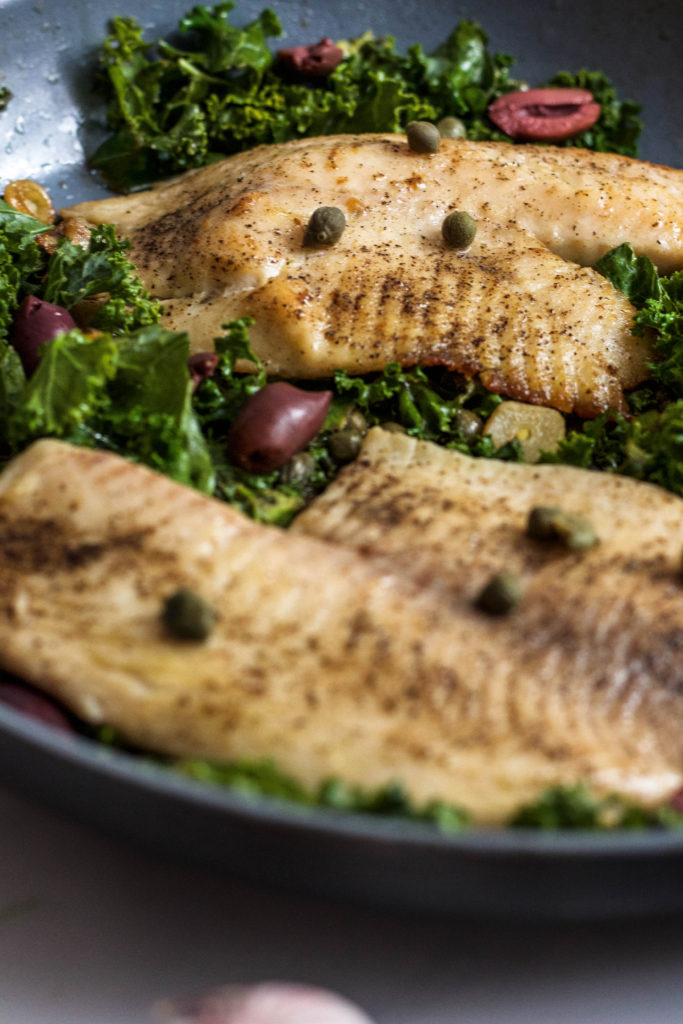 A note about tilapia:
When it comes to tilapia, look for fish coming from Canada, the United States, the Netherlands or Peru. Stay away from tilapia that comes from China, as it's often laden with chemicals. Tilapia are natural cleaners of their environment, eating up toxins and waste in the water around them, so its important to look for fish from a reputable source that farms them in clean water–unfortunately finding wild tilapia is pretty darn hard. Tilapia is also higher in omega-6s then omega-3s, meaning if you're someone who already eats a conventional diet high in refined oils, sugar and red meat, you might want to pick another fish, like cod, trout or salmon, which are higher in omega-3s.
That being said, tilapia contains about 150 mg of DHA + EPA per 4 oz serving, and contains only 2 micrograms of mercury per serving, compared to high-mercury fish like swordfish and king mackerel, that contain up to 220 micrograms of mercury per 4 oz portion! Tilapia are also easy to farm with minimal impact on the environment, and are a budget-friendly fish option.
The Monterey Bay Aquarium does a great breakdown of what to look for when buying tilapia, which you can read here. If you want to read more about tilapia, you can check out these articles here and here.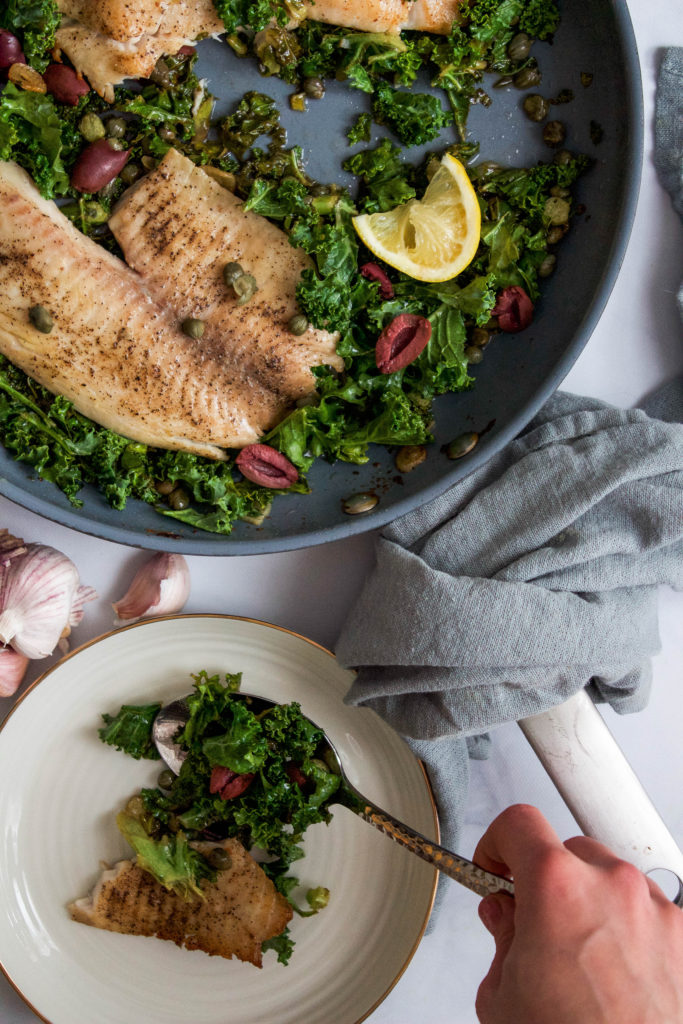 Happy eatings, friends!

Tilapia + Kale Piccata
2018-01-21 13:04:15
Serves 2
Ingredients
2 pieces tilapia
2 tbsp olive oil
2 tbsp butter
2 cloves garlic, thinly sliced
juice of 1 lemon
1/4 cup capers
1/4 cup white wine
2 tbsp kalamata olives, halved
4 cups chopped kale
Instructions
Preheat oven to 400F. Line a baking sheet with parchment paper.
Pat dry tilapia and heavily season both sides with salt and pepper.
In a medium sauce pan, melt 2 tbsp of olive oil. Add tilapia and fry until golden, approximately 3 minutes per side. Remove fish and place on parchment-lined baking sheet.
Bake fish in oven for 6 minutes or until cooked through.
To the saucepan, add butter and garlic, and cook 3-5 minutes.
Add lemon juice, white wine and capers.
Add kale and cook until kale begins to wilt.
Add tilapia back to pan and serve immediately, or serve on two plates with one piece of tilapia each, topped with half the kale mixture.
The Nourished Mind http://thenourishedmind.ca/