Often when we talk about cleansing the body, we talk about doing juice fasts, drinking green smoothies, water fasting, etc. But something we don't really discuss when we talk about detoxing is bone broth. Bone broth is incredibly nutritious for you: it's rich in minerals, like potassium, calcium and magnesium, and the gelatin in broth is incredibly easy to digest, making it a great addition to a spring detox, when we want to soothe and heal our overworked digestive tract.
There are a lot of benefits to drinking homemade bone broth, including:
*more energy
*stronger immunity
*decrease in allergies
*remineralization of teeth
*improved digestion
*better absorption of vitamins and minerals from other sources
*healing of the digestive tract
*improve thyroid function (especially fish broth, which is rich in iodine!)
Also, homemade broth taste so much better than store-bought, and is free of additives, added sodium, corn syrup and MSG–all ingredients that we don't want to be consuming. Plus, this is a great way to use bones up after a meal (like a roasted chicken dinner), and make sure nothing goes to waste! I know the idea of making a bone broth can seem rather daunting, but it's actually fairly easy and the prep only takes a few minutes!
You can use anything for broth (poultry, fish, beef) but if it's your first time, I'd recommend using chicken, if only because chicken broth is so delicious and so easy to work with in soups–and it really does help with the flu! I actually made a beef broth, because they had beef bones at my local health food store, but you can use whatever's available to you!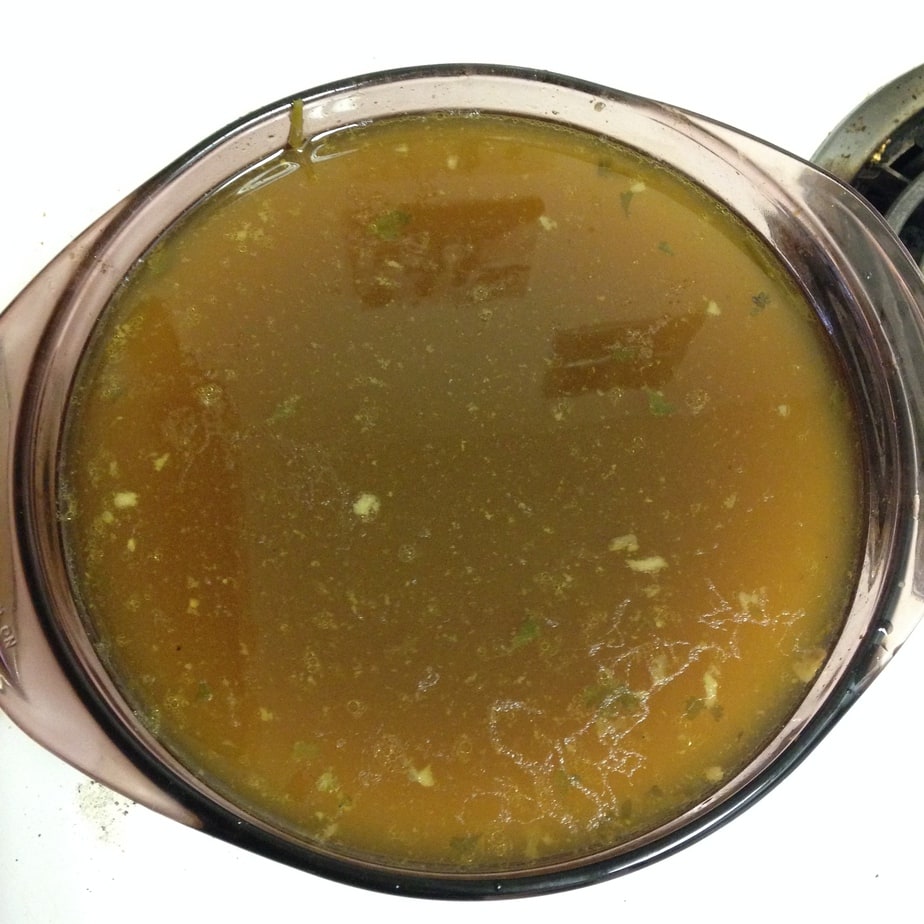 Helpful Tips
*use cold (filtered, if possible) water to enhance the flavour and allow the fibres of the vegetables to open slowly and release juices, and use just enough to cover everything in the pot
* add a few tablespoons of apple cider vinegar to your broth to draw minerals out of the bones
*the bigger the animal, the longer the cooking time. Of course the longer it sits, the richer it will be, but generally speaking:
fish/seafood stock: 4- 24 hrs
chicken/turkey stock: 6-24 hours
beef/lamb/bison stock: 12-72 hours
*for beef stock, roast the meatier bones for about an hour in the oven at 350 degrees, to enhance the flavour
* add ingredients like parsley and garlic within the last 30 minutes of cooking, so the flavour remains
*cook with bones from grassfed, organic and free range
*use a crockpot so you can leave it on unattended and let the broth simmer for as long as possible
You can find basic bone broth recipes almost anywhere now. The Nourishing Traditions Cookbook by Sally Fallon is filled with lots of easy broth recipes and teaches you everything from soaking your own grains to making your own kefir and sauerkraut!
BROTH RECIPE
Ingredients
* 2 lbs of bones (I used beef bones)
*cold water to cover everything
* 1 onion, chopped into large pieces
* 2 carrots, roughly chopped
* 2 stalks celery roughly chopped
* 2 Tbsp Apple Cider Vinegar
* spices (salt, pepper, turmeric, peppercorns) to taste
Optional: one handful parsley and two cloves of garlic to add in at the end
Directions
1. roast meaty bones in the oven for 40-60 min at 350 degrees, until well-browned. In the meantime add other bones, vegetables, vinegar, spices and water to crockpot.
2. Add roasted bones to crockpot and turn on heat. As the broth cooks in the first few hours, impurities (little soapy bubbles) will float to the top. Just check every 2-30 minutes for the first two hours or so, scoop it off with a spoon and throw it out.
3. In the last 30 minutes add parsley and garlic, if using.
4. Once it's done cooking, let cool slightly, and then pull out bones and vegetables with a pair of tongs or slotted spoon. Strain the broth using a strainer to remove any small bits and pieces floating around.
5. Pour broth into glass jars and keep refrigerated for up to 5 days, or place in freezer (it will stay good for several months). Use it to make delicious soups, or drink on its own for a warm, nutritious beverage!