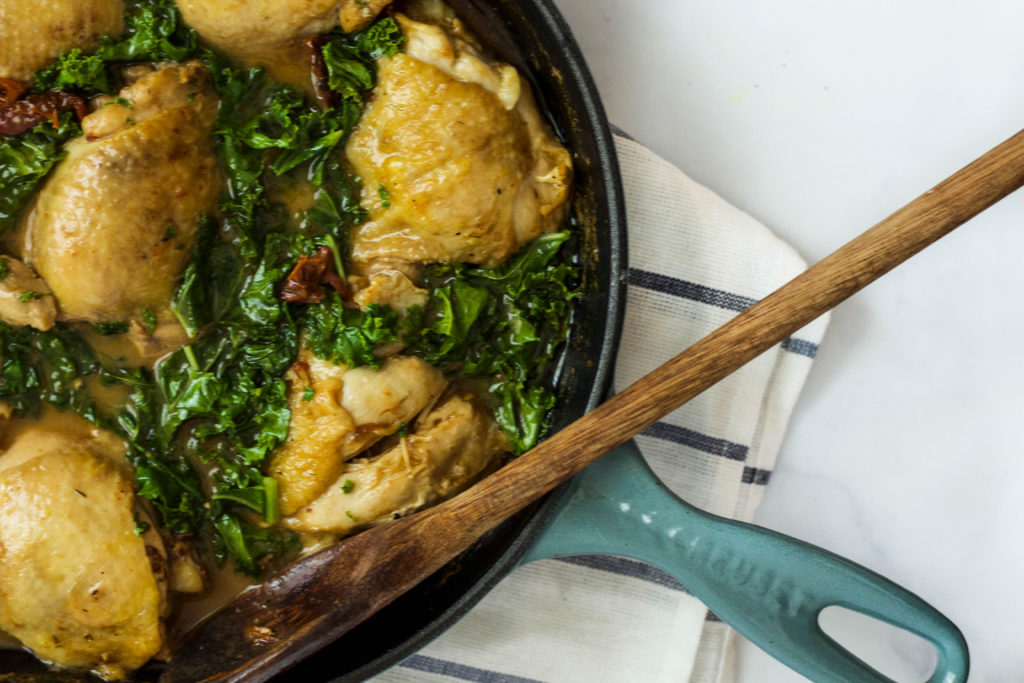 Happy long weekend!
Mine has been extra long, thanks to a mild concussion. No cause for alarm: I hit my head during one of my workouts just a smidge too hard. But of course, being the clumsy lady that I am, I brushed it off as just a day in the life, and continued through my workout. It was only the next day when my head was really hurting, and that I felt like I was struggling to make any decisions (in fact, I felt quite tipsy) at work, that panic set in. So a quick trip to the doctor's confirmed I was just a baby bit concussed, and that rest was in order.
So three days later, and my head no longer feels like mush and we're finally in September. As in end of summer, good bye warm weather, hello scarves and overpriced seasonal lattes. And aside from the fact that I maintain we never had a summer this year (not once did I wear shorts or complain about my hair being too frizzy and unmanageable thanks to the humidity), I am actually stoked for autumn.
Mostly for the food: squash, carrots, parsnips, apples, pears, pumpkins… Also for the vampy nail polish and red lipstick. The layers. Oh yes, am I excited.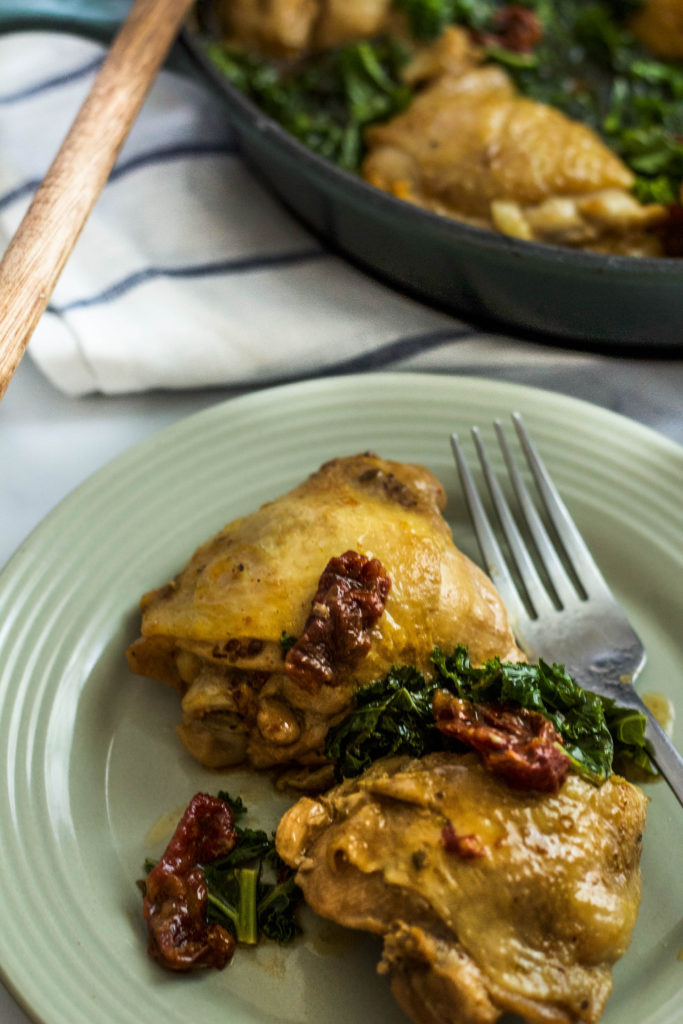 Okay, onto these Sun-dried Tomato, Kale + Coconut Chicken Thighs. These are delicious: savoury, creamy, and flavourful.
It occurred to me that I rarely include meat dishes on the blog. And it's not because I don't eat meat–I do. For whatever reason, I never think of including those recipes on the blog. So I figured it was time to change that!
While you can totally eat these Sun-dried Tomato, Kale + Coconut Chicken Thighs on their own, I think it's best served overtop of roasted vegetables, or with a whole grain.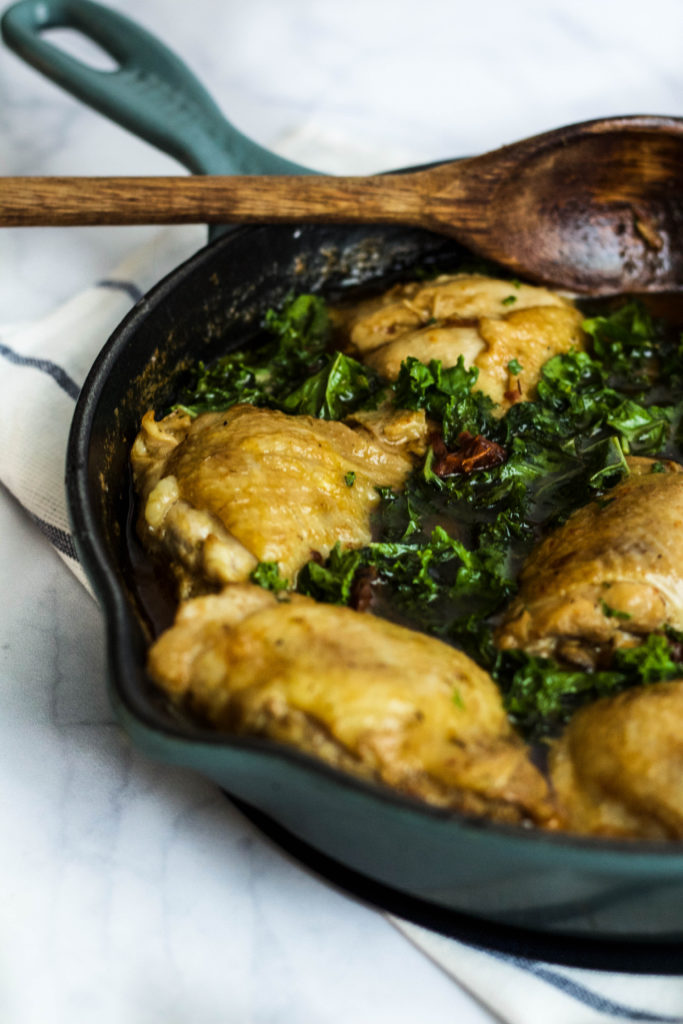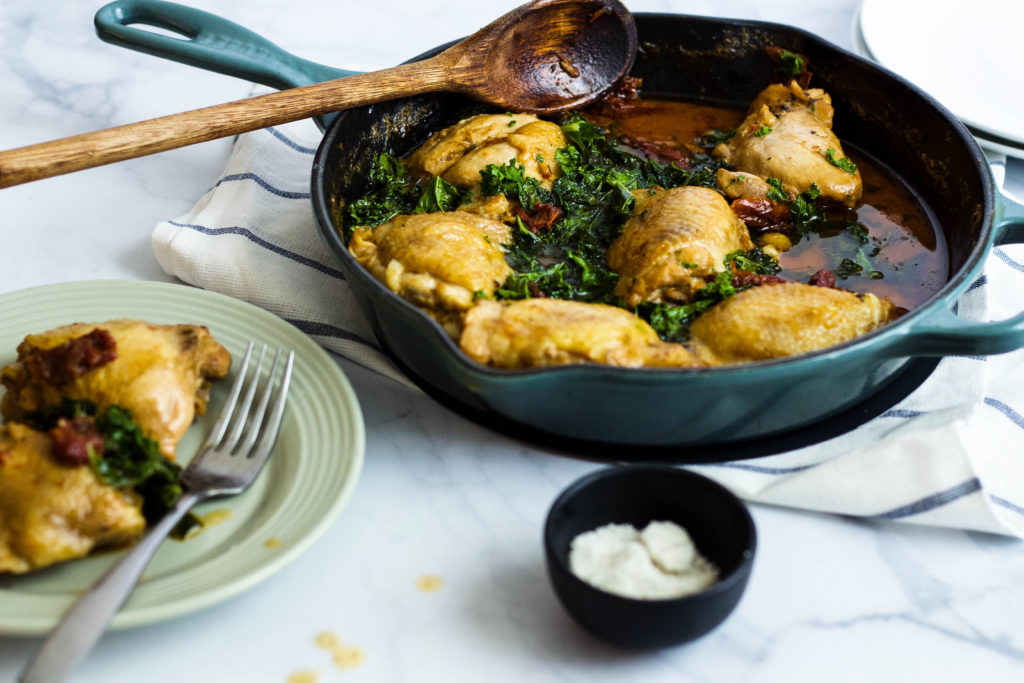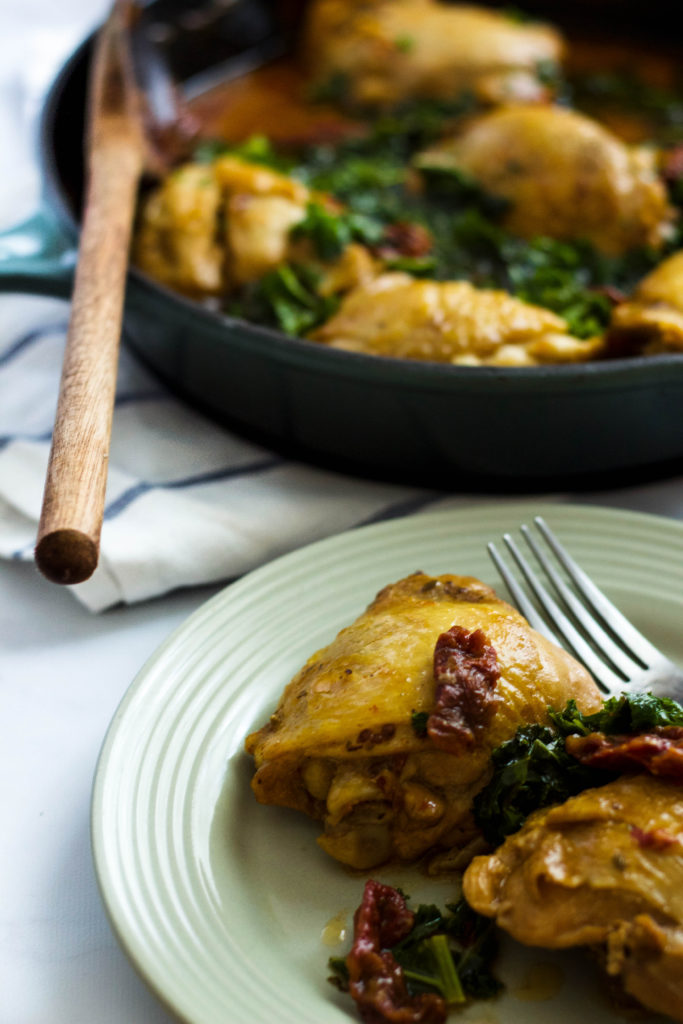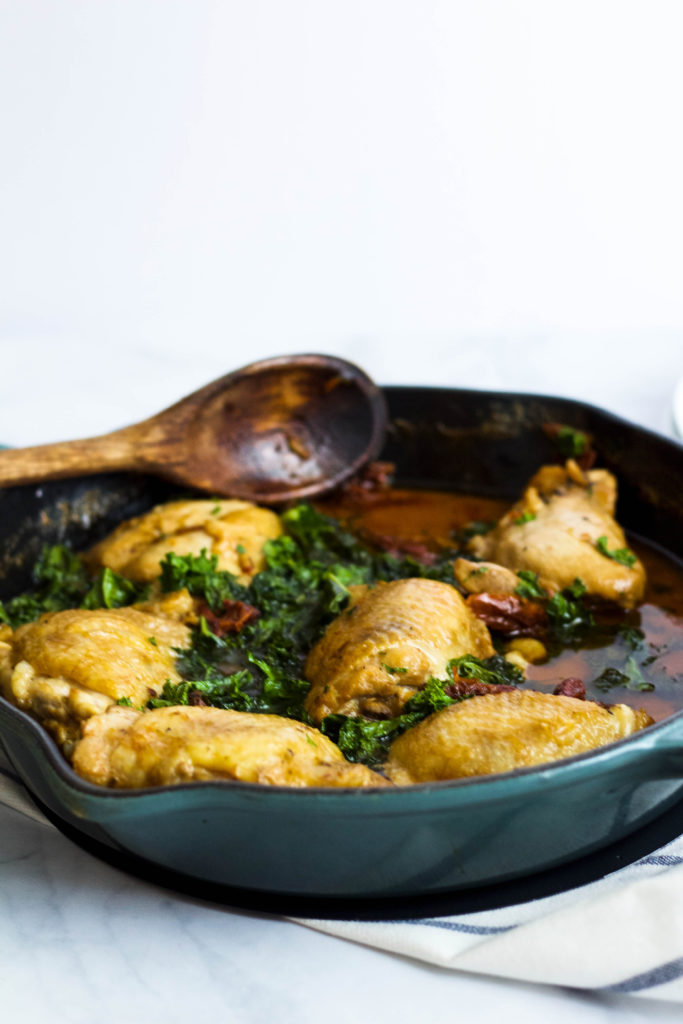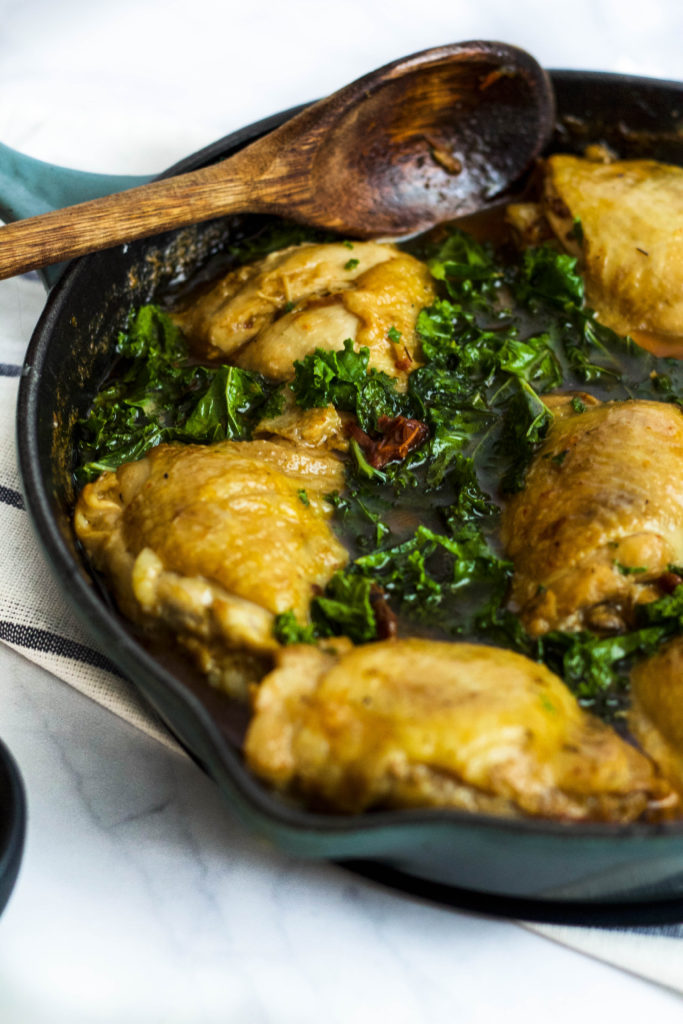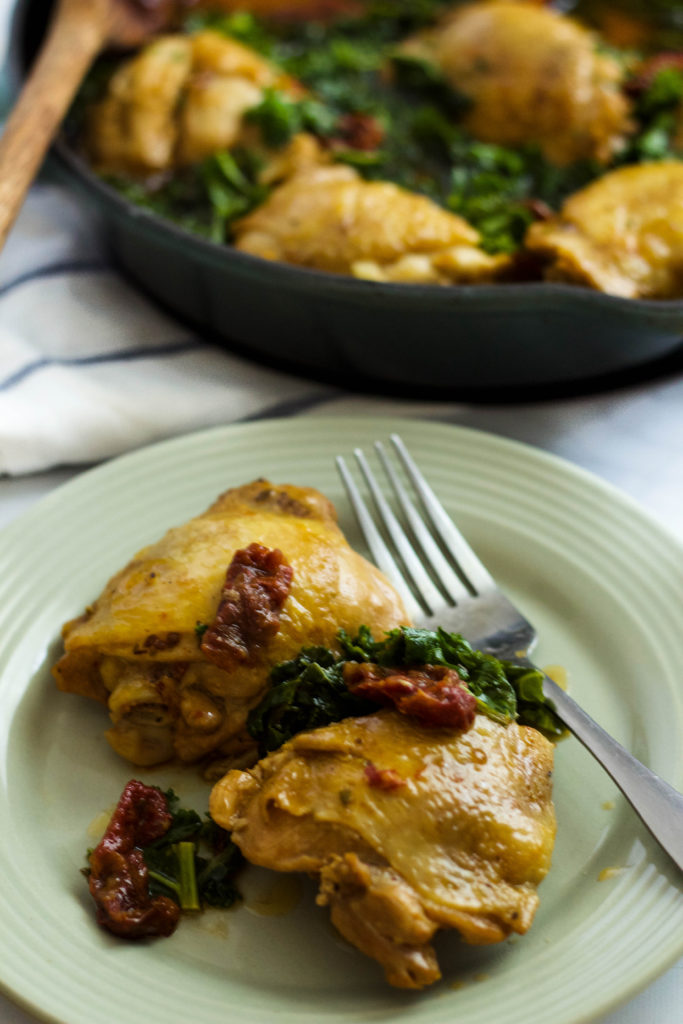 Do you have any fun plans this weekend? Any good recipes that you'll be making? Let me know in the comments below!

Sun-Dried Tomato, Kale + Coconut Chicken Thighs
Ingredients
2

tbsp

olive oil

8

chicken thighs

skin-on, bone-in

1

can coconut milk

1

cup

chicken stock

1/2

cup

sun-dried tomatoes

chopped

1

tsp

tapioca starch

1/2

tsp

oregano

1/2

tsp

paprika

1

cup

kale

chopped
Instructions
In a cast iron pan over medium heat, heat up oil and pan-sear chicken thighs, skin-side down, until golden brown. Remove from pan and set aside.

In the same pan, add coconut milk, stock, sun-dried tomatoes, and spices. Bring to a light boil, and whisk in tapioca starch. Lower heat to simmer.

Add chicken thighs back to the pan, face side up, and continue to cook until thighs are cooked through, about 20 minutes.

Stir in kale, and cook until wilted, 2-3 minutes. Serve immediately.