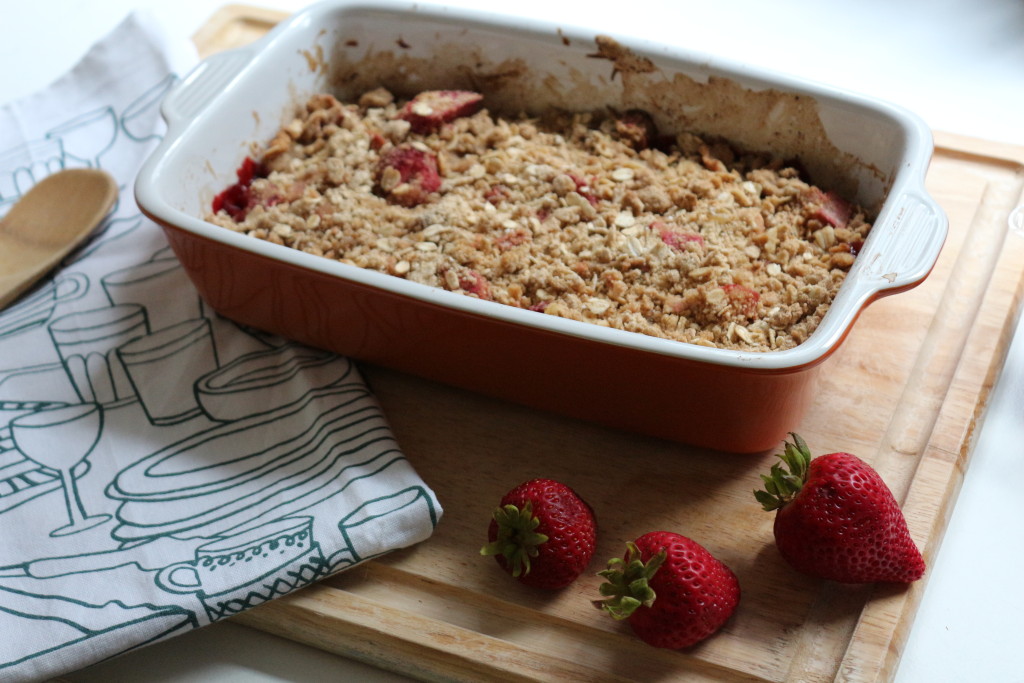 Can you believe summer is finally here? Yesterday was the first day of summer (and of course, Father's Day!) and it has me already daydreaming of warm, breezy nights, drinks on the patio and walks to the farmer's market. Poe must be feeling it too: every time we open the door, out she goes–indoor cat be damned–to freedom.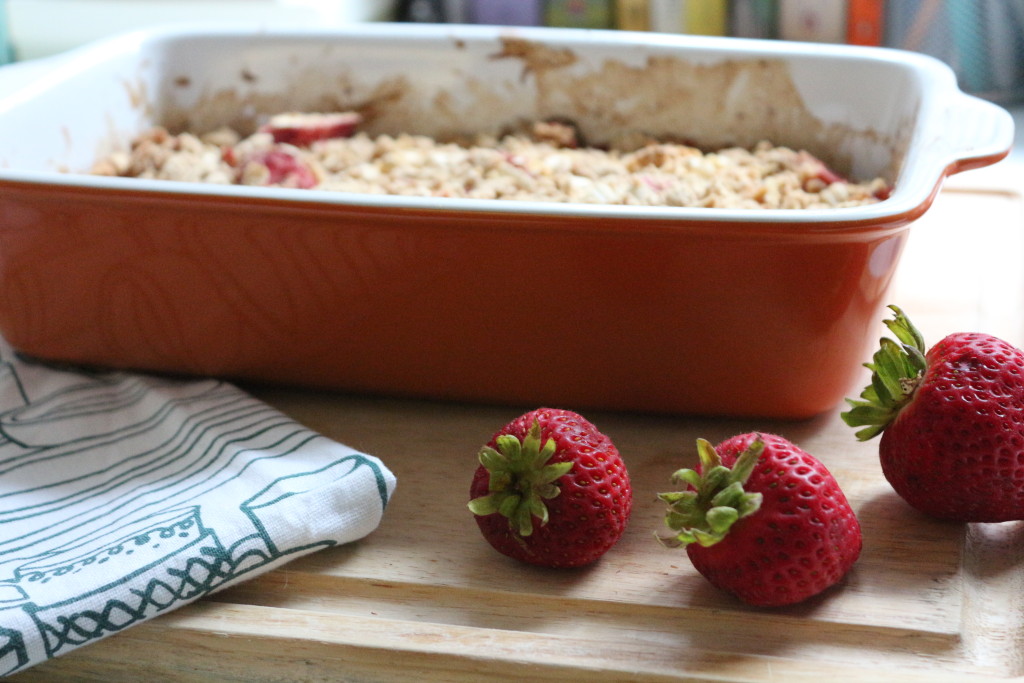 Of course with the soulful craving for summery activities, comes my grumbly tummy with cravings for summery foods. And all I've wanted for the last two weeks was a classic: strawberry and rhubarb crisp. Naturally, what better day than the summer solstice to bake up one of my favourite summer dishes! And you can bet I shared it with my family at our father's day barbeque 🙂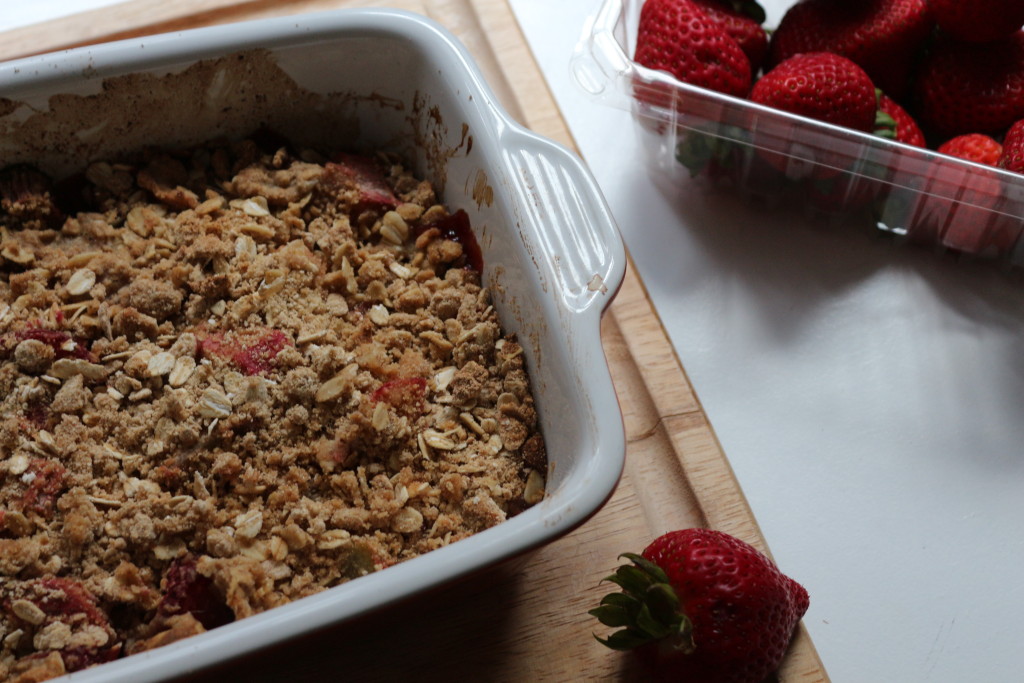 Disclosure: I love crisps. Hands down my favourite dessert. (Okay, Cheesecake, you know I have a soft spot for you). But crisps, be them berry, apple, peach or strawberry-rhubarb are so simple to make and they can be so nourishing for you as well. Both strawberries and rhubarb contain antioxidant vitamin C and potassium, which keeps cells healthy and helps control blood pressure!
So I thought I'd share an easy recipe to satisfy your summer cravings too! This recipe was adapted from Well Plated's beautiful recipe (check it out, the pictures are stunning) to suit the ingredients I already had stocked in my pantry. The great thing about this recipe is that it is so versatile–basically foolproof (my favourite quality in a recipe).
STRAWBERRY RHUBARB CRISP

(serves 6)
INGREDIENTS
For the filling:
2.5 cups sliced strawberries (fresh or frozen)- I used frozen
2.5 cups rhubarb (fresh or frozen) – I used frozen
2 tablespoons gluten-free all purpose flour
1/3 cup maple syrup
juice of ½ orange
1 tablespoon vanilla extract
For the topping:
¾ cup old fashioned rolled oats
2/3 cup gluten-free all purpose flour
¼ cup brown sugar or coconut sugar
1 teaspoon cinnamon
¼ teaspoon sea salt
¼ cup plain greek yogurt
¼ cup cold unsalted butter, cut into small pieces
DIRECTIONS
1. Preheat the oven to 350 degrees. Place the strawberries and rhubarb into a 9×9-inch baking dish and stir in the flour, maple syrup, orange juice and vanilla extract until evenly mixed.
2. In another bowl mix together the oats, flour, brown sugar, cinnamon and sea salt. Gently stir in the greek yogurt to just moisten the ingredients. Then, with your hands, add in the butter, working it into the mixture to create the crumble.
3. Stir the topping onto the filling until evenly coated.
4. Place in oven and bake until the crumble starts to brown, about 50-55 minutes. Let cool for a 5-10 minutes and then share with your loved ones or eat all to yourself! 🙂
Best of health,
Tisha