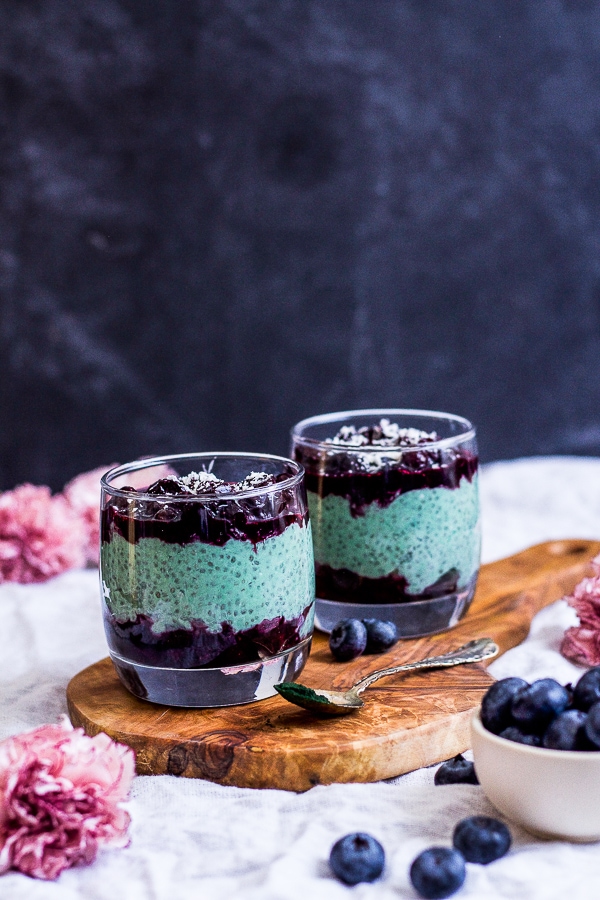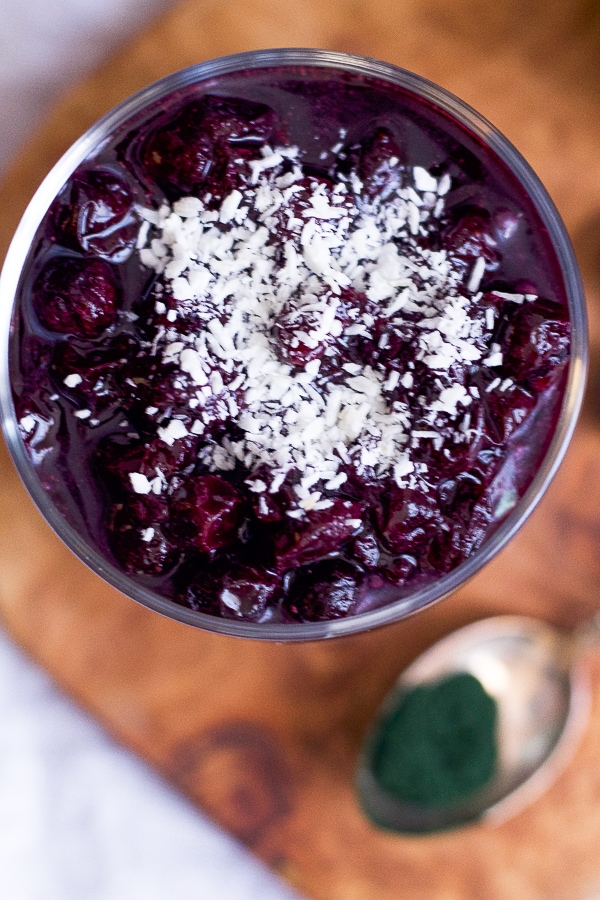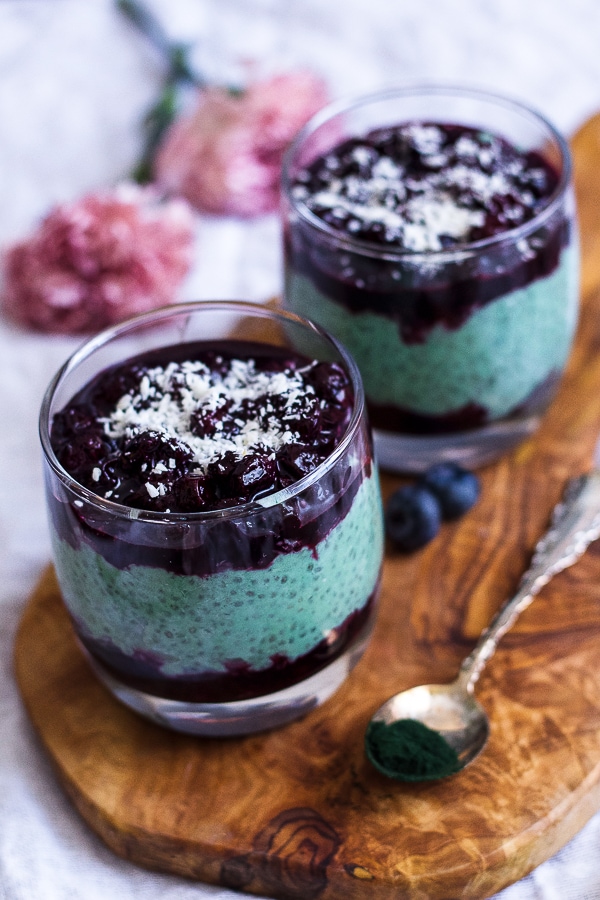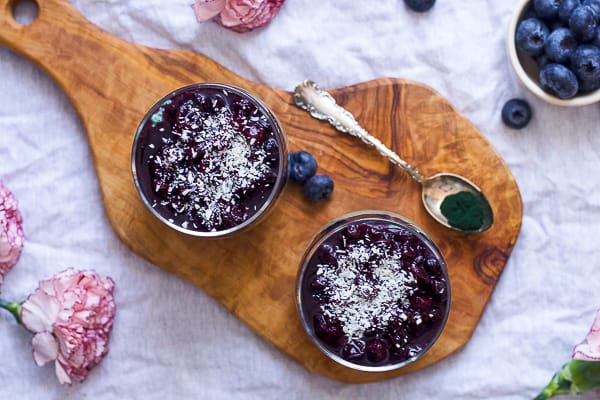 I am obsessed with this chia pudding. Like obsessed. For one, it's mermaid coloured–oh, it's just so freaking pretty. And for two, most importantly, you can not taste the spirulina.
But spirulina? It tastes like swamp water. It just does not taste good. And whenever I taste it, my gag reflex gets going, and the whole experience is just unpleasant.
So why bother with spirulina? Let me tell you.
Health Benefits of Spirulina
Spirulina is a blue-green algae that's high in protein, copper, iron + omega-3s.
Spirulina is high in antioxidants, particularly the compound phycocyanin, giving spirulina anti-inflammatory properties. Remember inflammation is at the root cause of all chronic illness.
It can help regulate blood sugar. A study following 25 people with type 2 diabetes over two months found improved long-term glucose regulation, while a study on mice found that phycocyanin had antidiabetic properties thanks to its ability to increase insulin sensitivity. This isn't just good news for diabetics: by eating foods that balance our blood sugar levels, we're less likely to experience cravings or feeling "hangry", meaning we won't be reaching for a chocolate donut midday.
It may improve athletic performance and lessen post-workout fatigue.
It's neuroprotective. A 2012 study found that it had a protective effect on mice from Parkinson's, while a 2015 study found it may prevent memory loss.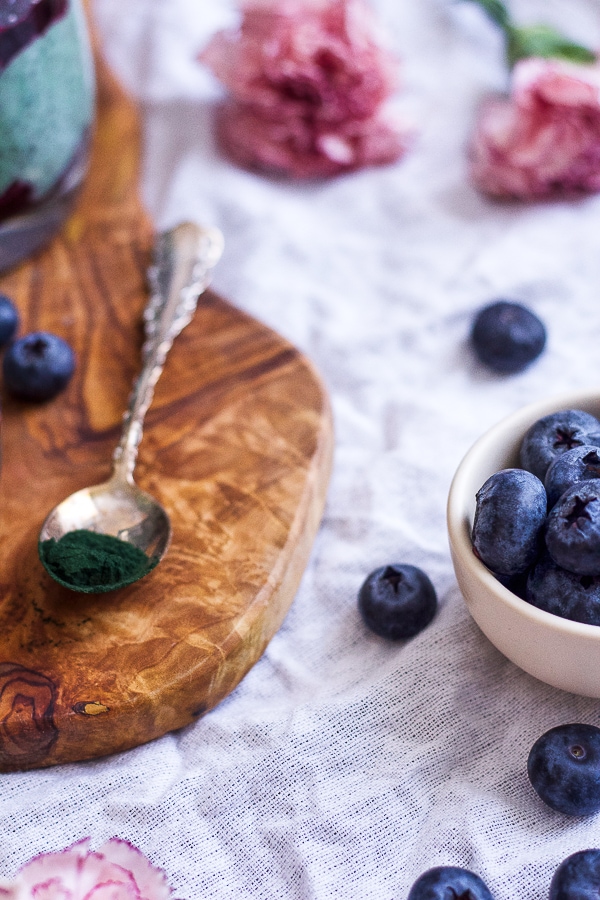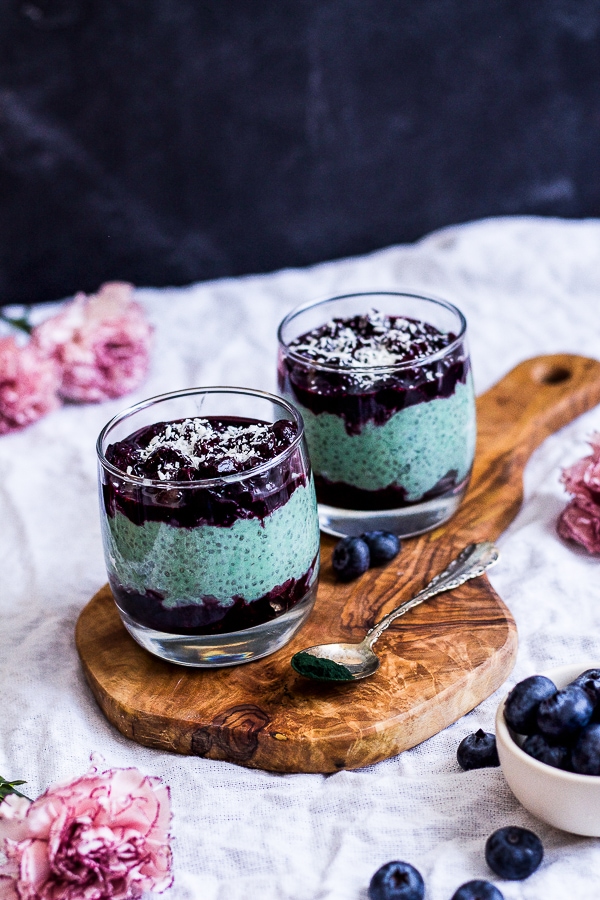 So yeah, spirulina is pretty powerful stuff. If you're not into superfoods, you can completely omit the spirulina–this is still a super tasty, high fibre, healthy breakfast all on its own. Seriously, two tablespoons of chia seeds contains 11g of fibre–that's half of the recommended daily intake. And if I haven't said it before, we need fibre. For healthy digestion, for weight loss, for balanced blood sugar.
Go on and make this right now. And then be sure to tell me what you think! Whether a recipe was the best thing you've eaten all week, or something about it tasted kinda off, I want to know! Leave me a comment, shoot me a message on Instagram or send me an email. I'm all yours, baby.
In other non-food related things, I have started driver's ed. Gross. But after ten years of putting off learning to drive, I'm finally doing it. So hopefully this will be one more thing I can cross off from my 2018 New Year's Resolutions.
Alright, that's all I've got. Happy week lovely humans!

Blueberry + Spirulina Chia Pudding
Ingredients
For the chia pudding
I can coconut milk

1

tbsp

maple syrup

1

tsp

vanilla

1 ¼

tsp

spirulina

4

tbsp

chia seeds
For the compote
2

cups

blueberries

3

tbsp

maple syrup

1

tsp

cinnamon

Toppings

2

tbsp

shredded coconut
Instructions
In a medium bowl, whisk together all chia pudding ingredients. Chill for 4 hours or overnight.

In a small saucepan, combine compote ingredients. Simmer until blueberries begin to break down, and compote thickens, about 20 minutes.

To assemble: place a spoonful of compote in the bottom of two parfait glasses. Top with chia pudding pudding. Top with remaining compote, and sprinkle with shredded coconut.
Recipe Notes
Chia pudding will keep in the fridge for up to 4 days.