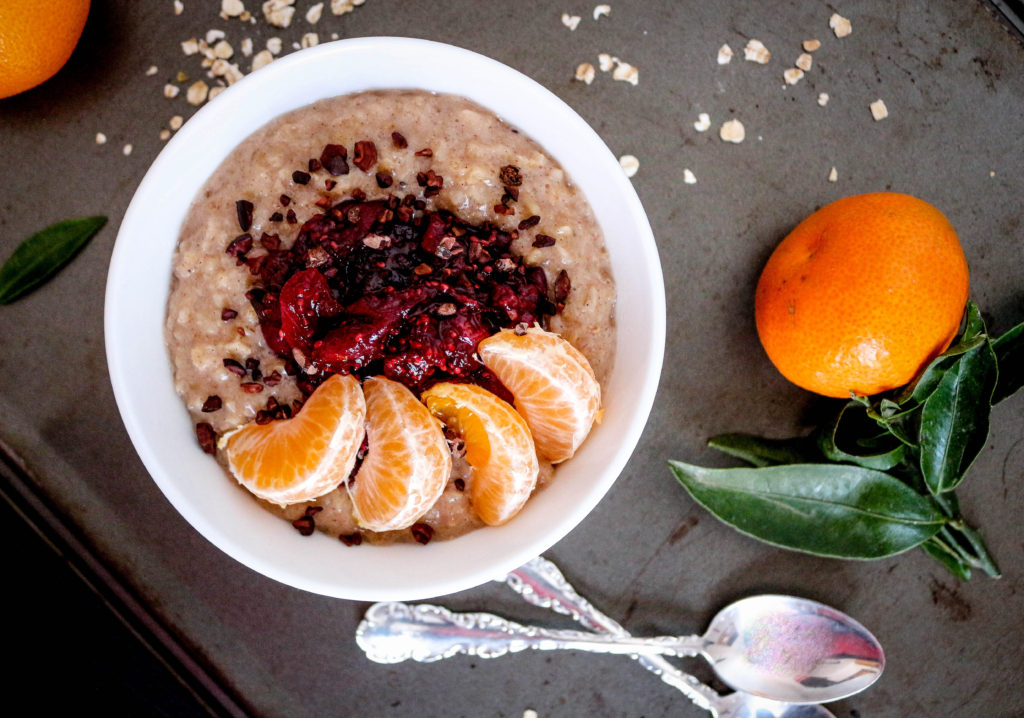 Hello, hello!
I am so excited to share this Chai Spiced Oatmeal recipe with you guys! It's literally just winter in a bowl. In fact, there's more winter in this bowl, than there is outside. Seriously, it feels like spring today–all warm, wet and soppy-like. I'm sure it won't last forever, but I'm definitely embracing it while it's here.
2017 is off to a wonderful start:
I'm doing my externship at the food styling studio (where I mostly make coffee, wash dishes, and get in everyone's way) and I'm learning so much. In case you didn't know (I didn't) there's a lot that goes into making food look gorgeous on camera, and the people I'm working with have such a fantastic eye for it.
I'm learning how to take better pictures. Between the photographer I intern with and a friend of mine who's currently in school learning all about photography and digital media, I feel like I am just bubbling with questions and learning a lot of neat tricks. Even just watching how they stage their pictures, has been really valuable to me (and the blog).
Before I dive into this recipe, I thought I'd share some cool resources I've been using to help me feel more calm and focused. If you haven't seen it yet, I wrote a post about mindfulness being my theme for the year, and how I really want to give my energy to get centred. Because let me tell you, there is so much research right now talking about the tangible health benefits of mindfulness.
Awesome Mindfulness Resources
Okay, to the recipe!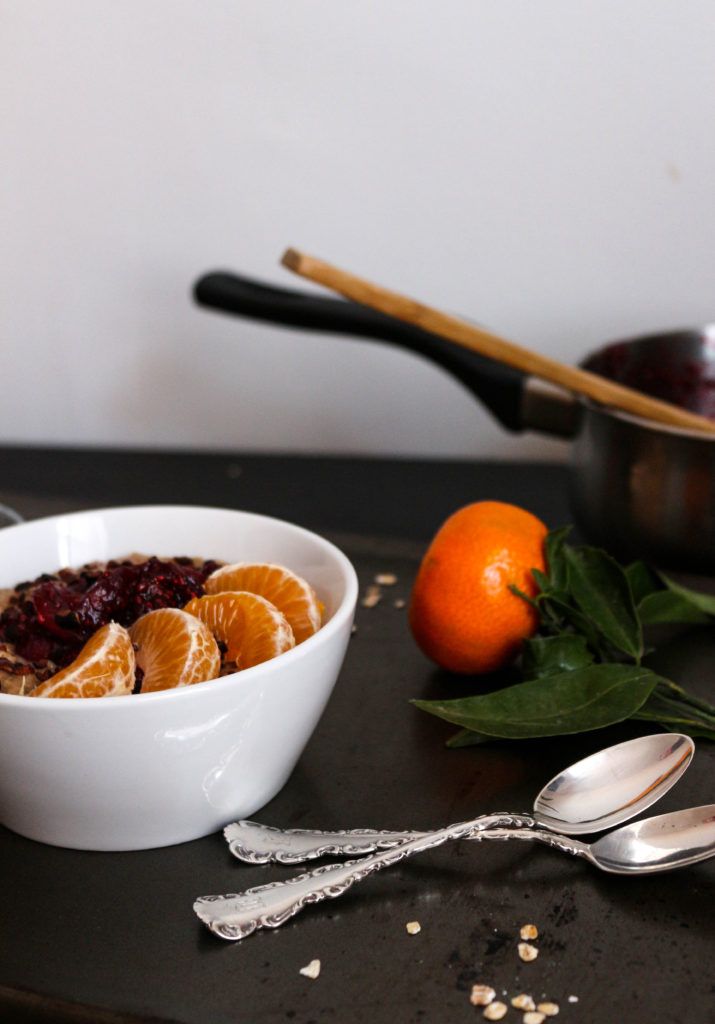 Ps. For you Pinteresters out there, I've made all of my recent recipes easy to share on Pinterest, so if you click the Pinterest Icon on the left, you'll notice that you can now share pictures that are larger, have text and look better on Pinterest! Woo!
Chai Spiced Oatmeal, Cranberry Chia Jam + Clementines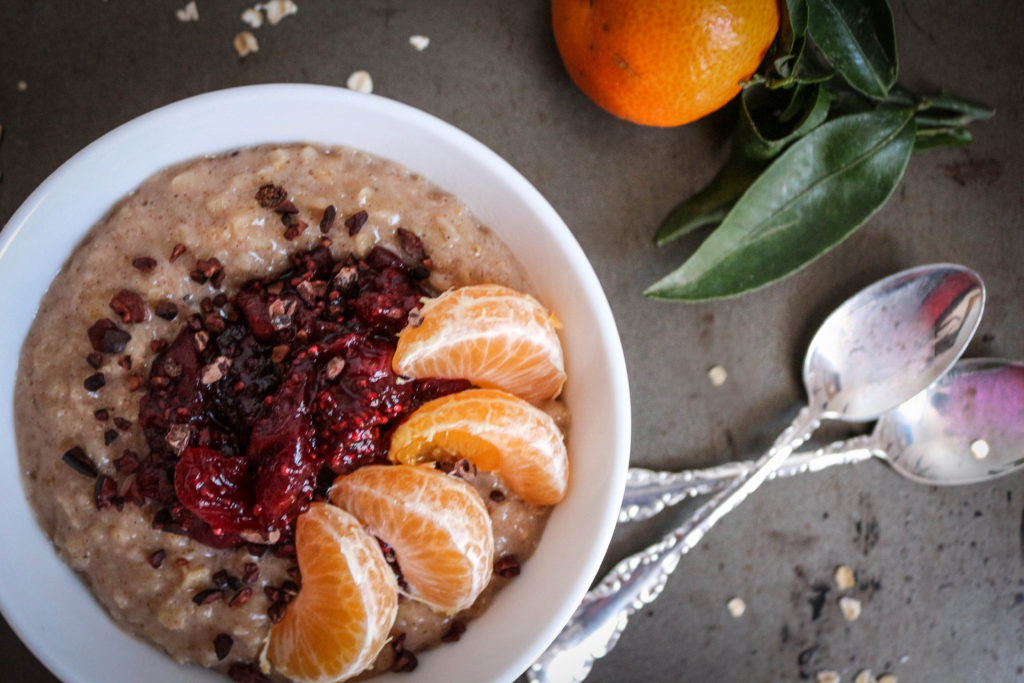 This recipe is just yum. Not only is it really easy to make, but you can make it in large batches and eat it throughout the week. The cranberry chia jam would also be delicious with yogurt, on toast, or with some chocolate avocado pudding. And you can top it with whatever you like–I chose to go with some clementines and raw cacao nibs (I use these guys), because that just sounds like a cozy snow-filled day, spent indoors, am I right?
I hope you make this + let me know your thoughts! Also let me know in the comments if you have any great tools to stay mindful this year!

Chai Spiced Oatmeal, Cranberry Chia Jam + Clementines
Ingredients
Spiced Oatmeal
1

cup

rolled oats

2

cups

almond milk

2

tbsp

maple syrup

1

tsp

spice mix

below
Chai Spice Mix
1

tsp

cardamom

1

tsp

all spice

2

tsp

cinnamon

3

tsp

ginger
Cranberry Chia Jam
6

oz

half a bag cranberries

1/2

cup

water

1/4

cup

coconut sugar

1

tbsp

chia seeds
Optional Toppings
2

clementines

peeled and segmented

1

tablespoon

cacao nibs
Instructions
In a small saucepan, combine cranberries, water and coconut sugar and bring to a boil. Simmer until the cranberries start to break down and the mixture begins to thicken, about 10-15 minutes. Stir in chia seeds and set aside.

In a medium saucepan, heat almond milk until it begins to boil. Add rolled oats, maple syrup and spice mix and simmer for 3-5 minutes.

To assemble, pour oatmeal into bowl and spoon chia jam on top. Add on toppings, such as clementines and cacao nibs, if desired.