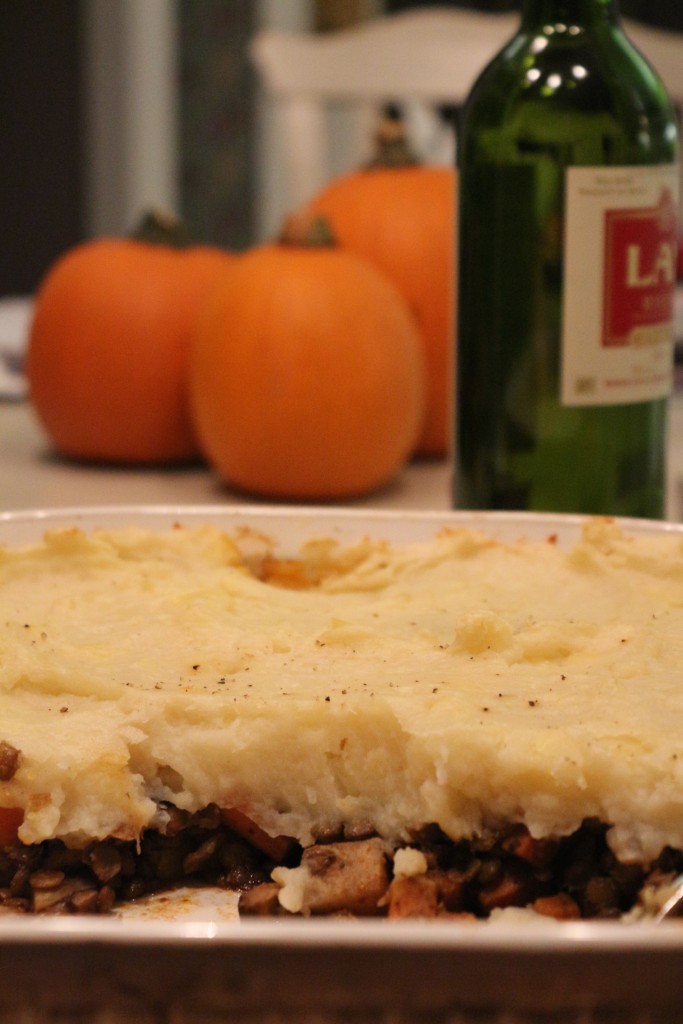 Cooler months mean heartier dishes–my favourite! Seriously, I could live off thick soups and stews and dishes like Shepherd's pie all season. Who couldn't?
Gone are my morning smoothies, and in their place? Warming oatmeal bowls. Mmm…Delish. And my lunchtime salads? They've been replaced with sweet potato and quinoa dishes. Cause in the winter months, we crave food with substance, you know?
That being said, there's nothing worse than a meal that weighs you down. You know what I mean. When you eat a really rich meal–like spaghetti and meatballs–and then you feel oh so hot and bothered after. You unbutton your pants, you pet your new food baby…It's not fun. You feel bloated, and heavy, and ready for a nap.
That's why this Shepherd's pie has a twist! It's made with lentils and mushrooms as a base, and has parsnips mixed in with the potatoes! So it's a lighter, healthier version of a classic warming dinner dish. Now the recipe below is not vegan, even though it has lentils. I made it with organic beef broth to add flavour, as well as butter, because I prefer it. But, if you would like to make this vegan, I adapted the recipe from Making Thyme For Health, whose original recipe was completely vegan. You can find that here.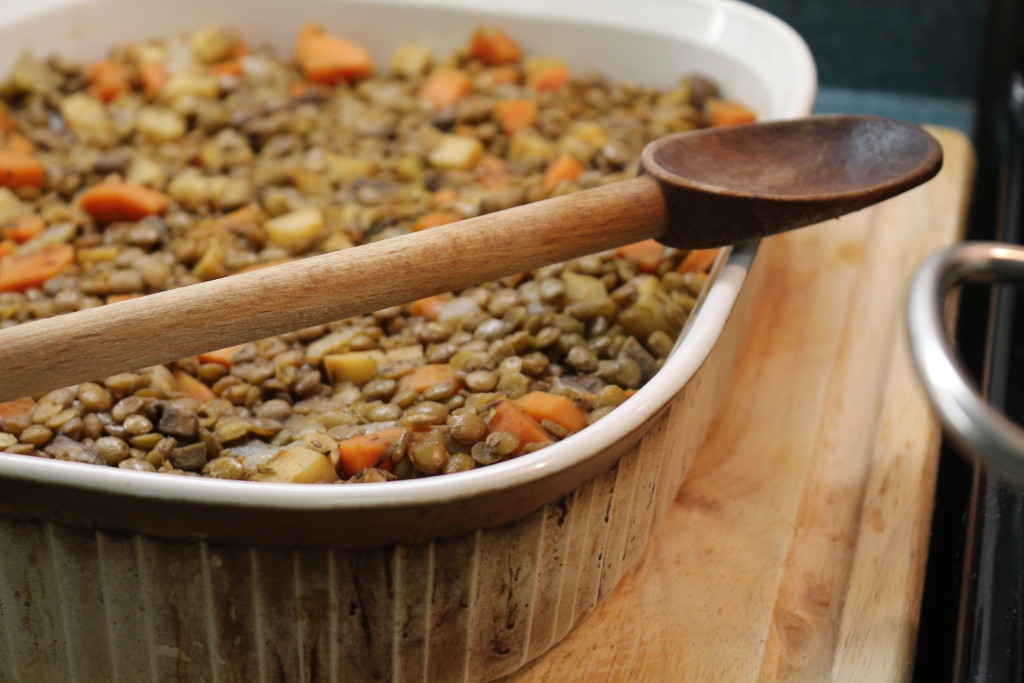 I promise though, vegan or not, this is delicious and filling. You won't miss the ground beef, and you won't feel any guilt about indulging!
Enjoy xx

INGREDIENTS
Filling
2 tablespoon olive oil
1 small yellow onion, diced (approx. 1 cup)
3 cloves garlic, minced
3 large carrots, peeled and diced (approx. 1 cup), bite-size pieces
8 ounces mushrooms, chopped, bite-size pieces
2 cups peeled and diced celery root, bite-size pieces
1 cup green lentils, soaked overnight (or minimum 1 hour) and then rinsed clean
2 tablespoons tomato paste
1 tablespoon Worcestershire (Annie's Naturals is vegan)
1/2 cup dry red wine
1 cup organic beef broth
1 teaspoon dried thyme
1 teaspoon dried oregano
Mashed Potato Topping
4 large russet potatoes, peeled and chopped
3 large parsnips, peeled and diced
1/4 cup butter
1/2 cup non dairy milk (use unsweetened plain)–I used almond milk
1 teaspoon garlic powder
salt & pepper to taste
INSTRUCTIONS
Prep all your veggies: wash, peel and cut. Dice onion and mince garlic; set aside. Place chopped celeriac, mushrooms, carrots, thyme, oregano, salt and pepper into a large bowl; set aside.
 Place the roughly chopped potatoes and parsnips into a large pot, add cold water to cover and a pinch of salt. Bring to a boil, and cook for 30-35 minutes, until tender.
Meanwhile, in a stock pot, sweat the onions in the olive oil and cook until translucent. Add bowl of mixed chopped vegetables and seasoning. Cook for another 3-5 minutes. Pour in red wine, Worcestershire and tomato paste, and bring to a boil. Cook for another 5 minutes.
Add in lentils and beef broth to the stock pot and bring to a boil. (I ended up adding another 1/2 cup because my stock pot was so wide–you want everything to be sitting in the broth a few centimeters deep. If you didn't soak your lentils overnight, you may need to add a little more broth.) Season with salt and pepper. Once boiled, reduce to simmer, cover and cook for 35 minutes.
Preheat oven to 400 F.  Drain the potato/parsnips and then mash with either a fork or potato masher. Add in butter, milk, garlic powder and salt and pepper to taste. Combine until smooth.
In a large casserole dish, fill the bottom with the lentil filling–vegetables and lentils should be almost if not completely soft, and the liquid should be mostly absorbed into the lentils. Spoon potato mash overtop and smooth out evenly. Top with a pinch of salt and pepper.
Cook in the oven for 20-30 minutes until the potatoes are golden.  Cool for five to ten minutes and then serve.