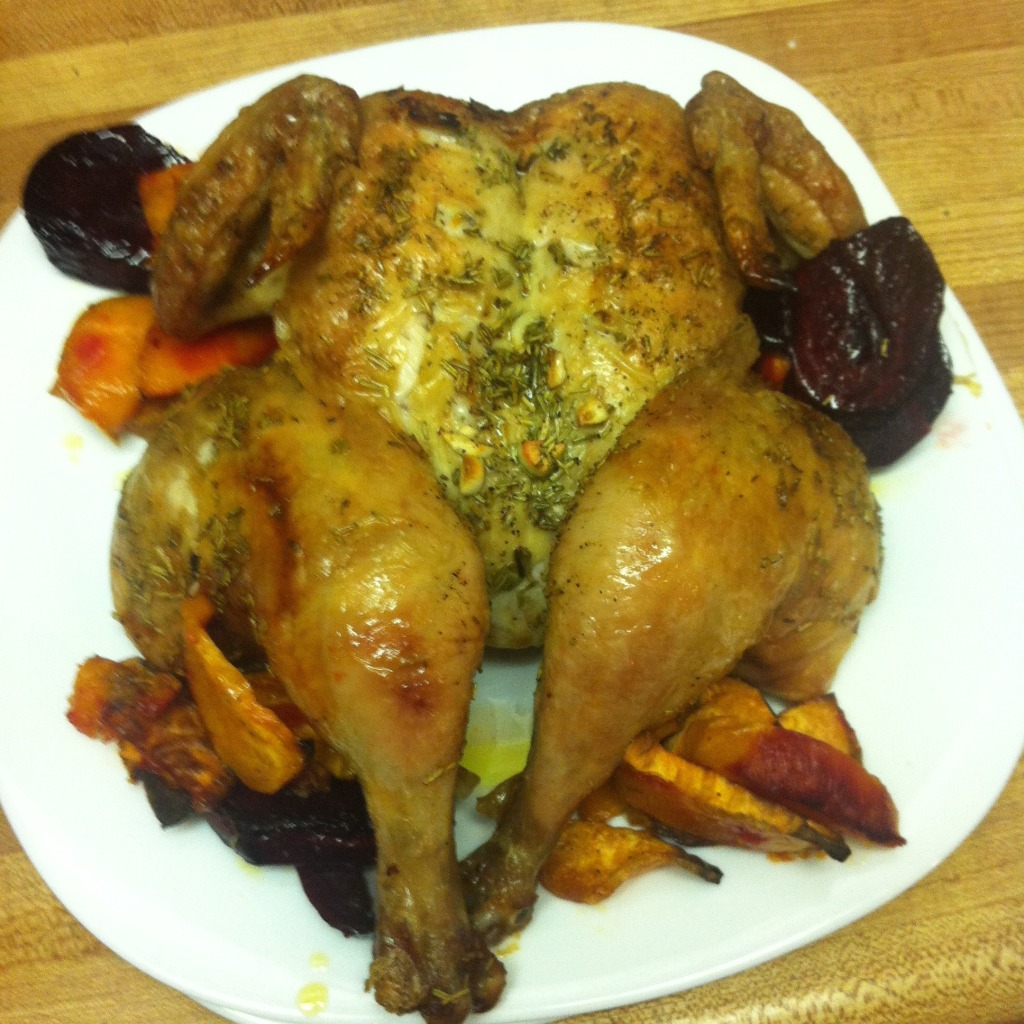 Now that I've been working less (I've gone from 45-60 hours a week to 25-30), I've wanted to make cooking a real priority. So I spent the other day perusing all of my favourite foodie blogs in the hopes of finding some good recipes. And then inspiration hit: I wanted to cook a chicken. A whole chicken. Now, in the last year, I want to say I've cooked chicken breasts maybe twice. Maybe. It's just not something I ever really think to do. Out of convenience, we cook a lot of vegetarian dishes, with some salmon or the occasional lamb thrown in. But chicken? Not really.
But once inspiration has struck, it's hard to go back. And I'm a creature of impulse. So I hunted for a recipe, found one at Primal Palate for a Butterflied Roast Chicken and off I went into my poultry roasting adventure without a second thought.
"We don't have thyme," Allie told me.
"Of course we have thyme," I sneered.
And thus was born the Rosemary & Garlic Butterfly chicken, because alas, I'm often wrong.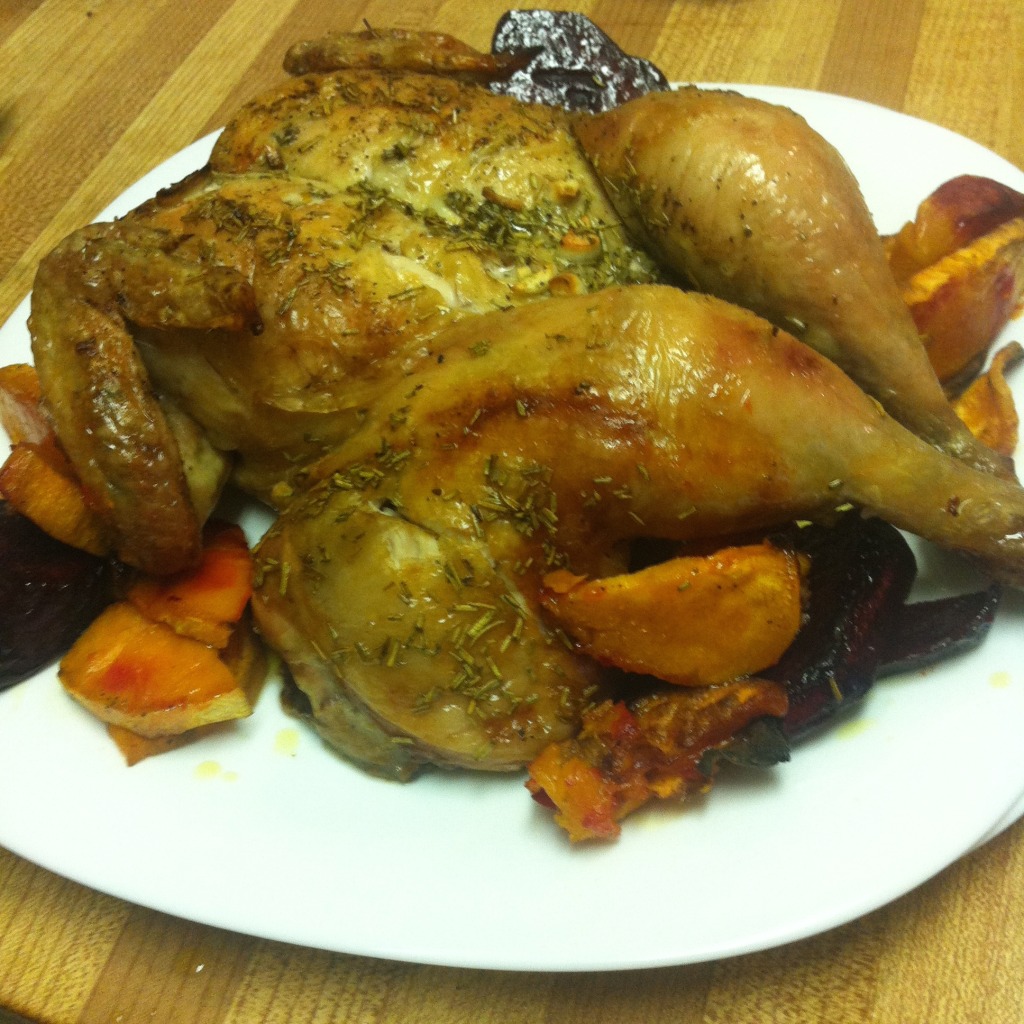 This was hands down the best chicken I have ever cooked, and probably ever eaten–although Red House does make a mean chicken breast. The skin was crispy, the meat juicy. And surprisingly easy to cook. Such a success!
I will admit, there were a few bumps along the road:
Bump 1: Removing the backbone of the chicken. There was some confusion on my end of where the backbone was actually located (apart from knowing it was on the back) and then figuring out how to cut it out. A short Youtube video gave me all the answers: feel for the spine (you'll feel it) and cut all the way down one side from top to bottom. Do the same for the other side. Easy peasy! I also saved the backbone and stuck it in the freezer to use for bone broth at a later time!
Bump 2: 500 degrees is the highest I've ever set my oven, and the butter (I subbed out the duck fat for butter, because that's what I had on hand!) was crackling and cussing in it's roasting pan. I thought, surely, oven's can handle that much heat right? They wouldn't put 500 on the dial if it wasn't meant to go that high. Of course not. It's perfectly safe.
So naturally I panicked that our house would burn down.
It didn't, so if you hear the crackling, feel free to check on it ever 30 seconds (nothing wrong with taking precautions, am I right?) but know that you're house will be fine and dinner will be delicious.
I highly recommend this recipe no matter what you're level of cooking experience is. It's super easy, absolutely scrumptious and you get to puff out your chest proudly as your partner gushes about what a great job you did with dinner (especially after you prompt her a few times, with "I did do such a good job, didn't I? I'm basically a professional. I should have my own Youtube channel").
The recipe can be found at Primal Palate (I'll insert the link for you guys here). I served the chicken with roasted sweet potatoes, beets and asparagus, which Allie tossed in a little olive oil and sea salt. It was perfection!
Have a wonderful evening everyone & I sincerely hope your cooking ventures are equally as interesting (and delicious) as mine was this evening!
–  Tisha