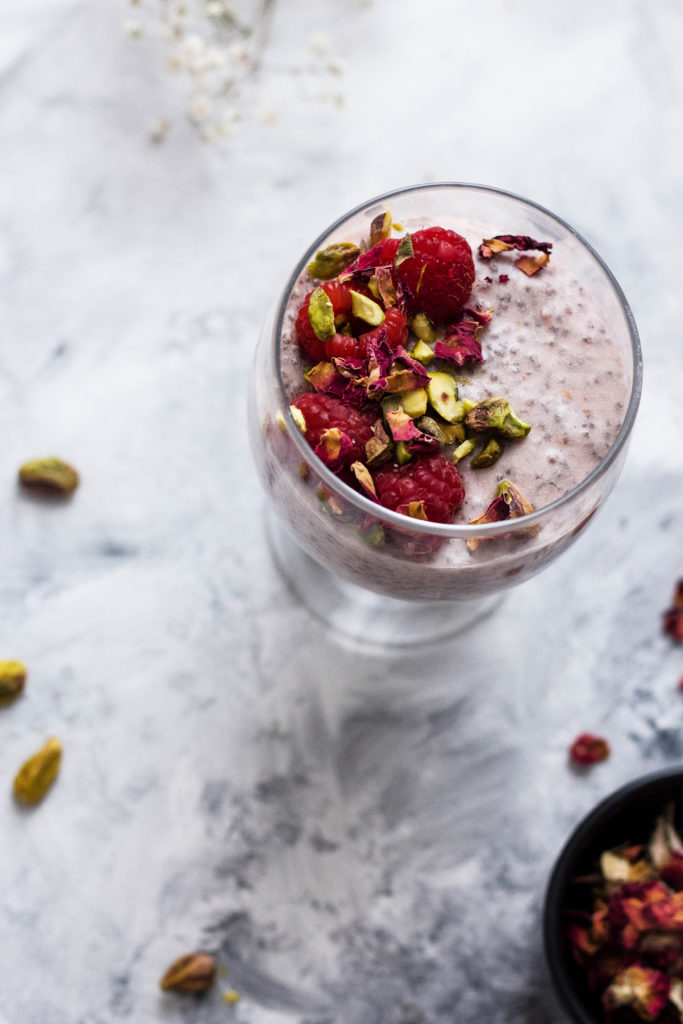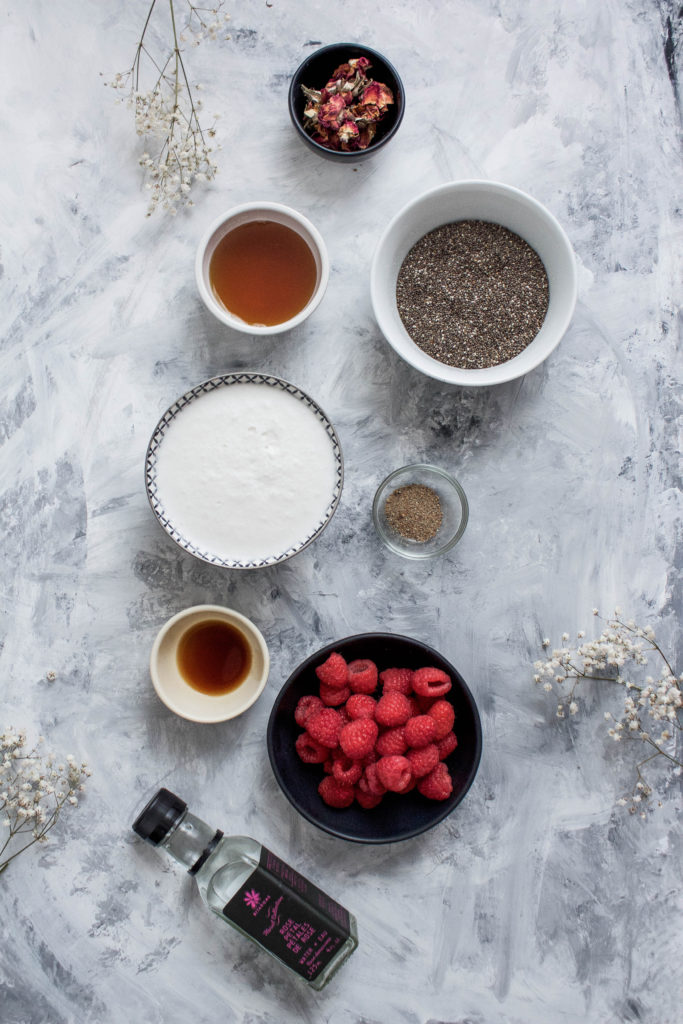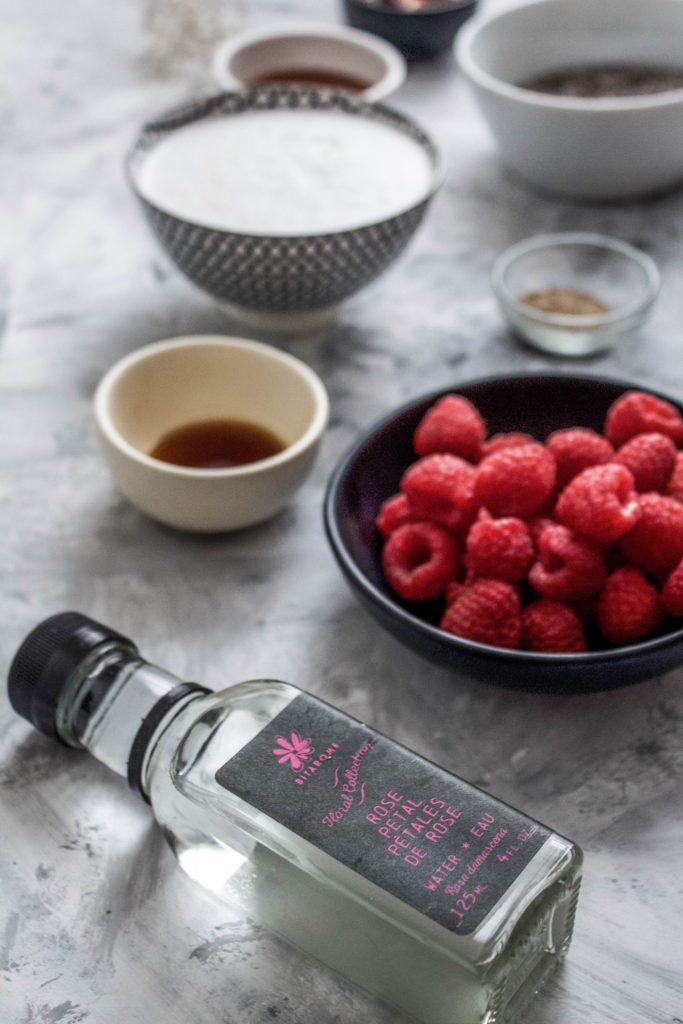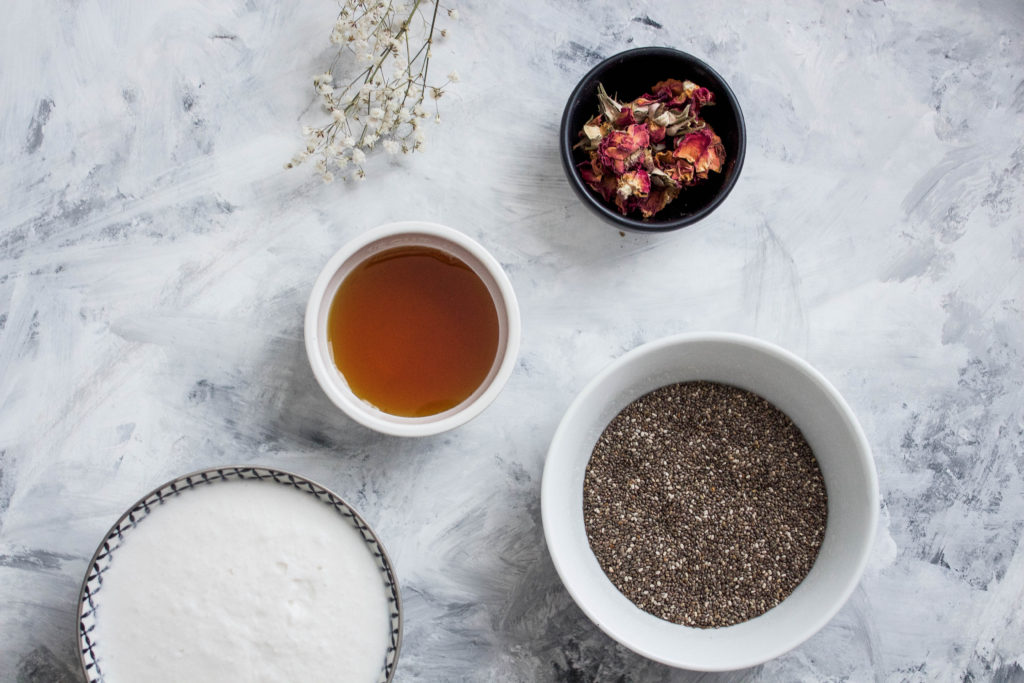 My lazy weekends are not as lazy as I wish they were. Things keep on popping up and filling up my schedule. Sleeping in lasts until 7 am, and suddenly before I know it, it's Sunday, and late in the afternoon. Anyone else feeling that?
For now though, I'm enjoying the quiet: I type away as my dog snores beside me. Allie and I went to go see Call Me By Your Name last night, and if you haven't seen it, you definitely should. Hands down my favourite movie I've seen in a long while. It's set in the 80s, in Northern Italy, and it's so beautiful to watch. It made me incredibly nostalgic for stillness, for quiet, for boredom. For the moments before the internet, when you would sit there and think, what next? When you would spend the day napping, or reading, or swimming, without anything else to think about. Everything was slower. More intentional. We created more because we consumed less.
Those are moments I crave and try hard to bring into my own life now. I've tried my best to work without a TV show in the background (sorry, Gilmore Girls) and walk the dog without a podcast playing. I woke up early this morning, and instead of reading articles online as I usually do, I dove back into one of my favourite books, The Scarlet Pimpernel, which I had started to reread awhile ago, and quickly forgot about it.
There's a shift in these moments. I notice when it's quiet, my brain stills: I suddenly have less thoughts competing for my attention. I sing. I'm serious. There's humming, and song writing happening as I wash the dishes or take a shower. It feels like there's an entire world of creativity kept inside a small box. And silence is the key to opening it.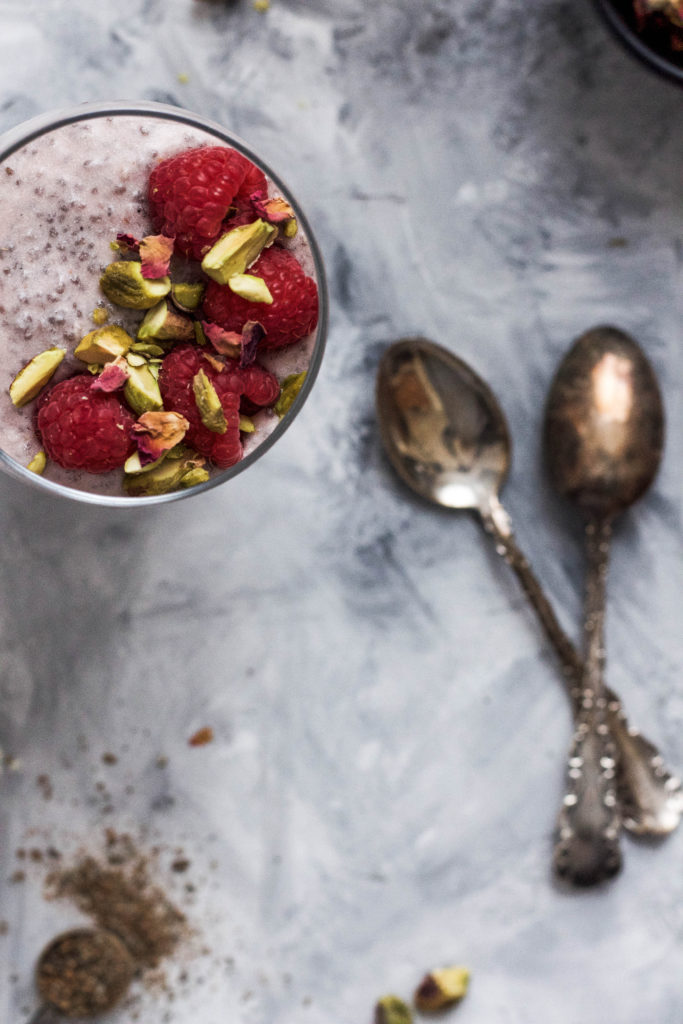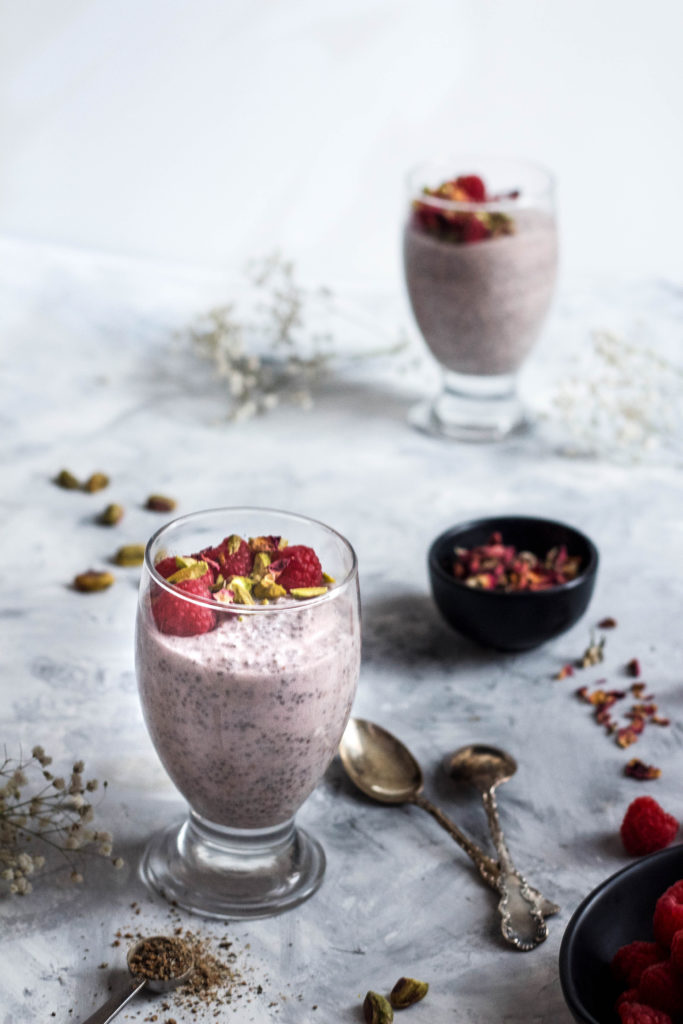 I love chia pudding. It comes together in minutes, you can make it the day before, and it's full of protein, fibre and fat to keep you full and happy. It's dreamy.
I made this recipe over the summer on a whim, and it was an instant success. I've been meaning to shoot it and put it on the blog, so I'm glad that finally happened. I've realized this about myself: I'm the worst for creating recipes, and then forgetting them. Or taking photos, and then not using them. Sometimes I get a little too excited with the next idea, you know? There's always a next idea. (Meanwhile, the last idea is like "hey lady, what about me over here, in the dark?" Ah, well.)
This Rose, Cardamom + Raspberry Chia Pudding is so creamy from the coconut milk, and yet light and fresh from the raspberries. It feels satisfying without feeling heavy, and healthy without falling flat.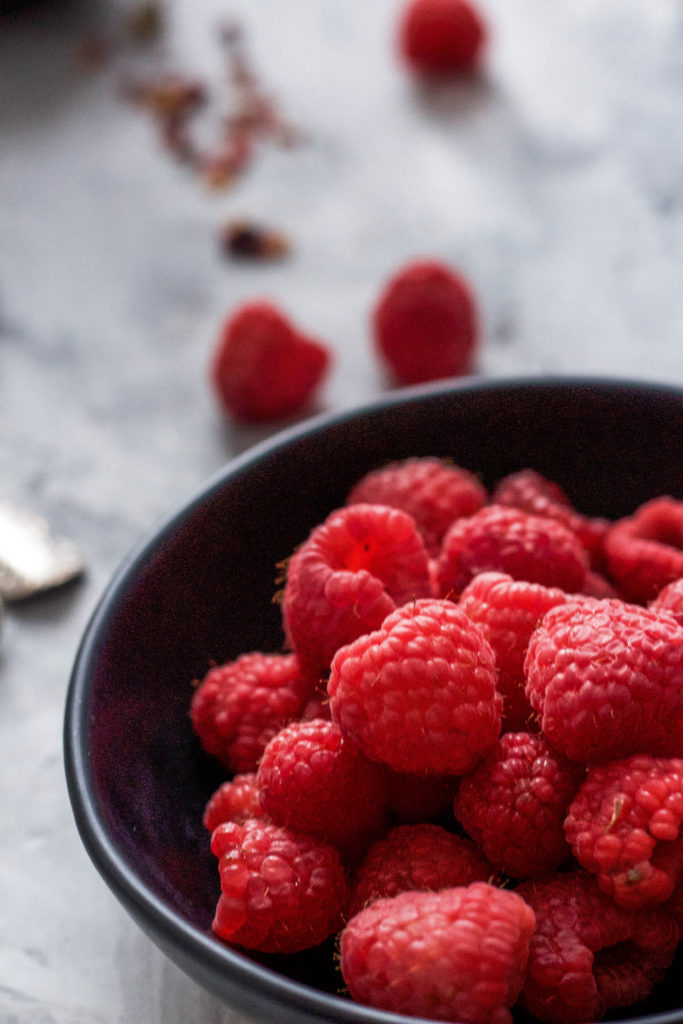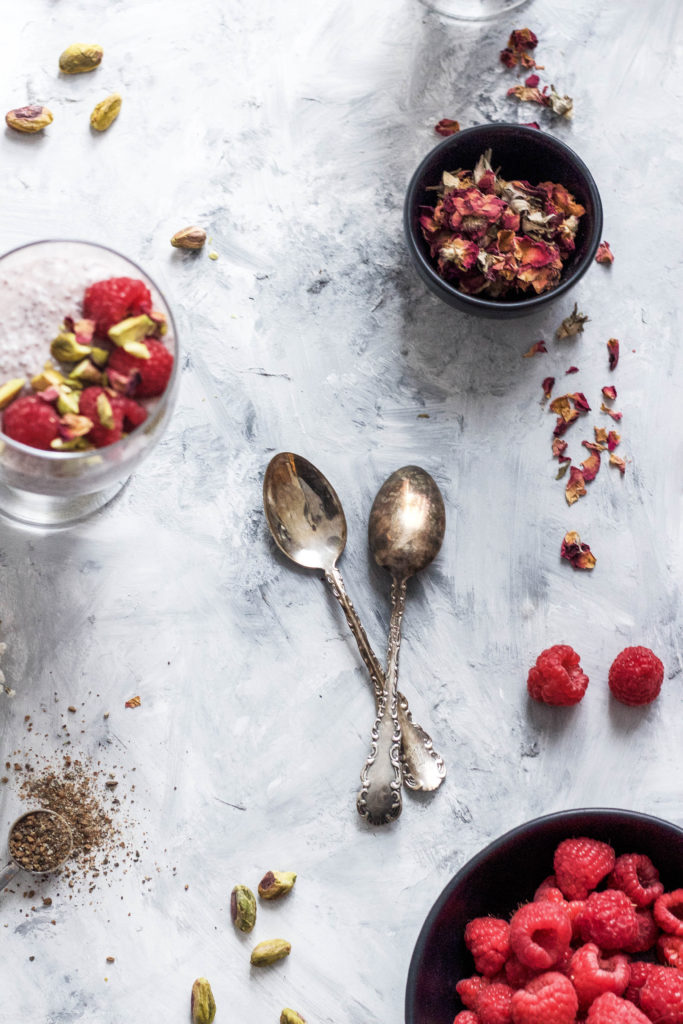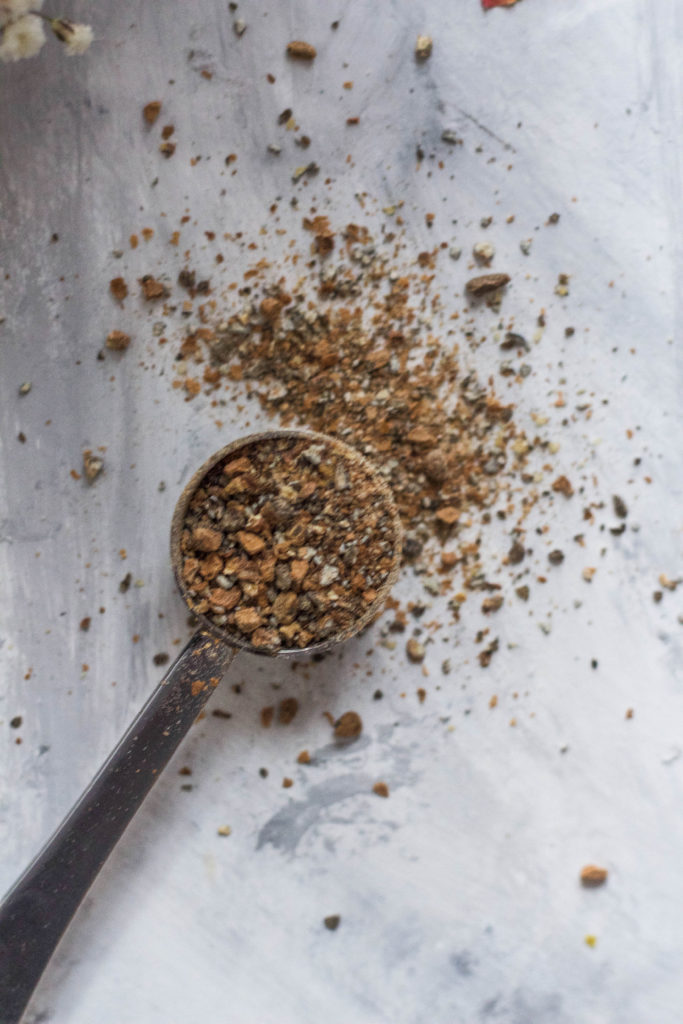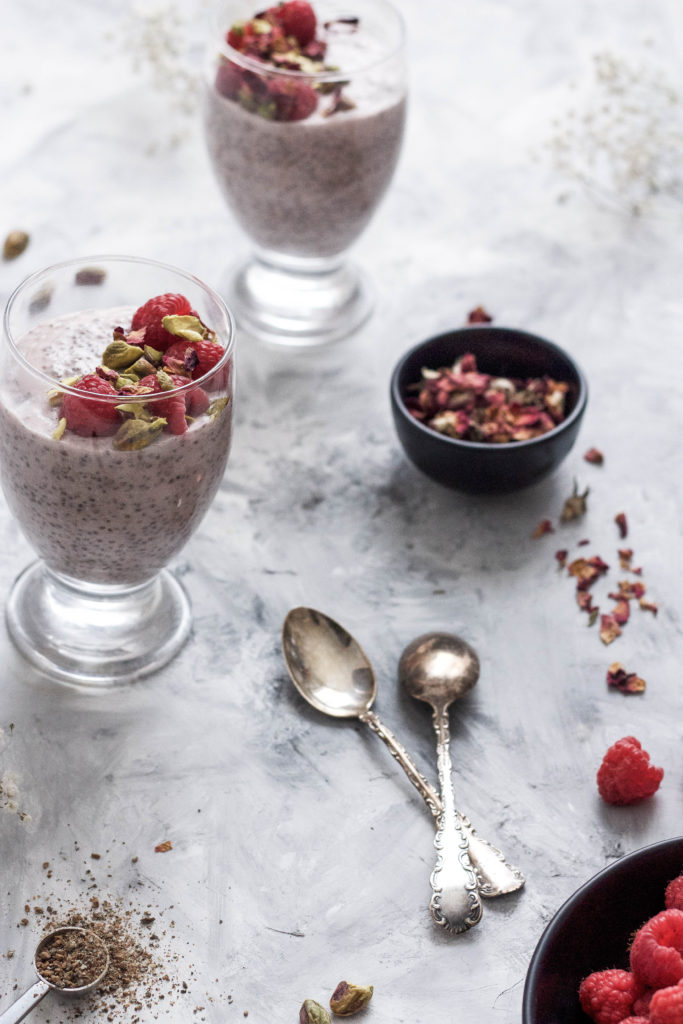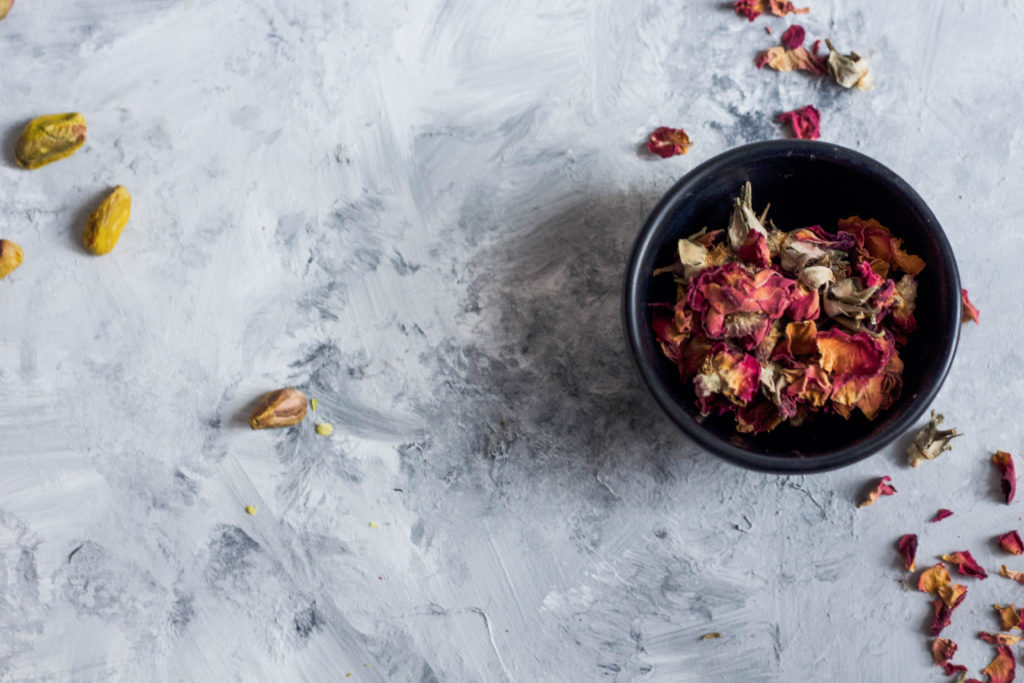 For a long time, I was not on the cardamom bandwagon. I was seeing it everywhere but I had never really used it. That of course was until the executive chef I worked under a few years ago made these divine blueberry and cardamom chia crumble bars. Holy guacamole. After that, I was hooked. Now cardamom is a staple in my spice cabinet. So if you were also on the fence–I hear ya. But go ahead, give this a try. You'll fall in love.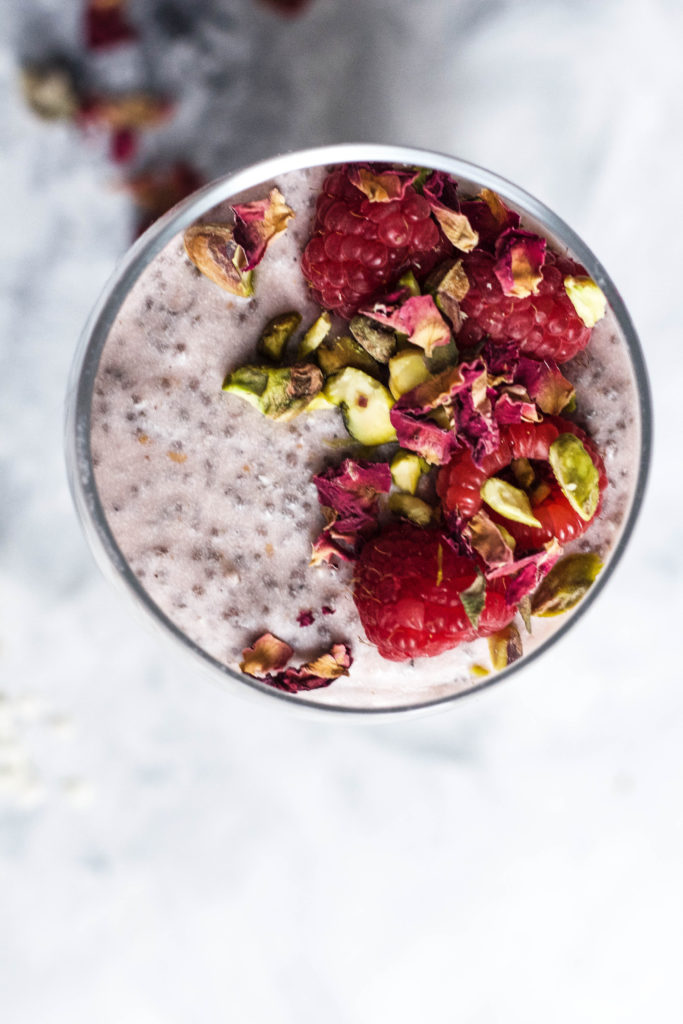 Love chia? Check out this Blood Orange Vanilla Chia Pudding.
Looking for more breakfast ideas?
Chai Spiced Oats with Cranberry Chia Jam + Clementines
Squash, Feta + Arugula Mini Frittatas
A Cozy Blueberry Baked Oatmeal
Baby Kale, Potato + Pancetta Breakfast Hash
Have a wonderful week all, and happy eating!

Rose, Cardamom + Raspberry Chia Pudding
2018-01-28 13:25:28
Serves 2
Ingredients
1 can Coconut milk
½ cup Raspberries
¼ cup Maple syrup
1 tsp Vanilla
½ tsp Rose water
¼ tsp Cardamom
½ cup Chia seeds
Toppings: raspberries, pistachios and rose petals (optional)
Instructions
1. Place all ingredients, except chia seeds, in a blender and blend until smooth, about 45 seconds.
2. Pour mixture into a large bowl. Whisk in chia seeds.
3. Cover and place in fridge until chia seeds absorb, either one hour or overnight.
4. Pour into two bowls and top with whatever toppings you'd like--I used raspberries, chopped pistachios and rose petals!
Notes
This will keep in the fridge for 4 days.
The Nourished Mind http://thenourishedmind.ca/