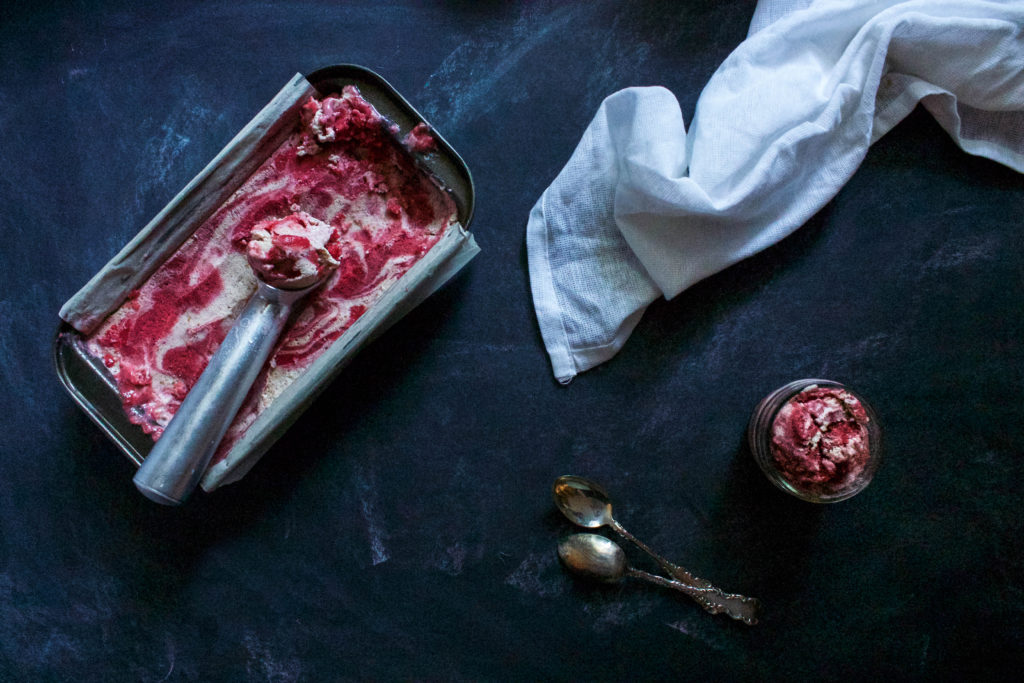 What?! No-churn, vegan ice cream.
Why, that's bananas. (Except it isn't.) That's right: I have here a vegan "nice" cream sans bananas. Who would've thought? Is that even allowed?
This was actually delicious, and super beautiful. I mean just look at those red swirls!
I for one, love me a good ice cream. And I could eat it all day everyday. So naturally I thought: can I make a healthier version? One that won't spike my blood sugar, upset my stomach and make me just 'bleh' about myself?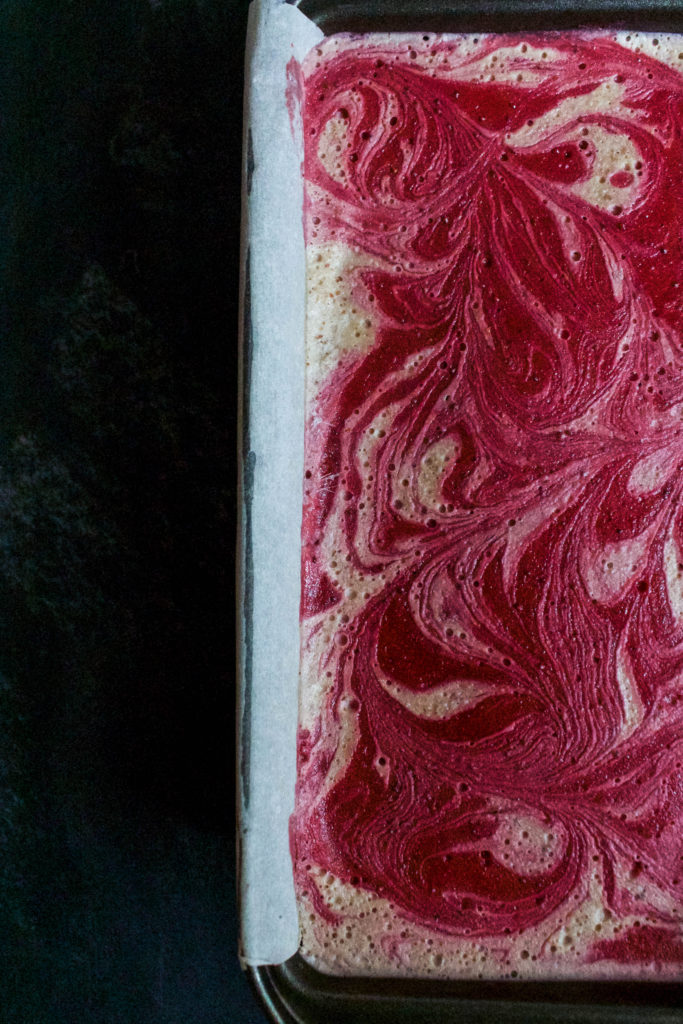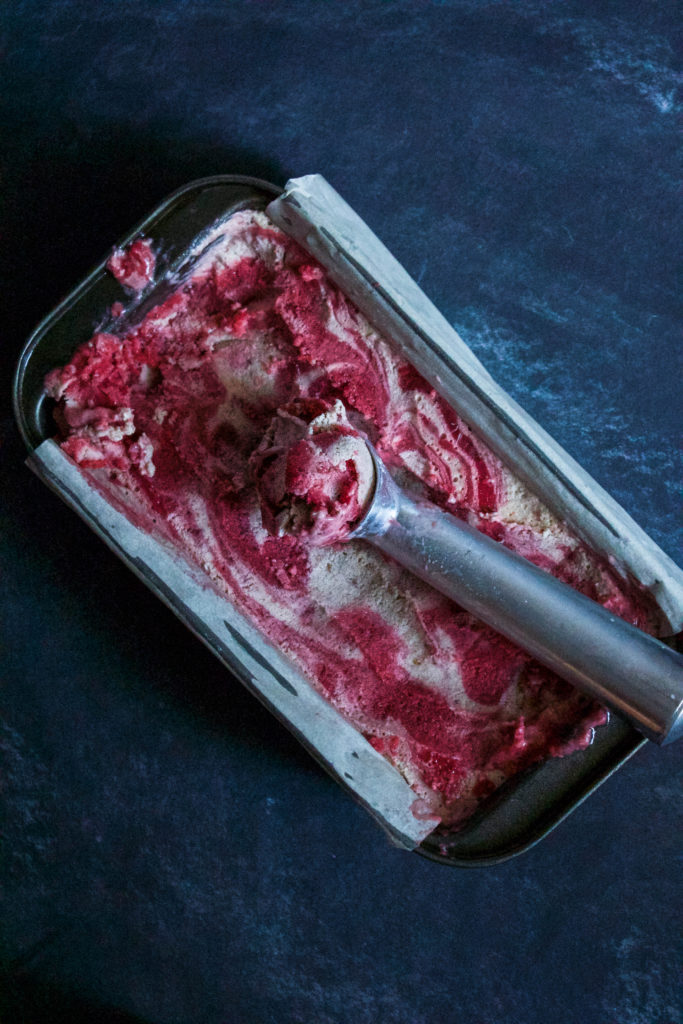 Roasted Strawberry Balsamic Vegan Ice Cream
I am so into this ice cream. It's creamy, and filling, and I love the strawberry swirls in it. But I will say this: there's a reason people use ice cream machines (and chemicals) when they make ice cream. Because once this freezes, it's real frozen. Like ice cube frozen. I tried to counteract this by adding in some almond butter, which definitely helped, but the strawberry puree still froze. So I feel the best way to eat this is to let it thaw–take it out before you cook dinner, and by the time you're ready for dessert you'll have a nice soft serve.
Or you can be impatient like me, and continue to dip your scoop into boiling water to forcibly melt the ice cream. Whatever floats your boat.
These photos ended up being super moody–but that was not really intentional. It was mostly because by the time I got home from work, and walked and fed the pooch, the daylight hours were dwindling. So I decided to roll with it. Unfortunately my lens was not up to the challenge, so these pictures are super grainy. Rustic, if you will.
Not a problem though: I bought a brand spanking new lens that just arrived today. So going forward, hopefully the quality will pick up! (I am way too excited to play with it!)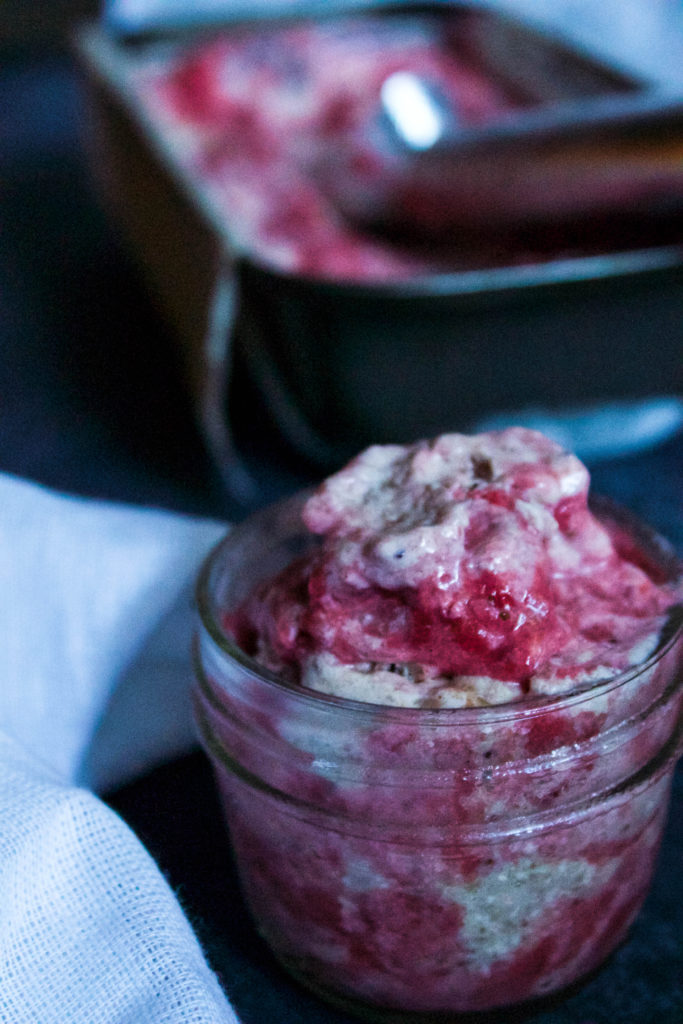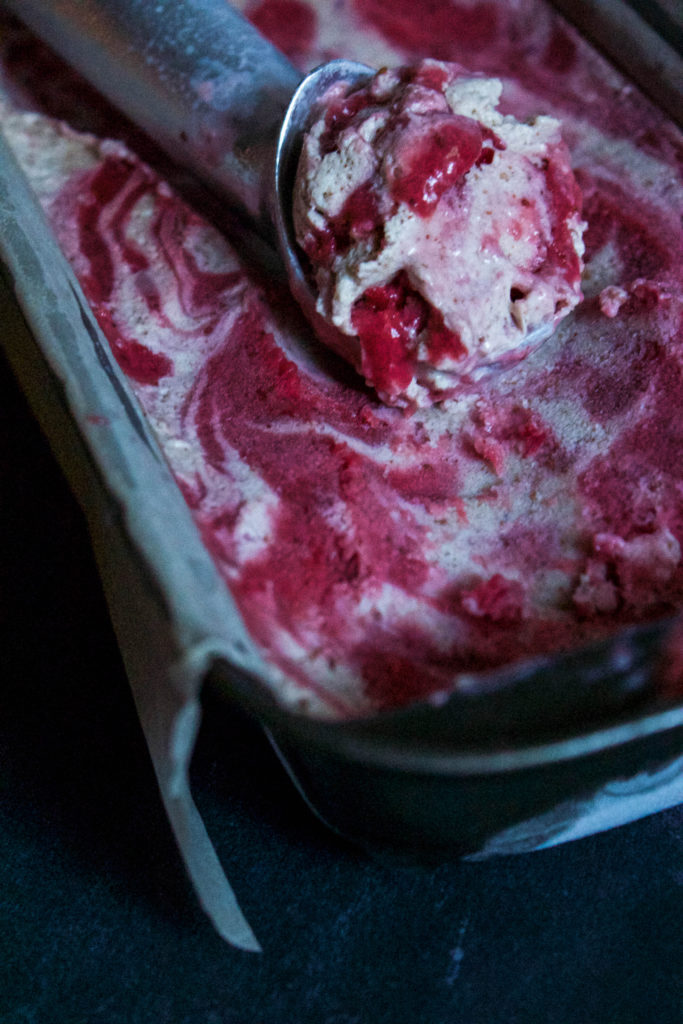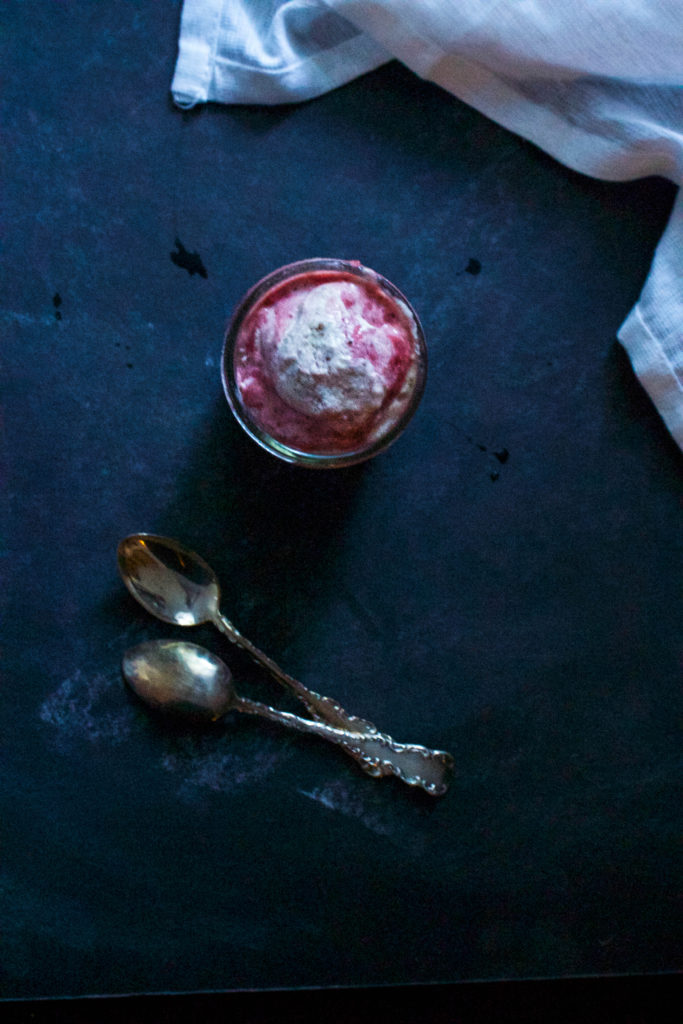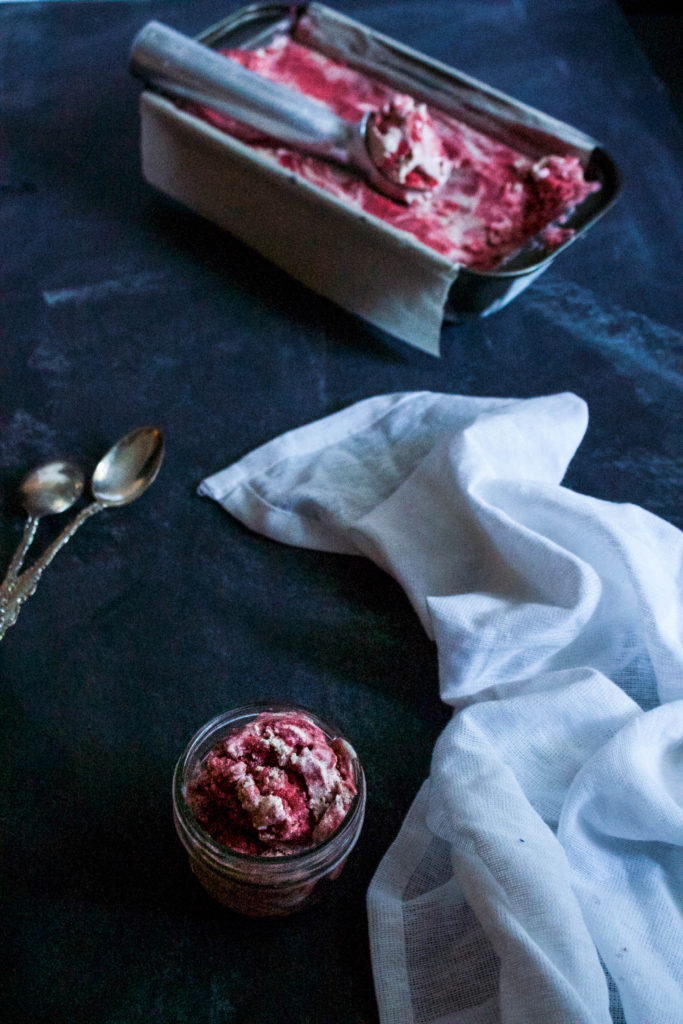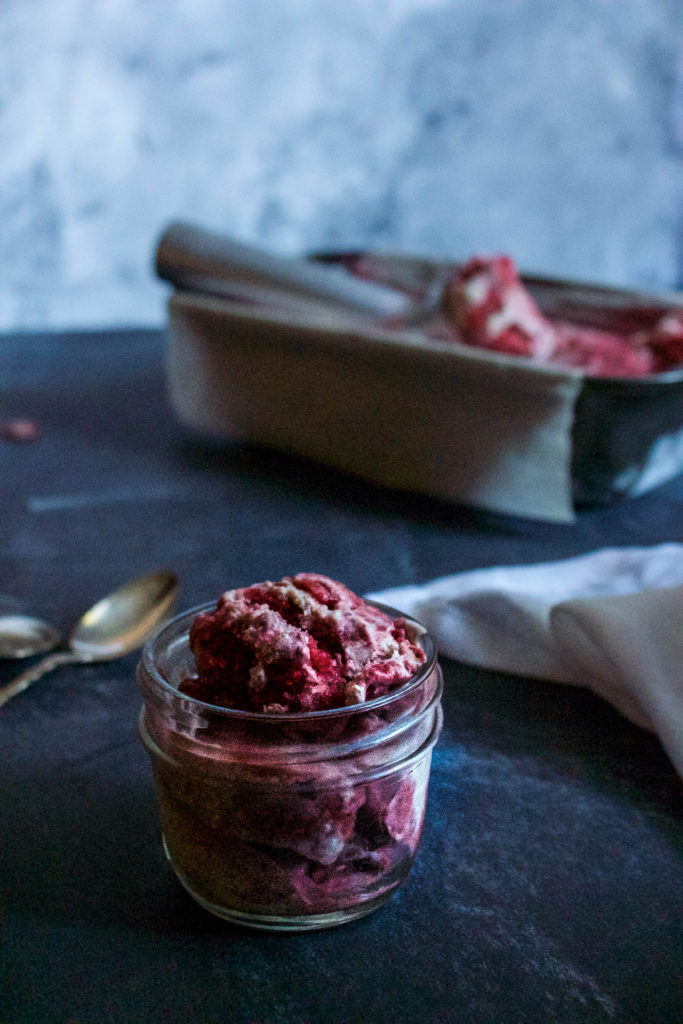 This recipe was a lot of fun, and I loved the addition of balsamic vinegar to give this an added zing. If you've never had roasted strawberries, I highly recommend it–it's delicious!
If you make this recipe, let me know how it works for you! And if you've ever made a vegan no-churn ice cream before, send me your tips. I'm all about that learning. And if you're looking for other healthy treats, you should check out this Sweet Cherry Galette; Peach Yogurt Cake or these Raspberry Chia Jam Thumbprint Cookies.
Happy cooking,

Vegan Roasted Strawberry Balsamic Ice Cream
Ingredients
For the strawberry drizzle
3 1/2

cups

strawberries

1 1/2

tbsp

white balsamic vinegar

2

tbsp

maple syrup
For the base
1

+ 1/3 can of coconut milk

1/2

cup

medjool dates

pitted

4

tbsp

almond butter

1

tsp

vanilla

3

tbsp

maple syrup

1/4

cup

roasted strawberries
Instructions
Preheat oven to 350F. Line a 9x5" loaf pan with parchment.

Spread out strawberries on a parchment lined baking sheet and toss with balsamic vinegar and maple syrup. Bake for 30 minutes, or until tender.

Set aside 1/4 cup of roasted strawberries (to be used in the ice cream base), and puree the rest in a blender. Pour into a small bowl and set aside.

For the base, blend together all the ingredients in a blender until smooth. Pour half of mixture into loaf pan.

Drizzle half of the strawberry puree in a zigzag onto the ice cream. Using the handle of a spoon, or a cake tester, swirl the puree to mix into the mixture (and create a pretty pattern). Pour the remaining ice cream mixture on top, and repeat the process of drizzling and swirling the strawberry puree.

Place ice cream in freezer over night or until firm. To serve, let thaw at room temperature for 15 minutes, and use a hot ice cream scooper (you can do this by dipping it under hot water) to scoop.