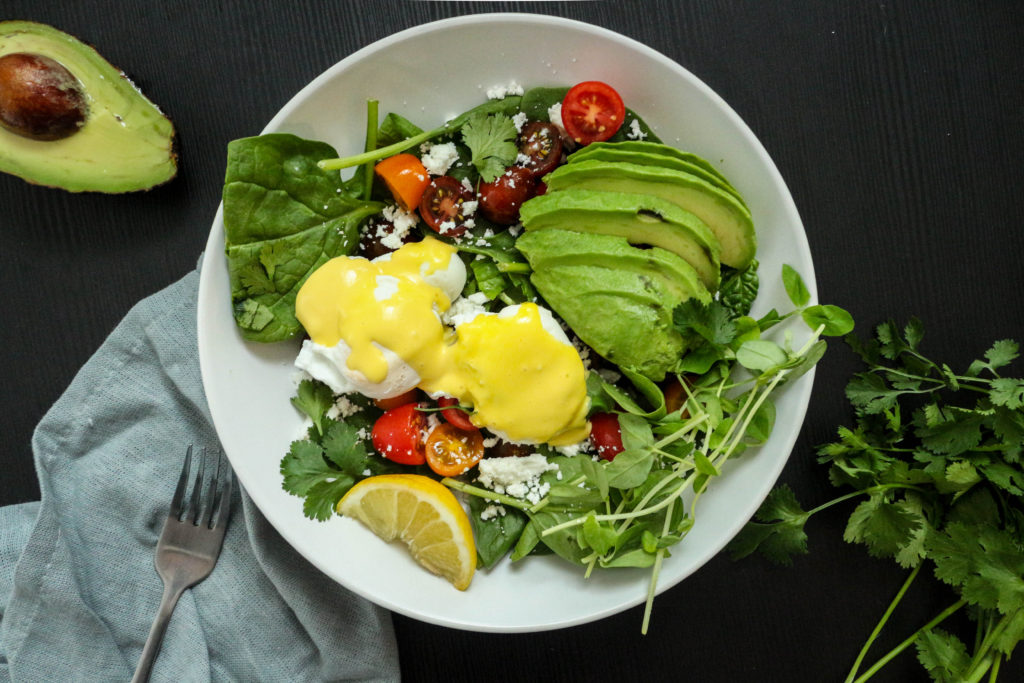 Can you believe the warm weather we've been having? It actually feels like summer. After a good 20 minutes outside, I got my first baby sunburn of the year, so back to the shadows I retreated. Still, it's been gorgeous: the air smells floral, my neighbourhood is bright and green after all the weeks of rain. It's finally short wearing weather. Only it turns out I don't have any shorts to wear.
My dog is back from her three weeks of puppy training–and now she doesn't bark at the neighbours or try to eat my cat. She does, however, still run around the house with her toy in her mouth, whipping her head back and forth, tail wagging.
I'm so excited to share this recipe with you, because it's hardly a recipe at all. Basically, I had these things already in my fridge. So I threw it in a bowl, and it became this delicious breakfast salad. I love this idea of a salad for breakfast: it's nutrient-dense, it doesn't spike your blood sugar the way granola or toast does, it contains fibre, fat and protein, and it still feels indulgent. If you're trying to eat better, lose weight and satisfy your hungry, than this breakfast is for you!
Best of all, if you've ever felt that Eggs Benedict was just too hard to make and reserved only for culinary experts, think again! The hollandaise sauce is made using the Julia Child method (ahem, using a blender) so the sauce completely emulsifies and is rich and creamy. Try to use the best quality butter you can get your hands on: grass-fed is best, because it's high in omega-3s and doesn't contain added hormones. If you're worried about your egg yolk consumption the read on (spoiler alert: eggs are super nutritious!)
Nutritional Highlights
Egg yolks
You may have avoided eggs in the past because you were worried about it's cholesterol content–but good news: you don't have to fear eggs. In fact, eggs are a real superfood. For starters, while eggs do contain cholesterol, your liver actually makes most of the cholesterol in your body, so dietary cholesterol won't necessarily raise your blood cholesterol. The exception being if you have problems with your cholesterol, like a genetic disorder, for example. Eggs also raise HDL (the "good" cholesterol) levels, which is associated with a lower risk of heart disease. And it actually changes the type of LDL cholesterol (the "bad" cholesterol) from small, dense particles to large particles, which again is associated with a lower risk of heart disease. But the big reason to eat eggs? It's high in choline, which is an essential nutrient required for healthy brain function. It's needed to make the neurotransmitter acetylcholine, which the body needs for muscle movements and a healthy nervous system. And again, choline has been linked to a lower risk of heart disease. Research shows you can safely eat up to 3 eggs a day.
Avocado
These beauties are rich in monounsaturated fats, the same kind found in olive oil, and has been shown to reduce inflammation in the body. Avocados are also high in fibre, which combined with its fat content, makes it great for satiating hunger and preventing overeating, and even promote weight loss.
Let me know how you feel about breakfast salads in the comments! Enjoy your week!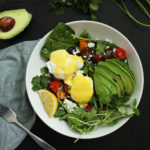 Poached Eggs + Tomato Feta Salad
Ingredients
For the salad
1/2

cup

spinach

1/2

cup

halved cherry tomatoes

1/2

avocado

sliced

1

tbsp

feta

1

tsp

cilantro

1

lemon wedge
For the poached eggs
2

eggs

3

tbsp

white vinegar

shallow pot of water
For the hollandaise sauce
3

yolks

120

g

melted better

1

tbsp

lemon juice
Instructions
For the salad: plate all ingredients. Ta da!

For the poached eggs: bring a medium pot of water and the vinegar to a boil--you don't need a lot of water, just enough to cover the eggs. To poach, swirl the water with a spoon to create a whirpool. Crack the egg into the water and use a spoon to gently push the whites near the egg to keep it intact. Let cook 3-5 minutes, and remove with a slotted spoon and place on a paper-towel to drain excess water.

For the hollandaise sauce: blend egg yolks and lemon juice together. Slowly drizzle in melted butter until emulsified. You can add salt here, or omit if you're using salted butter.