HAPPY OCTOBER.
I hope you're all faring well–I know I am! I think Allie and I may finally be out of our dark days. (*Knock on wood cutting board*)
September was the month where everything went awry. Everything. But things are looking up, my friend. I'm employed, my cooking skills are improving, and I finally got to do a little fall shopping. You can't have too many knit sweaters, you know.
You just can't.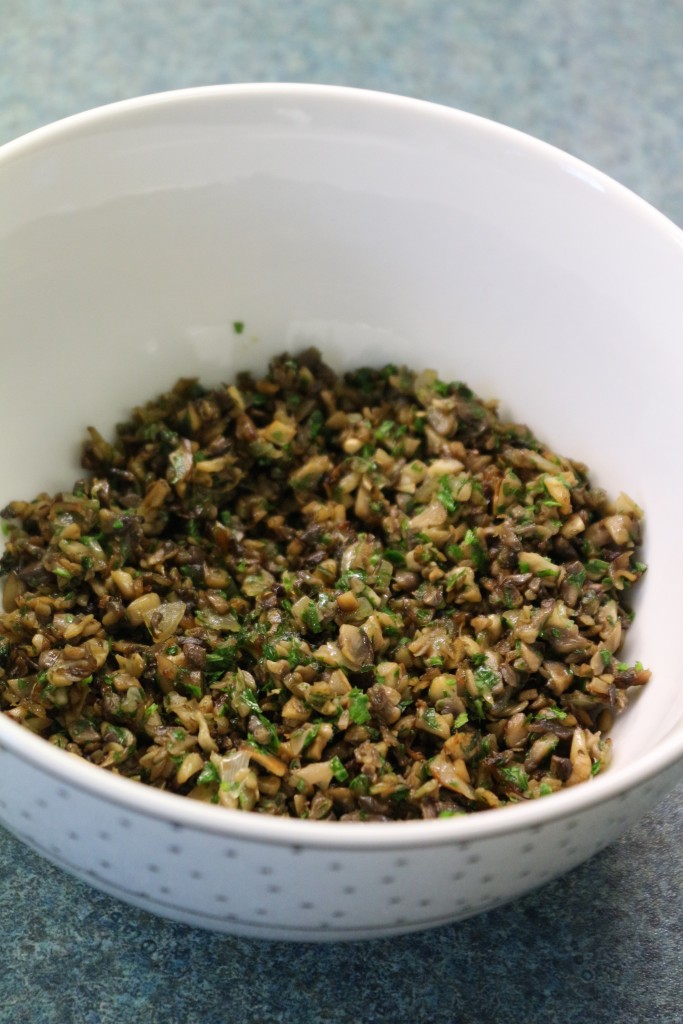 So since I'm in this chefy-chef rhythm, I thought I'd share this mushroom duxelle recipe from school that, I'm not going to lie, I butchered the first time around (in my lab). But that's why we do these things. We learn, we grow, we taste what we've made and gag, and we move on.
The second time I made this, however? It was magic. In case you don't know, mushroom duxelle is just a fancy pants way to say you cooked some mushrooms in a lot of butter and shallots. It's fool proof (unless you're me). You can use this to top your filet mignon, stuff it in a grilled cheese, top onto your veggies, eat it from the bowl.  Whatever floats your boat.
The recipe calls for parsley, but to be honest, I think you can leave it out. I like the savoury element of the mushrooms, and, because I'm so heavy-handed, the parsley can be just a tad overpowering. What I've learnt in my classes so far, is that cooking is a lot of personal preference. I mean, yeah you have a recipe, but that recipe has its limitations. You have to use your intuition. And if you're like me, you also have to use a timer.
Don't worry so much about the rules of the kitchen. Trust your gut. Burn your food, cry and then try again. Go ahead, have fun in your kitchen and remember: it's considered rude to hoard the food you make from the people you eat dinner with. (So make it when no one is home instead).
Have a wonderful week & enjoy the change in season!
MUSHROOM DUXELLE
Ingredients
200g button mushrooms (I ended up using a full box)
40g shallot, diced
30g butter
juice of 1/4 lemon
salt and pepper to taste
parsley, chopped, to taste
Preparations
Wash mushrooms and pat dry
Place washed mushrooms into food processor and pulse, or do what I did, and chop them for practice!
Heat butter over low heat in saute pan and sweat shallots until translucent (approx. 1 min)
Increase heat to medium, add chopped mushrooms, and saute until all the moisture from the mushrooms has evaporated. Remove from heat.
Add chopped parsley to mushroom mixture–you can omit this if you like.
Season with salt and pepper. Add lemon juice to taste.
Dig in. 🙂