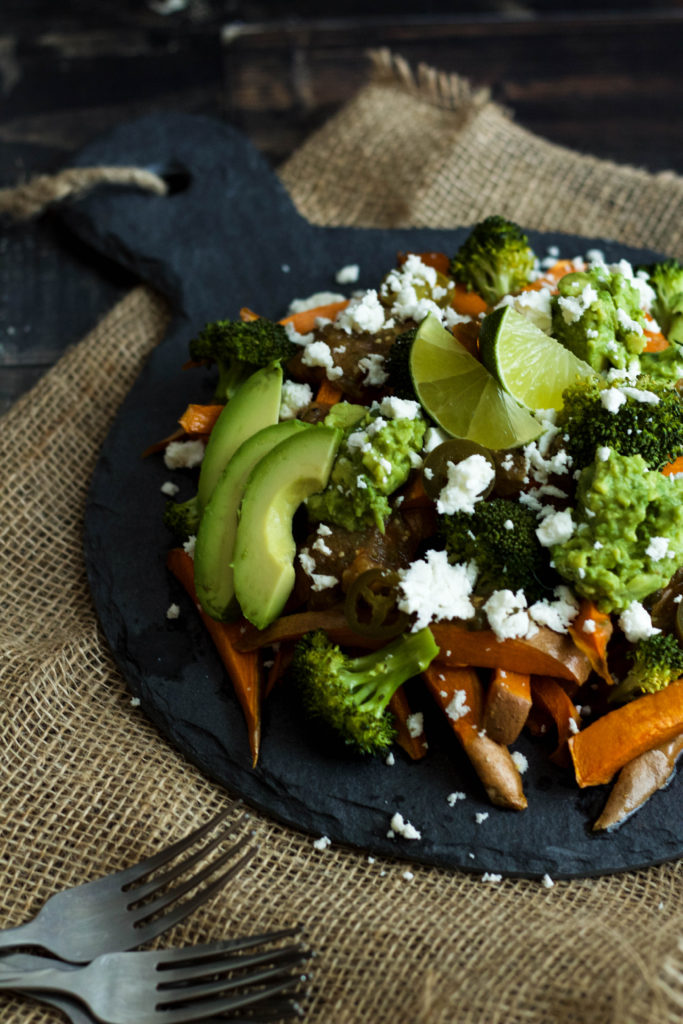 LOADED SWEET POTATO FRIES.
Can you say yum?! Honestly, I kind of stumbled into this dish by accident. I was craving nachos, and I looked in the fridge and saw tomatillos, avocados and sweet potatoes. And off went the lightbulb.
These Loaded Sweet Potato Fries are freakin' bomb dot com. They totally hit the spot as far as my nacho craving was concerned, but they didn't leave me feeling greasy and bogged down. For this recipe I made my own tomatillo salsa and guacamole (recipes below), but you can use store bought if you're in a time crunch. However, if you happen to have extra tomatoes or tomatillos lying around (especially those of you who get a CSA box every week of local vegetables) then why not use them up to eat throughout the week?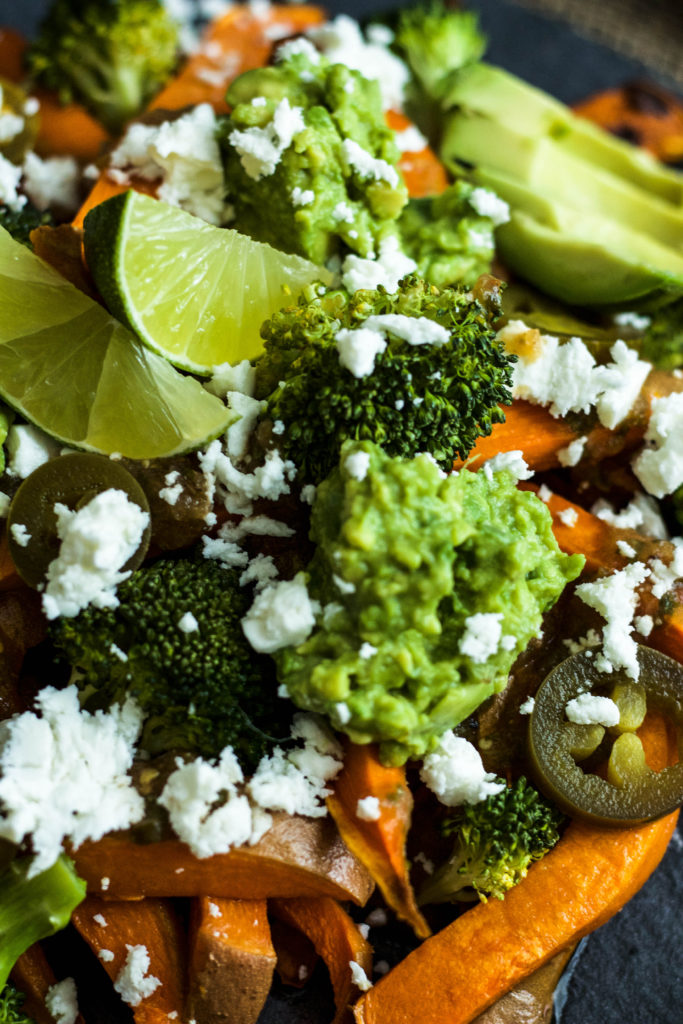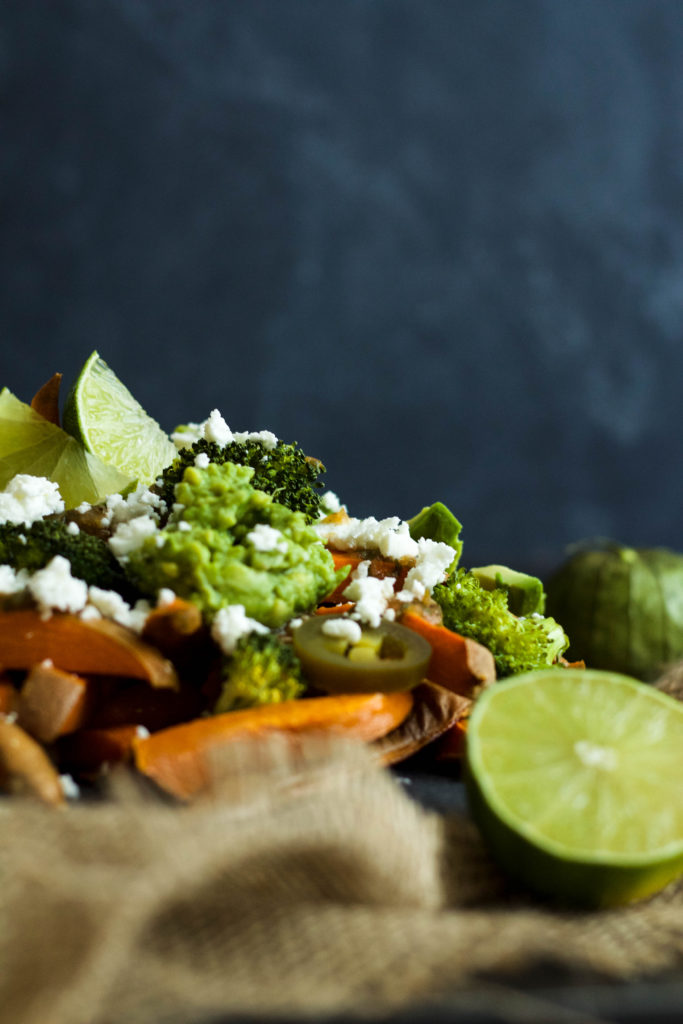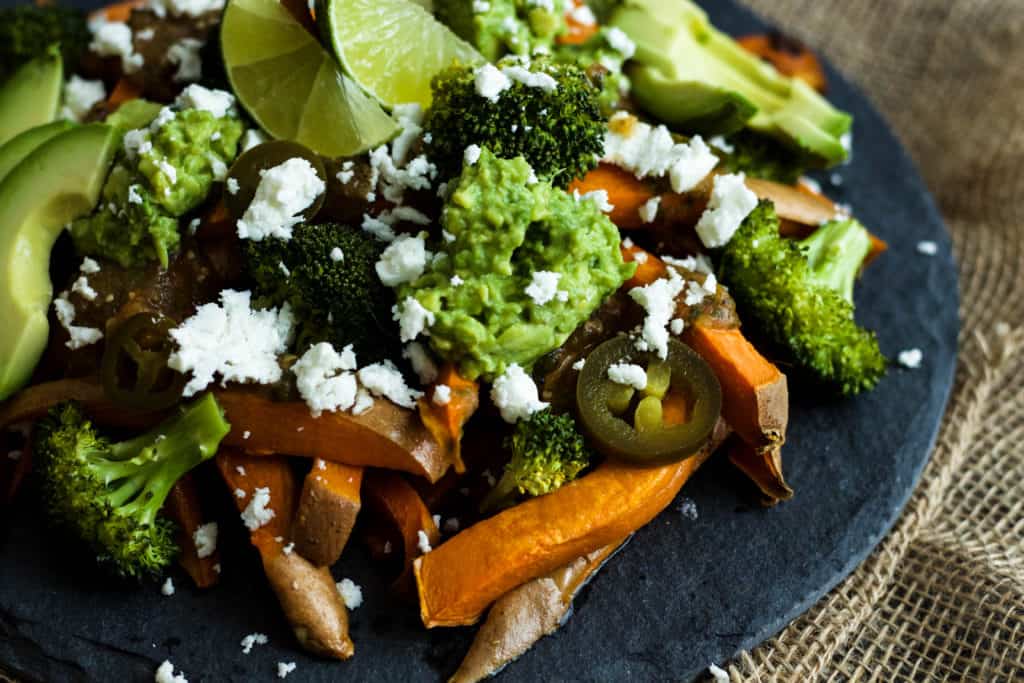 Of course, you can omit the feta if you're avoiding dairy–you could top it off with black beans instead. You can also swap out the broccoli for whatever veggies you have on hand. The best way to eat this is more like a poutine: with a fork.
In other news, I think I've finally adjusted to my new work routine, and can finally get back in the habit of working out and moving my body. I have way more energy and I only sometimes fall asleep on the subway (does anyone else get instantly sleepy in moving vehicles?). If you're looking to check out some fitness classes, I highly recommend ClassPass. Basically, you pay for a monthly plan and then you can go to almost any studio in your area for way, way cheaper. The only catch is that you can't keep going to the same studio–you have to switch it up. But I like that. My favourite workouts include strength training, barre, pilates, aerial yoga and pole fitness.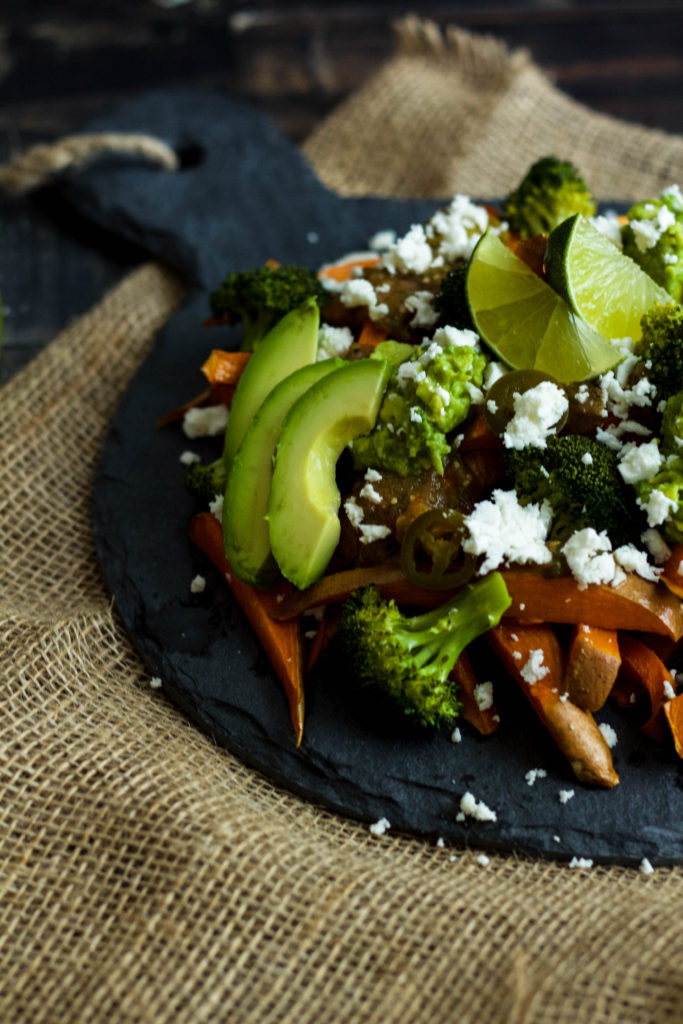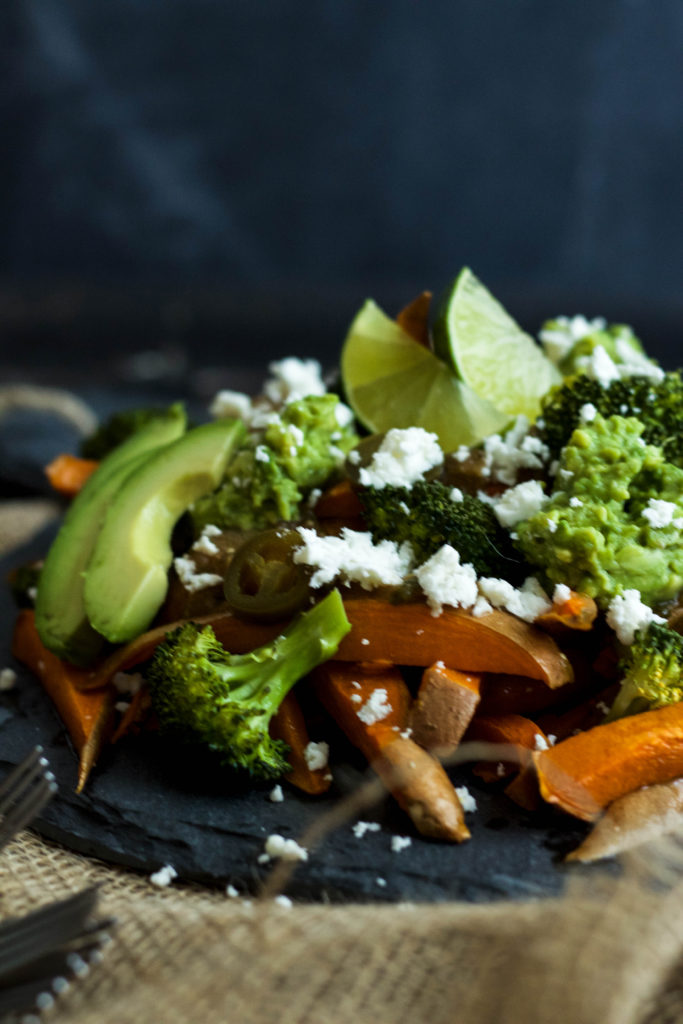 I hope these Loaded Sweet Potato Fries make your dreams come true. Enjoy the rest of your week!

Loaded Sweet Potato Fries (with tomatillo salsa + guacamole)
Ingredients
Tomatillo Salsa
5 to

matillos

2 to

matoes

1

onion

quartered

2

jalapeno peppers

halved and deseeded

1/2

head of garlic

1/2

cup

cilantro

juice of 1 lime
Guacamole
2

avocados

juice of 1 lime

salt

to taste
Loaded Sweet Potatoes
2

large sweet potatoes

cut into 1/2 inch strips

2

cups

broccoli florets

2

tbsp

olive oil

salt

to taste

1/2

cup

salsa

1

recipe guacamole

1/4

cup

feta
Instructions
For the salsa: place all ingredients except for the cilantro and lime on a baking sheet, and broil for 8-10 minutes, until the tomatoes start to look charred. Throw broiled vegetables in the blender with cilantro and lime juice, and blend until smooth. Add salt to taste.

For the guacamole: mash all ingredients until combined, and chunky.

For the sweet potatoes: place sweet potato fries and broccoli florets on a parchment lined baking sheet, and drizzle with olive oil and sprinkle with salt. Bake until tender, about 30-40 minutes.

To assemble: Place sweet potatoes on a serving platter, and add broccoli on top. Top with salsa, guacamole and feta. Serve immediately.