Winter salads are so underrated if you ask me. And okay, technically it's not winter yet, but it feels like winter. I mean we skipped right over summer, took a brief walk through fall, and now here we are, bundled up and cold.
Let me tell you: I'm not ready. My body hasn't thawed from last winter, you know? So it's been a lot of soups, and stews, and warm, yummy meals in my neck of the woods. And of course, that's wonderful and magical. But sometimes? Sometimes a girl just wants to eat some greens.

Enter this beautiful seasonal salad. This is literally all the things I love in a salad: warm acorn squash, orange slices, avocado, pomegranates, feta, pistachios…It's so light and bright, and yet filling. High in fibre, cause you know I'm always about the fibre. And it's so fresh. Perfect for when you need to step away from all the pureed vegetable soups and curries that have been making their way onto your plate everyday. Not that those things aren't delicious.
This salad is topped with a super simple turmeric + maple dressing, which, aside from being tasty, also makes this an immune-boosting and anti-inflammatory salad. Perfect for this time of year.
Well, at least for me. I've finally come down with whatever has been going on around me: I've got a sore throat, a tight chest, the sniffles…the works. It's been dreamy, no doubt. So there's been a lot of turmeric, ginger and raw honey in my life, and it's been a real life saver.
Nutritional Highlights
Oranges: one large orange can provide over 100% of the RDA for Vitamin C, which is needed for a healthy immune system this time of year.
Pomegranates: pomegranate arils (the red seeds) are high in fibre, and pomegranates have been shown to have anti-inflammatory , anti-fungal and anti-bacterial properties.
Acorn Squash: a great source of vitamin C and beta-carotene, acorn squashes are another food that help to boost the immune system and protect the body from free radical damage.
Turmeric: I feel like I end up talking about turmeric in every blog post, but there is so much research to back this puppy up. It's anti-inflammatory (even as effective as pharmaceutical drugs), protective against cancer, and mood boosting.
Avocado: avocados are high in fibre, and monounsaturated fatty acids. The fats in avocados have been shown to reduce inflammation, increase the absorption of antioxidants, and reduce total cholesterol levels in the body.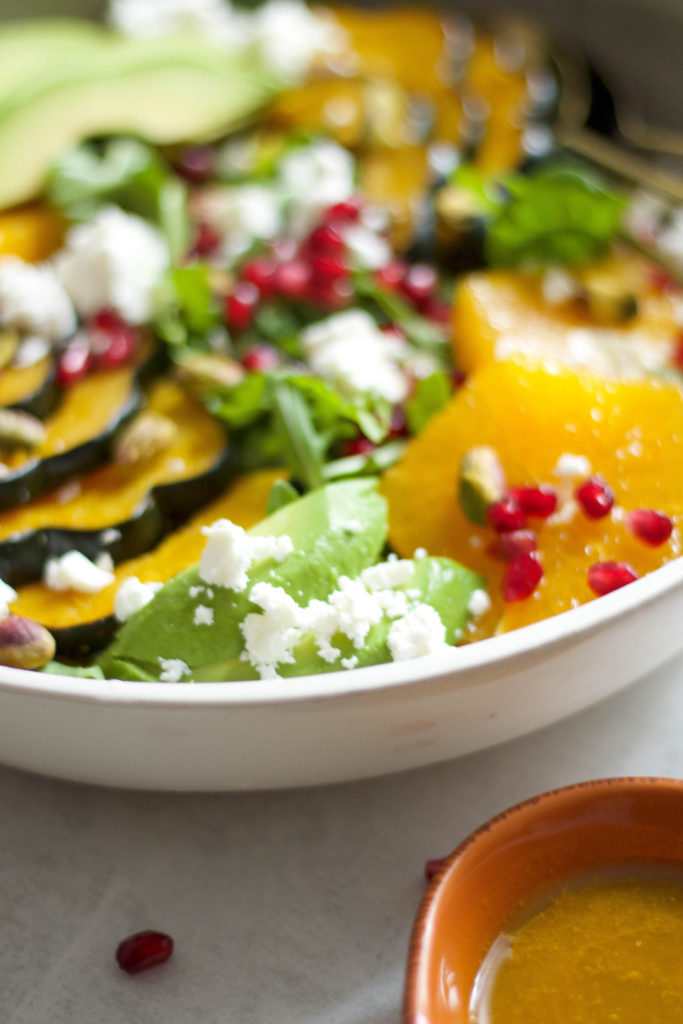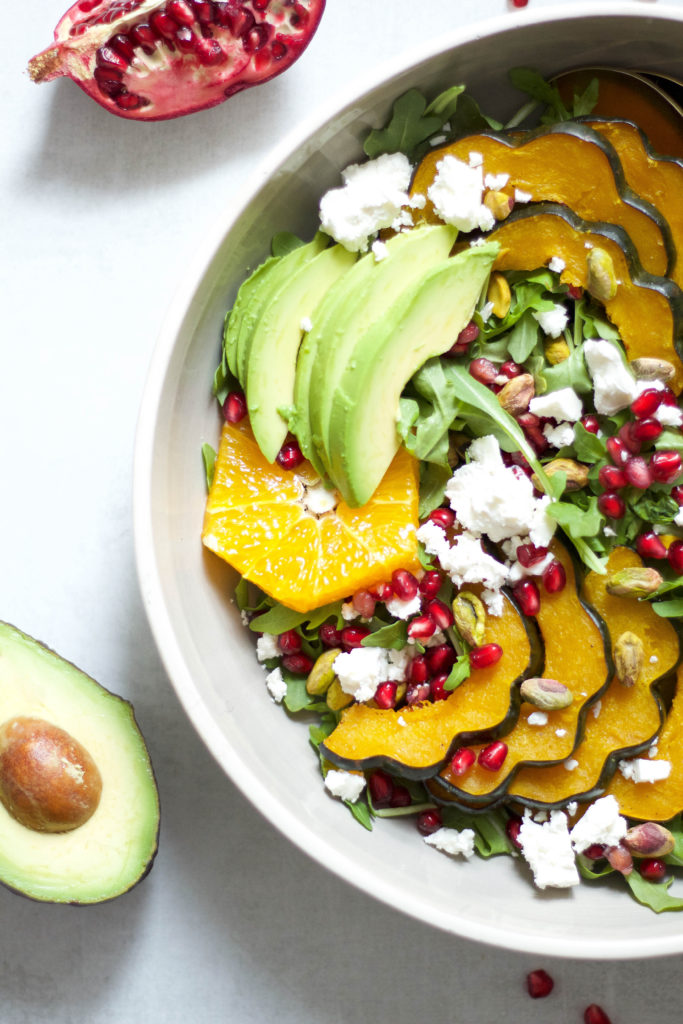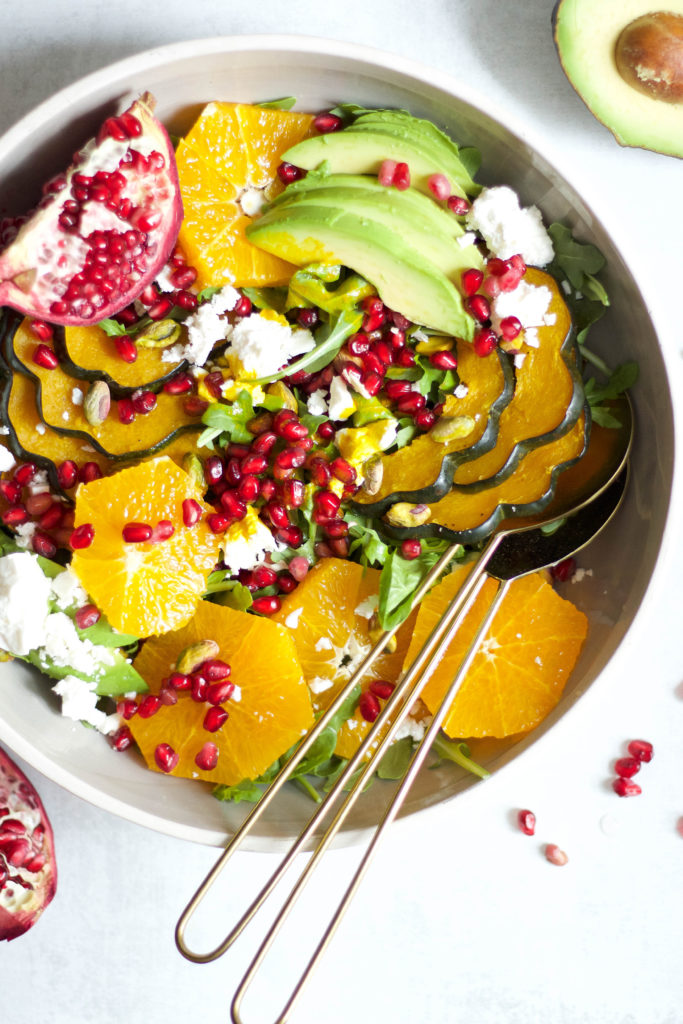 Do you like to eat salads this time of year? What are your favourite seasonal ingredients? Let me know in the comments, and if you haven't yet, be sure to subscribe to the blog!
Best of health,

Orange, Pomegranate + Squash Salad with Turmeric Dressing
Ingredients
For the dressing
2

tbsp

avocado oil

3

tbsp

white balsamic vinegar

1

tsp

turmeric

1

tsp

maple syrup
For the salad
3

cups

arugula

1

acorn squash

deseeded, sliced + roasted (see note)

1

orange

peeled and sliced

1/2

cup

pomegranate arils

1

avocado

peeled and sliced

1/4

cup

feta

2

tbsp

pistachios
Instructions
In a small bowl, whisk together all dressing ingredients. Set aside.

For the salad, layer all the ingredients into a salad bowl. Top with dressing and serve immediately.
Recipe Notes
To roast the acorn squash, slice in half and scoop out the seeds with a spoon. Slice each half into thin slices. Places the sliced squash on a parchment lined baking sheet and drizzle with olive oil, salt and pepper. Roast at 400F until tender, about 20 minutes.