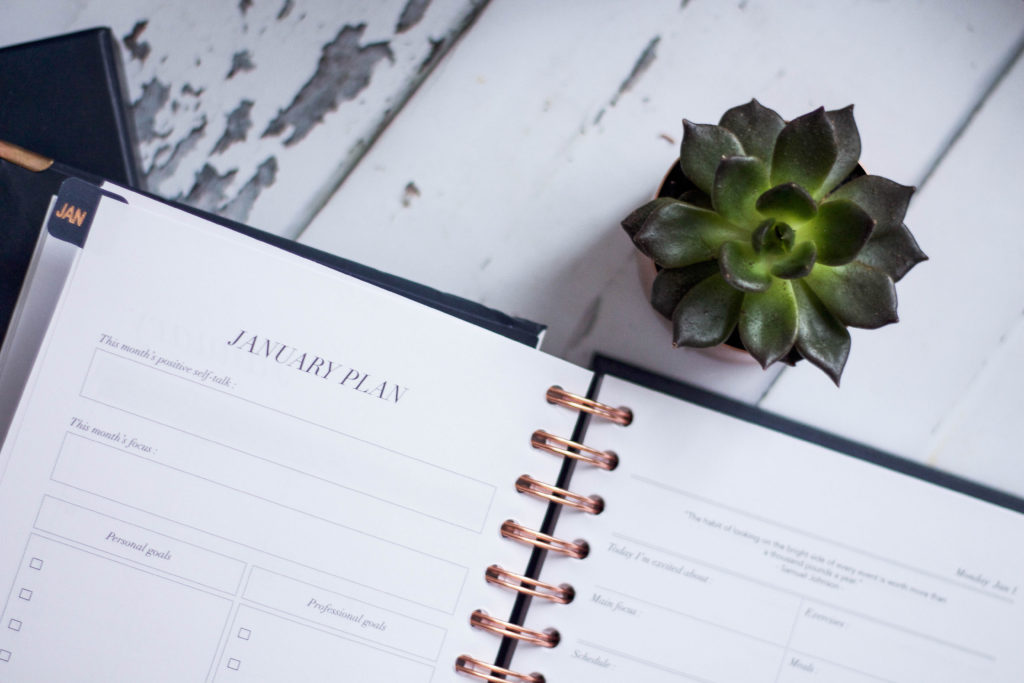 Tomorrow is New Year's Eve. Believe it or not, we're at the end of 2017. So today, I thought I'd share a reflection on my experience of 2017, and also how I'm preparing for the New Year.
I should warn you: I'm a big lover of New Year's resolutions. I make them every year, and I've always found value in them. I know, I know, but I'm cheesy like that. Usually I try to pick a theme for the year. There was the Year of Dating Myself (I took myself on solo dinner dates, and celebrated self-love on Valentine's day–a tradition I maintain to this day). The Year of First Time Experiences (my first Toronto pride, my first concerts, my first time going away with a partner). The (half) year of yoga–I stopped after six months, but not before I learned how to do a headstand. The Year of Mindfulness.
2017 has felt like a big year. A challenging year. A year that really had me looking at my own beliefs, my values, my perception of the world. It's been hard, but it's been rewarding.
There were so many highlights to this year:
I graduated from school, and learned the invaluable skill of cooking without setting fires
I got a job at a creative agency where I get to cook and (mostly) not start those said fires
I made self-care a priority at the end of 2017, deciding to go to therapy, yoga, retake up journaling, and focus on spending time alone with myself
I quadrupled my blog traffic by showing up consistently
I introduced my partner–and really, finally came out–to my dad and my grandparents. This has been a huge burden to carry around since I came out more than 6 years ago. I felt like I couldn't be myself around them, and so I avoided them. So getting to share that part of my life, was the absolute highlight of this year.
Of course, not everything was good. I realized this year that there was so much growing I still have to do. There's a lot I don't know about myself. My anxiety, which has been pretty chill for the last two years, got pretty bad once I finished school. All of a sudden I was without a plan. I didn't have a next step. This was the year of the Existential Crisis. The year of Who Am I? and What's My Role In The World?
I don't actually have the answers yet, and that's okay. What's important is that the questions are there. We're always growing and evolving, and feeling uncertain and uncomfortable, and I think it's really important to honour that. We need to be kind and understanding with ourselves and where we are right now. If you're not going through an existential crisis, then this is all probably oversentimental hogwash, so by all means feel free to ignore it.
So let's talk about planning for the New Year. I know we all love (or vehemently despise–there seems to be no middle ground here) using the New Year to set unrealistic goals for eating better, getting in shape and losing weight. I'm seeing a lot of this now. A lot of detox plans and weight loss guides are coming out. And that's not inherently bad. In fact, two years ago I launched my own. And I still love using January to cleanse and reset. And also, wanting to get in shape is not a bad or shameful goal to have.
But I want us to change gears for 2018, and worry less about accomplishing goals because we want to look a certain way or have a certain something. Instead, I want to focus on how we feel. About ourselves, our lives, our impact on the world. Ask yourself if you align with your core values. What do you like about yourself and the life you're living?
Setting Intentions + Creating Goals for 2018
Today, to set my intentions for the year, I started by cleaning out a space for myself–I chose my bedroom. I emptied out the closet, and tidied everything up, and got rid of things that no longer felt like me. And then, in this newly-calm space, I lit a candle, I got onto my bed and I started to set my intentions for the year.
Set a Theme for 2018
A few months ago, I thought my theme was going to be fluidity, because I wanted to be less rigid with myself. And that's still true: I want to be flexible, compassionate and open-minded. But after really thinking about what I want for 2018, I realized I wanted my theme for the year to be Connection. Connection to my community. To myself, and my creative side. To a purpose bigger than myself. I want to feel connected to other people, and make a positive impact around me.
So for 2018 my theme is Connection. What resonates with you?
Write It Down
1. Reflect on this year. What were the highlights? What were the low points? What do you wish you had made more time for?
For me, I wish I had made more time to get involved with the LGBTQ community. I wish that I done more creative writing, and that I had channeled more creative energy in general.
2. Create a vision board for 2018. What do you want to feel in 2018? I want to feel calm. I want to feel connected. I want to feel like I'm making a difference.
What do you want to make more time for? What do you want to accomplish? What kind of person do you want to be? I want to have more compassion, but also more strength to stand up for what I believe in. I want to be part of a community. I want to be someone with integrity and also someone who acts with kindness, for others, and for myself.
3. Write a list of goals with actionable steps. Instead of simply writing "lose weight" this year, what if your goal included actionable steps like meal planing on Sundays, finding movement for at least 20 minutes three times a week, or keeping a daily gratitude and self-love journal. Create goals that don't rest solely on external values (like being thin), but rather intrinsic ones, like being healthy, loving your body and feeling happy. And then, include realistic steps to help you achieve those goals: include specific days and the amount of time allocated to whatever you're doing.
Some of my goals include:
Paying off $10,000 of student loans this year using a budget and automatic bill payment system.
Traveling to Barcelona in the spring for one week with Allie
Blogging twice a week on Wednesdays and Saturdays
Attending at least one LGBTQ event a month
Moving my body three times a week through yoga, barre, dance, pole or whatever else helps me find flow
Limiting Netflix to 2 hours a week–you just know this one will be the hardest. But I want to read more, write more, be quiet more.
How To Follow Through With Your Goals
New Year's resolutions are a beautiful, albeit tired, idea. And for a lot of us, they're also doomed to fail. So how do we make sure we stick to them and don't abandon them come February?
1. Make sure your goals actually matter to you. If you decided you're going to learn a new language because it seems cool, you'll probably quickly jump ship. But if you're learning a new language so you can better communicate with your partner's non-english-speaking grandparents, you have motivation to help you persevere. If your goal is to get a six pack and never eat a carb again, I promise you it will be a short-lived dream. Choose things that really resonate with you.
2. Have a Schedule. I've set up weekly Wine + Fine(-ancial) dates to look over my budget and see if I'm on track. I've also scheduled in my workouts, as well as friend dates, events and time to write and read, so that I'm less tempted to binge watch Netflix. Of course be flexible in your schedule–you don't have to miss out on dinner with friends because you're supposed to go the gym. But in my experience, writing it down in a planner makes it far more likely to stick.
3. Reevaluate Your Goals Monthly. I think every month, or even every quarter, you should reflect on what worked and what didn't work. Maybe your goal of learning to salsa dance doesn't work, because it turns out you actually hate salsa. Adjust. Maybe you were hoping to lose weight, and while that hasn't happened, you feel stronger and less anxious. Celebrate! Your goals are allowed to change, so be flexible, and move through 2018 with fluidity and an open-mind.
What are your goals for 2018? Let me know in the comments below.
Until next year,