It finally feels like winter here: there's thick, white snow on the ground, and cold, pink cheeks everywhere you look. My winter-loving puppy always has a little pile of snow on the tip of her nose as we take her on her walks. It feels very calming, actually. Much better than the slip-and-slide freezing rain we've had these last few weeks.
Green Falafel Buddha Bowl
I am so excited to share this Green Falafel Buddha Bowl with you! Although, I should tell you, I totally messed up on these pictures. I forgot to put on the avocado, the lemon juice (over the kale) and the hemp seeds until after I shot the pictures. So pretend they're there, okay? Because the second I was done, put away my camera gear, cleaned up and grabbed a fork to dig in, I was like crap. So I added them anyway, and it was a hella good, but I have zero picture proof.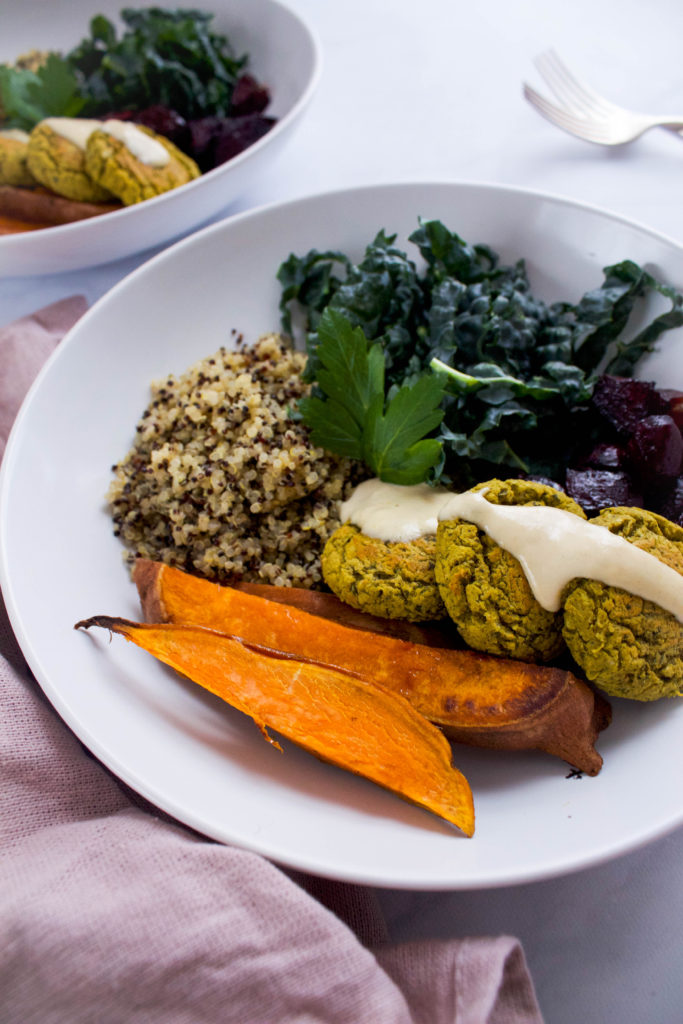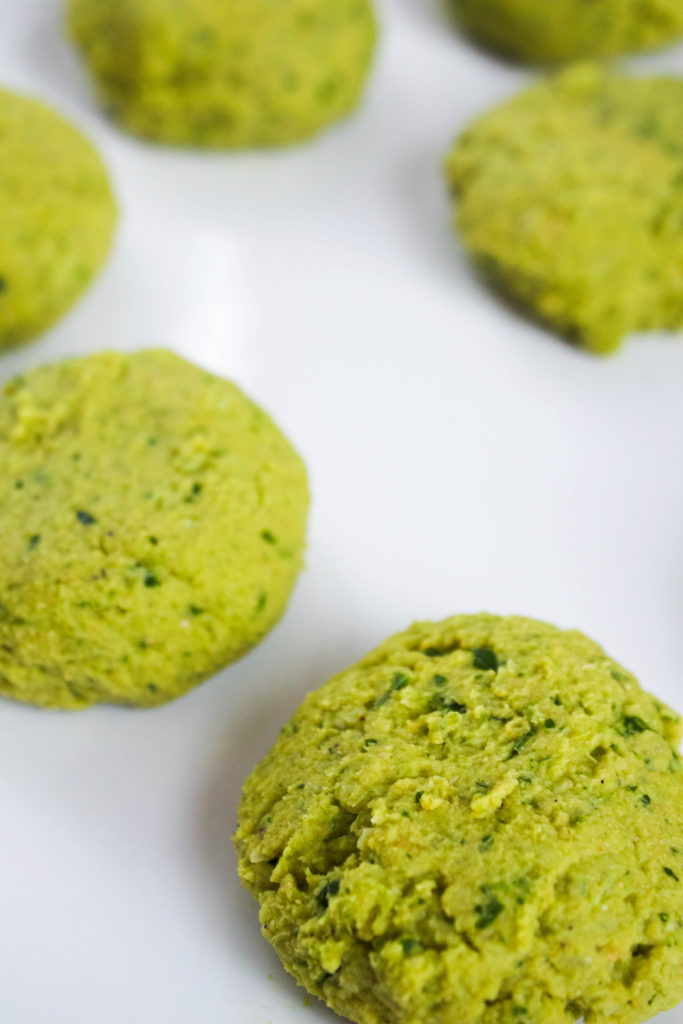 I love falafel–I literally could eat it all day every day. The best thing about this recipe is that it is so easy to meal prep: just double up on the recipe, portion everything into containers, and voila! Allie and I didn't have to think about lunch all week–just beautiful.
The falafel in this Green Falafel Buddha Bowl are extra special, because they are jam packed with spinach! This whole bowl feels incredibly grounded for the cold weather. I roasted the beets and carrots with cumin and salt, cooked up a pot of quinoa, and shredded some kale to create an easy-to-put-together dish.
Nutrition Highlights (how this bowl makes you smarter)
Spinach: packed with antioxidants and brain-friendly folate, spinach can help fight free radical damage and prevent memory decline. In fact, researchers at Rush University found that a daily serving of spinach halted the mental decline of older people by an average of 11 years.
Beets: due to their high nitrate content, beets can actually improve blood circulation–including blood flow to the brain. A study in 2010 found that older men who ate nitrate-rich foods, including beet juice, increased blood flow to their frontal lobe–the part of the brain that helps with focus, motor skills, reasoning and attention to detail.
Kale: loaded with vitamin K, folate, antioxidants, and ALA (a plant-based omega-3) it's no wonder kale is still considered a super food! It's ability to support heart health also makes it an awesome brain food, as we know that brain health and heart health are so closely linked.
Sweet Potato: the bright orange colour from it's beta-carotene content, which helps to reduce inflammation in the body. Sweet potatoes can also help regulate blood sugar, possibly due to the fact that it increases levels of adiponectin, a hormone that helps with insulin metabolism. This makes it a brain super food, because stable blood sugar levels are critical for brain health! Some people call Alzheimer's type III diabetes.
Let me know if you're into buddha bowls in the comments below–especially if it means easier meal prep!
Happy weekend! xx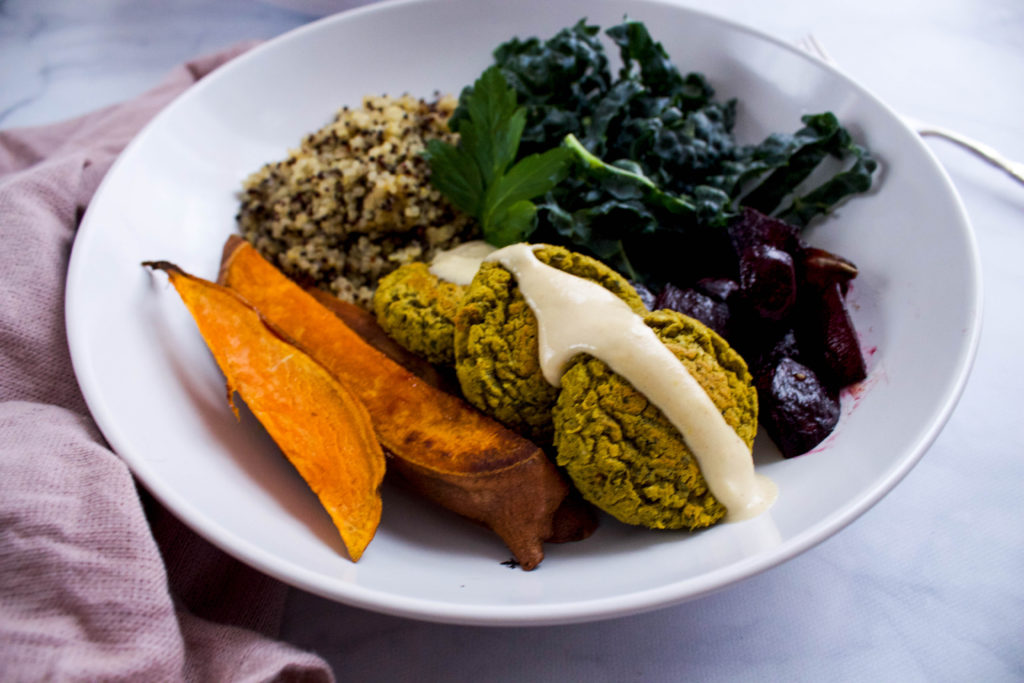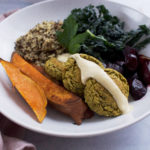 Green Falafel with Tahini Dressing
Ingredients
Falafel
1

can chickpeas

juice of 1/2 lemon

2

tbsp

oat flour

2

cloves

garlic

1

tbsp

extra virgin olive oil

1

cup

parsley

1/2

tsp

salt

1/4

tsp

pepper

1

tsp

cumin

1/2

cup

spinach

1/4

cup

onion
Tahini Dressing
1/4

cup

tahini

1

clove

garlic

zest and juice of 1 lemon

2

tbsp

extra virgin olive oil

4

tbsp

water

pinch

of salt
Instructions
1. Preheat oven to 400F. In a food processor, mix all the falafel ingredients until fully combined--it's okay if it's still a little chunky. Chill mixture in a bowl, covered, for at least one hour.

2. In a blender, on low speed, blend all the tahini dressing ingredients until smooth. You can add more water if you want this to be a dressing, or less if you want it to be a dipping sauce!

3. Portion out chilled falafel mixture into small balls, about 2 tablespoons each. Place on a parchment lined baking sheet, and gently press the balls down to form disks. Bake the falafel at 400F for 20 minutes, flip and then bake for another 10-15 minutes.

4. Add falafel to a buddha bowl of roasted vegetables, avocado, cooked quinoa and shredded kale, and top with tahini dressing!