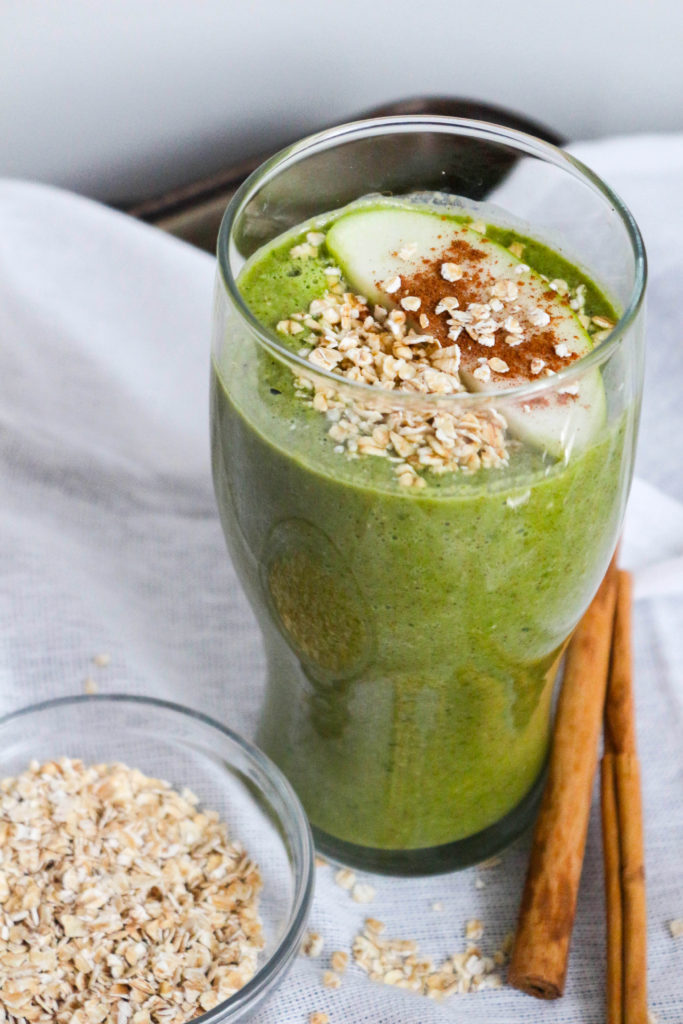 I have been on a massive Green Smoothie kick this week–which is so unusual for me. In the winter, I'm a strict oatmeal/eggs/something-hot-and-cozy kind of gal, and well, frozen beverages? Not so much my favourite way to start the cold and snowy morning.
Nonetheless, I have just been craving greens, in pureed baby food fashion, all week. But if you live in Canada, or Narnia, or somewhere else that requires a parka and mittens on a string, then you, like me, might be reluctant to eat smoothies in the winter.
Let's change that, shall we?
3 Ways to Drink Green Smoothies in the Winter
Don't use frozen ingredients.

Things like frozen mango and pineapple, or ice, are the last things you really want to be sipping on a cold morning. Instead, stick to fresh fruit, like bananas, or apples like the recipe below, that are room temperature and won't send your body into shock. (Also, don't be afraid to get seasonal and try lots of winter fruits and veggies. If you're not sure what's in season, check out my free downloadable Ultimate Healthy Kitchen Guide.)

Use warming spices.

Spices like cinnamon and ginger, are warming to the body, and feel extra cozy on cold days.

Add heartier ingredients.

In the summer, I like my smoothies to be light and refreshing, so I use ingredients like coconut water and tropical fruit. But in the winter, I like to add more hearty fuel: ingredients like rolled oats, coconut oil and nut butters make smoothies feel more substantial.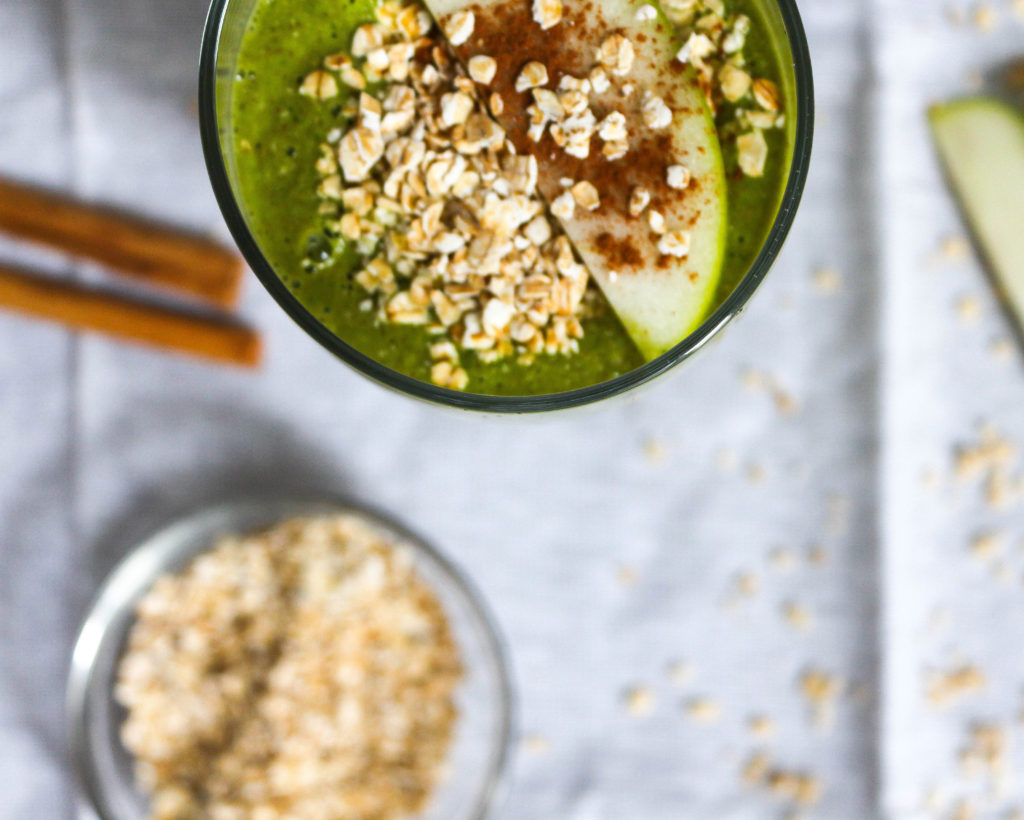 How to Upgrade Any Smoothie For Better Brain (+ beauty) Health
While this recipe is super delicious (uh, hello apple pie) and nutrient dense , there are a couple things I like to add to almost every smoothie I make to upgrade it and take it to the next level. If you're just dipping your toes into smoothie making, then don't worry about this. But if you're an avid smoothie drinker, looking to squeeze in a little more nutrition, consider the following add-ons:
High quality Collagen Powder (I use this guy)

Not only is collagen great for your hair, joints and skin–it keeps you young!–but it's also great for your healing your digestion AND for better brain function. Collagen contains important amino acids that your body needs, and one of those proteins is glycine, which helps keep your brain calm and restful.

Omega 3 oil (either from fish or algae, if vegan)

Omega 3s are great for your skin, especially in the winter when we tend to feel dry, but it's also great for your brain! Omega 3s can reduce brain inflammation, improve your mood and memory, and encourage the formation of new brain cells.

Greens powders come in a variety of forms, and I like the Organic Traditions green powder because it contains spirulina, chlorella, moringa, matcha green tea, as well as turmeric and probiotics. Greens powders are high in antioxidants which reduce oxidative stress to the blood vessels, including the brain, which in turn improves cognitive function.
Okay, now that you're a lean, green, smoothie drinking machine, check out the Winter Green Apple Pie recipe below for a quick and filling breakfast option to keep in your culinary repertoire. Also, subscribe to my monthly newsletter!


Winter Green Apple Pie Smoothie
2017-01-05 11:52:33
Serves 1
Ingredients
1 Granny Smith apple, chopped
1 cup almond milk
1/2 cup spinach
1/4 cup rolled oats
1 tbsp cinnamon
1 tsp vanilla
1 tsp cinnamon
Instructions
Place all ingredients into a blender and blend until smooth.
Enjoy!
The Nourished Mind http://thenourishedmind.ca/