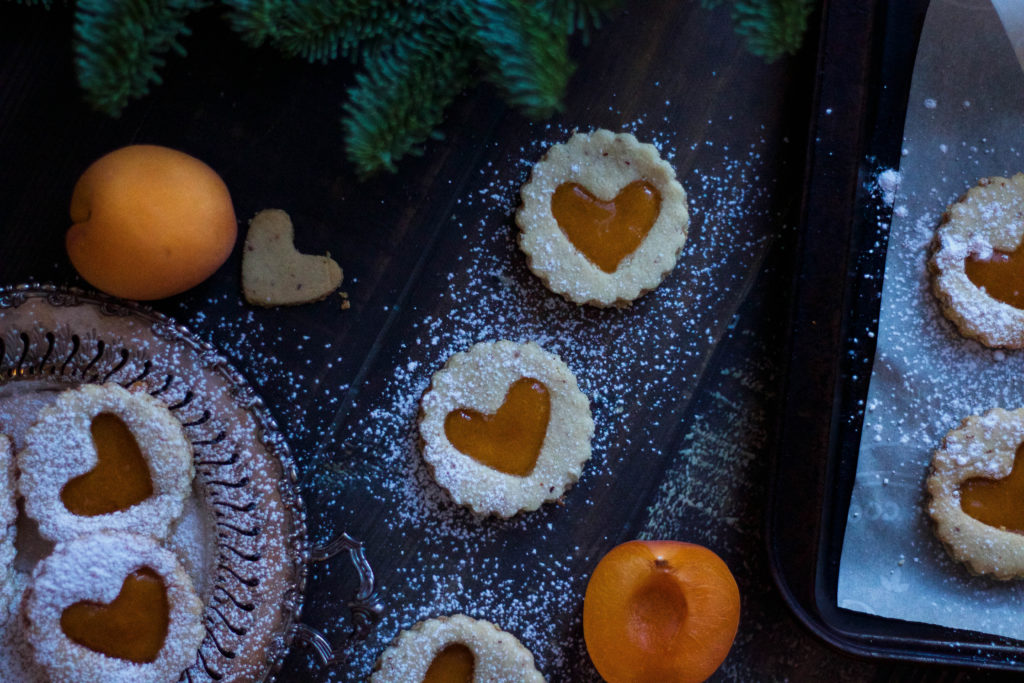 Happy Sunday! This weekend could not have come sooner: all I've wanted all week is to relax and find some quiet. How is it already almost over? I had great plans of sleeping in all weekend, but alas, yesterday I got up around 6am (courtesy of the few glasses of red wine Allie and I shared last night–I can never sleep when I drink too much wine). But that's okay–it's gave me time to lazily sip on some coffee before I went out to hot yoga, my dentist appointment and then a lovely holiday party.
After getting home around 2–I know, I know, Tisha how did you, with your early grandmotherly bedtime, stay up until 2am? No need to worry friends: I actually feel asleep at the party for a good hour around 11:30pm–today was definitely a sleep-in day, as I shake off the grogginess that comes from one too many (delicious) glasses of mulled wine.
So these Ginger Apricot Linzer Cookies. Aren't they so pretty?! And paleo. AND vegan! (And awesome.) I am ready for all of the holiday baking, and these cookies are definitely something I'll have to make more of.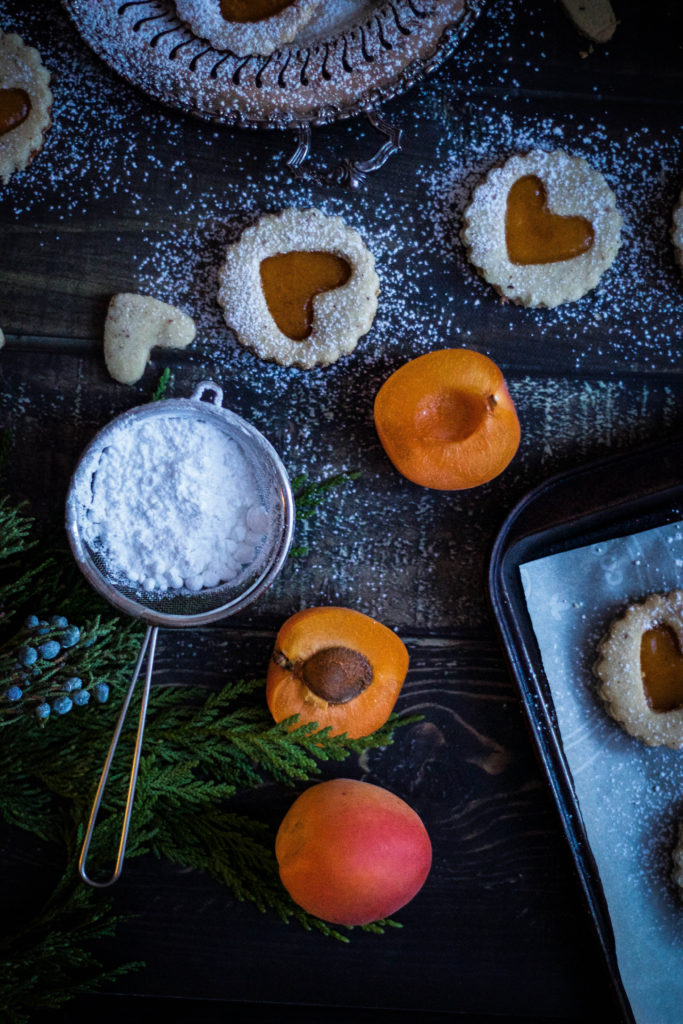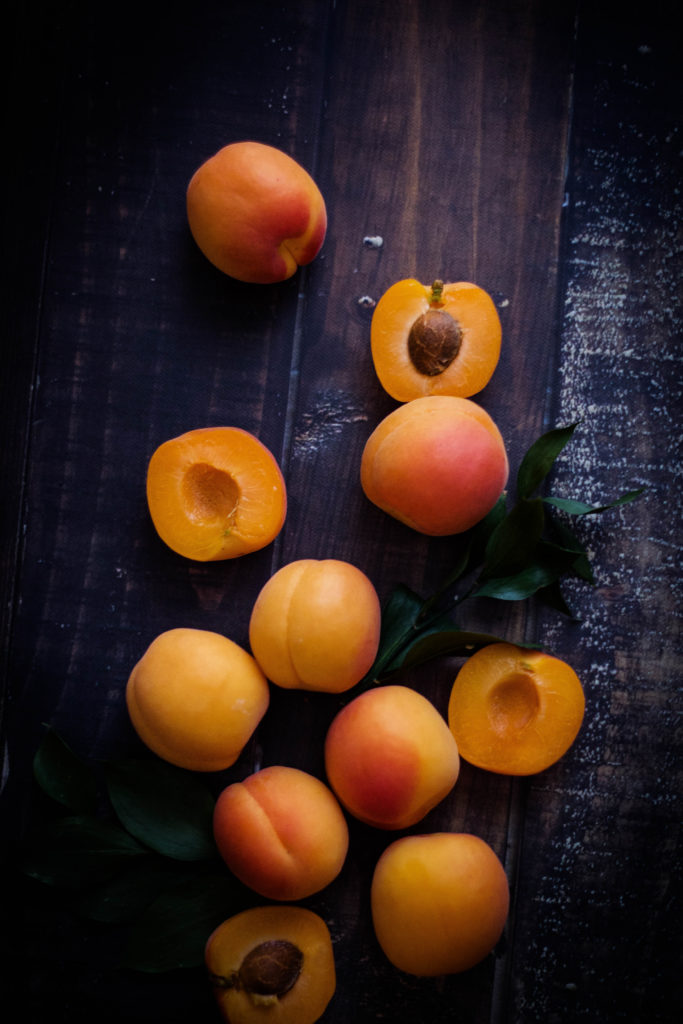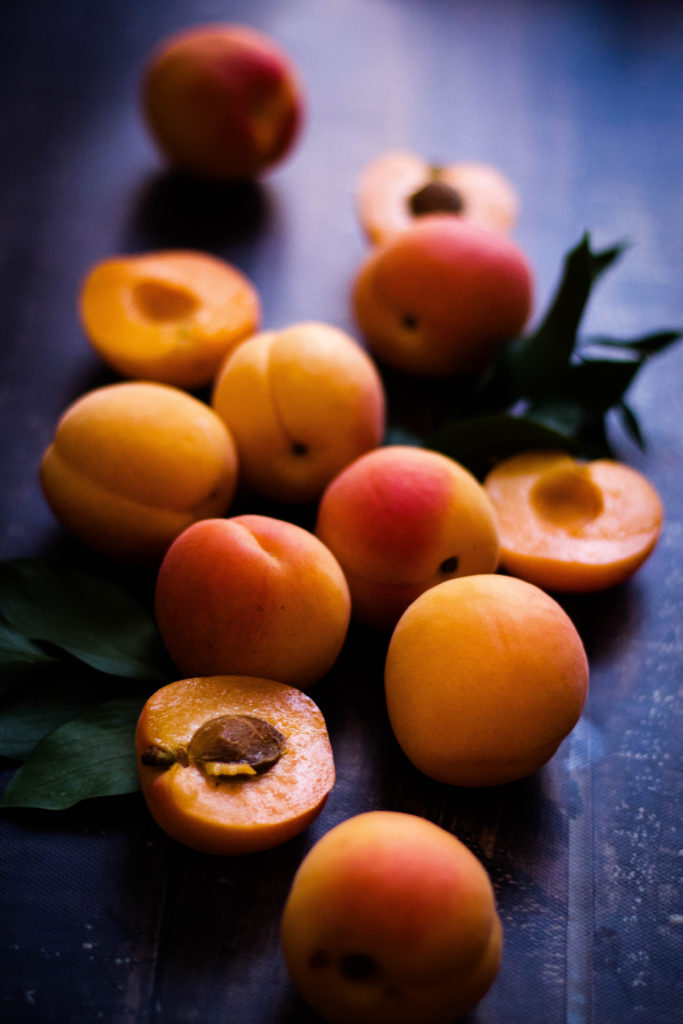 These cookies are also my entry into the holiday season. To be honest, I haven't thought too much about the holidays, and now that it's December, the panic has started to creep in. I haven't decorated. Or started my Christmas shopping. Or taken pictures with Santa. (Alright, that last one was never going to happen. But still, there's a lot to do.)
So at least I can take comfort in these chewy, tart holiday cookies. They make me feel like I've accomplished something, you know? I'm easing into the holidays, that's all. It's not a lack of preparation, oh no. Or at least, that's my story if anyone asks.
These Ginger Apricot Linzer cookies are quite divine, and they actually taste like shortbread! You could always sweeten up the apricot jam, but I kept it tart to bring some balance to the cookies. These are best to be filled with jam day of, and then kept out at room temperature, covered, otherwise they will quickly soften. (But this is true of all Linzer cookie recipes, not just these paleo babes.)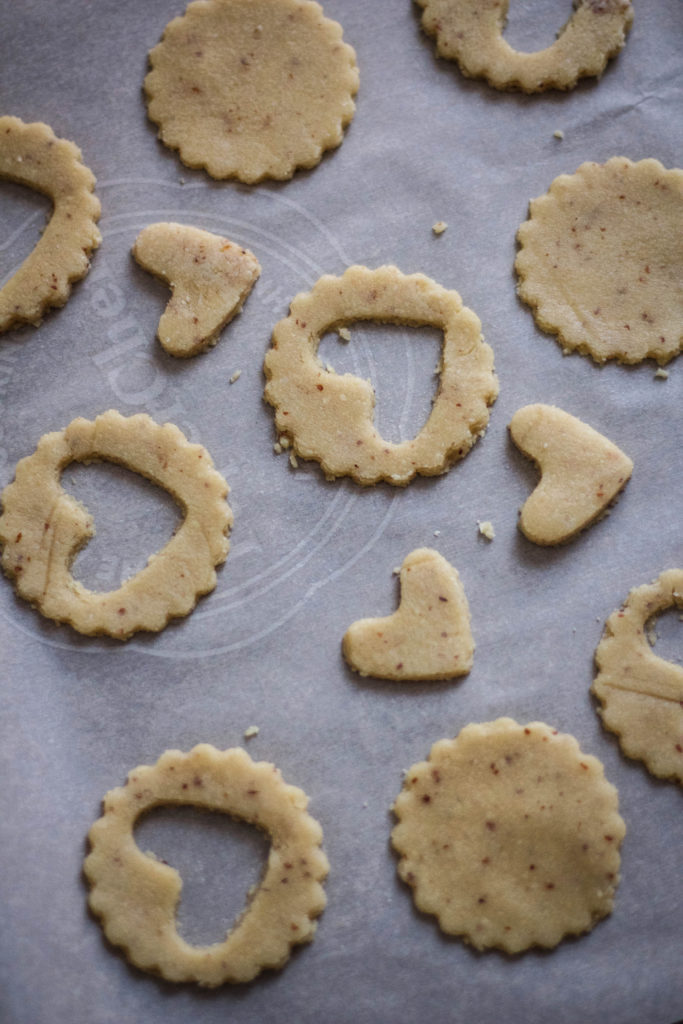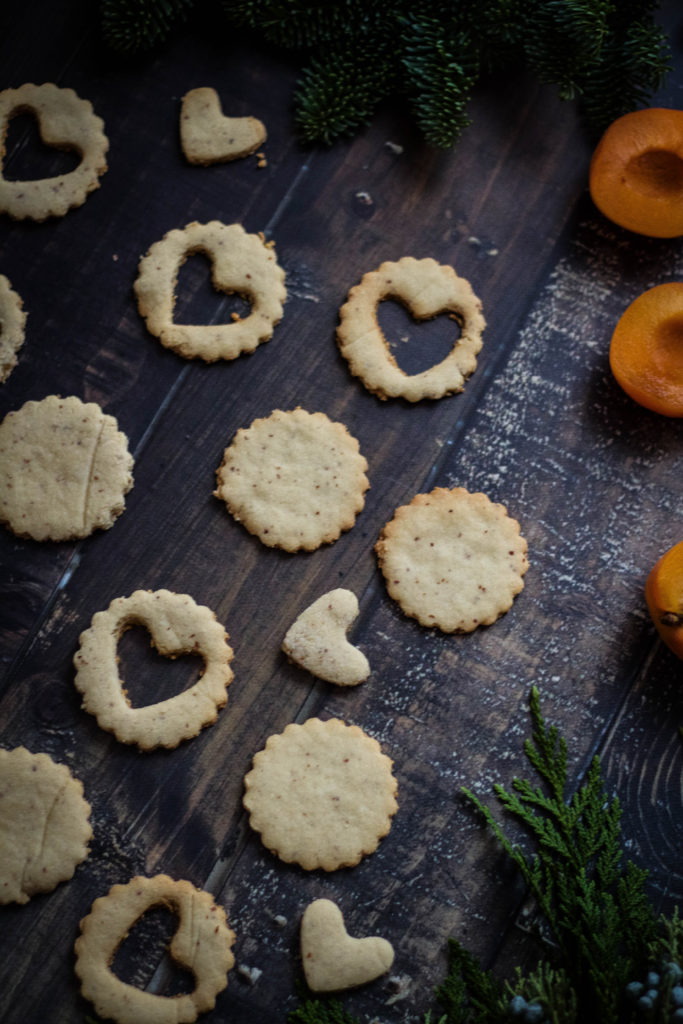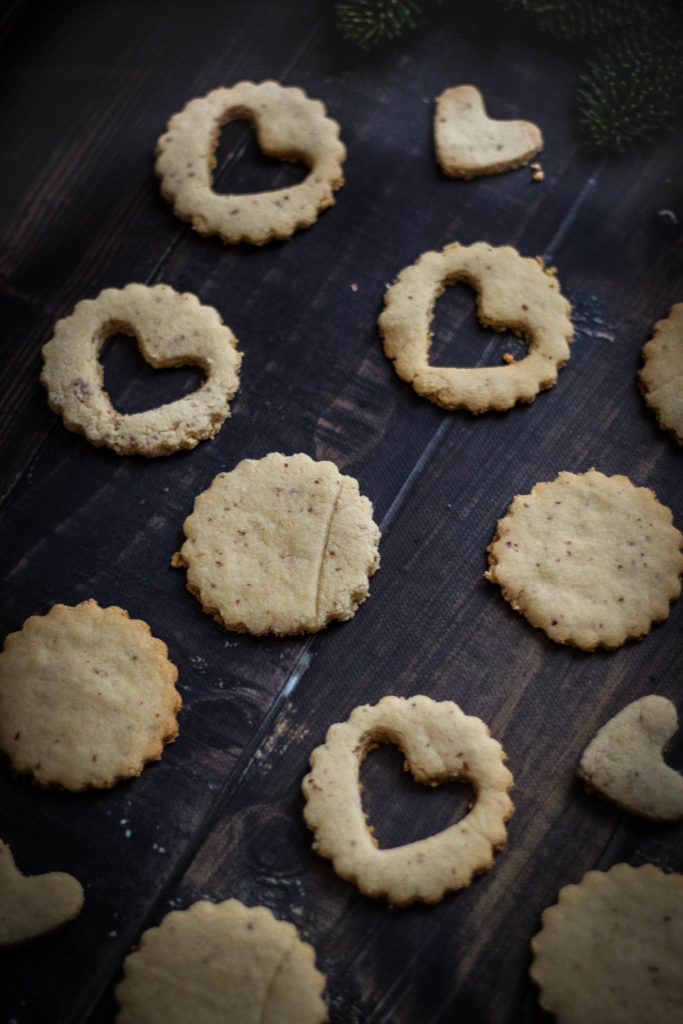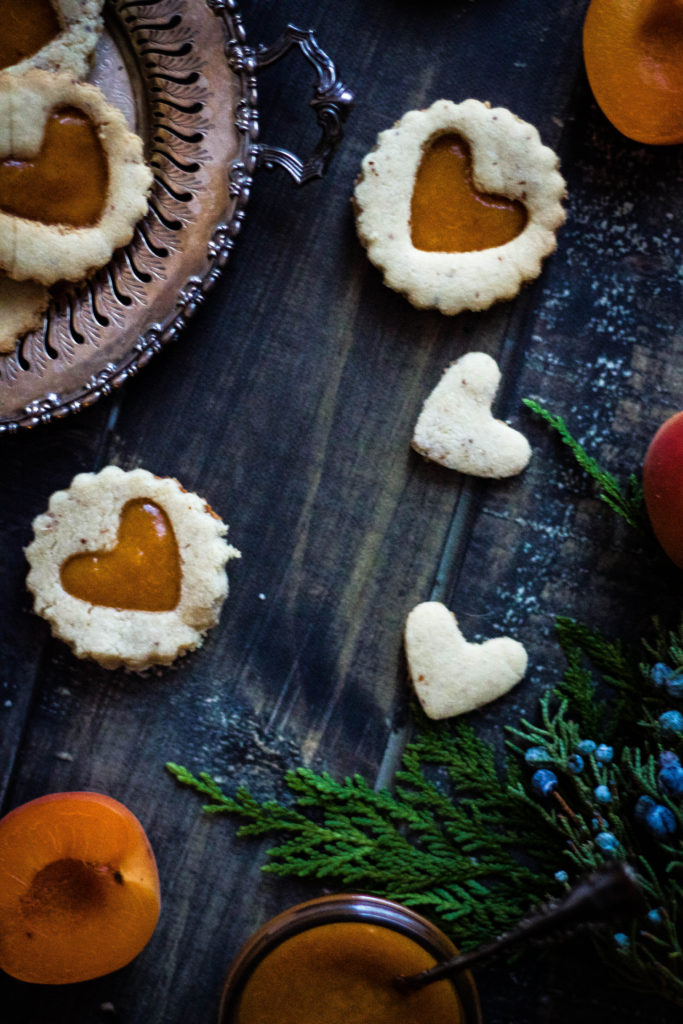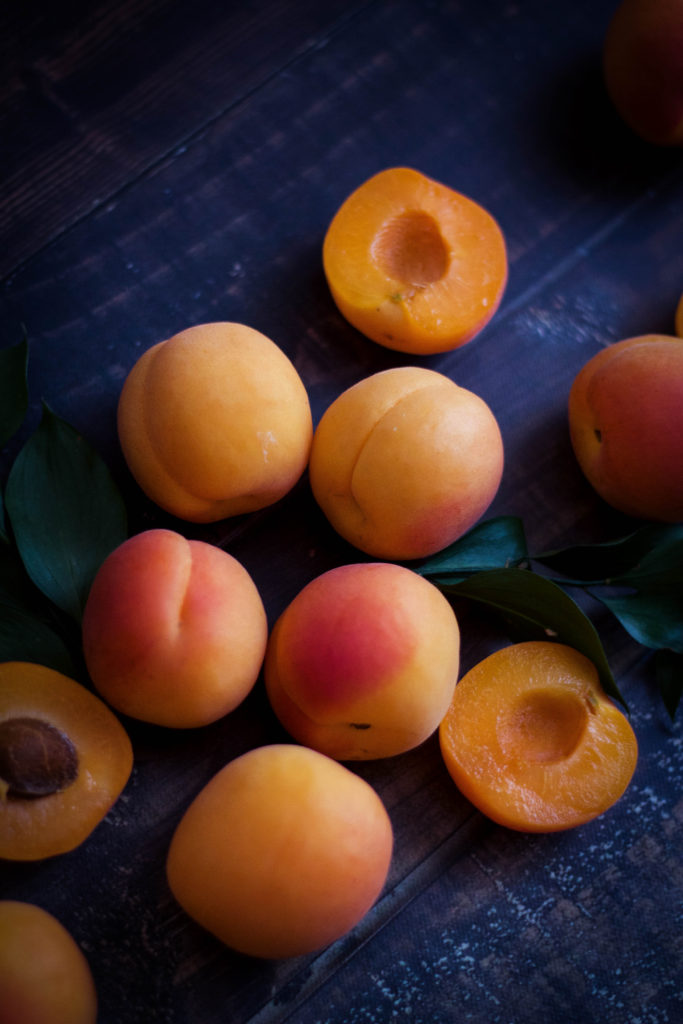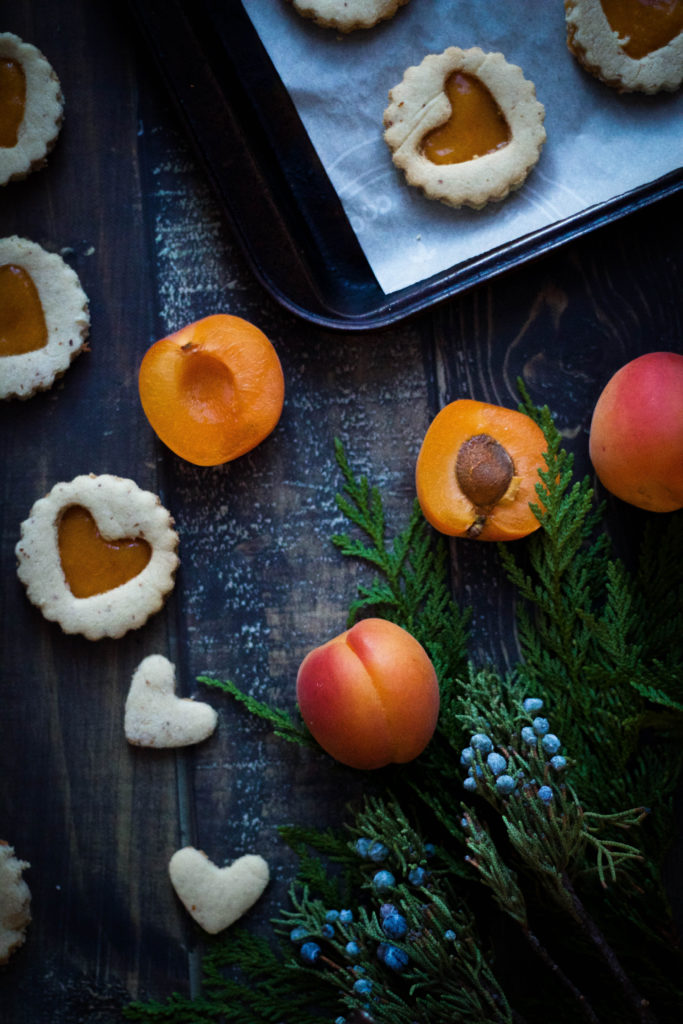 On another note, I am so excited for some of the blog posts I have coming up. We'll be diving into mindfulness, minimalism, adaptogens, self expression, stress relief, hygge. It'll be good. The biggest reason that I put off posting content like that on the blog is (and it sounds silly) that I don't have photos to post with it! I don't want to use stock photos, but I tend to just shoot photos of the recipes that make it onto here. So today I'm going to try to branch out, and we'll see what happens.
I am still feeling super introspective lately. It's a shift from how I was feeling a few months ago, where I wanted to constantly be surrounded by other humans, and I was always on the go. I think it's the wintery vibes, that natural need to withdraw, to reflect, to rest. I'm trading up my high intensity workouts for slow, intentional movements, for deep stretches, for stillness.
Is anyone else feeling like that?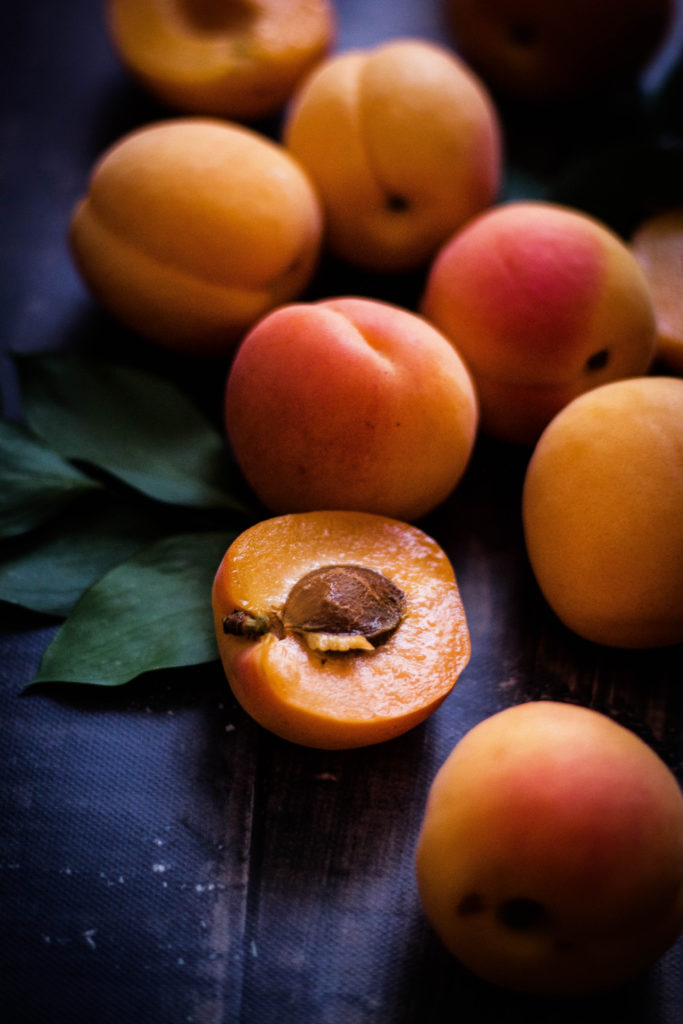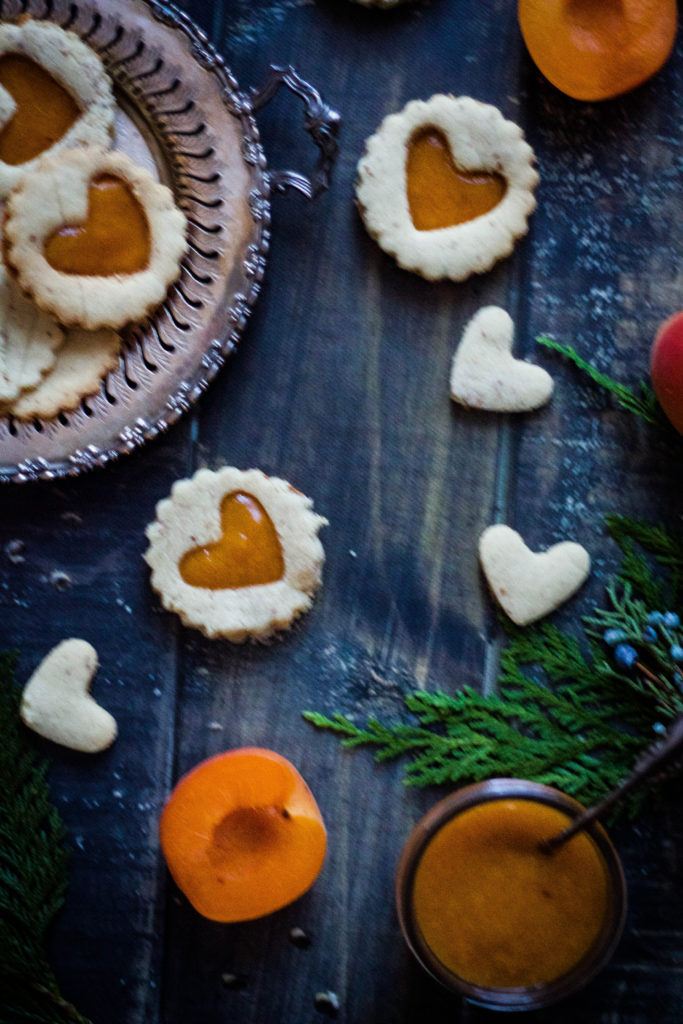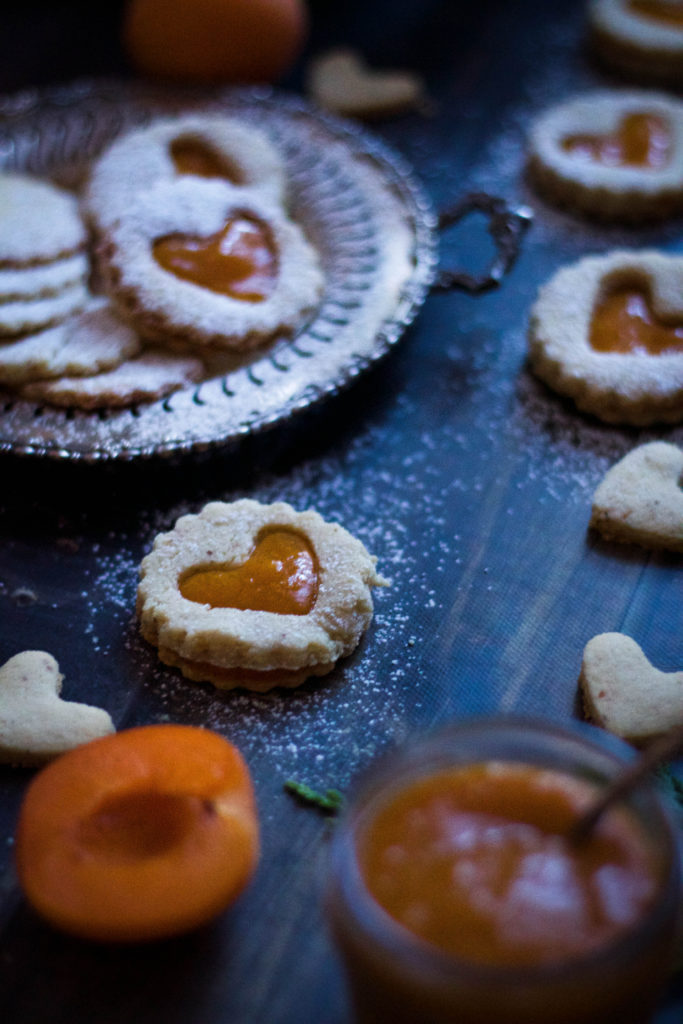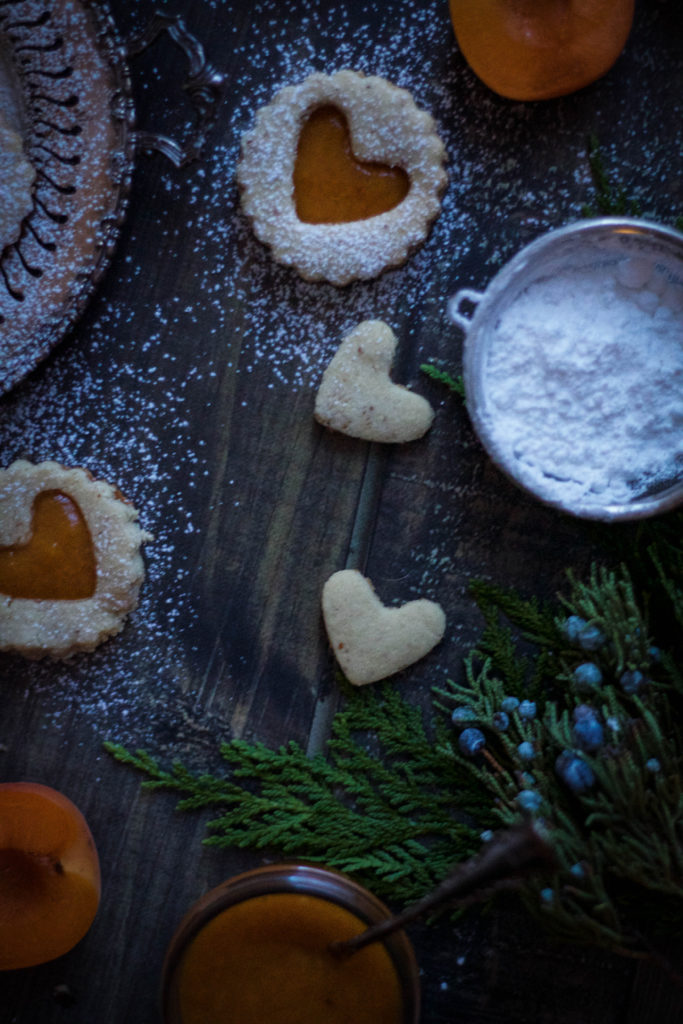 I hope this winter brings about lots of cozy gatherings, like last night. Lots of beautifully prepared shared meals, soft music, low lighting, great conversations. This is what I'm craving. Intimacy. Community. And okay fine: mulled wine.
I am really ready for 2018. I think it will be an exciting year. I have a really cool planner, friends. Whether planners can be considered cool may be up for debate (spoiler alert: I think yes, absolutely they are).
Have you started thinking about what you want from 2018? Any New Year's resolutions coming to mind? Any favourite moments of 2017?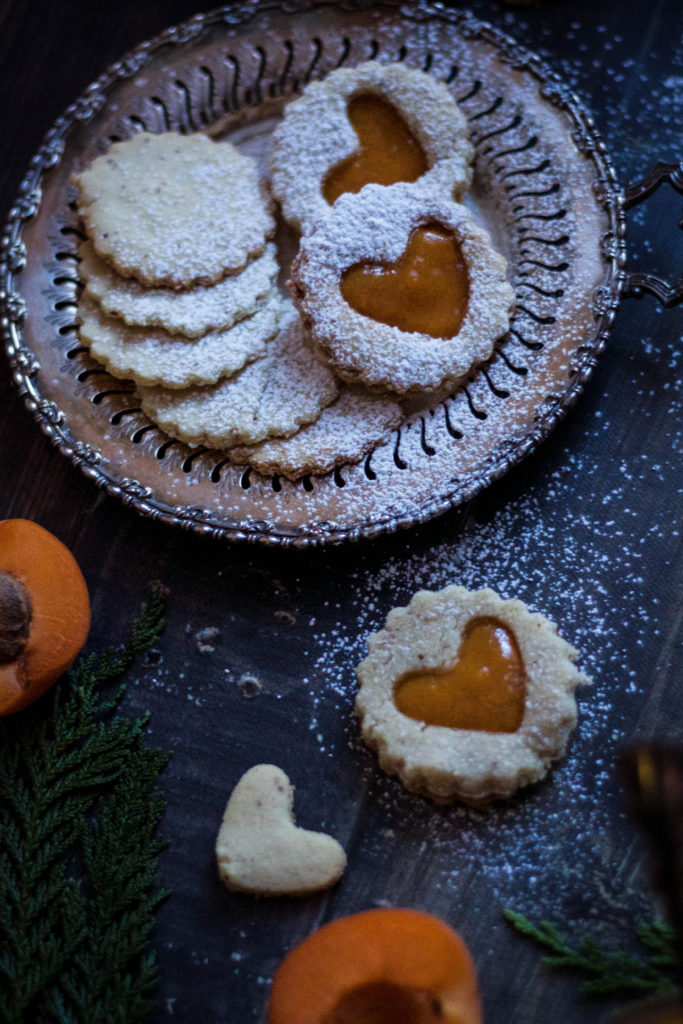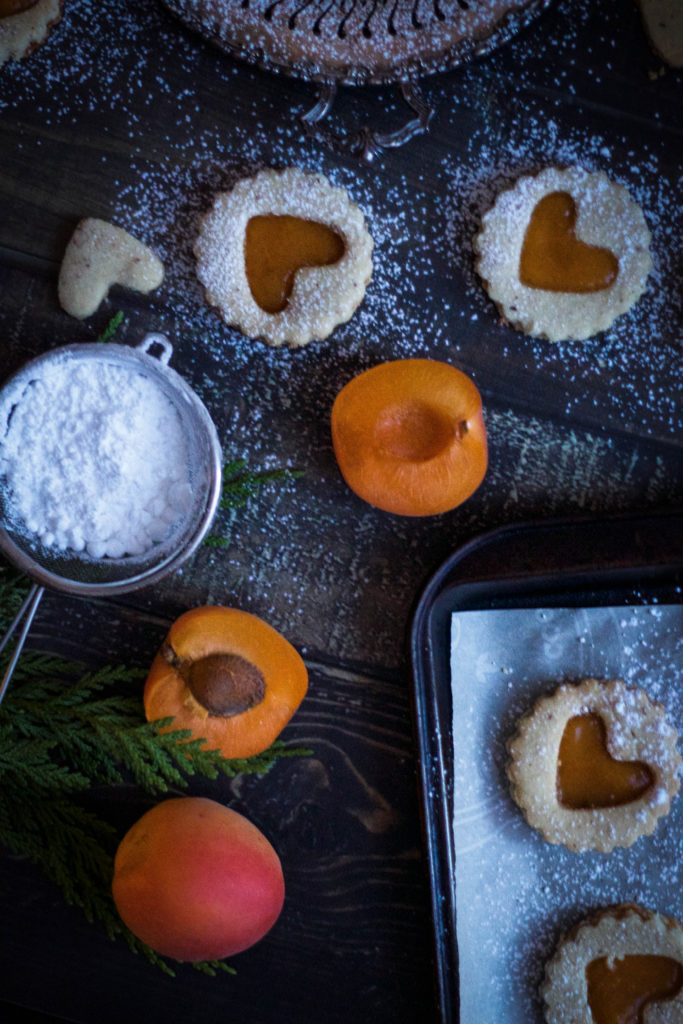 Enjoy your week, lovely humans.

Ginger Apricot Linzer Cookies (paleo + vegan)
2017-12-09 07:21:16
Linzer cookies
2 1/2 cups almond flour
¼ cup coconut oil, melted
¼ cup maple syrup
½ teaspoon salt
1 teaspoon vanilla
Apricot Ginger Jam
2 lbs apricots, pitted and chopped
½ cup maple syrup
½ tsp ginger
¼ tsp cinnamon
Instructions
Preheat oven to 350F and line two baking sheets with parchment paper.
For the cookies
In a medium bowl, combine all cookie ingredients together until dough forms.
Place dough between two sheets of parchment paper and roll out dough until it's about 1/4 inch thick. Place dough in fridge for 10 minutes to firm up.
Cut out 24 cookie shapes with crimped cookie cutter. With a small heart shaped cookie cutter, cut out the centre of 12 of the cookies, for the tops of the sandwiches, and leave 12 whole, for the bases.
Bake all the cookies at 350F for 7-10 minutes, or until golden. Allow to cool completely.
For the jam
Place all ingredients in a medium sauce pot, and bring to a boil. Allow to simmer until the apricots breakdown, and the mixture thickens, about 15-20 minutes.
To assemble
Spread jam evenly on all the cookie bases. Place top of the cookies on top of the jam to form a sandwich. When ready to serve, dust with icing sugar.
The Nourished Mind http://thenourishedmind.ca/