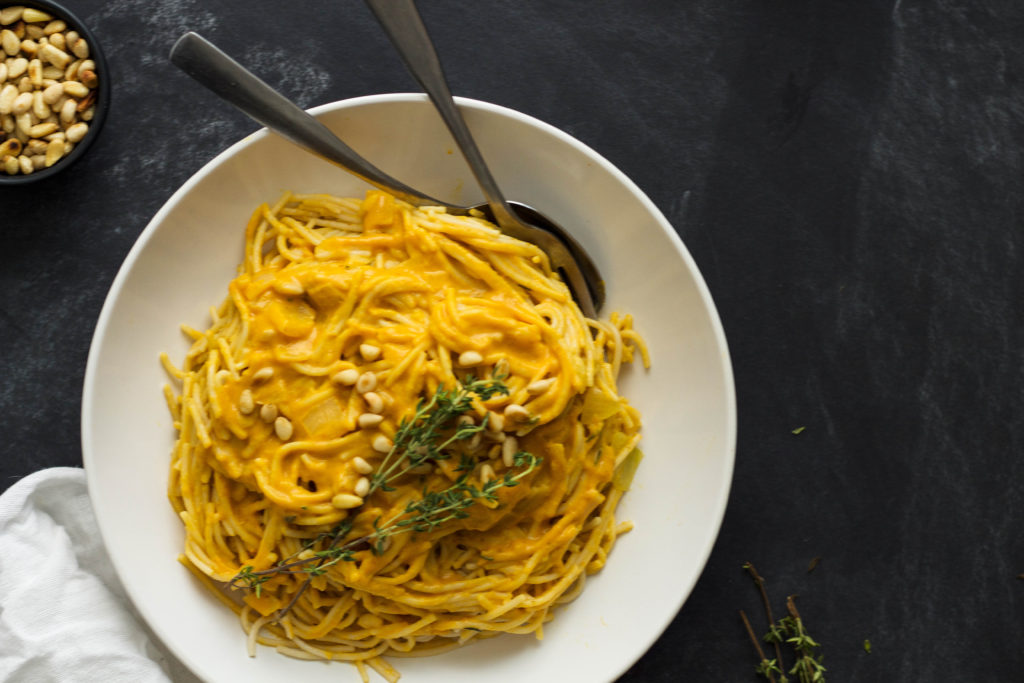 So we wished for it and it finally came: autumn!
We can bring out the sweaters, the hats, the fall boots. And we can officially reminisce about those good ol' hot summer days (which was last Tuesday–just throwing that out there). Ah, yes, it's my favourite time of year. And for so many good reasons: the smell of the crisp air in the morning; the ability to wear a baggy sweater and forgo a bra when I leave the house to run errands; the whipping out of my favourite Bath + Body Works autumn-inspired candles (of which I have many, with few having ever been lit).
But my favourite part of fall–the reason I get so antsy and impatient–is the fall cooking. I just love autumn ingredients. I love root vegetables like beets, squash, carrots, parsnips, rutabaga, celeriac–the list goes on. Food suddenly embraces this very cozy, comforting air around it–like a snuggly blanket for your belly (which is cute, if you don't think about the imagery too literally). My point is, I crave fall. I want it. If there was somewhere that offered me fall weather (and festivities) 10 months of the year (with the other two being for bikini weather and my wintery birthday) I would sign up immediately.
As it stands, no one has made any such offer, so I'll make do with what I have.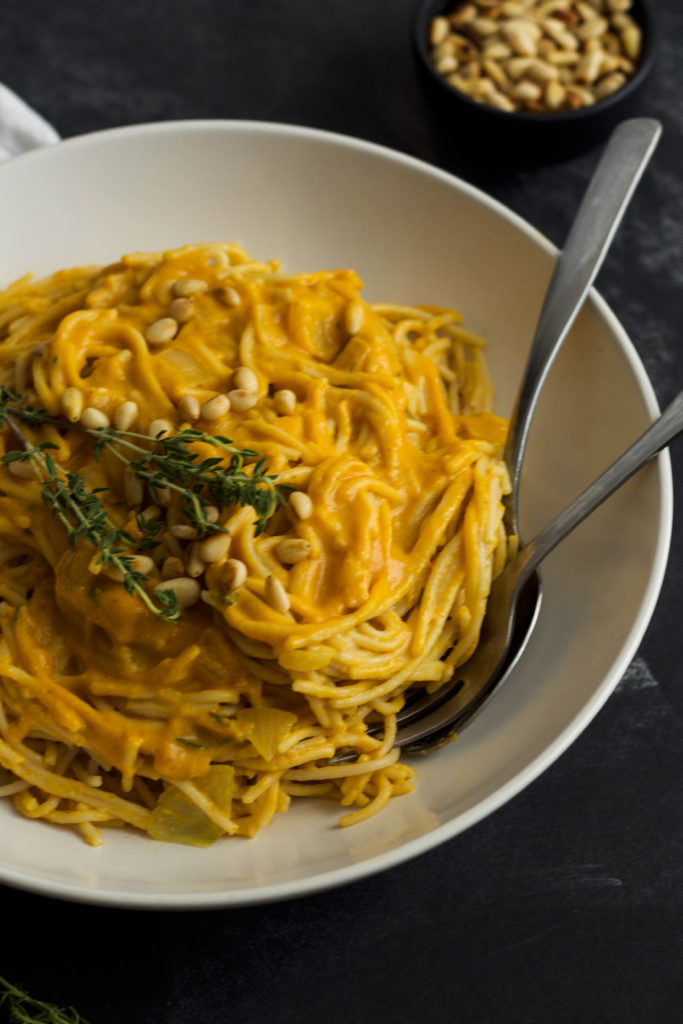 So what do I have?
This Creamy Pumpkin + Thyme Pasta, a.k.a pure yumminess. This sauce is rich, and creamy, and get this: dairy-free. It uses coconut milk as a base, with nutritional yeast to get some good cheesy flavours happening. It's packed with flavour, and, thanks to the pumpkin, it's also sporting a decent amount of fibre–which in my books, is always beautiful.
You can use whatever pasta you like. For this post, I used brown rice pasta, but in my day-to-day, I'd probably throw it overtop of spaghetti squash or spiralized sweet potatoes (and then top with some cooked chicken). Don't get me wrong, I like pasta, but it's one of those foods that I find no matter how many bowls I eat (2,3,8?) I'm still hungry. If you're like me, pair this sauce with something lower in carbohydrates (that doesn't spike your blood sugar), and higher in protein and healthy fats (both of which cause satiety). Or eat on top of of your most favourite of pastas. You do you, amigo.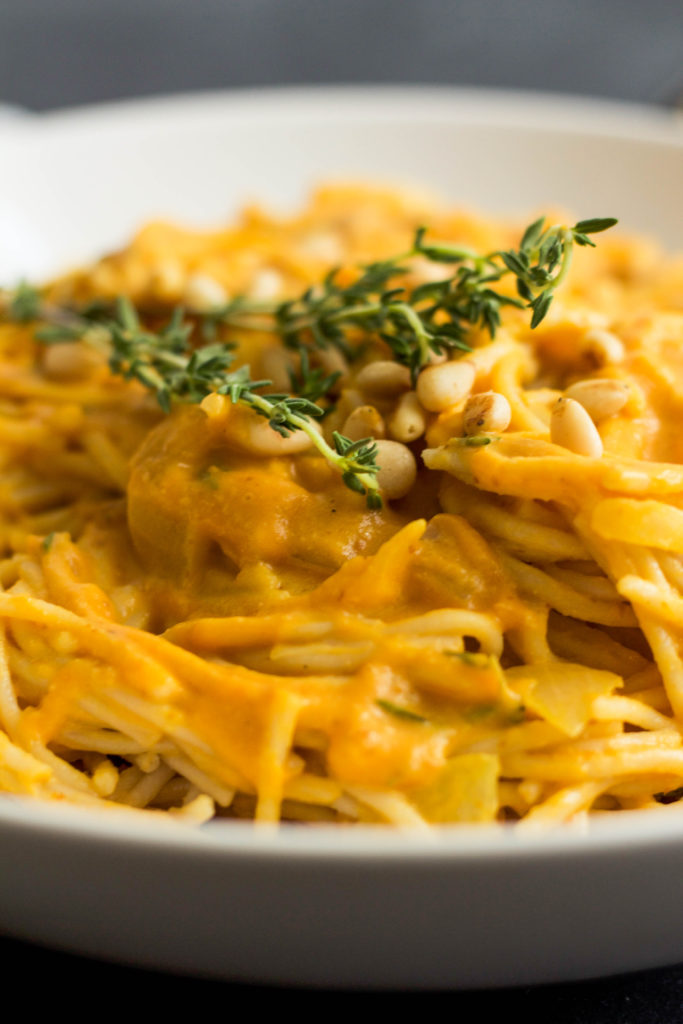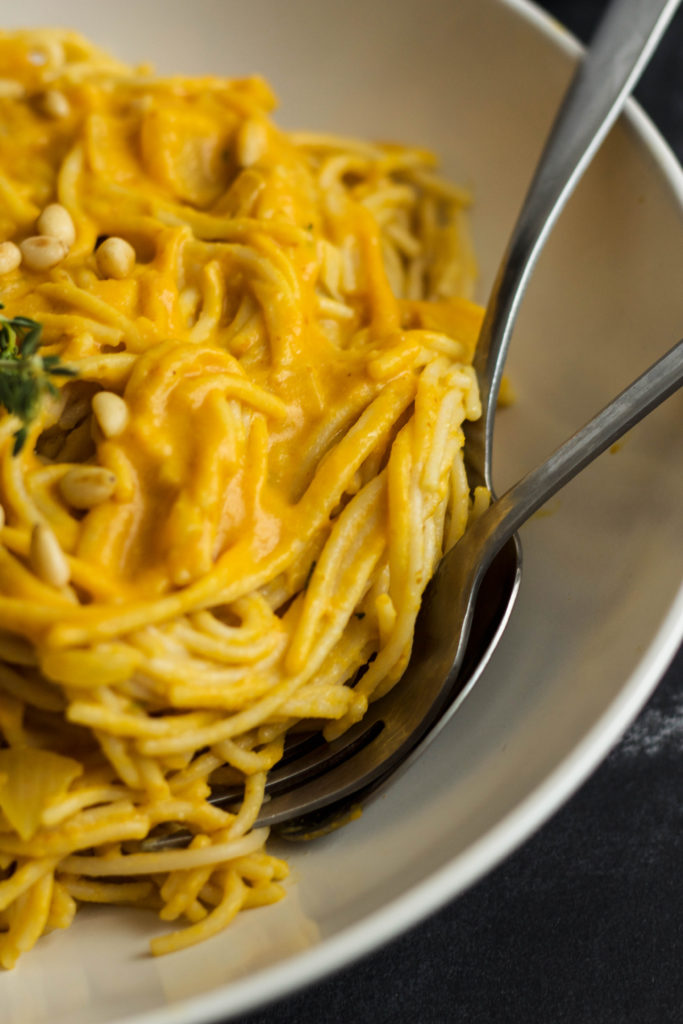 Nutritional Highlights
Pumpkin: this seasonal favourite, in its pureed form, contains 9g of fibre per cup, and is incredibly high in beta-carotene and vitamin K, with a good amount of vitamin C, E and iron. Beta-carotene has been shown to boost immunity, alter gene expression (which could potentially protect us against cancer and autoimmune disease), and even strengthen the intestinal lining to protect against infection. Of course, beta-carotene has also been shown to protect eye health, and as an antioxidant, protect cells from free radical damage. Because of it's high antioxidant and fibre content, pumpkin can be very soothing on the digestive tract, improve skin health and lower the risk of metabolic syndrome.
Nutritional Yeast: Not to be confused with Brewer's Yeast, although they both are from the same specifies of yeast (fancy name saccharomyces cerevisiae) Brewer's yeast is a by-product from brewing beer (and as such, is not gluten-free), and nutritional yeast is typically grown from molasses. Nutritional yeast contains a wide spectrum of B vitamins, protein (8g per 2 tbsp), and selenium. While it's often thought that nutritional yeast is a great natural source of B12 for vegans, it's actually fortified with B12, and does not produce any of its own. Nutritional yeast does however have anti-microbial properties, that help to improve gut function without promoting yeast or bacterial overgrowth–and one study found that it was moderately able to inhibit the growth of E.coli. It's loaded with B vitamins, which are needed for energy production, nerve and brain function and also help us to better handle stress.
Not bad for a meal that takes like twenty minutes to prepare, eh?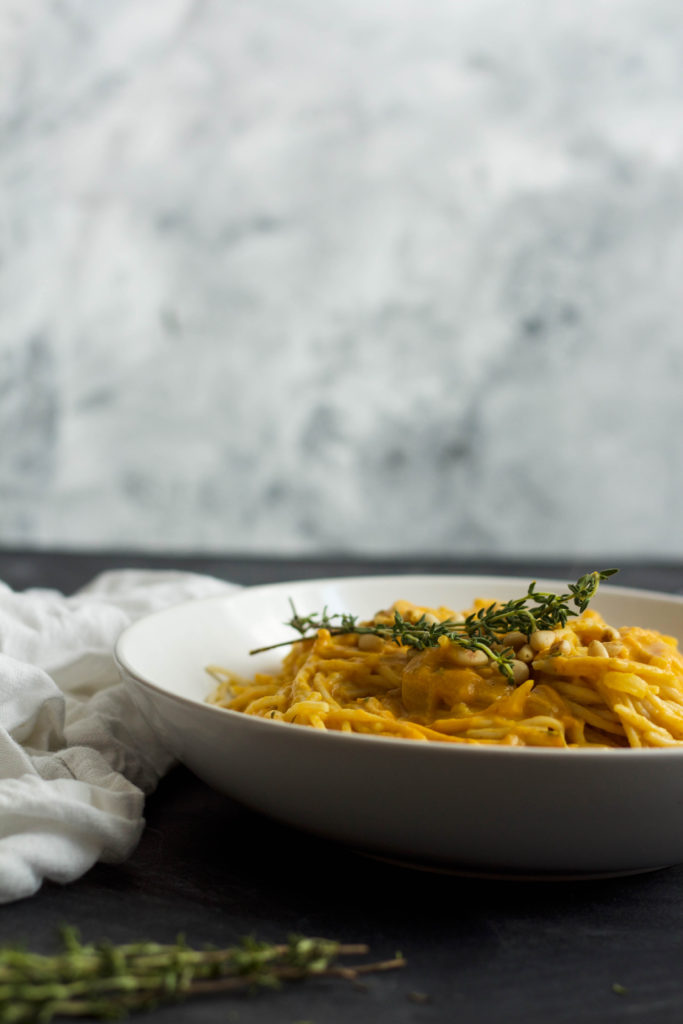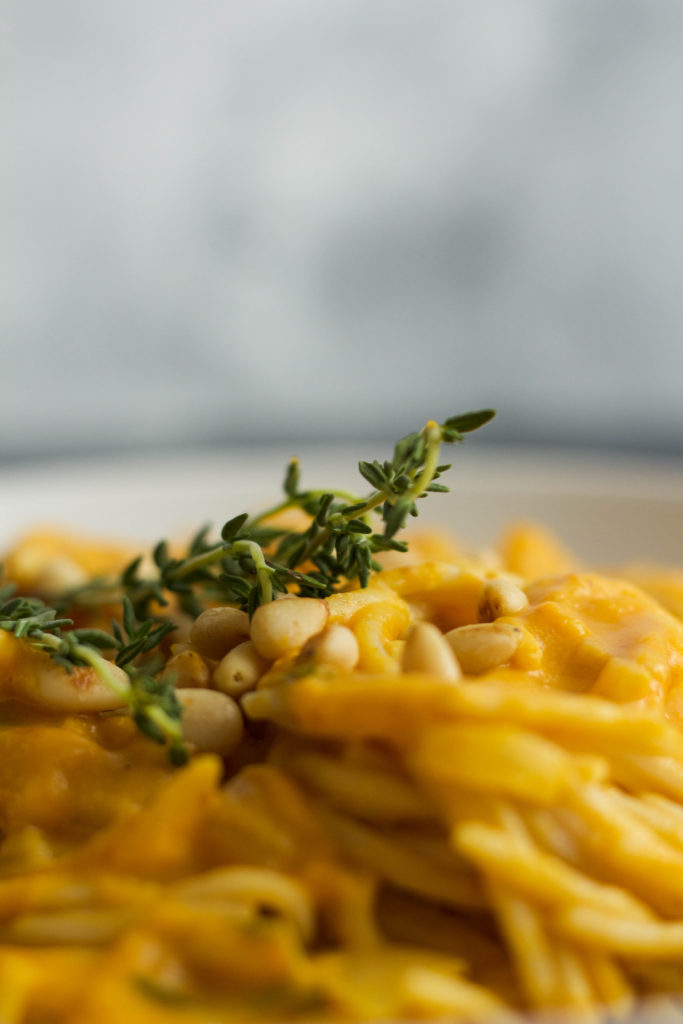 Alright, I'm off to the kitchen to cook up a storm and leave the dishes until tomorrow–because it's the weekend, and that's allowed, you know?
Happy cooking!

Creamy Pumpkin + Thyme Pasta
2017-09-12 02:47:42
Serves 2
Ingredients
1 tbsp olive oil
1/2 onion, finely chopped
1 clove garlic, minced
1/2 cup vegetable broth
1/2 large (796ml) can pumpkin puree
2 tbsp nutritional yeast
1/4 tsp garlic powder
1 cup coconut milk
2 tbsp chopped thyme
Optional: 1/4 cup toasted pine nuts
Cooked pasta choice
Instructions
In a saucepan, heat up oil. Cook onion on medium-low heat until translucent. Add garlic and cook until fragrant, 3-5 minutes.
Stir in broth, pumpkin puree, nutritional yeast, garlic powder and thyme, and bring to a simmer. Cook for 5 minutes.
Stir in coconut milk and heat through. Serve overtop of favourite pasta (or spiralized noodles!) and top with toasted pine nuts.
The Nourished Mind http://thenourishedmind.ca/