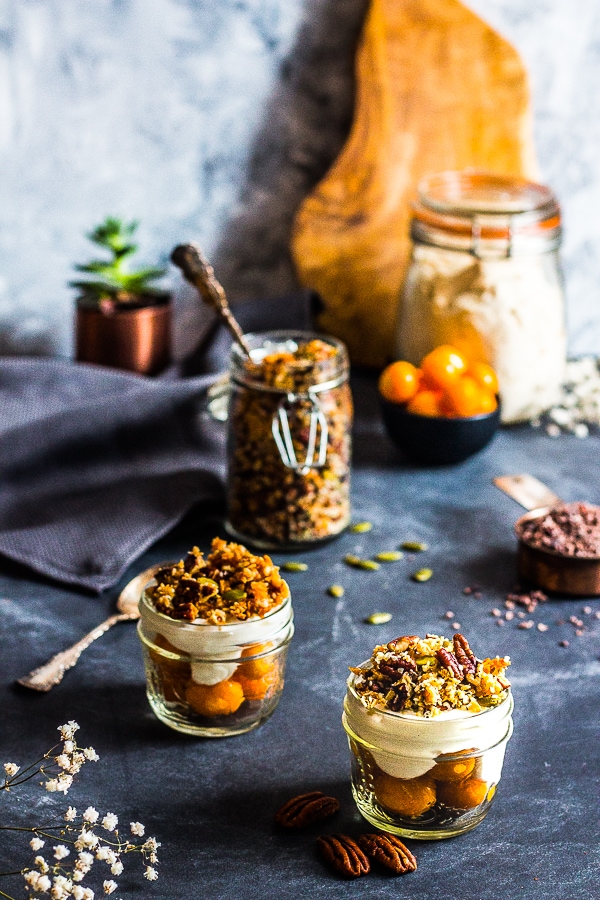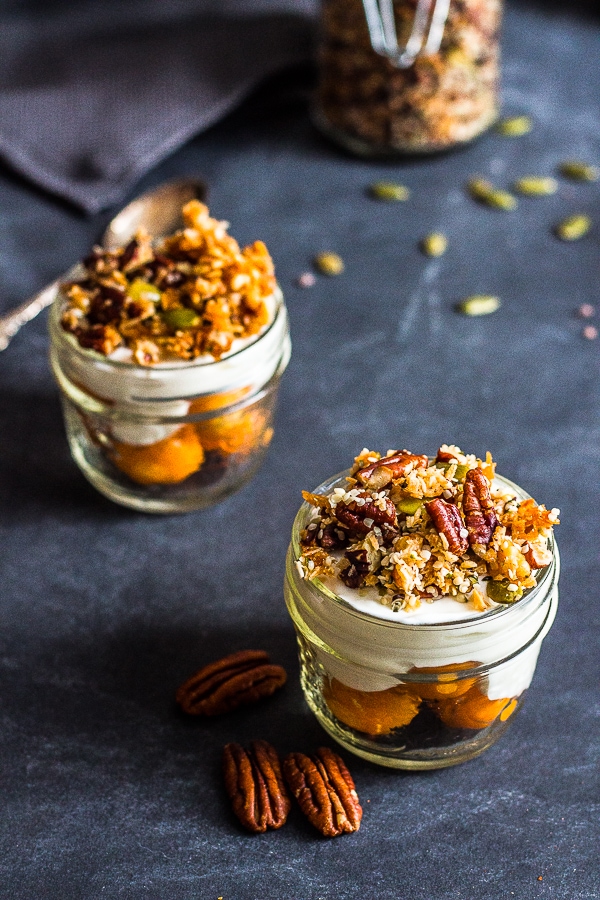 Happy Sunday! My brain feels like it's made of fluff today: the remnants of having a social life for once, and drinking one too many Old Fashioneds. Not that I'm complaining: it feels wonderful to get out of the house and connect with friends. But all things (pole) fitness have gone out the window in favour of black coffee, lots of water and, later today, brunch. Hallelujah for brunch.
For those of you that aren't trekking out into the cold for sustenance, I have have have to recommend/urge/compel you to make this Coconut + Cacao Pecan Paleo Granola! It's the bomb dot com. No joke.
I love to make granola, but in the past my attempts at making paleo granola have been kind of lack-lustre. Not bad, but not great either. This one though? A game changer. It turns out the secret to good granola, is toasted coconut. Holy moly, the addiction is real. Add to that a decent amount of salt, and every bite is salty-sweet, begging you to go make for more.
The addition of hemp seeds and cacao nibs, which get tossed in at the end, after the granola has been baked, gives it a nutritional boost. The hemps seeds provide omega-3s and the unprocessed cacao nibs provide magnesium, which helps with everything from muscle relaxation to soothing anxiety. Also, yay for chocolate-y flavours without the sugar! (If you've never had cacao nibs, they're the dried and fermented pieces of cacao beans. They have a bitter flavour to them, which I love, but you might have to work up to that.)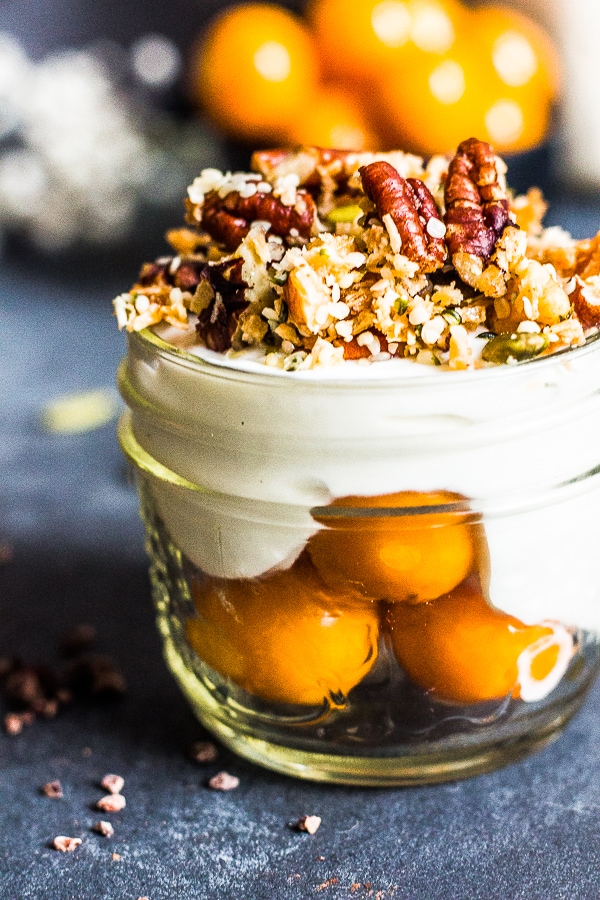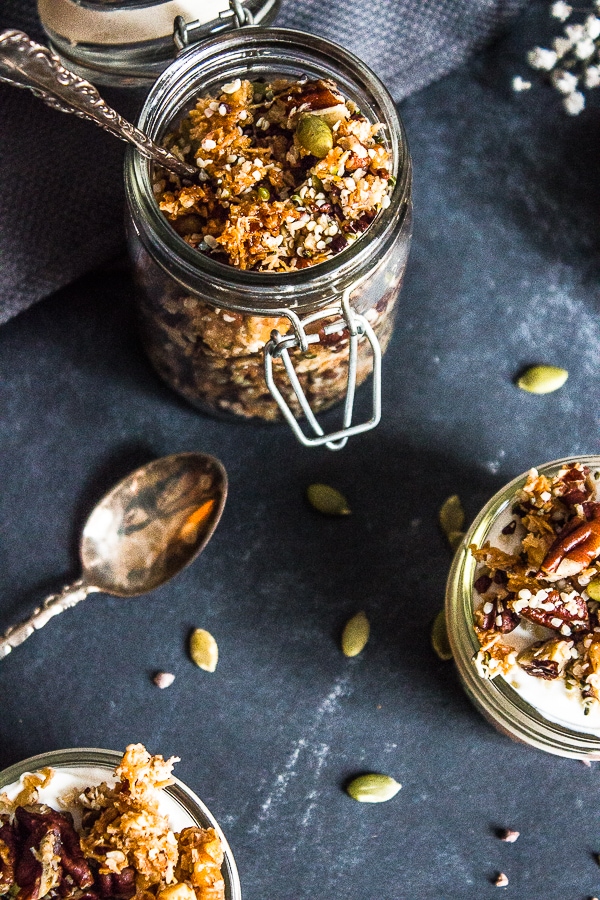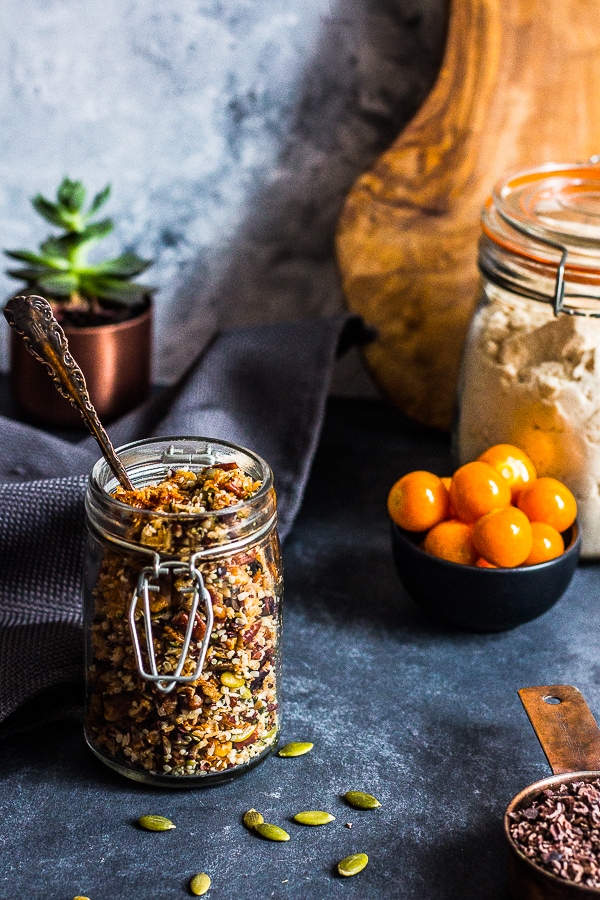 Enjoy the rest of your week, and I'll be back soon with more recipes, chit-chats and I think another instalment of Queer of Hearts.
Cheers!

Coconut + Cacao Pecan Paleo Granola
Ingredients
1 1/2

cups

pecans

chopped

3/4

cup

walnuts

chopped

1/3

cup

pumpkin seeds

1/3

cup

maple syrup

1/4

cup

coconut oil

1

tsp

sea salt

1/3

cup

hemp seeds

1/4

cup

cacao nibs
Instructions
Preheat oven to 300F and line a baking sheet with parchment.

In a large bowl, combine pecans, coconut, walnuts and pumpkin seeds.

In a small saucepan, melt together maple syrup, coconut oil and sea salt. Pour mixture over mixed nuts and stir to thoroughly combine.

Spread granola mix onto parchment-lined baking sheet, and bake at 300F for 25-30 minutes, or until golden.

Toss granola with hemp seeds and cacao nibs. Store in an airtight container at room temperature for up to 3 weeks.