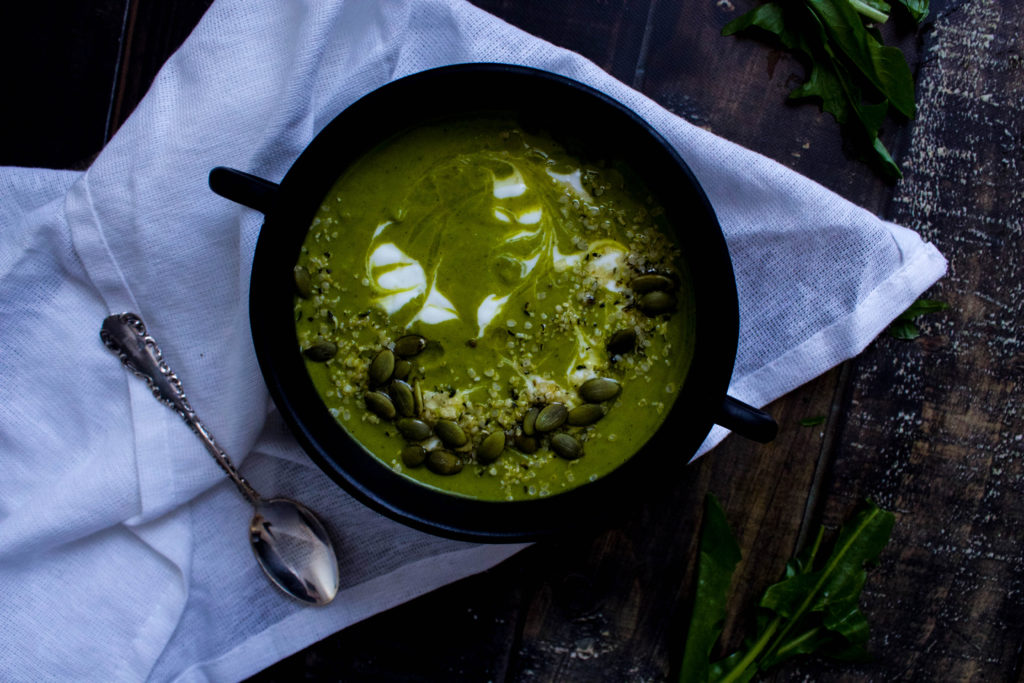 A call for authentic living
I have thought a lot about the kind of person I want to be, and, now that I'm close to being done school, the kind of life I want to lead. It's a scary thing, to no longer be a student. I've started lingering in the shadows to avoid being asked the most dreaded of questions: "So what are you going to do after graduation?"
Excellent question. But to be honest, I don't really have an answer. Well, I do, kind of. But it's not the clean, clear, precise answer that makes others around me nod their head with satisfaction. I wish it were: clean, simple, straight forward.
No, it's a little messier than that: what I really want to do, is honour my own authenticity, and my own vulnerability. I'm ambitious by nature–a classic type A, to-do list typing lady. So not having plan gets me a little high-strung (or a lot, whatever), and there's this big urge to 9-5 it and just do the work and pay the bills. And I'll probably do that. But, I'm also a creative, a dreamer, and I really want to honour that side of myself: the side of myself that craves depth, community and passion. Isn't that what your twenties are about? Self-discovery? Not knowing what's next? Figuring how you relate to yourself and to the world around you?
And even though 2017 has just started, I feel like it's already been such a powerful year for that. And maybe this is all too boring to be writing about, but last year I talked a lot about having this existential crisis and burnout because I was doing so much, and I knew it was a sign that I needed to reevaluate my life, slow down and figure out what actually matters to me. Now I'm trying to respect that. And I know that I'm not the only one in my twenties (or beyond) that is living in uncertainty day to day. We're millennials: the unknown is kind of what we're all about, because the options available to our parents just aren't there for us. It's a real struggle.
We're searching for connection.
For passion.
For quiet.
If you're not, please tell me your secrets, because obviously you've done your homework and you've got it figured out. But if you're like me, and you feel unsure, and a little afraid, and maybe a little excited–that's okay. In fact, it might even be good. You might even want to lean into it.
So what is it that you want from life? What are the dreams that you keep close to you, that you only whisper of to your closest of confidants, that you feel might take you out of the anxiety and chaos of playing life by the rules, and really elevate your experience of life?
I'll tell you what I crave, and the things I dream of. Nature. Man, do I dream about that a lot. Sitting on a patch of grass, surrounded by trees and birds and things that aren't cars or sirens. I crave stillness. I crave waking up and not checking my phone, my email, my social media. I crave deep breathing. I crave the trance that comes with writing, when you start to hit close to the bone: when you find truth, when you find soul. I crave meals, with friends, with music, with laughter. I crave that sensation that my chest might burst with excitement–that feeling I get whenever I talk about nutrition or test recipes or write for this blog.
But you know what I don't crave? Clutter: mental, physical. A work-filled shadow life that leaves me feeling hollow. The overwhelm of busyness, without feeling fulfilled and satisfied. Like I said, I'm a dreamer. An idealist. But I bet I'm not alone.
Which is why, I plan to continue doing the things that (not to get woo-woo on you) feed my soul: writing, cooking and creating nourishing recipes, photography. And I'm just going to be open to whatever comes this way.
Let me know if you feel this, if you crave these things. What makes you come alive? What feeds you?
Cleansing Dandelion Soup
Speaking of feeding you, this soup is so nourishing and delicious: it's creamy without dairy, and cooking the dandelion greens removes the bitterness, so you're left with a savoury bowl of prebiotic goodness. Yes please!
If you're not into dandelion greens–although you should totally try this recipe to change that–or if you can't find them near you, you can replace the greens with another green like spinach or kale, and it will still be beautiful.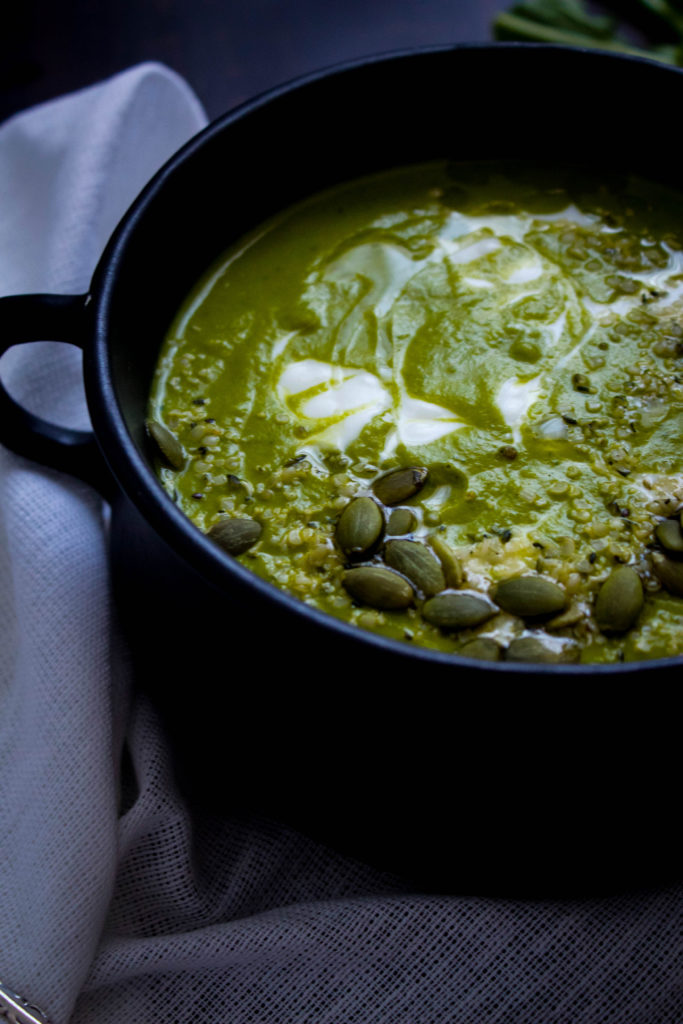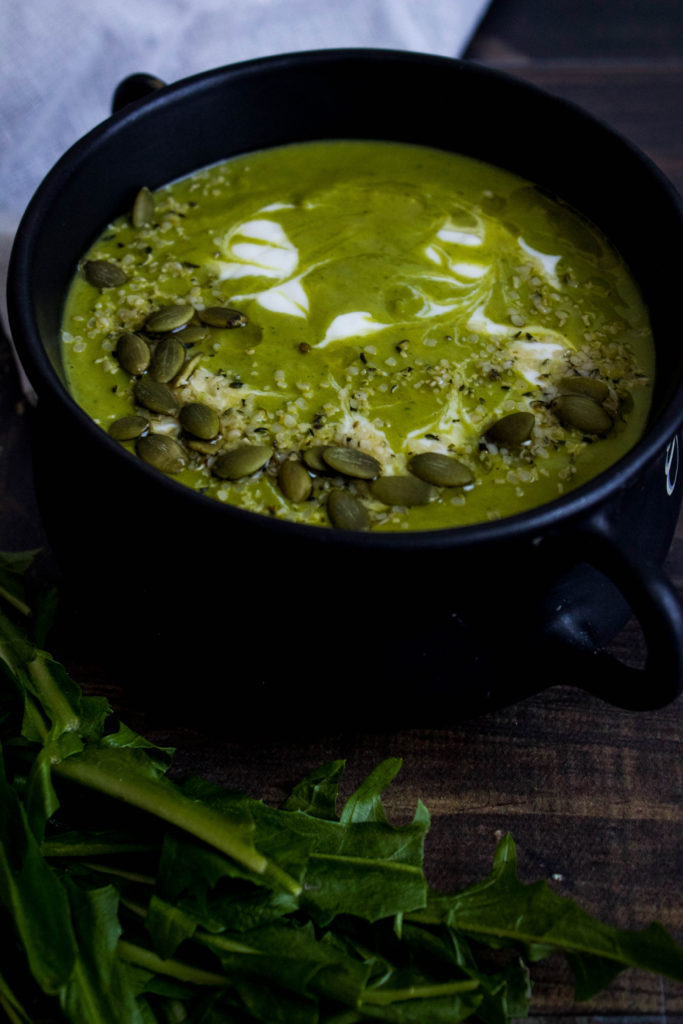 Nutritional Highlights
Dandelion greens: so while there's actually not a ton of research on these backyard weeds, there are a few things we do know! Dandelion greens are a known diuretic, high in fibre–especially prebiotic fibre which goes to feed our gut microbiome, anti-inflammatory, high in antioxidants vitamin A and C, and they may even have anti-cancer qualities. One study found that a diet that included dandelion greens could potentially prevent oxidative stress linked cardiovascular disease.
So yeah, they're pretty powerful plants.
Have you ever eaten dandelion greens before? What's your favourite way to eat them? Let me know in the comments below + make sure to subscribe to my newsletter to get exclusive recipes and wellness tips!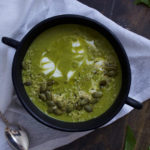 Cleansing Dandelion Soup
Ingredients
1

tbsp

olive oil

2

shallots

chopped

1

head cauliflower

chopped

4

cloves

garlic

4

cups

vegetable broth

2

heaping cups dandelion greens

stems removed

1/2

tsp

cumin

Salt + pepper

to taste
Toppings
Greek yogurt

or coconut yogurt, if dairy free

Pumpkin Seeds

Drizzle of olive oil

Hemp seeds
Instructions
In a large pot, add olive oil, shallots and cauliflower and sautee until shallots are translucent.

Add in garlic, and cook until fragrant, about 2-3 minutes.

Add in vegetable broth, and allow to simmer 10 minutes, until cauliflower is fork-tender.

Add in dandelion greens, and cook until wilted. Turn off heat and cool for 10 minutes.

Carefully, in a blender, puree the soup. This is best done in two batches. Make sure there is room for the steam to escape (I like to remove the small centre lid attached to the lid) and only fill the blender about halfway, otherwise the hot air could cause it to the soup to blow out of the blender.

Pour into bowls, and optionally, add a drizzle of olive oil, a spoonful of yogurt, pumpkin seeds and hemp seeds.