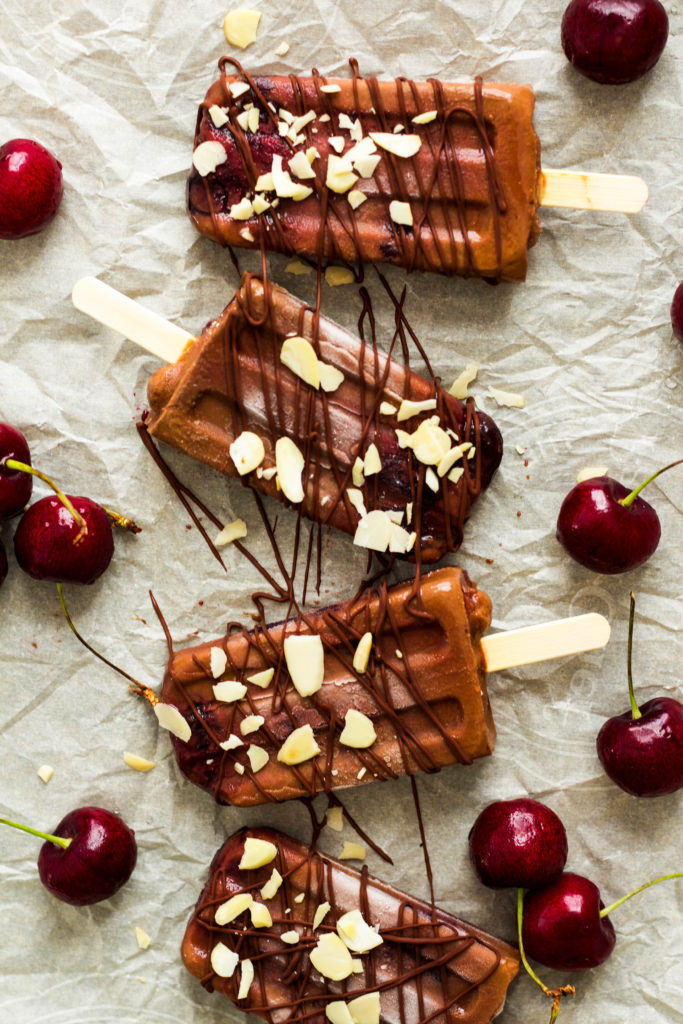 Hello, hello party animals!
I am so excited to share these Chocolate Cherry Fudge Popsicles with you! These are everything I love in a dessert: creamy, decadent, over-the-top, and oh yeah, totally refined sugar-free. But you would never know it, Scout's honour.
Although, I was never a Scout. I was, however, briefly a Girl Guide. My dad forced me to, I sat in the corner by myself, scowling at everyone and occasionally gushing about my crush on Johnny Depp, a la Pirates of the Caribbean. True, sad story.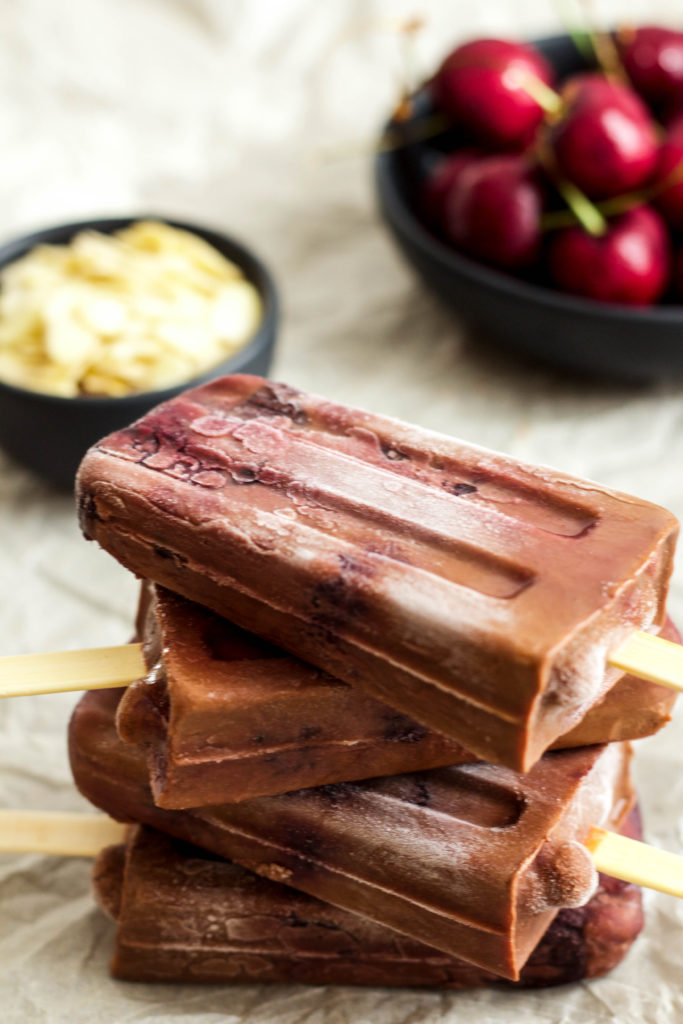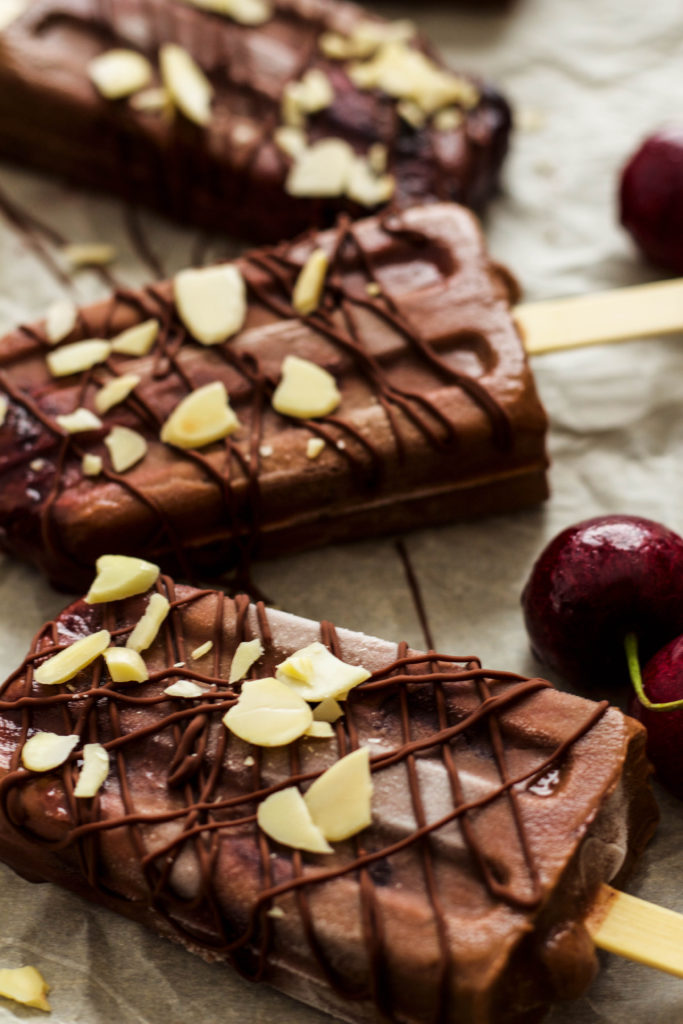 For real though, these Chocolate Cherry Fudge Popsicles are magic. They remind me so much of the ones I grew up eating, only without the crappy ingredients. But then I took it one step further and added some cooked sweet cherries, because hello: chocolate and cherries were a match made in heaven. (A far better match than Jack Sparrow and I would have made, I'm sure.)
They're like the frozen version of a black forest cake. Or, you know, the frozen version of pure magic.
Now I drizzled these puppies (pupsicles?) with melted chocolate and then sprinkled on some sliced almonds, but that's totally optional–these are great all on their own.
Nutritional Highlights
Cherries: these beautiful fruits are loaded with antioxidants, high in vitamin C and low on the glycemic index. Research shows that cherries may reduce inflammation, help us lose weight, protect our eyes, and boost heart health. Most of the benefits studied have been found in tart (or sour) cherries, although sweet cherries are high in antioxidants (especially anthocyanins) and able to reduce inflammation. But you can definitely substitute sour cherries in this recipe–just taste the compote and adjust the sweetness accordingly.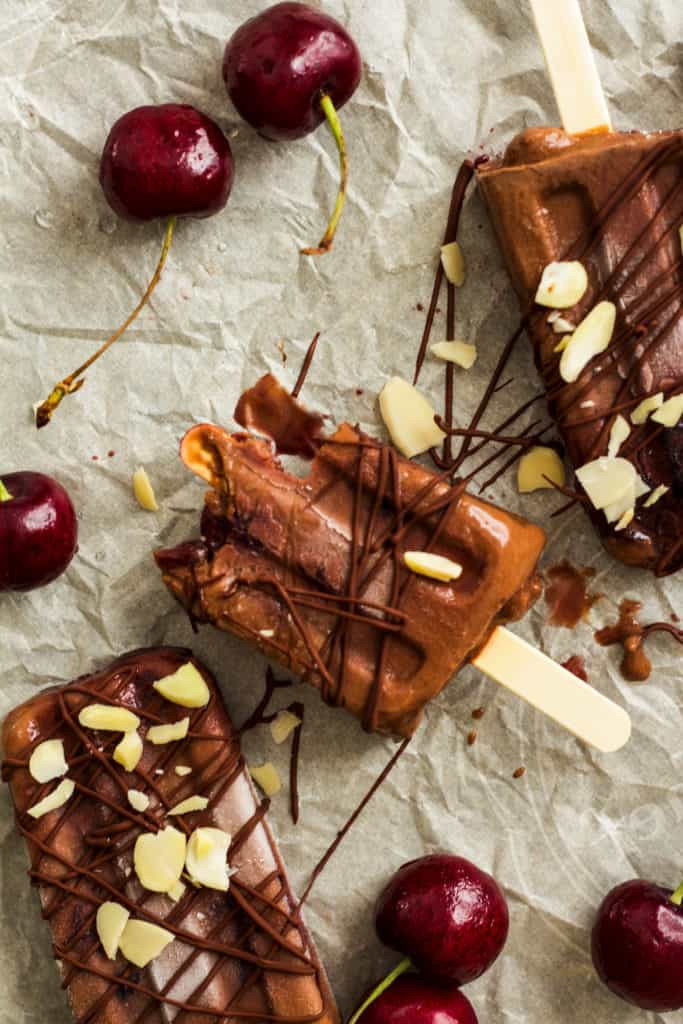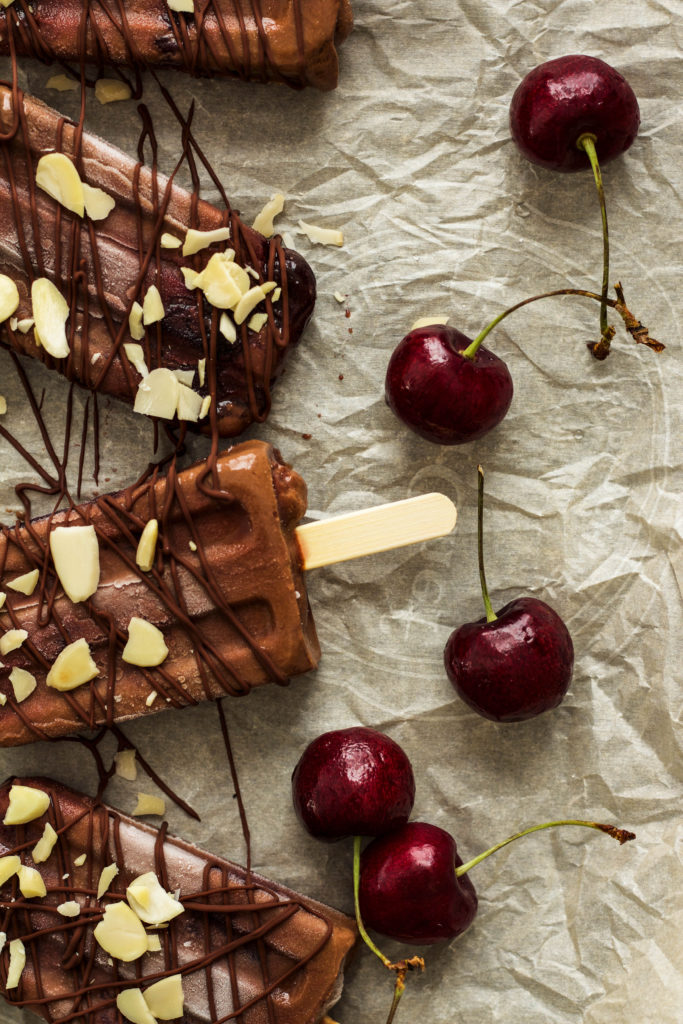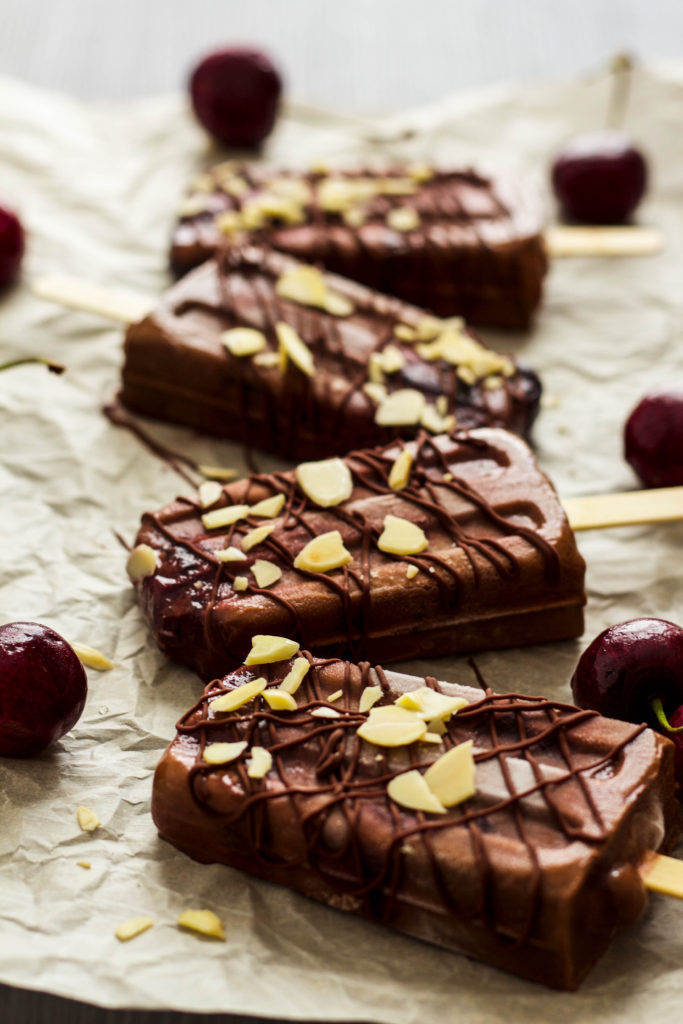 That's all for now! xx

Chocolate Cherry Fudge Popsicles
Ingredients
For the chocolate fudge
1

can coconut milk

1/3

cup

cacao

5

tbsp

maple syrup
For the cherry compote
2

cup

fresh or frozen cherries

I used frozen dark sweet cherries

4

tbsp

maple syrup

zest of 1/2 lemon
Instructions
In a small saucepan, stir together coconut milk, cacao and maple syrup. Bring to a boil and simmer for 3-4 minutes, until mixture is slightly thickened. Set aside in the fridge to cool.

In another saucepan, stir together cherries, maple syrup and lemon zest, and allow to simmer until cherries soften, but still remain whole--about 15 minutes. Remove from heat and set aside.

Pour the chocolate mixture 1/3 of the way up all the popsicle molds. Top with the cherry mixture, another 1/3 of the mold. Top the remaining 1/3 off with the chocolate mixture.

Add in the popsicle sticks and store in the freezer over night, or until frozen.

Optional: drizzle the popsicles with slightly cooled melted chocolate and crushed sliced almonds.