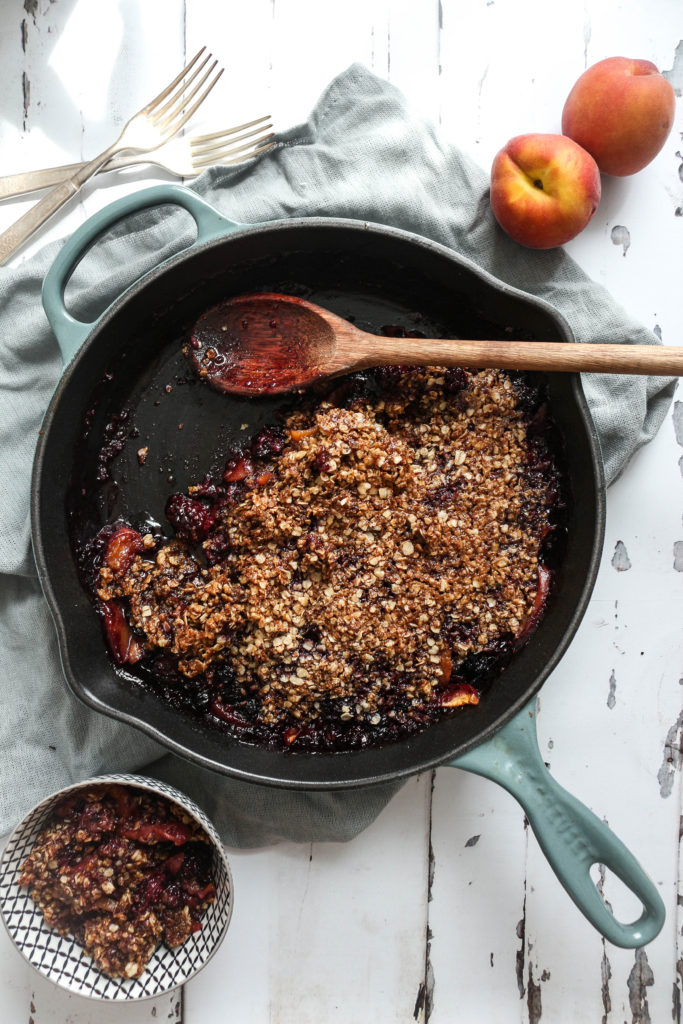 Happy Canada Day!
Hope you're all ready to don your red + white today. Every year I realize I don't own red and white, and so every year I scramble to come up with something that looks Canadian-ish. Mostly, that ends up meaning I wear a white shirt, and then later that evening accidentally spill red wine on it. Festive, no?
Blueberry, Blackberry + Peach Skillet Crisp
I love, love, love this recipe. Like, you don't even understand. I have had the hardest time getting a gluten-free crisp to come out the way I want. Either it's too sweet, not sweet enough, too dry or too wet or ugh, too gummy. I've tried making it paleo, making it vegan, making it with coconut oil and making it with butter. So we end up eating a lot of crisps around here (the struggle is real, I know).
But finally–finally!–I have a recipe I feel good about sharing. It's crisp, sweet, and fresh. And of course, free of gluten and refined sugar. I love the combination of blueberries, blackberries and peaches–it's summery and a great way to use up peaches that are going soft. I adore peaches, especially in a crisp or cobbler. And combining it will berries not only gives it a little tartness to lighten the dish, it also makes it a little better for your blood sugar because berries are lower on the glycemic index. You can absolutely change out the fruit in the bottom for anything you want, fresh or frozen. My only advice is too cook the filling first, even with frozen fruit. In the past, I'd just throw it in the oven and hope for the best. But frozen fruit tends to taste, well, frozen, unless you cook it down a bit.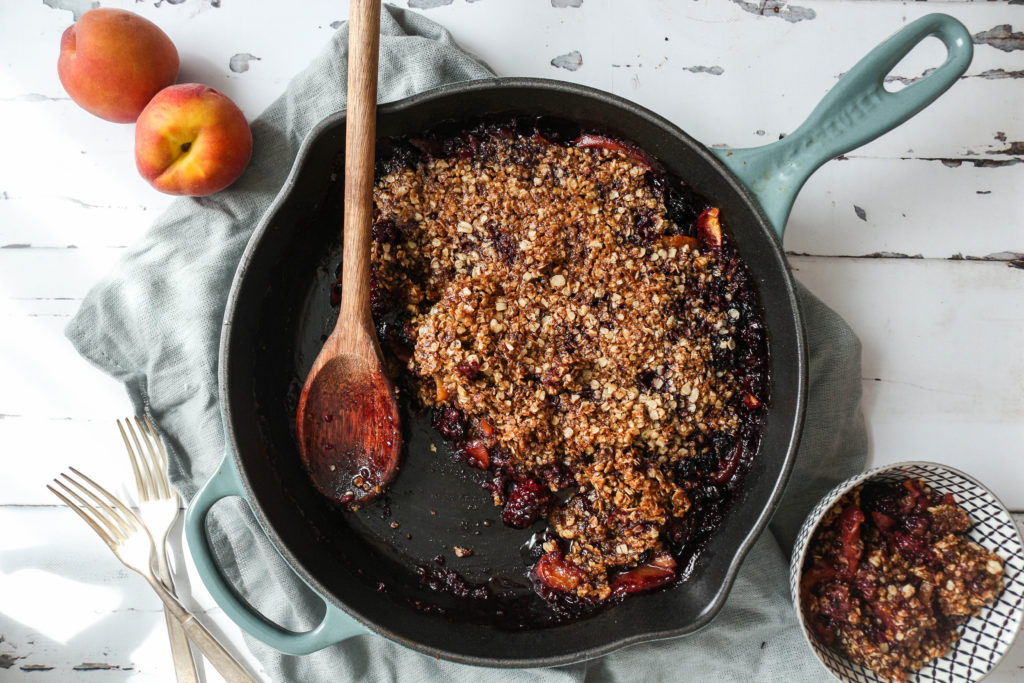 Another idea, that I think I'll try next time, is to add chia seeds in with the fruit mixture–this will provide you with fibre and keep you fuller, longer. You can make it grain-free by swapping out the oats for 1 cup of chopped nuts, and dairy-free by swapping out the butter for coconut oil + 1/4 tsp salt.
You can eat this for a weekend brunch indulgence (like I did today) or as a sweet dessert.
I want you to cook food that nourishes your body + doesn't stress you the f*ck out. What I mean by that, is that I don't want you to eat something and feel guilty. Whether that's a Krispy Kreme donut or a paleo pancakes. Enjoy your food. I just want to give you recipes that help you reach your health + wellness goals and also feed your soul, you know? Food is beautiful, and I really think, whole, unprocessed foods taste the best.

Nutritional Highlights
Peaches
Peaches are rich in vitamin C, an antioxidant that works to prevent free radical damage, protect the body against cancer and improve skin by aiding in the uptake of collagen. A 2012 study also found that peaches and other stone fruit may help to prevent diabetes, obesity and cardiovascular disease, due to its anti-inflammatory bioactive compounds quercetin, catechins, anthocyanins and clorogenic acids.
Grass-fed butter
The myth that fat is bad for you is slowly dissipating, but people still have their reservations about saturated fat. But you don't have to fear saturated fats: it's not bad for you and in fact can help to raise HDL "good" cholesterol and change LDL from small and dense (which is bad) to large LDL (which is good). What's really important is that you choose grass-fed dairy, as grass-fed butter is rich in omega-3s and vitamin K2 (which can prevent osteoporosis and heart disease, by preventing calcium to leach from your bones and into your arteries). In fact, one study in Australia showed that people who ate the most grass-fed high-fat dairy had a 69% lower risk of cardiovascular disease than those who ate the least.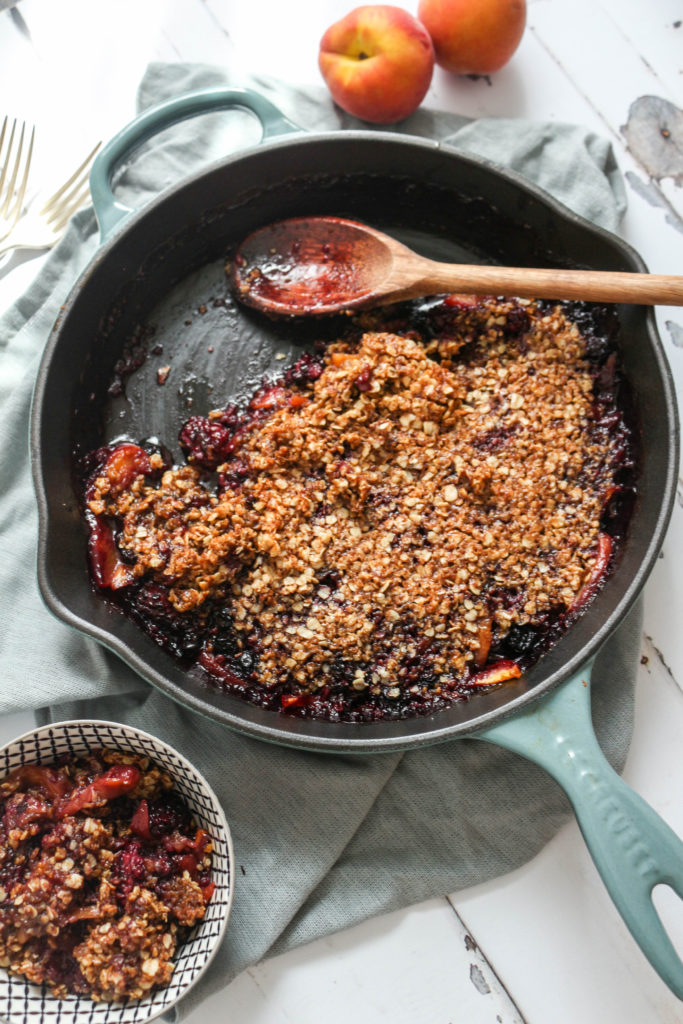 Enjoy your long weekend + make sure you try this bad boy–you won't regret it!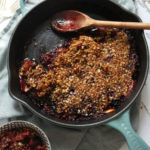 Blueberry, Blackberry + Peach Skillet Crisp
Ingredients
For the filling
6

peaches

cored + sliced

1

cup

blueberries

1

cup

blackberries

1/4

cup

maple syrup

2

tbsp

grass-fed butter

1

tsp

vanilla

1/2

tsp

cinnamon
Instructions
Preheat oven to 350 F.

In a skillet, melt together butter, maple syrup, cinnamon and vanilla. Stir in fruit and simmer until fruit is tender and the mixture is slightly thickened, about 8 minutes.

In a medium sized bowl, combine oats, almond flour and coconut sugar. Use your hands to incorporate the butter into mixture, breaking up the butter into pea-sized pieces.

Pour oat mixture evenly on top of fruit. Place skillet in the oven for 20 minutes at 350 F, until the oat layer is golden and the fruit is bubbling.