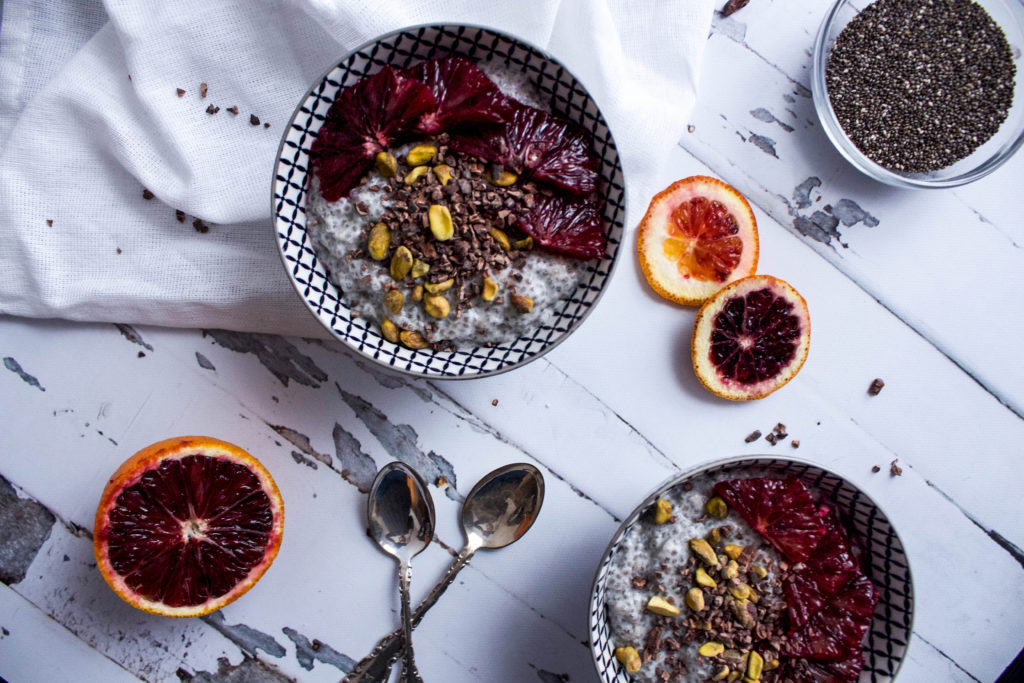 Chia pudding is one of those foods that I go through phases where I'm obsessed with it, and then I can't eat it again for months. I think because I love hot, hot breakfasts, that I really have to be craving the delicateness of chia pudding. It's so light and cool and fresh. And also, it kinda looks phlegmy, you know?
But last weekend, as I was perusing the grocery store aisles (which I'm not going to lie, I do even on days where I don't need groceries–it's my version of window shopping, the way 'normal' people do in clothing stores), I saw that blood oranges had finally arrived. I love blood oranges: bright, crimson, sweet. They're gorgeous, and demand the spotlight (we have that in common, blood oranges and me). So I knew I had to get them. And I knew that anything I did with them had to be simple, to let the ruby fruit shine.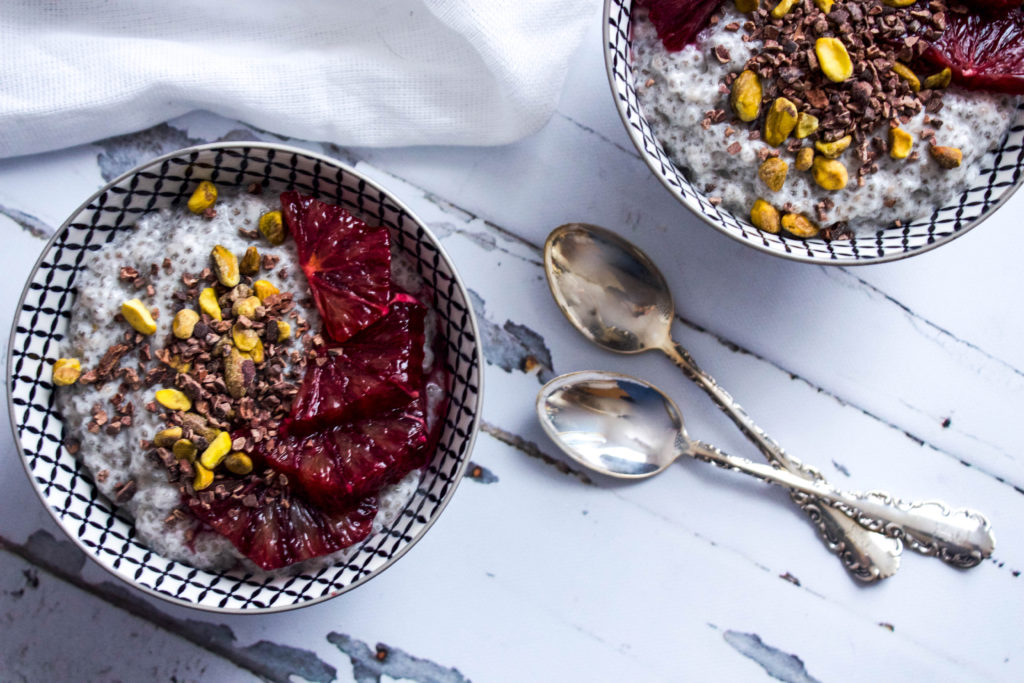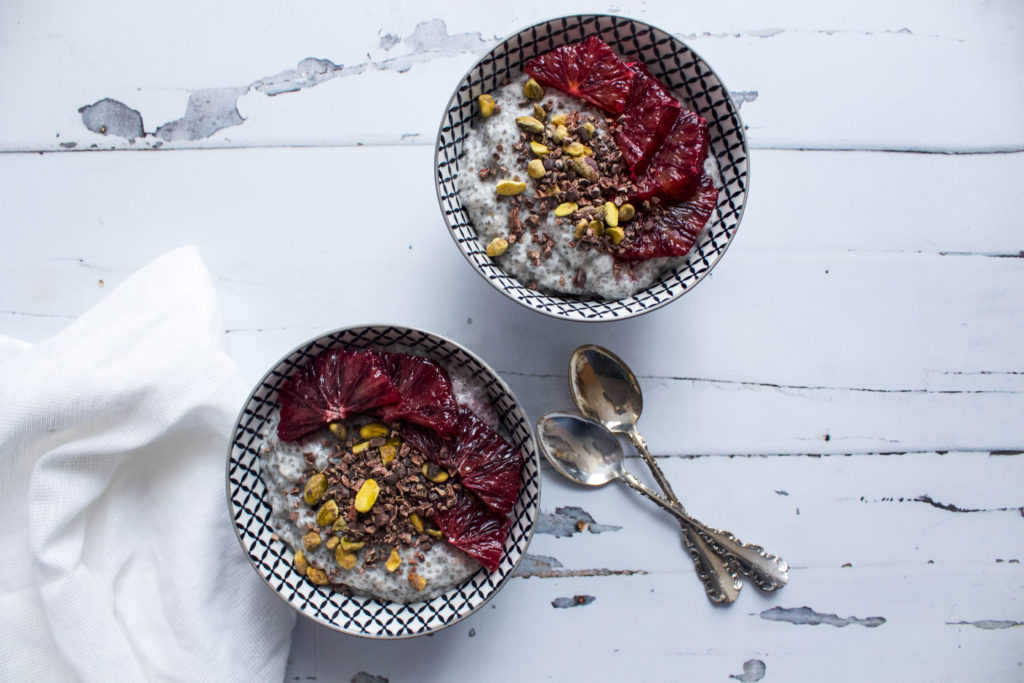 Enter chia. This vanilla chia pudding is so easy, and coconut-y, that you could just eat it on it's own. I love this recipe, because you can make it in large batches and it will keep for up to a week. Just make it at night, and in the morning, you have a fast breakfast option, that is nourishing, tasty and versatile! You can top it off with whatever you want, but for today, I'm keeping it simple with fresh orange slices, cacao nibs and pistachios.
Nutrition Highlights
Chia Seeds: these seeds are nutrition powerhouses! 1/4 cup of chia seeds (the amount in this recipe) provides you with 22g of fibre (the RDA for fibre is about 25g!), 8g of protein and 10g of omega-3s. Chia seeds are also high in antioxidants, and their high fibre content can help to balance blood sugar, keep you full and even help with weight loss!
Blood Oranges: Aside from being beauties, blood oranges are also high in vitamin C, folic acid and anthocyanins. This translates to boosted immunity, reduced inflammation in the body, and protection from free radical damage!
I hope you make this, because it takes five minutes and yet, feels so indulgent.
Do you have a favourite way to eat chia? Let me know in the comments! And if you're not already subscribed in my newsletter, sign up, so I can send you exclusive recipes + healthy eating tips! Just let me give you free stuff, okay?
Cheers xx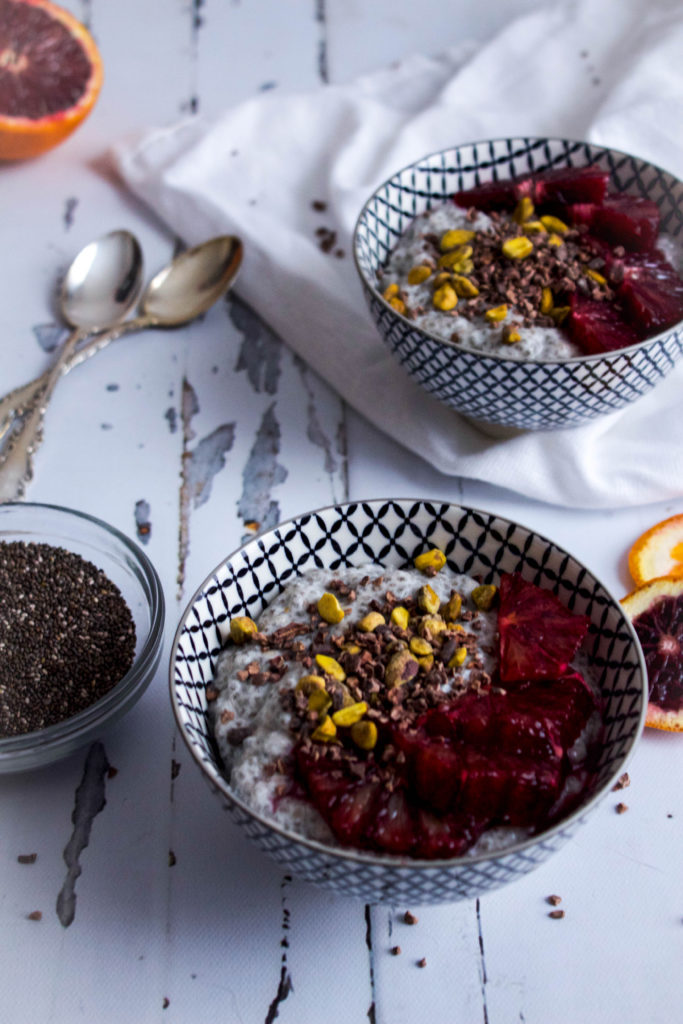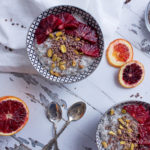 Blood Orange Vanilla Chia Pudding
A quick and easy 5 minute recipe full of healthy fats, protein and fibre!
Ingredients
2

cups

full-fat coconut milk

1 can

1

tbsp

maple syrup + more for drizzling

1/2

tsp

vanilla

1/4

cup

chia seeds
Toppings
1

blood orange

peeled + cut into half moons

2

tbsp

cacao nibs

2

tbsp

pistachios
Instructions
Blend on high the coconut milk, maple syrup and vanilla, until it fully emulsifies (about 2 minutes).

Pour liquid into a medium bowl. Whisk in chia seeds, ensuring there are no clumps.

Let stand for ten minutes, and then whisk again (often the chia seeds will sink to the bottom and clump together as they start to absorb and expanding, so whisking will help create and even and non-crunchy chia!)

Refrigerate over night.

The next morning, measure the chia pudding into two bowls, and top with orange slices, cacao nibs, pistachios and a drizzle of maple syrup!