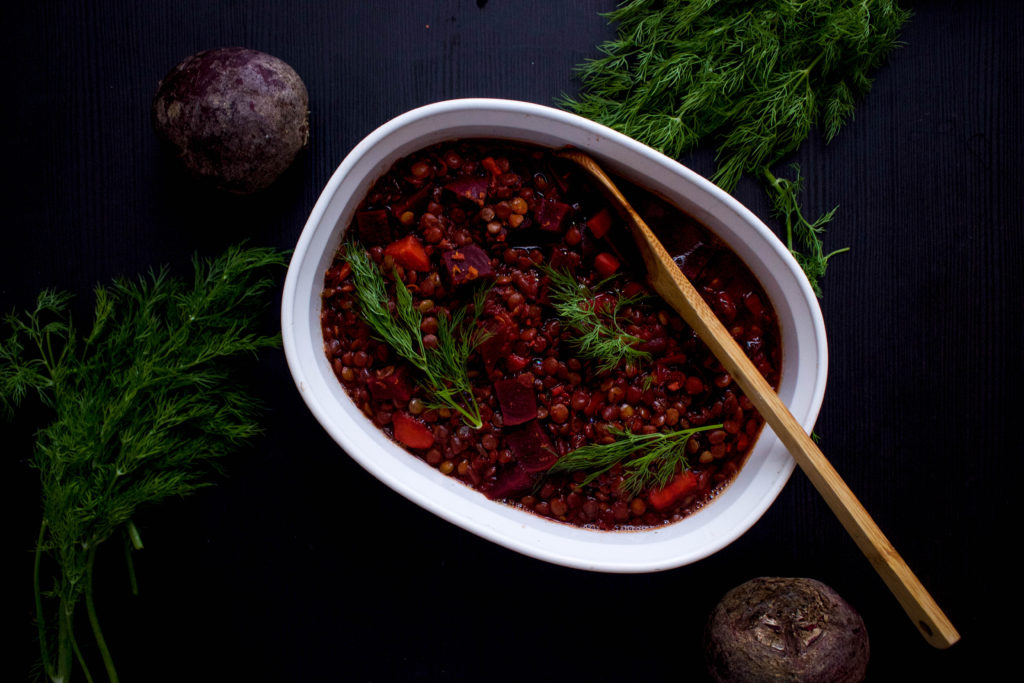 Happy April, friends!
It finally feels like Spring: crisp mornings, warm and breezy days, and every night the sun begs to stay out just a little bit longer. I for one, am looking forward to another Spring in Toronto, especially since last spring things were so chaotic with the bringing home of my rescue German Shepherd. After a year of having her, training her and getting her treated for heart worms, there is finally calm around here. So this time around, I am ready to do some city exploring (namely Farmer's Markets, I'll admit).
Oh, and gardening may be a thing in the near future, so definitely stay tuned for that. Did I mention this is the world's most boring blog?
Seriously, though. It's finally started to feel like home here: I have friends, I have my go-to dinner places, I have my favourite workout classes, and I have routine. And in a few weeks, I will be done school and ready to embark on the world of adulting. I am so ready to no longer be a student (banking and discounts, aside). These last few weeks back in school have made me really appreciate the time I had with my internship–when I finished for the day, I was done. No homework, or assignments. Free time to be creative, to lounge around, to bake. (There was so much baking.)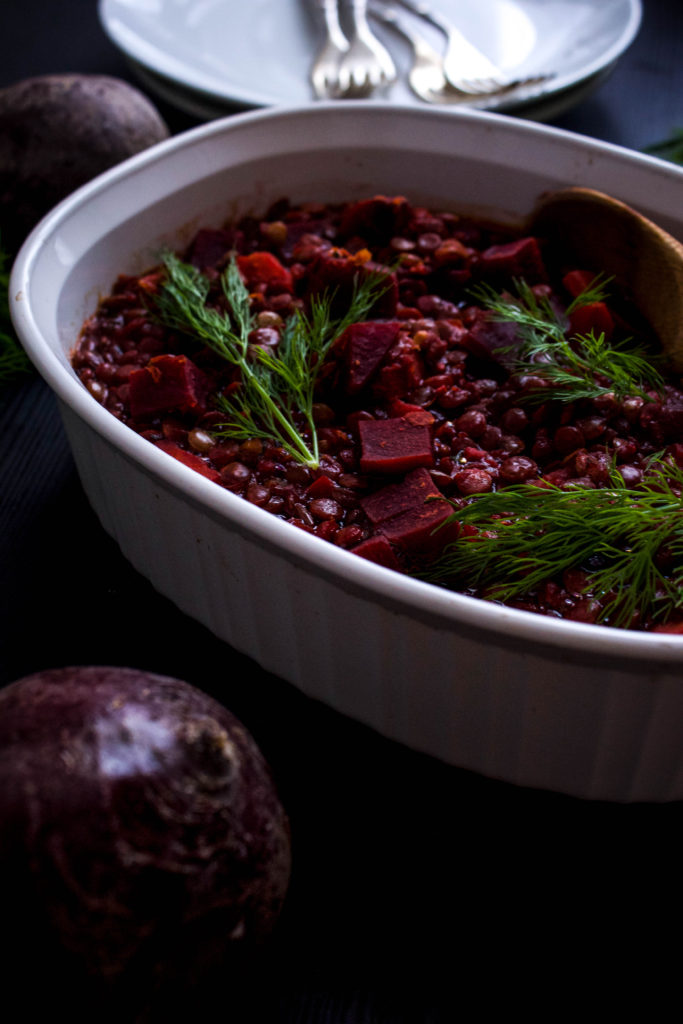 Beet + Dill Infused Lentils
Okay, onto the food. These beet + dill infused lentils are so dreamy: savoury, sweet and fresh. It's a beautiful transition dish that welcomes the vibrancy of Spring and the heartiness of Winter. This would pair perfectly with roasted chicken, or as a stand alone meal, as I ate it today. This recipe is ever so slightly adapted from the beautiful blog, Feasting At Home–whose photography far surpasses my own.
I have recently started to love legumes, and have been more interested in adding them to my diet. I'm not a bean lover, and even grains are something I don't often crave. But lately I have been loving more vegetarian-style legume dishes, and this beet and lentil dish just takes the cakes. I mostly blame the gorgeous blogs of My New Roots + The First Mess for their stunning vegetarian recipes.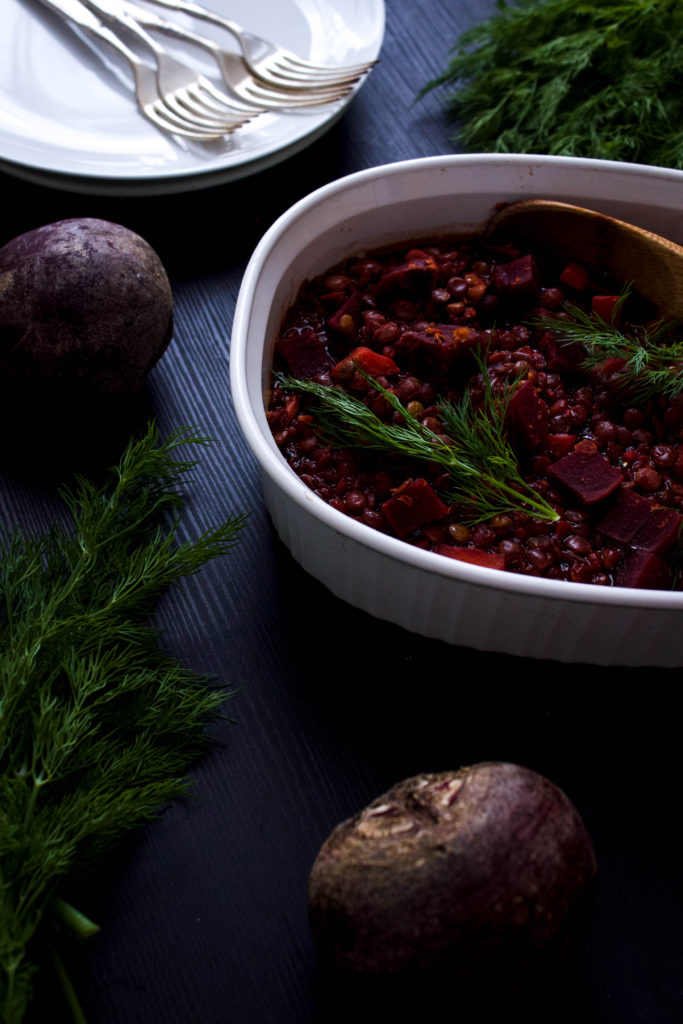 Nutrition Highlights
Lentils: lentils are such a super food: they're high in protein, fibre, folate (important brain nutrient!) and manganese. Last year was the Year of the Pulses, and with good reason: they're nutritious and economical, and some of the healthiest populations in the world eat quite a bit of lentils (they are a staple of the Mediterranean diet, for example). Lentils were found to lower cholesterol and reduce the risk of heart disease, improve digestion, help with weight loss and balance blood sugar.
Beets: the stunning red colour of beets comes from their high content of the antioxidant betanin. Beets are high in fibre, and low on the glycemic load, which means that they won't spike your blood sugar. Beets have even been found to lower blood pressure and improve brain function, due to their high nitrate content.
Dill: this underrated herb is high in polyphenols that may help fight depression. Studies with dill tablets also found that dill can help to lower cholesterol levels. A 2003 study on dill extract found that its anti-microbial properties can also fight against Candida.
I hope you give this recipe a go, and let me know in the comments what you think! Do you have specific recipes or blog posts you'd like to see? Be sure to let me know in the comments or by email tisha@thenourishedmind.ca ! xx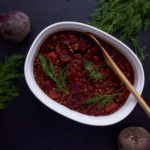 Beet + Dill Infused Lentils
Ingredients
2

tbsp

avocado oil

or olive oil

1 1/2

cup

beets

about 4-5 small beets

1

cup

carrots

3 carrots

½

onion

2

garlic cloves

1 1/2

cup

green lentils

rinsed

4

cups

chicken or vegetable broth

juice of two beets*

2

tbsp

fresh dill

1

tbsp

balsamic vinegar

salt to taste
Instructions
In a pot, heat oil. Sautee onions, carrots, beets until onions become translucent.

Add garlic and lentils, and cook until garlic is fragrant, about 3-5 minutes.

Add stock and simmer for 20 minutes, until vegetables are tender.

Add beet juice, simmer 15 minutes, until lentils are tender. Stir in chopped dill and salt. Add splash of balsamic vinegar. Serve immediately.
Recipe Notes
*For the beet juice, you can use store bought or juice your own in a juicer. If you don't have a juicer (like me), simply peel and grate two beets, and blend in a blender with 1/2 cup water until pureed. Strain beet juice with a cheesecloth and discard the beet pulp.