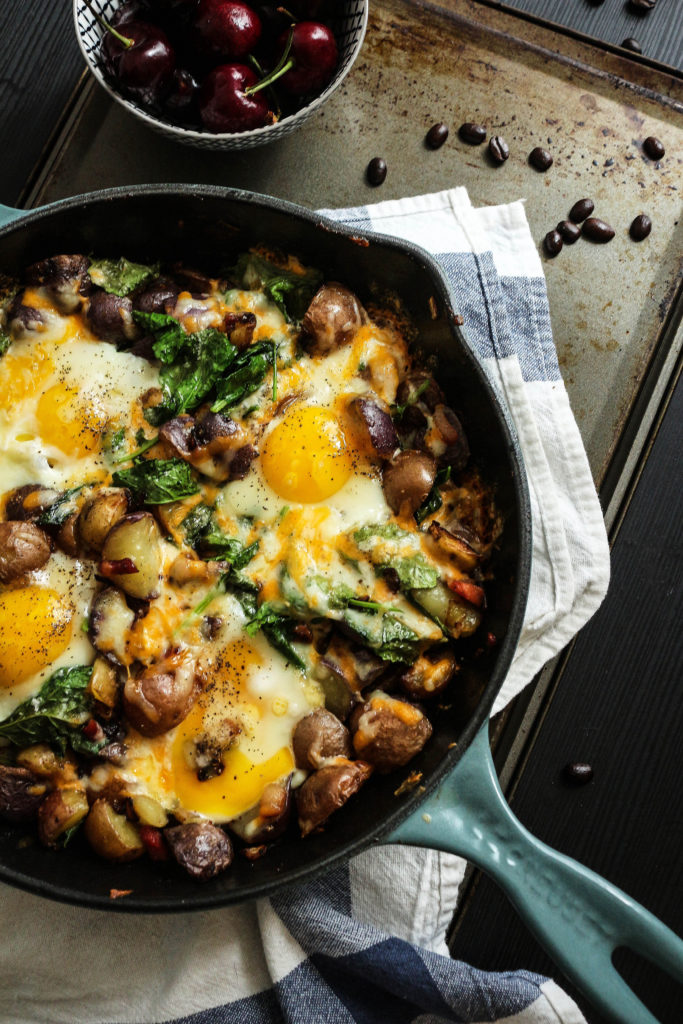 I have fallen in love with lazy weekend mornings. For years–as a student, and as a worker bee in the restaurant industry–I have worked weekends: early mornings and late nights. Saturdays felt more like Thursdays, hustling and bustling to get things done.
It's only now that I've really been able to experience the loveliness of weekends off, and I cherish them. Sleepy mornings cuddled up in bed, the soft purring of my cat as I start to open my eyes. The sleepy tail wagging of my dog as I great her in the morning. The familiar buzzing of the coffee grinder as it pulses fresh, fragrant beans.
Today has been a day just like that. There were so many plans and errands and things to do. But when I woke up, I realized, fuck it, I just want to be doing this. So I put on some soft jazz, and started dicing potatoes while I sipped on my morning coffee.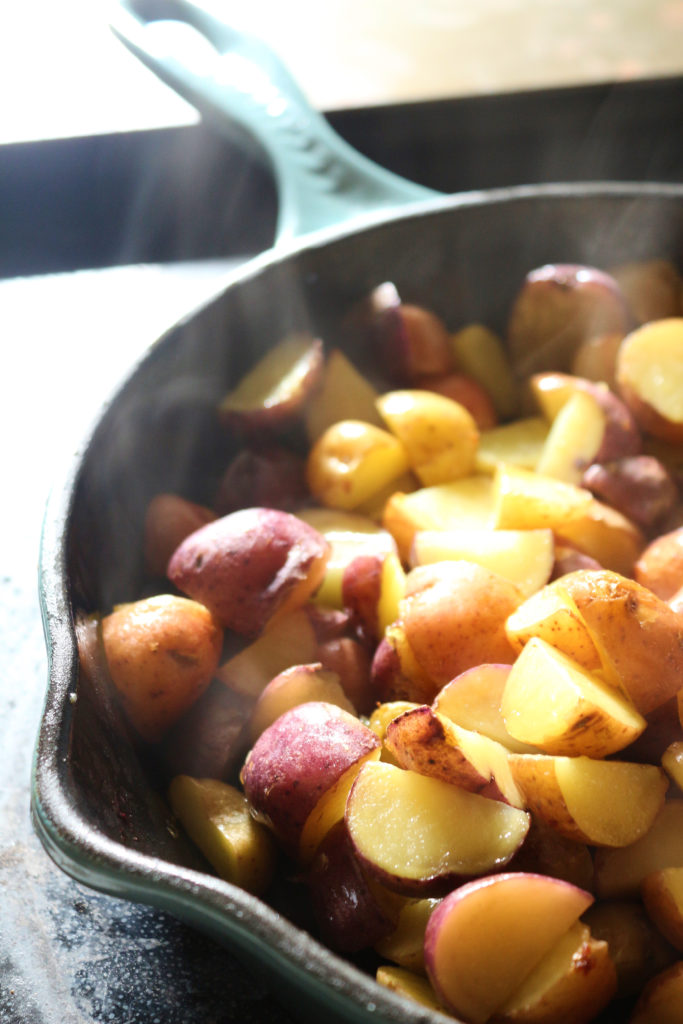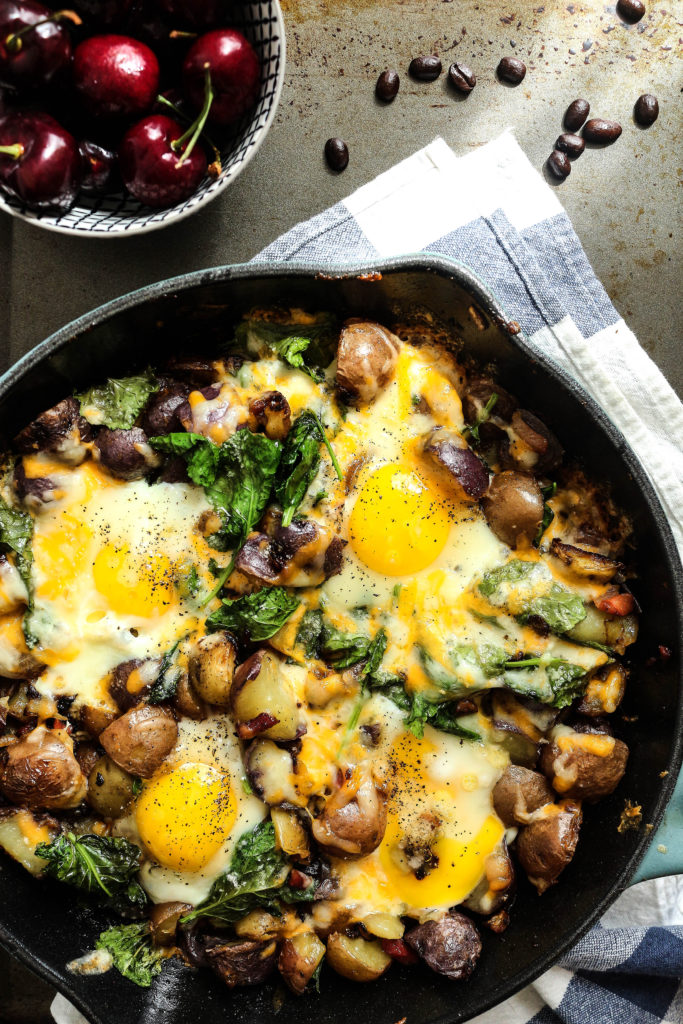 The cast iron has been getting a lot of love lately. I think in the past I was too afraid to use it: it's too pretty, it's too much work, it's too expensive (for you to ruin, Tisha). But it turns out cast irons are wonderful to use, and beautiful to look at. And cleaning, as it turns out, is really easy: use a scrapper to remove debris, or bake it with a ton of salt. Then wipe it down with some oil (I use a cast iron essential oil blend, but olive oil would work fine).
I've also been trying to play around with my photography skills. Of course, I have a lot to learn, but it's been a fun process trying to really showcase the dishes I cook. It's always an afterthought. It's always while I'm cooking that I think, huh, I should photograph that. The result tends to be photos that aren't always well thought out. But sometimes, like in the case of these ones, the food is so appealing, I really don't have to try very hard. That's always nice.
The great thing about this recipe is you can change it however you like. I really wanted to use sweet potatoes, but Allie doesn't like them. You can also make this vegan by using a mix of vegetables (like sweet potato, brussel sprouts, kale and onion) and topping it with chickpeas. But let me tell you, it's pretty damn tasty just like that.
I hope you do make it. I mean I always hope that. But if you don't, I hope you make something else that makes you feel like you've indulged in your morning by eating something that is both delicious and nutrient dense. Potatoes actually have quite the nutrition profile, don't you know. Especially coloured potatoes like these ones here (these are the Little Potato Company Terrific Trio). They contain antioxidants, they contain resistant starch (which can help manage blood sugar and keep you full) and they contain vitamin C, B vitamins and potassium. In other words, you don't have to fear the potato when consumed in it's whole food form. The problem comes from consuming processed potato products, like chips and fries.
Have a wonderful weekend friends,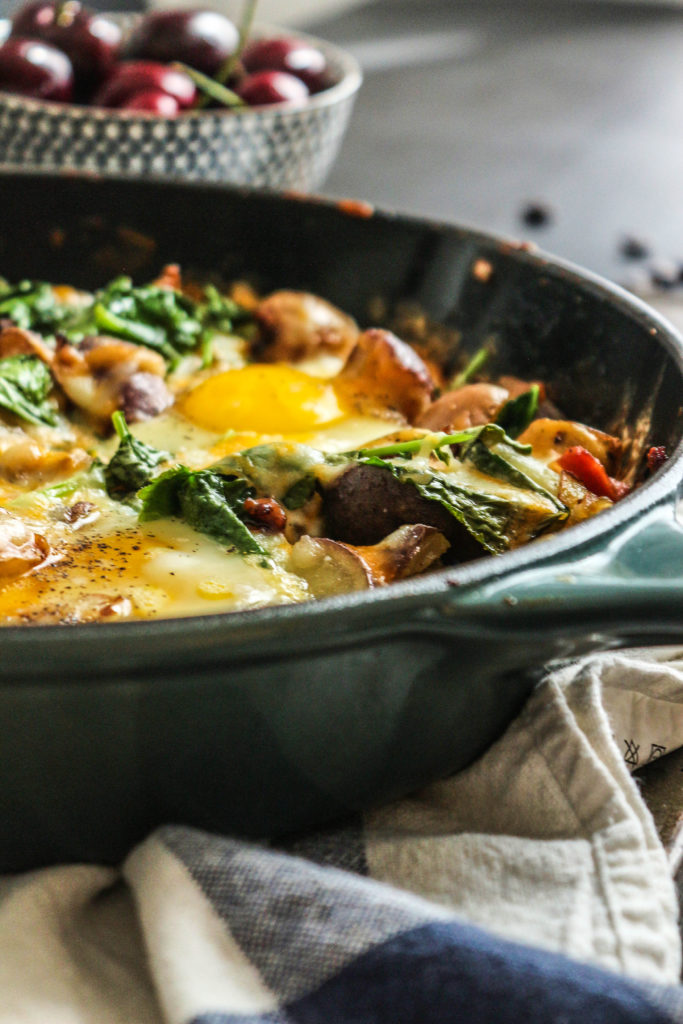 Kale, Potato + Pancetta Breakfast Hash
Ingredients
2

tbsp

olive oil

1.5

lbs

little potatoes

quartered

1

onion

diced

1/2

cup

pancetta

diced

1

small handful of baby kale

1/4

cup

shredded cheese

optional

4

eggs
Instructions
In a cast iron skillet, heat oil on low-medium heat. Add in potatoes and sautee until knife tender, about 20 minutes.

Add in onion and pancetta and cook another 5 minutes.

Stir in baby kale and shredded cheese. Using a spoon, create 4 wells in the hash. In each well, break open one egg. Cook until egg whites are set, about 4-5 minutes.

Season with salt and pepper.
Recipe Notes
You can also make this dish in the oven. Simply follow the same steps either in a cast iron or on a sheet pan and bake in the oven at 400F.