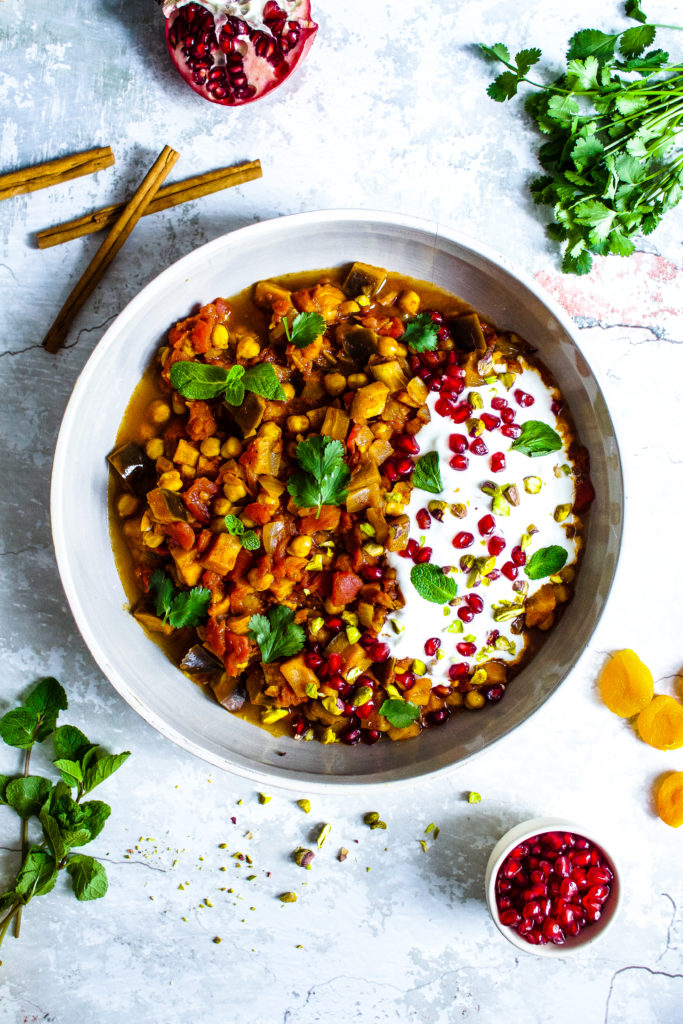 Oh weekend, where did you go?
I always assume I'll have more lounge time, but then, after running errands, cleaning the house, doing bloggy-type things and going to the gym, it's suddenly Sunday evening.
It's actually been a lovely weekend. There was a date night with Allie, that included drinks and going to see I, Tonya (highly recommend, ps.). There was a class where I practiced trying to do the splits–I've got a long, long, long way to go. There was coffee–oh sweet coffee, how I miss you during my limited-caffeine work week. There was long walks with the dog.
And there was this.
Aubergine Stew with Chickpeas, Apricots and Mint.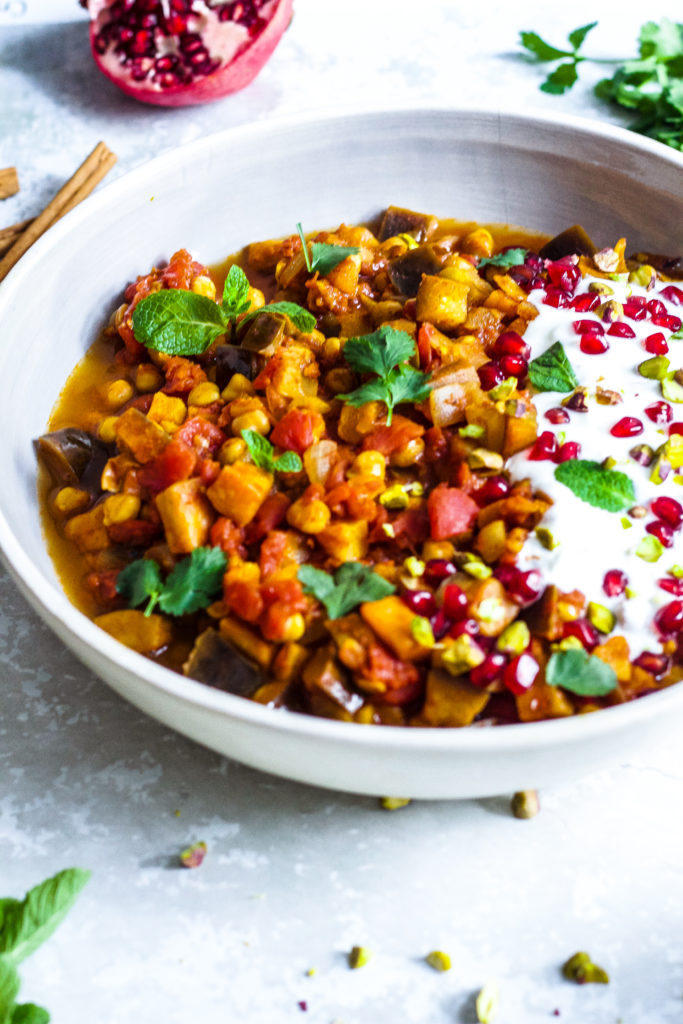 Aubergine? Don't Canadians say eggplant? Uh, they sure do, friend–you're not wrong. But eggplant is not nearly as pretty of a word. Aubergine, on the other hand? It's a colour, a feeling of comfort, it rolls off the tongue. It's the same with zucchini–wouldn't you rather say courgette? French just sounds prettier. (It's my blog, I can sound bougie if I want to, okay?)
Alright, moving on.
The simplest recipes are always my favourite–and this one does not disappoint. It's nothing fancy, but jeez, it's so good. Similar to a Moroccan tagine, but without meat, this eggplant stew has warming spices like ginger, cinnamon, and cumin, and hints of sweetness from the dried apricots. It's incredibly filling thanks to the eggplant and chickpeas–perfect for the winter nights that may be finally coming to an end. And to celebrate that end? This dish is topped with fresh ingredients: yogurt, pomegranate, mint and cilantro all give it a burst of life (and colour).
If you don't do dairy, feel free to swap it for coconut yogurt or sliced avocado. If you're paleo, you could swap the chickpeas for chicken and also add in some cauliflower.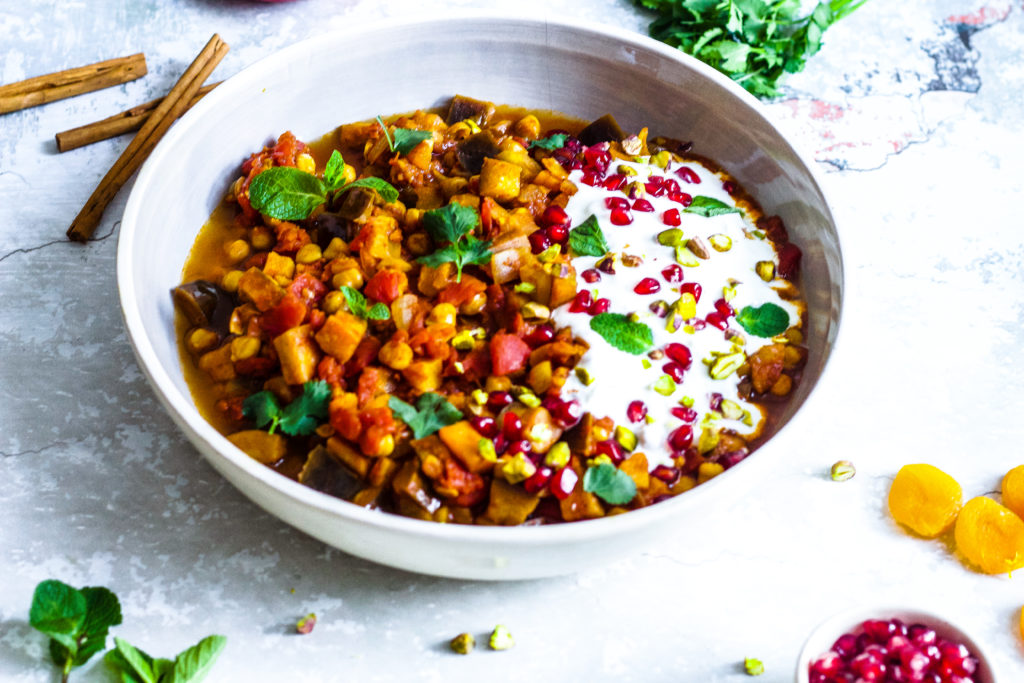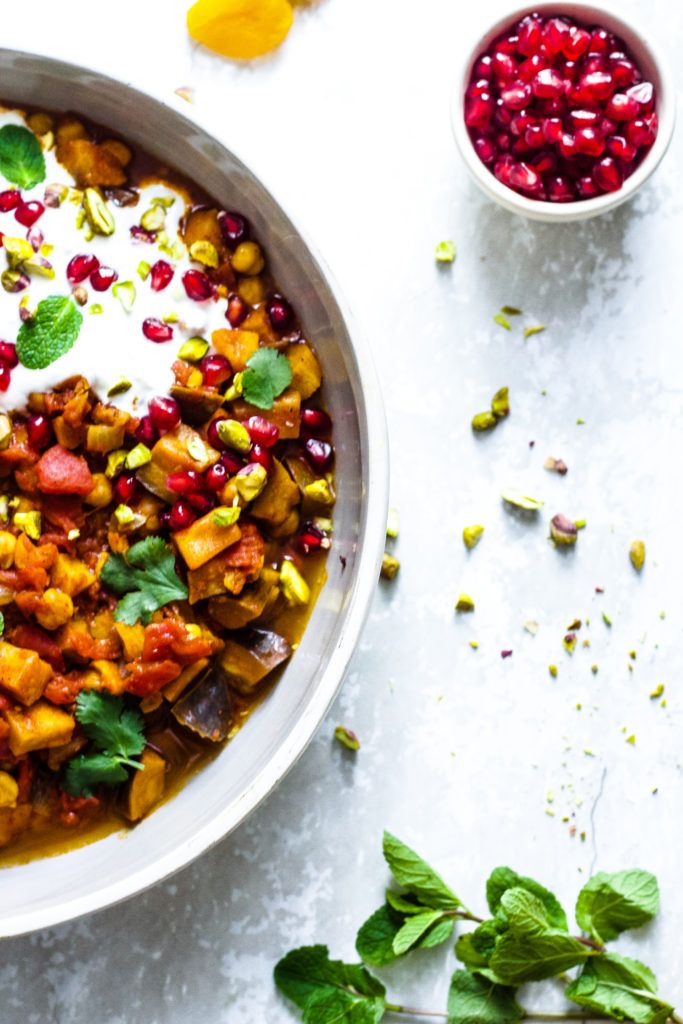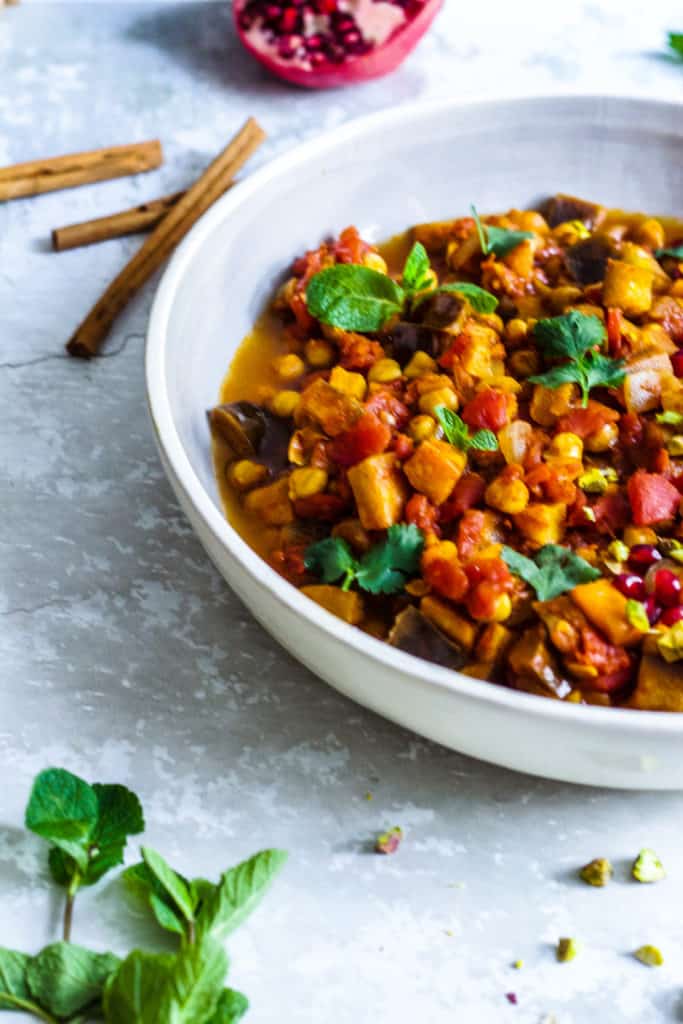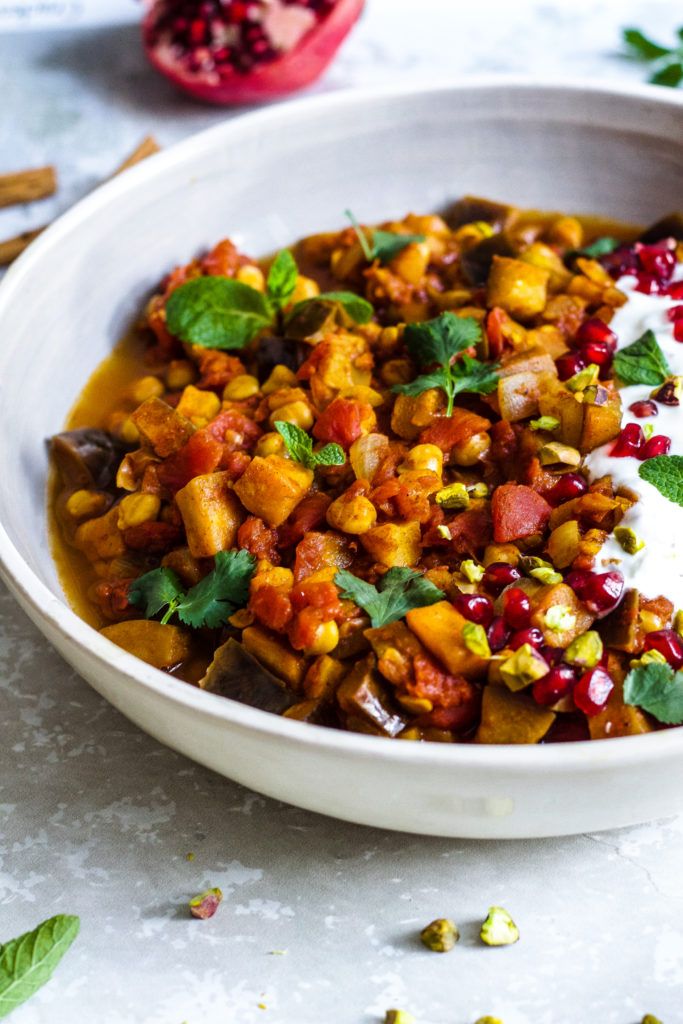 Keeping it short and sweet today–there are plans for self-care waiting to be put into action tonight. I'm talking shower (you're welcome friends and colleagues), a face mask, some meditation. Oh yeah, it's getting rowdy up in here.
Have a great week (and try not to work too hard).

Aubergine Stew with Chickpeas, Apricots + Mint
Ingredients
2

tsp

olive oil

1

onion

chopped

3

cloves

garlic

minced

1

inch

ginger

minced

1

eggplant

diced

2

tsp

cinnamon

1

tsp

paprika

1/2

tsp

cumin

1/2

tsp

turmeric

1 28

oz

can diced tomatoes

2

cups

vegetable stock

1

can chickpeas

drained

1/2

cup

dried apricots

chopped

salt + pepper

to taste
Toppings (optional)
1/2

cup

pomegranate arils

1/4

cup

greek or coconut yogurt

2

tbsp

fresh mint

2

tbsp

cilantro

2

tbsp

pistachios

chopped
Instructions
In a large pot, heat oil. Add chopped onions and sautee until translucent, about 5 minutes.

Add in garlic and ginger and cook until fragrant, about 3 minutes.

Stir in eggplant and spices, until vegetables are well-coated in spices.

Add in diced tomatoes, vegetable stock, chickpeas, and dried apricots. Bring to a boil, lower heat, and simmer until thickened, about 20 minutes.

Season with salt and pepper.

To serve, spoon into 4 bowls and top with yogurt, pomegranate arils, fresh mint, cilantro and chopped pistachios!