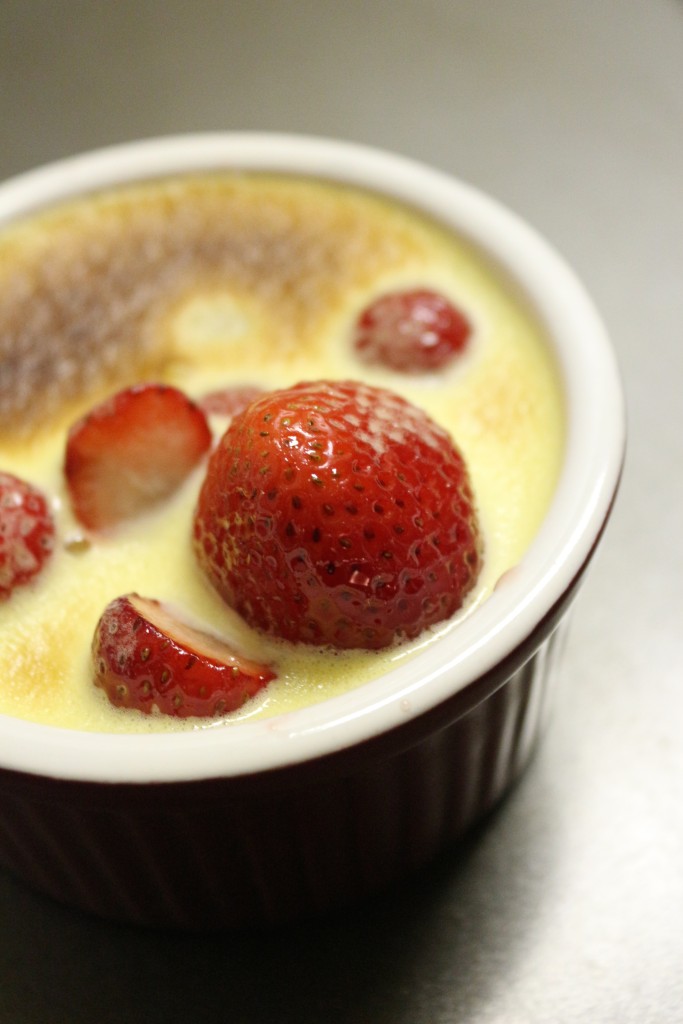 Hello, hello!
The first week of classes are going smoothly–especially considering I had no idea what to expect. I walked in on my first day, wearing my full chefy-chef uniform and clunky steel-toed clogs, overly chatty and excited. Thankfully, everyone is friendly and also excited to be in the program, so I almost don't mind waking up at 4 am to get to class on time. Almost.
I'm so busy already, so I thought I'd keep this post short and sweet. And what is sweeter than dessert? (Tisha, you are so clever with your segues). I promised this recipe awhile ago (ahem, when strawberries were in season), but to be honest with you: I'm copping out. This recipe is actually from The Primalist (you can find the recipe here), and I really didn't change anything, so I don't feel it needs to be rewritten.
I will tell you a few thoughts I had about this dessert, in case you'd like to make it yourself.
Even though it comes out looking like a creme brûlée, the top tastes like roasted marshmallow-y goodness. Divine.
If you don't like the taste of honey, I'd recommend swapping this out for maple syrup–the honey is very flavourful in this dish.
Grand Marnier works wonderfully in this recipe. However, you could probably use 2 tablespoons for the honey-strawberry mixture, and just 1 tablespoon for the egg yolks–I found it just a tad too liquidy in the bottom of the ramekin as I was eating.
If you don't have a bain-marie insert (or if you have no idea what that is), make your own by heating a pot of water, bringing it to a boil, then setting another, slightly smaller pot in the pot while you whisk the egg yolks, honey and orange liqueur.
Sabayon sounds like a fancy-pants dessert, but it was super easy to make and it just sounds really impressive if you're someone who's into bragging to all their friends (I am). It's also completely free of processed sugar and dairy, and yet it still has that very creamy custard-like texture to it.
Definitely try it, share it with your friends, or eat all the portions and get a slight buzz going. Have a wonderful night, and be sure to leave a comment telling me about your favourite fall desserts–because I am so ready for those.
Tisha