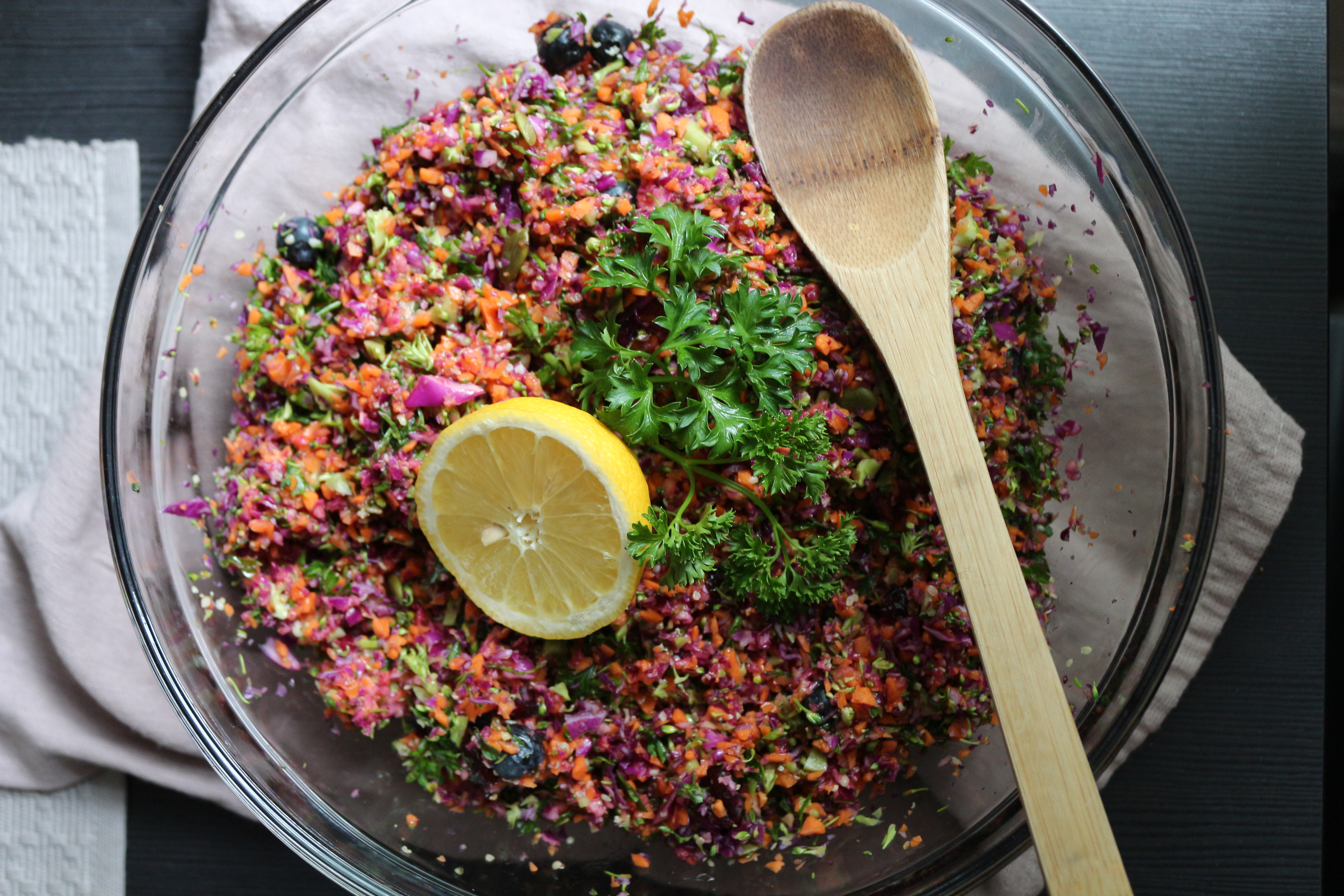 Good morning lovely humans!
I am just loving this beautiful weather–perfect for walking our dog, having drinks on the balcony, going on adventures with friends & exploring the city. I think I'm finally into a routine and I can breathe–and cook, and do laundry. Ah, being an adult is oh so glamorous.
Today I bring to you this amazing salad. It's so brilliant in it's simplicity to make, but it has so much texture and flavour, while staying both light and satisfying. I wish I could take credit for this recipe, but it was totally inspired by Dani Spies' Chopped Detox Salad, over at Clean & Delicious. I did make a few tweaks, from the dressing to the base of the salad, but the idea to just process all the vegetables in the food processor is all Dani. You could literally put anything in this salad and it would taste great–you could add citrus or avocado on top, blend in kale or toss with chickpeas. It's so versatile, and more importantly, yummy.
So what makes it (to use our favourite buzzword) "glowing"? Glad you asked, friend!
Here's a breakdown of some of the star ingredients:
Red cabbage: this cruciferous veggie contains 56% of the daily recommended intake of Vitamin C [1] per cup, is rich in anthocyanins which may lower blood sugar levels, boost insulin production and help prevent and manage diabetes [2]. Being a cruciferous vegetable, it contains anti-cancer sulfur-containing compounds which research shows lowers the risk of cancer, particularly breast cancer and cancers of the female reproductive system, as it speeds up the body's metabolism of estrogen [2].
Carrots: these guys are loaded with beta-carotene, a powerful antioxidant that can be converted in the body into Vitamin A–a critical vitamin for healthy eyes, hair, and skin [3]. Also, recent research shows that polyacetylenes, a phytonutrient found in carrots, may play a crucial role in inhibiting the growth of colon cancer cells [4].
Blueberries: the high antioxidant content in blueberries have been shown to prevent cancer, reduce the risk of macular degeneration and boost brain function [5]! In fact, studies have shown that "consumption of blueberries can reduce the risk of cognitive decline as well as Parkinson's disease –a neurodegenerative disorder resulting from cell death in parts of the brain" [6].
Pumpkin seeds: raw pumpkin seeds are very high in magnesium, an essential macromineral needed for bone health (and reducing the risk of osteoporosis), neuromuscular activity and muscle relaxation [7]. Furthermore, pumpkin seeds are rich in tryptophan–which may help you sleep better as the body converts it into sleep hormone melatonin– and their omega-3 content may reduce LDL levels and total cholesterol and triglyceride levels, making them a heart healthy food [7]!
So yeah, this is quite the powerhouse salad.
This is such an awesome salad to prep for the week and keep on hand–add onto the sides of meals or just eat a big bowl on it's own! And to help with your grocery shopping list, make sure to grab your free Ultimate Healthy Guide Printout–which includes a pantry list, seasonal grocery list + meal plan template! (You're welcome).
I hope you make it and leave a comment letting me know how you liked it!
Best of health,

Glowing Antioxidant Salad
2016-07-05 05:32:45
Ingredients
SALAD
1/2 red cabbage
3 medium carrots, peeled
2 cups broccoli florets (approx. 1/2 bunch broccoli)
1/2 bunch parsley
1/3 cup dried cranberries
1/4 cup pumpkin seeds
1/2 cup blueberries
2 tbsp hemp seeds
DRESSING
1/4 cup lemon juice (1 large lemon)
1 tbsp dijon
1 tbsp honey
1/4 cup olive oil
1 clove garlic, minced
1 inch piece of ginger, minced
1/4 tsp salt
1/4 tsp pepper
Instructions
In a food processor, shred cabbage, carrots, broccoli and parsley.
Toss vegetables in a bowl with remaining salad ingredients.
Whisk together dressing ingredients and drizzle over salad. Mix well.
Enjoy!
Notes
The salad will keep for about 4 days. If using for meals for the week, keep the salad dressing and blueberries separate and mix with the salad before serving.
Adapted from Dani Spies
The Nourished Mind http://thenourishedmind.ca/
References
[1] Busch, S. (n.d.). What Are the Benefits of Eating Red Cabbage? Retrieved July 07, 2016, from http://healthyeating.sfgate.com/benefits-eating-red-cabbage-4395.html
[2] Foods That Harm, Foods That Heal: The best and worst choices to treat your ailments naturally. (2013). White Plains, NY: Reader's Digestion Association. Pages 64-65.
[3] Foods That Harm, Foods That Heal: The best and worst choices to treat your ailments naturally. (2013). White Plains, NY: Reader's Digestion Association. Pages 68-69.
[4] Carrots. (n.d.). Retrieved July 7, 2016, from http://www.whfoods.com/genpage.php?tname=foodspice&dbid=21
[5] Foods That Harm, Foods That Heal: The best and worst choices to treat your ailments naturally. (2013). White Plains, NY: Reader's Digestion Association. Pages 55-56.
[6] Ware, M., RDN. (2016, March 15). Blueberries: Health Benefits, Facts, Research. Retrieved July 07, 2016, from http://www.medicalnewstoday.com/articles/287710.php
[7] Ware, M., RDN. (2015, December 14). Pumpkin Seeds: Health Benefits, Nutritional Information. Retrieved July 07, 2016, from http://www.medicalnewstoday.com/articles/303864.php